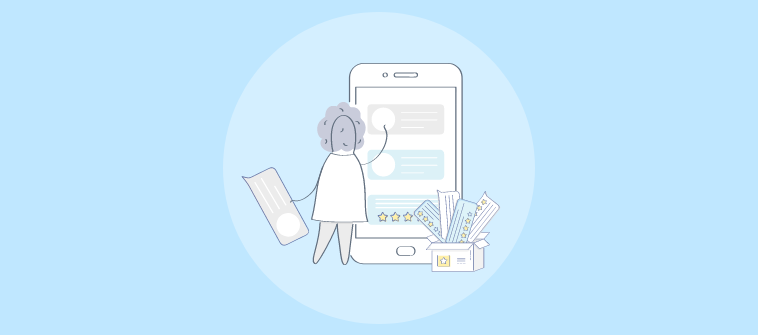 Fun fact: We created this article using our customer feedback loop.
We ran a small survey on our blogs asking readers what's the topic they want to read about next, and these were the following topic options:
Customer feedback loops
Business survey questions
CX strategy
The customer feedback loop won the bet. (Don't worry if you have chosen another option. We will take up other topics either way because every vote is important.)
You can see the first benefit of collecting and acting on feedback. It provides an idea about what most customers want so you can use the insights to develop targeted solutions for their needs and problems.
But it does more than that.
Hundreds of customers use your products or services every day and have a different experience. Some are satisfied, while others can feel frustrated.
Some of these users also raise complaints or leave suggestions about a feature they saw in other similar products.
But, if you don't work on these concerns, they are bound to leave your business. And why shouldn't they leave? They have no voice, and even if they make an effort to reach out to you, there is no action.
Then they would tell others on social media and post reviews about their horrible experience with your brand.
A nightmare situation, right?
It's the reason the customer feedback loop won our survey poll because people want to know how to address customers' feedback adequately and impart a seamless experience.
That's what we are going to do in this blog. We will help you create an effective custom feedback management system at your end. Then, we have added some practical methods we use at our end to close the customer feedback loop quickly without compromising the quality of service.
Let's do this.
What is a Customer Feedback Loop?
A customer feedback loop is a cycle of constantly gathering customer feedback and using the insights to improve the products and services.
Let's take a common situation that everyone has probably experienced in their lives.
Suppose you try to place an order on an app, but it won't move past the cart due to some issue.
So, you click on the 'Get Support' or 'Raise a dispute' button.
What's this button?
That's the starting point of a customer feedback loop.
You leave feedback about the issue, explaining how you didn't get to place the order. That's where the customer feedback program is triggered into action to address the issue, and development team gets on it.
After two days, you get an email from the support team explaining what happened and assuring you that issue has been resolved.
This time you could place the order without any issues.
After 24 hours, you get another mail asking about the support and shopping experience with the following question:
Please rate your experience with our support team on a scale of 1 to 5.
You give them 5-stars, and everybody is happy.
That's the closing stage of the loop for your given feedback.
But if you had rated the experience as unsatisfactory, the process would begin again to address your grievances.
Customer feedback loops in business aim to pinpoint customer issues continuously and resolve them at every stage of the product life cycle.
And not just product development, a customer feedback management cycle can help you plan your marketing strategies to create better product offerings for the target market. That's called a marketing feedback loop.
It lets you align the product messaging with your target audience's preferences, reservations, and fears to improve brand acceptance and awareness.
Importance of the Customer Feedback Loop in Business
An effective customer feedback strategy lets you capture the voice of your customers and channel it to maximize engagement, improve the experience, increase conversions, and more.
Let's see why a quality feedback loop is the most prominent aspect of any customer feedback program:
1. Promotes Higher Retention & Lower Churn
A constant feedback loop lets you monitor user experience across various touchpoints and address complaints on time. You can track their behavior and spot patterns that might suggest a high churn risk to act swiftly and change their mind.
And even when they are opting out of your services, you can collect feedback to find out the reason behind their decision. It would help you retarget the customer with relevant solutions and win them back.
We have the perfect example to show how it works.
MonetizeCX created a Net Promoter Score (NPS) vs. spend matrix to track customer feedback and uncover which customers carried a high risk of churn.
---
How did they do it?
They found out that 20% of high-spending customers chose a low score (0-6) on the NPS scale. It showed that these customers were unsatisfied with some aspects of their brand experience and thus could bail out quickly.
These customers contributed about 30% of the total revenue. So, the brand decided to remove the pain points to provide a better customer experience.
And here are the result of closing the feedback loop quickly:
A 20% increase in the NPS scores in the next few weeks.
A 4% jump in the customer lifetime value (CLV) of high-value customers, indicating improvements in average order value and retention rate.
So what worked here?
A keen eye and prompt action to close the customer feedback loop prevented a potential loss.
---
2. Improves ROI in Marketing Campaigns
Marketing or ad campaigns are more effective if they align with customers' needs. With a constant feedback loop, you have a constant data influx about customers' purchase preferences, preferred channels, problems, and concerns.
You can use these insights to develop targeted campaigns to reach each prospect via their most-used channels and show them personalized product messaging that resonates with their needs or demands.
That's what Canon did to increase product adoption and revenue in multiple geographies.
The Canon team conducted simple survey research to map out what customers' felt about the brand in different locations.
The team discovered that people were not aware that Canon was an industry leader in Camera technology in some places. In other locations, they were reluctant to spend too much money on a camera.
With these insights, the company launched multiple personalized campaigns for each location with product messaging that addressed people's concerns and fears.
The result was a whopping 700% ROI for their efforts.
3. Shines the Light on New Product Opportunities
Customer experience feedback lets you collect complaints and provides data on customers' preferences, behavior, and purchase patterns, such as:
Who are your customers?
How often do customers buy from your website?
What kind of products are they interested in?
Do they shop more during the holidays?
You can then segment the customers and create buyer personas with this data to explore upselling and cross-selling opportunities.
For example:
Suggesting a product based on previous purchases.
Sending a discount coupon for the upcoming holiday shopping.
Sending a personalized notification about current contests and deals.
You would be surprised how simple it is to map their preferences with a simple customer feedback loop.
---
Here is a real-life example:
Avis, a leading car rental company, wanted to increase the awareness and sale of its car accessories like child seats, insurance, etc. So, the team implemented simple surveys on its website to find the most popular add-ons among the customers and the reasons behind their popularity.
The next step was to implement an interstitial pop-up at the booking stage to offer the most popular add-ons as upgrades to the customers.
This simple process increased the sales of add-ons and boosted the average order value per customer for Avis.
4. Promotes Customer-Centric Development & Optimization
The product lifecycle is one of the most critical aspects of your business. If your product does not provide value for money, you may acquire new customers by clever marketing but won't be able to retain them for long.
Because competition is stiff and people are attracted towards better things.
What does it mean for your business plans?
Increase in customer acquisition costs (CAC)
Lower retention
Short-term customer relationships
If you host a SaaS product, it becomes an uphill battle because a significant portion of your revenue depends on subscription renewal.
But how does the customer feedback loop fit into all this?
To see if the product agrees with the customers or not at different stages of the product life cycle. You can set up an offline or digital feedback loop to collect insights from customers at each stage, such as:
Planning stage – You can test the consensus of the target market about a planned product or feature even before you start building it to find the right product-market fit.
Development stage – When you start building it, you can gather feedback to see if the product provides a seamless experience. You can then make the changes to optimize it before release.
Post-release stage – Post-release feedback lets you plan optimization strategies and build the product maps to introduce new features.
That's what KingsPoint did to discover an issue with their checkout process and saved potential losses of over $60,000 a year.
The KingsPoint team added surveys on different pages like resource pages, product pages, checkout pages, etc. This simple feedback loop helped them uncover a major javascript issue in the checkout process for Safari browser users. The error was preventing customers from completing their orders. The team resolved the issue with quick action after deploying the customer feedback software Qualaroo.
Without the tool, they were completely unaware of the problem. Based on conversion rates for Firefox (12%) and Internet Explorer (9%), their projections showed that if they could convert just as many users with Safari, then fixing the problem could save them approximately $60,000 in a year.
5. Alleviates Pressure From the Support Teams
Closing the customer feedback loop on time means fewer repeat callers, emails, and live chat sessions, affecting both support teams and their efficiency.
But what about revenue?
Smoother customer service interactions translate into loyalty and repurchase.
That's why, Gartner had an entirely new metric designed around effortless service interaction – The CES!
It measures how easy it was for customers to get their queries resolved by the support services.
---
According to the research, it works better than traditional metrics like NPS and CSAT.
---
6 Steps: How to Create a Customer Feedback Loop
Before closing the feedback loop, you need to put a process in place that collects, compiles, and analyzes the feedback data. It's like putting all the intricate cogs in place to put together a clock before you can start telling time.
---
So, here are pieces that will help you put together the constant feedback loop to listen and act on the voice of the customer:
STEP 1. Implement a Customer Feedback Management System
You knew this was coming. Didn't you?
It's self-evident but a crucial step. How can we work on something that doesn't exist?
The first step is listening and bringing those hush voices to the light. For that, you need a customer feedback strategy in place.
There are multiple offline and online methods to collect feedback.
But offline methods like interviews and focus groups require excessive time to collect and process the data. It makes them unsuitable for creating a continuous customer feedback loop.
Fortunately, there are other easily accessible methods like the ones discussed below:
a. Website, App, & Product Surveys
On-site surveys are one of the most affordable methods for feedback collection. They are perfect for gathering in-the-moment or transactional insights, meaning you can catch the visitor or customers in action to gauge their experience.
---
Another advantage of using surveys is multi-channel reach. Tools like Qualaroo provide different deployment methods in one place:
You can embed surveys on your webpage, mobile app, and even SaaS product.
If you are trying to collect off-page feedback, you can send them via personalized mail or link.
You can also create polls and post them on social media to crowdsource ideas, collect suggestions and gather feedback.
2. Live Chat Widget
Live chat boasts of a satisfaction rating of over 90%, higher than other service mediums. It means it's a hotspot to provide real-time service and measure the customer experience index.
Like surveys, you can add a simple chat widget on your website or app with a small code snippet.
---
Then, target visitors at precise moments to initiate chat, resolve queries, and collect feedback.
With tools like ProProfs chat, you can even create conversational chatbots that can take care of visitors during off-hours to give complete 24×7 cover to your support services.
c. Feedback Sidebar Form
The difference between a survey and a feedback sidebar form lies in the means of collecting feedback. While surveys elicit feedback based on user actions, a feedback sidebar form gives freedom to leave unsolicited feedback.
---
Accessibility is another important feature that makes the feedback sidebar a must on any website, app, or product. A sidebar is always present on the website, unlike a survey pop-up which can be closed. It means your visitors can leave feedback at any point along their journey.
4. Effective Ticketing System
Have you raised a mail or ticket about any issue or your experience with your bank, flight company, or other business?
Then, you already understand the importance of an effective helpdesk system to address complaints.
---
But do you know that it is a treasure cove for undetected issues and bugs?
If you dig deep, you'll also find trends in customers' expectations and preferences, such as the features they miss in the product or the complaints about the pricing structure.
With a helpdesk system in place, you can document these issues and respond to the users to collect more information. It keeps the user updated about the progress of their issue.
Once their ticket has been resolved, you can ask for ratings and feedback about their service and overall experience.
STEP 2. Start Collecting Feedback Data
If you are starting on the journey to create digital feedback loops, there is a reasonable concern as to where to start. It can be overwhelming to see all these customer touchpoints and decide which ones to target.
Start simple. Choose one or two methods to capture the feedback. Then, as you scale up your operation, you can also target other channels.
For example:
Design surveys pop-ups, Nudges™ for your website, and email
Use a live chat widget and embed a simple feedback form in it
Add a feedback sidebar to different pages like product page, home page, checkout, etc.
Use embedded forms on your blog posts
Create mail campaigns to send the surveys to customers via email.
Tip: You can also use a CRM tool like BIGContacts to collect feedback from verified customers.
Here's how:
Pick the customer information from the order data and send survey emails to gauge their shopping experience.
If the customer has contacted the support services, send a CES survey and log the data into the CRM to keep the communication in one place.
If you want to run brand awareness campaigns or gauge long-term loyalty, the CRM tool can help you segment users based on their lifetime and purchase value. Then, send NPS surveys to collect feedback data from each segment.
STEP 3. Start Digging in to Uncover Actionable Insights
The responses are in, and it's time to start closing the feedback loop.
Here are some ways to do it. We have also covered them in detail in the next section:
Collate the data into a single place. You can create a spreadsheet or use advanced survey and helpdesk tools.
Categorize different types of feedback like issues, bugs, pricing, sales inquiry, failed payments, etc.
Dig through each response and record the main issues in your spreadsheet.
Group similar issues together.
STEP 4. Route the Reports to the Right People
The time has come for deliverance. With the feedback neatly assembled, send the feedback to different teams to act on it quickly and start closing the customer feedback loop.
For example:
The development team can handle optimization-related feedback like bugs, crashes, etc.
The support or backend team can pick the payment, pricing, and churn cases.
Pass the inquiries and other sales-related feedback to the marketing or sales team.
It will help streamline the process as each team has its work cut out.
STEP 5. Rinse (Optimize) & Repeat
It's a feedback loop. So it's time to go back to step 1 and repeat the process.
Case Study – Twilio's Case for Closing the Customer Feedback Loop
Twilio, one of the leading communications platforms, puts digital feedback loops at the center of its operations.
As Product Manager Laura Schaffer says – 'The name of the game when creating and growing a successful business is understanding and solving your customers' biggest problems. To do so, it's imperative to have efficient means to identify these problems early and fully.'
Over 18 teams at Twilio use customer feedback to confirm their hypotheses with a data-backed approach before designing the tests.
According to Laura Schaffer –
"Customer discovery efforts are critical. How do you best put yourself in the customer's shoes and do so in a way that is efficient and easy to do at all stages of product development?"
One of the biggest challenges for teams is the lack of time and resources to create in-depth customer discovery programs. It leads to an improper analysis of key customer insights, which means delivering sub-optimal solutions.
So, Twilio teams use constant feedback loops and an experiment-based approach to build and optimize products.
"The hard part usually isn't coming up with the hypotheses for what might work best – it's knowing which are the right ones to try first." – Laura Schaffer.
That's where the customer feedback system comes in place.
Twilio uses surveys to collect customer insights at different product development stages. It helps the company to improve engagement, onboarding, and retention.
---
With a streamlined approach to development and optimization, the teams can plan and deliver new functionalities weekly to improve the platform.
5 Practical Tips to Close the Customer Feedback Loop With Examples
Closing a customer feedback loop means working on insights to improve customers' experience with your brand, products, and services. So, we have listed some true and tried ways to help you come full circle with your customer experience feedback data:
1. Leverage NPS & CSAT Surveys
Quantitative survey metrics let you divide and conquer the audience to close the feedback quickly. With NPS, you have a neat distribution of detractors, passives, and promoters.
You can also add targeted follow-up questions to collect in-depth data about their motivations and fears, such as:
Please specify the reasons for your answer
What would you like to improve with the product?
Quantitative survey metrics let you divide and conquer the audience to close the feedback quickly. With NPS, you have a neat distribution of detractors, passives, and promoters.
You can also add targeted follow-up questions to collect have in-depth data about their motivations and fears, such as:
Please specify the reasons for your answer
What would you like to improve with the product?
Let me show actual NPS survey responses from one of our surveys and how we Closed the feedback loop:
| | | |
| --- | --- | --- |
| | NPS Score | Please specify the reason for your answer |
| Respondent 1 | 9 (Promoter) | We love the choice of targeting options in the tool. |
| Respondent 2 | 3 (Detractor) | The tool does not register all the responses for the surveys correctly. |
| Respondent 3 | 6 (Passive) | We have been using the tool for some time. There is no option to add images to the survey questions. |
We can immediately see what was affecting the unhappy customers and what were the best experience elements for the happy ones.
We used Qualaroo's identity API feature so that we could collect the email addresses of these users.
Here's how we closed the feedback loops:
We forwarded the negative feedback to our retention team to get in contact with respondent 2. The team sent an email apologizing for the experience and getting confirmation if they still faced the issue.
We found that issue was due to an incorrect snippet code added to the website. We solved the issue and offered a free training session to help the customer with product adoption. After three weeks, we re-sent the survey. This time it was 6 points higher. Yes, 9 out of 10!
For respondent 1, who rated us ten on the scale, we thanked them for their time, sent a discount on their next billing, and set an automatic survey schedule to trigger a survey once they entered the discount code.
But this time, it was a rating request for Google reviews. We got a solid 4.5 on Google reviews.
For respondent 3, we acknowledged their feedback and assured them we were working on their feedback. We released the feature to add visual questions to the survey sometime after that response was recorded and informed the respondent about the same.
The next plan was to target them with a survey after 6-10 weeks and ask about their experience with the new feature.
That was all from just three customers. Imagine the impact of closing the feedback loop for all your customers' emails and survey responses.
You can follow the same procedure for any feedback type like CSAT and CES.
2. Set Priorities for Different Feedback
Depending on the business and brand size, you may receive hundreds of customers complaints, insights, and feedback data.
The sheer size makes it impossible for any brand to give equal attention to every data bit. It's essential to set priorities and goals to close the feedback loop quickly.
Here are a few ways to do it:
Like we did in the previous point, you can divide the respondents into two or three groups and tackle them individually.
For example, in the case of NPS surveys, you have three distinct groups – detractors, passives, and promoters. Since detractors carry higher chances of attrition due to unsatisfactory experience, it is logical to take up this feedback first. You can put it at the top of the priority list.
In the same way, segment the respondents of your customer satisfaction (CSAT) and customer effort score (CES) surveys to prioritize unhappy customers.
In general, pick the negative feedback first to resolve the mentioned issues.
The best thing is that advanced survey tools like Qualaroo can help you reduce manual work on your surveys with an in-built NPS dashboard to segment the responses automatically.
---
And you can create custom reports for each feedback type and send them to different teams.
b. Color Code or Add Tags to Different Insight Types
It's easier with quantifiable metrics, but how to deal with text-based feedback?
One option is to use color code to identify different types of feedback. You can mark critical issues with red, medium priority bugs with yellow, and suggestions with green. It would make it easy for different teams to pick the relevant task.
Another effective method is using tags. With tags, you can quickly assign the response to the relevant teams so they can close the loop quickly.
---
Today, different tools also support custom tags that you can add to the feedback.
For example, if the issue is related to checkout, you can use tags like checkout and issue. In the same way, if it is a feature request, you can use tags like feedback, suggestion, and feature.
Tagging makes it easy to filter the feedback according to the tags and pass it to other teams without manual work.
3. Centralize the Feedback and Automate the Process
In an omnichannel environment, the feedback data is scattered across multiple channels, such as:
Website
Comments
Social posts
Grievance emails
Complaint tickets
Chats
Calls, and more
You can see the problem here. It's impossible to track each channel separately.
A good tactic is to centralize the customer interactions in one place to close the feedback loop quickly.
---
You can use technology to eliminate manual work. Tools like ProProfs Helpdesk and Bird-eye provide a centralized inbox to manage interactions from all the channels in one place. It means none of the data gets missed.
Another important aspect of closing the feedback loop is automating the process. Survey tools like Qualaroo offer multiple integration APIs to automatically import/export feedback data to your workspace tools like Slack, Salesforce, and more.
Here's how it is useful:
Suppose you use Slack in your organization. If you integrate Qualaroo with Slack, you can receive every new response in a desired Slack channel in real-time. It means your team can pick it up immediately and act on it. And the critical feedback does not get lost in the mix.
---
If you have Salesforce as your CRM, you can automatically add the feedback to the respective customers' profiles. It helps to keep all customer data in one place, and you can set alerts for negative feedback so your team can immediately address the customers' issues.
You can also trigger automatic surveys based on other interactions like ticket resolution, order placement, bill payment, etc.
It also helps get a pulse of genuine feedback and prevents you from focusing on the wrong places.
Let me further my point with a scenario:
Suppose you receive a notification about an issue from one customer. There are two possibilities:
It is a minor issue
It's a critical bug affecting a significant number of users
How will you confirm this? By digging deep into the feedback.
Look for other reported incidents across various channels. Suppose multiple customers have complained about the same issue simultaneously in minutes or an hour.
In that case, you'll know that it is a big problem, and you can immediately activate your teams to handle the situation and close the customer feedback loop.
With a centralized inbox and automated process, you can track each complaint in real-time and divert resources towards addressing the affected customers instead of scavenger hunting.
4. Leverage Automation & AI for Data Analysis
AI is no more the new kid on the block. It's being integrated with every technology we use in day-to-day life. So why not use it to close the customer feedback loop?
There are different types of AI-based techniques available to cut down manual work and analysis time, such as:
a. Sentiment Analysis Engine
A sentiment analysis engine analyzes text-based responses to identify emotional cues and categorize them.
With tools like Qualaroo, you get a neat distribution, as shown in the image below:
---
You can then use tip #2 to prioritize different sentiments and close the facebook loop.
We have a suitable example to make our case – Belron.
Belron, a UK-based vehicle glass repair and replacement group, leverages a sentiment analysis engine to improve customer experience and maintain an NPS score above 80.
The initial process of manually extracting insights from the free-text responses was time-consuming. So, the Belron team implemented Qualaroo's sentiment analysis engine to comb through free-form data and identify the responses that required further investigation.
The insights are then used to design the best in-store and website experience for customers. The result is a beaming NPS score.
If Belron can do it, so can you.
A word cloud generator powered by AI lets you analyze qualitative data to find common themes in the responses. It highlights key phrases and words among the responses to help you understand the data's context.
How can you utilize it?
Say you see a common recurring theme in your responses about pricing or checkout. It would give an idea about where to start looking. You can select pricing and checkout-related responses to uncover any possible issues or bugs.
Here's a real-life example of word cloud from our survey:
---
c. Auto-Tagging & Categorization
Remember we talked about tagging in previous points. Response tagging is one of the oldest and most effective methods to move towards closing the feedback loop.
But you don't have to do it manually. That's where machine learning and AI can help you out.
Tools like MonkeyLearn, provide in-built auto-tagging features to categorize the free-text responses.
---
Now, different teams can pick the respective responses and start working on the feedback.
5. Acknowledge the Feedback & Always Follow Up
We know it's a self-realized point, but it can significantly affect the long-term customer relationship.
Half of the customers don't believe that the brands act on their feedback.
---
On the other end of the spectrum, 78% of customers favor brands that collect and act on the feedback.
---
So it's essential to make them believe that you are working on their issues and suggestions to build trust, loyalty, and long-term relationships.
It's all starts with an acknowledgment mail or reply.
Remove as much dead air as possible between your brand and customers. Here's how:
a. Use Autoresponders
Always respond to the initial feedback, ticket, or complaint to acknowledge that you have received it.
If hundreds of responses are pouring into your dashboard, helpdesk systems like ProProfs helpdesk can help you set up campaigns to respond to customers' first mail automatically.
---
It's simple and effective. Plus, the ticket number solidifies that you are trying to resolve the customer's issue.
b. Assign Reasonable Turnaround Times (TATs) and SLAs
Suppose you have acknowledged the receipt of customers' complaints, but it takes a little longer than you expected to resolve the issue.
What would be the next course of action?
Yes, you're right! Update the customer.
Send a mail to inform them about the delay and give a reasonable timeframe to deliver the resolution as shown in the image below:
You can set up different rules to ensure each feedback, ticket, and complaint is followed up on time, such as:
Send automated responses or ensure that you send the first response within the first hour of receiving the feedback.
Send a follow-up mail to the customer after 48 hours if the issue has not been resolved.
If the customer is angry or frustrated, reach out to them via a call to deescalate the situation.
No one wants to be hung out to dry, so it's important to adopt a human element while closing the feedback loop. It lets you establish trust and long-term relationships with your customers.
May the Force of Customer Feedback Loop Be With You!
Customer feedback is an essential resource for your business. It can help you make data-backed decisions and avoid pitfalls. With constant customer feedback loops in place, you can monitor any disturbance in the force, i.e., seamless customer experience, and act on it in real time to prevent customer or revenue loss.
So, use our tips to start building an effective customer feedback loop and scale it up as you start seeing the benefits of addressing the customers' concerns on time.
Remember, it's as simple as asking a few right questions.
FAQs
a. What is the difference between open customer feedback loop and a closed feedback loop?
An open feedback loop means that no action has been taken on the feedback data. On the other hand, a closed feedback loop means a proper resolution has been conveyed to the customer to close the issue.
b. What are the pros and cons of the customer feedback loop?
The pros of a feedback loop include better planning, happier customers, & better ROI on efforts. Some cons are lower response rates, more time to reach the required sample size, and inaccurate insights. However, you can easily tackle most of these cons with proper implementation.
Want insights that improve experience & conversions?
Capture customer feedback to improve customer experience & grow conversions.