A customer's journey is made up of several points of contact and decision branches – from consideration stage to purchase and beyond.
But what are the moments that define each stage? These are points when the customers or prospects come in contact with you and are called customer touchpoints.
These points of interaction consolidate to form the customer experience. And we all know how important it is to deliver a seamless experience in your business.
Customer experience (CX) is the new marketing battlefront. More than two-thirds of marketers responsible for CX say their companies compete mostly on the basis of CX, according to the 2017 Gartner Customer Experience in Marketing Survey. And in two years' time, 81% say they expect to be competing mostly or completely on the basis of CX. – Source
Customer touchpoints are scattered all around the business. The uphill task is to find the most important interaction points that bring in the most conversions or drive customers away. Once you have the data, you can start to optimize it.
That's the topic at hand.
In this blog, we will go through how customer touchpoints shape the customer experience and how you can track them. We have also added practical tips to optimize the touchpoints in customer journey to promote growth.
What Is a Customer Touchpoint: Defined
A customer touchpoint or Brand touchpoint is defined as the point of contact for the customer with the brand along its journey. These interaction points are located across various channels and mediums.
Here are a few customer touch point examples:
Customer reading a help article or product FAQ
Clicking on the landing page CTA
Initiating a live chat with the support agent
Submitting the complaint ticket
Speaking to the support agent over the call
The importance of customer touchpoints lies in the fact that critical interaction points can make or break the customer experience. You can deliver a seamless experience if you can identify these moments.
Benefits of Customer Touchpoints
1. Segment & Study the Customer Journey
Touchpoints let you visualize the customer journey in fragments instead of a singular experience. You can break it down into nuanced interactions and study each as an isolated event.
It means you can tailor the interaction points for each customer segment delivering more personalized experiences.
What's more, you can see the most popular channels, mediums, and touchpoints of different customer segments to maximize ROI on your marketing campaigns.
2. Guide Prospects Through the Sales Funnel
Customers are more likely to move toward conversions if you make the customer journey effortless.
Suppose a prospect discovers your website online and reaches your landing page. Then, they contact you via live chat to clear their doubts. That's a critical touchpoint for these prospects.
If you can resolve their queries and show them how valuable the product offering can be for their business, you can push them toward purchase.
You can also build a positive perception of your brand in their mind, prompting positive word of mouth.
That's how customer touchpoint works. Each interaction helps to form a brand image, and the customer journey is an aggregate of these interactions that define the customer experience.
3. Identify Silos & Issues
A customer journey map combined with feedback data and sentiment analysis can point you toward the points of friction across all the touchpoints.
Take a look at this customer journey map:
It gives a bird-eye view of how customers feel at every stage. Now, pick the most dissatisfactory stage and use the funnel data to cross-reference the drop-off numbers across each touchpoint in that stage.
Then, you can choose those customer touchpoints where most prospects decide to move out of the conversion funnel and optimize it.
For example, you can use customer experience surveys to determine why visitors are disappointed and dissatisfied. Fix these issues to streamline their experience and propel more prospects to the next stage.
4. Improve Customer Loyalty & Repeat Business
What promotes customer loyalty and repeat business? Personalized and engaging interactions with a brand.
According to a study by Formation, you need to personalize every interaction to specific user needs to drive customer loyalty and retention.
And to deliver 1:1 personalized experience, you need to understand customer needs and motivations at different interaction points.
Ipso facto, you need to track and analyze crucial touchpoints in customer journey.
23 Different Customer Journey Touchpoints to Track
Here's a list of different touchpoints based on the target audience of our survey and feedback tool, Qualaroo. It's a SaaS-based feedback platform that caters to clients looking to collect feedback on various channels like the website, app, product, social media, etc. So, we track these channels to pinpoint the right prospects and customers. The list may vary depending on the business:
1. Social Media as Customer Touchpoints
Social media represents the point of improving brand awareness and image. How do people interact with your brand? What do they write about your products and services on their social profiles? Do they share your posts and like them? It's necessary to bring in new prospects and build an online community.
2. Customer Support Touchpoints
According to a survey by CX expert Shep Hyken, 58% of people are willing to pay more for a better service experience. So, support-based customer touchpoints can not only improve customer satisfaction but are also a key factor in promoting recurring revenue. Identify such touch points in customer journey stages and optimize them.
3. Feedback Forms
Feedback forms, like surveys, are a way to communicate with customers. People also favor brands that collect and act on customer feedback. Utilize this touchpoint before, during, and after the purchase to gauge customer satisfaction, needs, and preferences.
4. Customer Touchpoints on the Website and App
Website, landing page, and app constitute a critical part of the awareness stage in the customer's journey. If your web pages provide a definitive answer to what the prospect is looking for, you can push them toward conversion. You can also target individual customer segments with multiple personalized landing pages based on product usage.
5. In-Product Touchpoints
These are important to improve product adoption, usage, and retention. You can see how effective your product is for solving customers' problems. You can target in-product customer touch points to improve product features, guides, and other elements.
6. Offline or in-Store Brand Touchpoints
Not all purchases occur on the internet. People still love to shop from the store. If you have a store, you need to ensure that the people have a great experience which will automatically transfer to online interactions.
7. Consumer Touchpoints in Marketing
Marketing customer touch points such as ads bring in new leads for the sales team. They also help you identify the most successful marketing channels. You can then manage the budget accordingly to reduce the acquisitions and churn costs by targeting the right audience.
How to Identify Critical Customer Touchpoints
Critical touchpoints are those that define the customer experience and help form an opinion about the brand in customers' minds. This makes it necessary to identify such interaction points and optimize them. Here's how to do it:
1. Use Web Analytics
Web analytics tools like Google Analytics (GA) are particularly useful in identifying the touchpoints across your marketing ad campaigns and website. These offer a tremendous opportunity to gauge the performance of different channels.
For example, you can design attribution models in GA to determine which touchpoints across the customer journey contribute towards higher conversions.
You can use different attribution models, like first interaction, last interaction, linear, last Google ads click, and others.
Here's an example of Attribution modeling:
The best way to build a robust attribution model is to integrate all marketing and business data in one place.
You can use a CRM tool like BIGContacts to consolidate first-hand and third-party customer data into distinct dashboards to track touchpoints along the customer journey seamlessly. These include customers' personal information, data from helpdesk tickets, transcripts of various meetings, and more.
Then integrate it with Google Analytics (GA) accounts to set up proper attribution models.
Once set up, you can track how visitors interact with your site and the conversions for each channel.
2. Dig Through Customer Support Data and Interactions
Customer support is the ground zero for critical issues, product-breaking bugs, dissatisfaction, and other happiness points.
Looking through this, you can reveal critical touchpoints that can turn customers away. And optimizing these can push the same customers toward conversions.
For example, if a significant number of customers complain about the knowledge base section not being up to mark, you know it's a point of interest for customers.
Similarly, if they are in awe of your support services and live chat, you can leverage this fact to provide a seamless service experience and push visitors to conversions.
Here's what customer success teams at Qualaroo do to map critical customer touchpoints hidden inside the customer support data:
Look for the most used channels and mediums by people reaching out to support. It includes self-help options as well.
Find the satisfaction ratings for these channels.
Cross-check the satisfaction ratings with the number of people that use it.
You'll get a table like this:
| | | |
| --- | --- | --- |
| Channel | CSAT | Number of Weekly interactions |
| Emails/Tickets | 68 | 135 |
| Live chat | 81 | 114 |
| Calls | 63 | 90 |
From the table, you may think that phone support needs to be the focus of your touchpoint optimization strategy. But when you compare the CSAT score of tickets and calls with the number of people that use these channels, your most significant customer touch point is helpdesk/ticket support.
Why?
Because even though a large number of people are using it, the CSAT scores are still below par, making it necessary to optimize this interaction point.
If you have resources, you can further break it down by customer journey and prioritize the data based on your acquisition or retention strategy.
For example:
| | | | |
| --- | --- | --- | --- |
| Channels | CSAT | Total weekly interactions | Prospects/customers |
| Emails/Tickets | 68 | 135 | 31/104 |
| Live chat | 81 | 114 | 71/43 |
| Calls | 63 | 90 | 55/35 |
Want to focus on retention? Pick the channel that brings the more verified customer.
Want to generate more acquisition numbers? The touchpoint in the customer journey would be the one with a higher number of prospects.
3. Create Customer Journey Maps
Customer journey mapping breaks down the customer journey into various stages, listing the touchpoints for each stage.
But what's interesting is it also lets you gauge customers' sentiment across each touchpoint. So, you can see which touchpoint promotes a satisfying experience and which makes for a bad experience.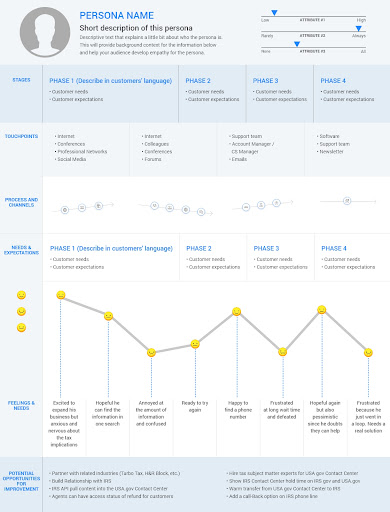 You can also visualize the areas of improvement and awe moments. Map these points at each stage and optimize them to deliver a consistent experience throughout.
Again, not all touchpoints are the same. Pick those that help the customers to make a decision.
If it drives customers away, deploy surveys to find out why and fix the issues.
If the interaction produces a positive experience that leads to prospects becoming a customer, collect feedback and try to replicate the same experience at other journey stages.
6 Ways to Optimize Consumer Touchpoints in the Customer Journey
Let's move from identifying to optimizing the touchpoints across the customer journey. Here are a few ways to do it:
1. Use Surveys/ Collect Feedback Regularly
Collecting feedback is the single most effective strategy to optimize the touchpoints.
Hands down!
It lets you get in touch with the customers to ask about their experience and collect data on improving it. These nuanced data points become the points of truth for your teams.
Here's how Qualaroo optimized their post-purchase touchpoint, i.e., product adoption and onboarding.
Earlier, Qualaroo's onboarding process was designed to familiarize new users with the product features. The process was almost the same for all users.
To make it more potent, our customer success team changed the strategy to get in touch with every new user and collect feedback about how they intended to use Qualaroo in their business.
Once we had the data, we would craft a personalized onboarding experience for that customer to educate them about the features that matter the most to them.
And voila! Did we reduce the number of new users reaching out to support after initial usage?
Here are 5 Steps to optimize the customer touchpoints using surveys and feedback:
Once you have identified the critical interaction points, deploy surveys to gauge customers' experience.
Prioritize the negative feedback to streamline the experience across these touchpoints.
Rerun the surveys to track how the changes affect the customers.
Rinse and repeat.
Read More: A Guide on Creating and Optimizing Landing Pages
2. A/B Test Your Product & Landing Pages
Landing pages are the first contact points for your customers. This makes them a critical touchpoint at the awareness and consideration stages and worth optimizing.
Landing pages need to be optimized for conversions, but you can't go on a spree to make changes without data-backed hypotheses.
That's where A/B testing comes in handy. It lets you test the page elements one at a time to increase click-through rates and conversions.
Here are some elements you can optimize on your landing page touchpoints:
Use high-quality product images. Experiment with 360-degree images and AR-based product images.
Create a well-defined website copy that includes features, product headings, and others.
Add product reviews and ratings to show credibility.
Use trust seals on lead forms and payment forms to declare data usage policy to customers.
Mention delivery time and refund/exchange policies clearly on the page.
Add a live chat widget like ProProfs Live Chat to enable real-time customer support.
Test these elements' UI, color, content, and design to maximize interactions and conversions.
You can also add feedback forms and surveys to the page to collect insights from visitors. It can help you form the hypothesis for your testing and further optimize these customer touchpoints, pinpoint missing attributes, and target existing customers.
For Hootsuite, its biggest touchpoint- the product landing page was slowly becoming the bane of its life. A lot of visitors were bouncing off the page without converting.
To extract the reason behind this behavior, the team deployed surveys on the landing page to ask the following question – Did you find what you were looking for?
Hootsuite's team discovered that over 65% of the traffic found the information on the page insufficient to make a purchase decision.
The platform used the feedback to redesign the page with new images of the tool dashboard, pricing structure, and testimonials.
When the Hootsuite team A/B tested the new page against the original, they observed a 16% lift in conversions, thus vastly improving the crucial touchpoint experience in the customer journey.
3. Identify High-Value Touchpoints
What are high-value customer touch points? These are the interaction points that bring in most of the revenue.
Some of these touchpoints include:
High ROI online ads
Most popular social media handles
High-performing landing pages
Most active customer segments over mail campaigns
Most used touchpoints by high-value customers
Support channels that offer the highest satisfaction ratings
But why do you need to track them? Well, there are a couple of reasons:
They bring in higher conversions than other interaction points.
Some of these are also responsible for higher revenue per order.
They help balance the revenue lost from churning customers to keep the marketing and other campaigns afloat.
Once you've identified such points of interest, you can gather feedback data from the customers and try to replicate the strategy at other touchpoints as well. It can improve customer satisfaction and provide a consistent experience across the entire journey.
For this, you can deploy surveys like NPS, CSAT, and CES to gauge customer experience and gather insights.
Another big advantage of identifying and optimizing high-value customer touchpoints is the ability to explore cross-selling and upselling opportunities.
Suppose you have a high-performing product page. To achieve higher purchase values, you can add new sections of 'Related Products' and 'Also Suggested' to increase the cart value of visitors.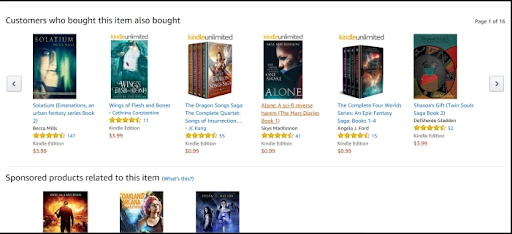 4. Optimize the Checkout Process
After the landing page, let's go to the shopping cart flow. It's the most critical customer touchpoint on your website or app.
Think about it.
The customer is at the end of the conversion funnel. If they leave the website now, all other efforts are for naught.
That's why you need to optimize the checkout process to make it easy for prospects to purchase.
Here's how to do it:
Allow Single Sign-On (SSO) and flexible login options. You can also test out 2-step authentication for added security depending on the type of business.
Optimize the cart to minimize confusion and provide a clean UI.
Add trust seals to the payment page. It helps to instill confidence in the shoppers.
Let customers reconfirm the order details before making payment. This way, you can reduce order cancellations and refund requests.
Add a live chat widget to the website to allow real-time support.
As usual, always collect feedback from customers who interact with the checkout process.
Use exit-intent surveys for people who abandon the checkout page without completing the purchase. Exit survey tools like Qualaroo offer built-in triggers that detect when visitors are about to leave to show the surveys and collect insights.
Next, show product experience surveys to people who successfully place the order. You can gauge their shopping experience and determine what needs improvement.
You may think it's a lot of work, but it's all worth it because checkout is one of those customer touchpoints that directly impact your revenue and growth.
5. Monitor Success Team Quality
Customer success teams are the face of your business. These serve as the point of contact for customers to resolve their issues and queries, automatically making them critical customer points.
So, it's only logical to check how your teams are performing.
Here are a few ways to do it:
Monitor the first contact resolution rate of your support team.
Quality check responses of all new agents before bringing them to the floor. You can use tools like ProProfs Training Maker to design courses for employees and build a quality customer success team for all customer touch points.
Collect CSAT and NPS scores from customers after the issue has been resolved.
Complement quantitative feedback with qualitative insights to check how your teams are performing. It will help you gauge how helpful, articulate and polite was the support agent.
Track other metrics like average resolution time and the number of repeat contacts.
You can start with CSAT embedded into your live chat widgets. You can also collect satisfaction scores through helpdesk tickets and send them via mail to customers.
Once you have the data, you can set up benchmarks and guidelines to improve them further.
Tools like ProProfs Help Desk can help you set up a professional customer success team and keep every interaction in one place. They also provide a built-in dashboard to monitor the team's productivity and customer satisfaction in real time.
In the same way, track the effectiveness of self-help options like video tutorials, FAQs, help articles, etc. They also fall into crucial customer touchpoints and thus need to be optimized.
6. Promote a Seamless Cross-Platform Transition
Till now, we've discussed how to pick crucial touchpoints and optimize them. Now, let's consider how we can converge them to provide a seamless experience.
Seamlessness across multiple customer touchpoints ensures that the transitions from one channel to another require zero user effort. If the customer can pick from where they left off without any headaches, the experience is seamless.
Customers don't respond well to difficulties completing the tasks along their journey. If the effort seems more than the perceived value of the task, the customers are more likely to abandon it.
That's why you need to create an unhindered journey across multiple channels.
Here's how you can do it:
Collect and compare the experiences of your website and app checkout process.
Cross-check customer satisfaction for in-store and online touchpoints and improve them.
Integrate your live chat with the helpdesk system to automatically convert unresolved chats to tickets in real time. This way, customers won't have to create a ticket separately.
You can also use geo-location and notifications to improve cross-platform usage.
Suppose a customer comes to your website, adds the product to the cart, and leaves. You can now send SMS notifications about the items still waiting in the cart, but with the link to your app, so the user can easily complete the purchase on the go.
Leverage Customer Touchpoints to Trace Customers' Journey
Customer touchpoints are moments of building a positive perception in customers' minds. Whether it's in-the-moment or long-term experience, you must show that you care about your customers. And all of it happens at the point of interaction.
Start by learning how customers think and interact with you to track the main touchpoints for different segments.
Then, drill down further by assessing customers' needs to pinpoint where you can create new high-value interactions and optimize the customer experience further. You can use a mix of feedback tools and customer data systems like Qualaroo and BIGContacts to fish out these hidden customer touchpoints.
These simple exercises can help understand customers' behavior to target them at the most crucial touchpoints to improve conversions and retention rates.
After all, customer experience is the new battleground, and touchpoints are strategic points you need to conquer.
Want insights that improve experience & conversions?
Capture customer feedback to improve customer experience & grow conversions.