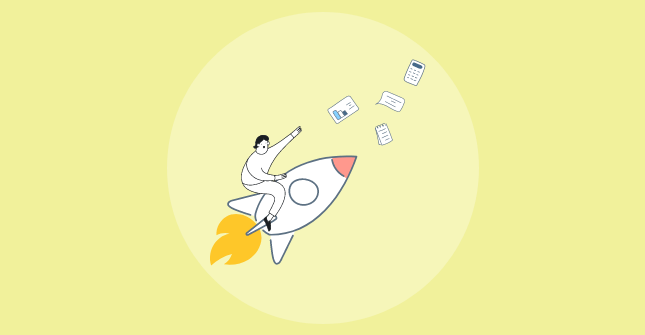 Listening to the customers is highly crucial to understanding where your company stands, but it can get challenging by the minute if you have a Voice of the Customer(VOC) tool that doesn't work for you.
Believe us when we say we know the struggles of collecting customer feedback and insights.
You need the right Voice of Customer strategies and a clear understanding of what kind of feedback you need and the means to get it.
One of the most effective ways is to ask them directly.
And for this, you need a Voice of the Customer tool that can offer you engaging surveys, the right questions, advanced targeting options, and excellent analysis capabilities.
To save you the trouble of searching for tons of tools, we have the cream of the crop for you in this article.
We will discuss the 10 best Voice of the Customer tools available for you to try.
These tools cater to different budgets and features, so we are sure you'll find something fitting for your business.
Here's a quick view of what we will cover in the listicle:
Choose for (Purposes the tool fulfills)
Suitable industry by size (Small, medium, or large)
Price
Features
Pros
Cons
A use case of each tool
Before we jump into the list, here's a brief about the concept of Voice of the Customer(VOC).
What Is the Voice of the Customer(VOC)?
The Voice of the Customer (VoC) is the feedback companies gather from customers to understand their experience and views on their services, products, and brand.
Voice of the Customer feedback consists of qualitative and quantitative insights, providing information to help companies grow.
You can channel this data to:
Understand the target audience
Improve the product offerings
Fix product issues
Design targeted marketing campaigns
Trace optimization strategies.
So, without any further ado, here's a list of the top 10 VoC tools you can consider using for your business.
10 Best Voice of the Customer Tools & Software for 2023
Each VOC or Voice of the customer tool discussed in the list offers unique features and helps businesses facilitate data collection and analysis. The tools' arrangement does not reflect any order of preferences or capability.
With that clear, let's begin.
1. Qualaroo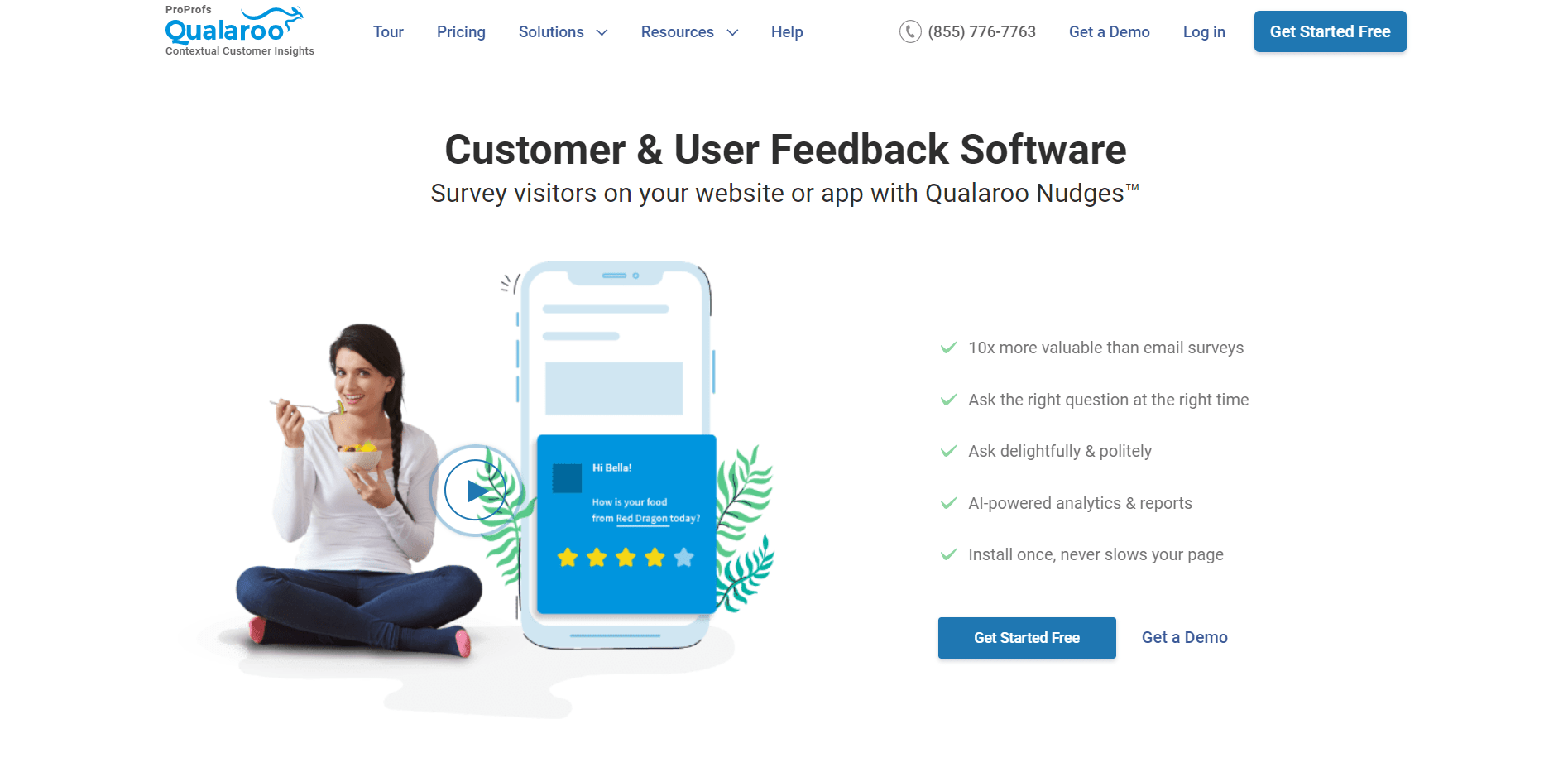 ---
Qualaroo is one of the best Voice of the Customer tools. It is experience management and feedback tool that lets you create different survey types to listen to your customers' opinions and experiences. The best part is that unlike other modes of surveying, it gives you contextual feedback with actionable insights from a targeted audience.
Its survey Nudge™ feature lets you add pop-up surveys to your website, prototypes, and mobile apps. The tool is excellent for deploying surveys quickly with the help of ready-to-use survey templates that you can customize and publish. Let's have a look at the features.
---
Choose for: Intuitive reporting, advanced targeting, pop-up surveys, sentiment analysis
Suitable for: Medium to large businesses
Price: Starts from $69 per month.
Features:
Easy to set up without using any code.
Lets you create surveys with question types such as rating scale, the Likert scale, open-ended questions to collect qualitative data, and closed-ended questions for quantitative data.
Comes with an NPS calculator and displays the score on the dashboard, unlike many survey tools.
Leverage skip and branching logic to target the right respondents.
Offers advanced targeting and reporting capabilities.
Lets you create surveys in 100+ languages.
Helps you perform Sentiment Analysis powered by IBM Watson's Natural Language Processing (NLP) technology.
Offers integrations with tools like HubSpot, Marketo, Zapier, Mailchimp, etc.
Pros:
Use Nudge™ to check customers' pulse and get quick feedback.
Gather feedback from customers without disrupting their experience with slide-in pop-up surveys.
Facilitates market and user research.
Cons:
Plain dashboard UI.
No industry-specific templates.
Use case:
Hootsuite is a social media management platform that helps its users access all social media accounts from one platform. The Hootsuite landing page had a high bounce rate and they couldn't figure out why.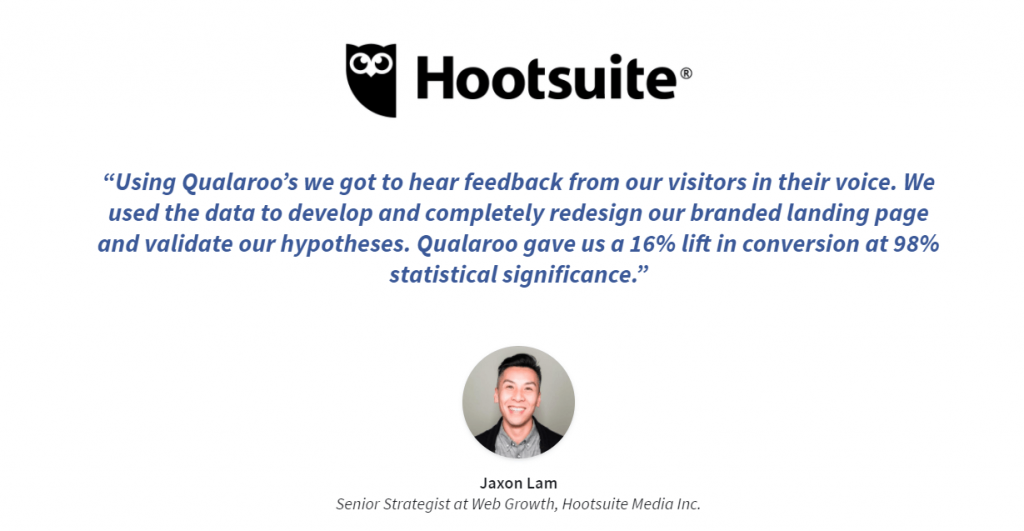 ---
Using Qualaroo's exit-intent surveys, they tried to explore why visitors were leaving the website without converting.
Through customer insights, they found out that the page was missing crucial information that visitors and users were looking for. Hootsuite did a complete makeover of its landing page, keeping the customer experience in mind.
Result? They significantly reduced the bounce rate and improved visitor engagement on the website.
---
2. MonkeyLearn
---
The second Voice of the Customer tool is MonkeyLearn. It's among the top VoC analytics tools since it offers a complete suite of text analytics functions.
MonkeyLearn is the perfect choice if you want to analyze customer sentiment on social media and your survey campaigns. You can also use the in-built integration APIs to integrate the tool with your business ecosystem.
Choose for: Social media sentiment analysis, feedback analysis, text analytics
Suitable for: Mid-sized to large businesses
Price: Starts from $299 for the team plan
Features:
Lets you design a sentiment analysis model tailored to your business without coding.
Tags comments automatically.
Helps you build sentiment analysis models with your industry-specific language.
Leverage advanced algorithms to identify multiple emotions like frustration, joy, concern, and anger.
Extract custom data from the free-text feedback.
Integrates with tools like Zendesk, Google Sheets, etc.
Pros:
Free version available.
Easy response tagging and analysis.
Little to no learning curve.
Cons:
Limited integrations options.
Needs more in-built templates.
Use case:
Freshly is a popular meal delivery service, and it wanted to fine-tune its whole feedback collection process. The team was looking to organize feedback from different platforms, standardize the data, and collect actionable insights.
Using MonkeyLearn with Zapier, the team streamlined feedback from different sources with the text analysis workflows and data analytics dashboard.
3. Medallia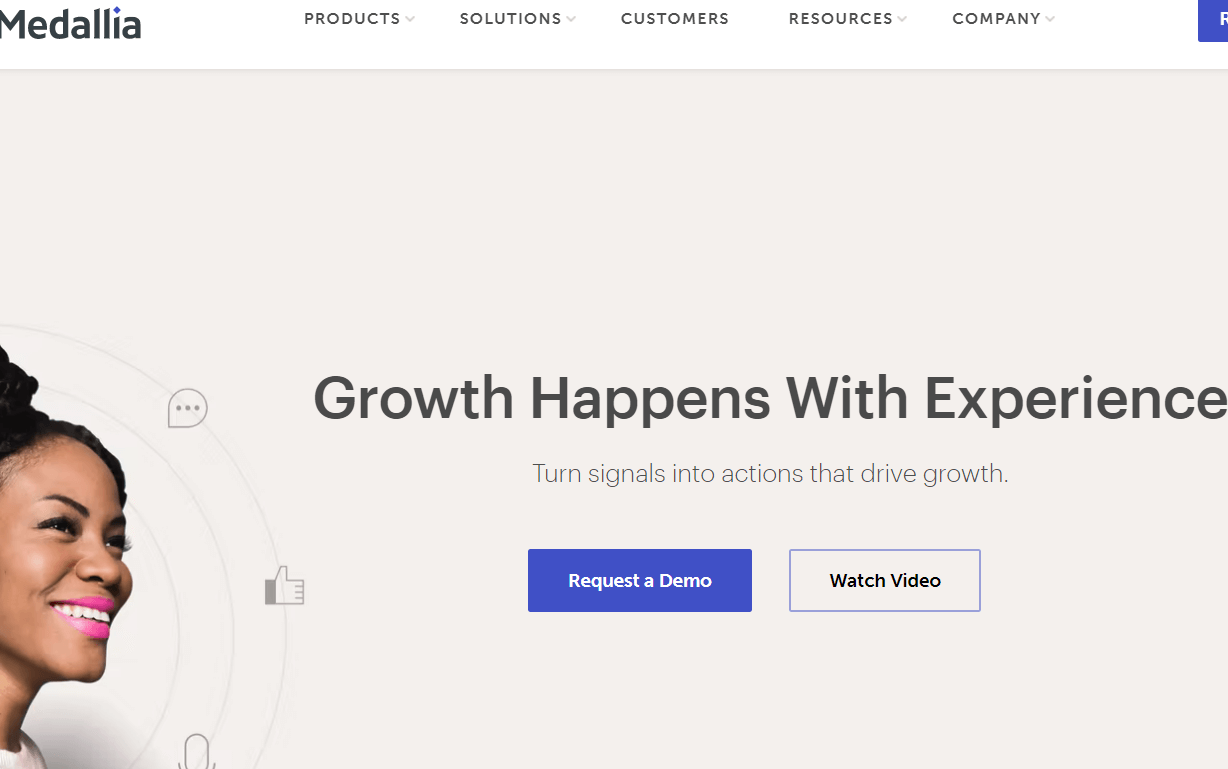 ---
Medallia is an excellent Voice of the Customer or VOC analysis tool. It is popularly known as an experience cloud platform that helps businesses improve their customers' experience. You can create on-site and in-app surveys and even share your surveys via email with this tool. Here are some of its sought-after features.
Choose for: Experience cloud features, Multi-channel deployment, NPS surveys
Suitable for: Medium to large business
Price: Available on request
Features:
Easy to set up.
Lets you flag reviews based on parameters like keywords, scores, timings, and more.
Simple and easy-to-navigate dashboard.
Leverage the intuitive dashboard to track and analyze Google reviews.
Makes competitive analysis easier and facilitates performance benchmarking.
Provides text analytics to review comments and open-ended feedback responses.
Lets you manage to share and access permissions in the reporting section.
Offers interactive to encourage respondents to share their feedback on Google.
Pros:
In-built word cloud engine.
Tracks customer complaints.
Cons:
Sometimes the Word cloud provides inconsistent results.
Use case:
A popular global hotel chai,n Four Seasons, wanted to digitize its feedback collection process since the offline method of comment cards created data silos for different branches.
Using Medallia, Four Seasons collected feedback from its customers from different properties and locations. It helped the hotel gain a holistic view of its customers' experience and identify CX trends.
4. ResponseTek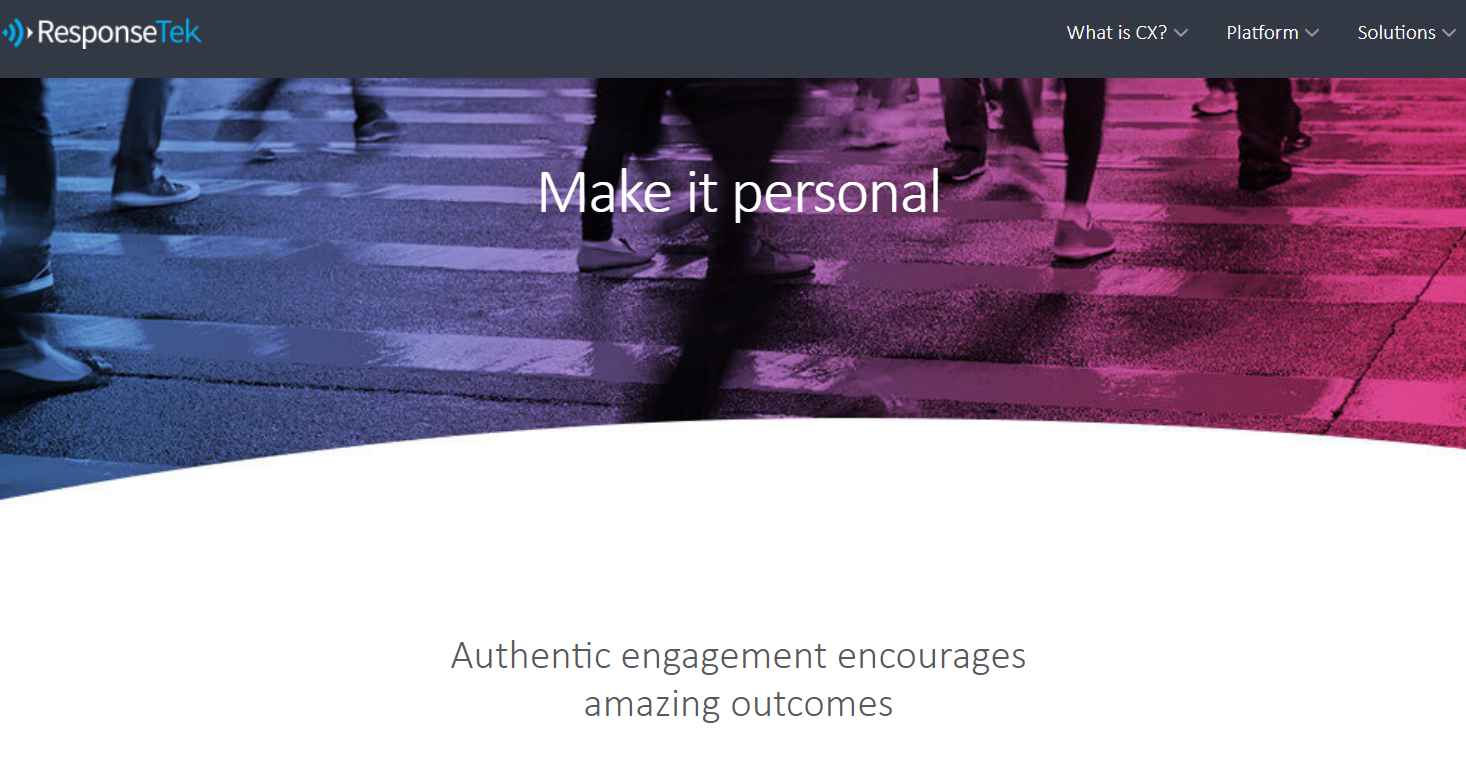 ---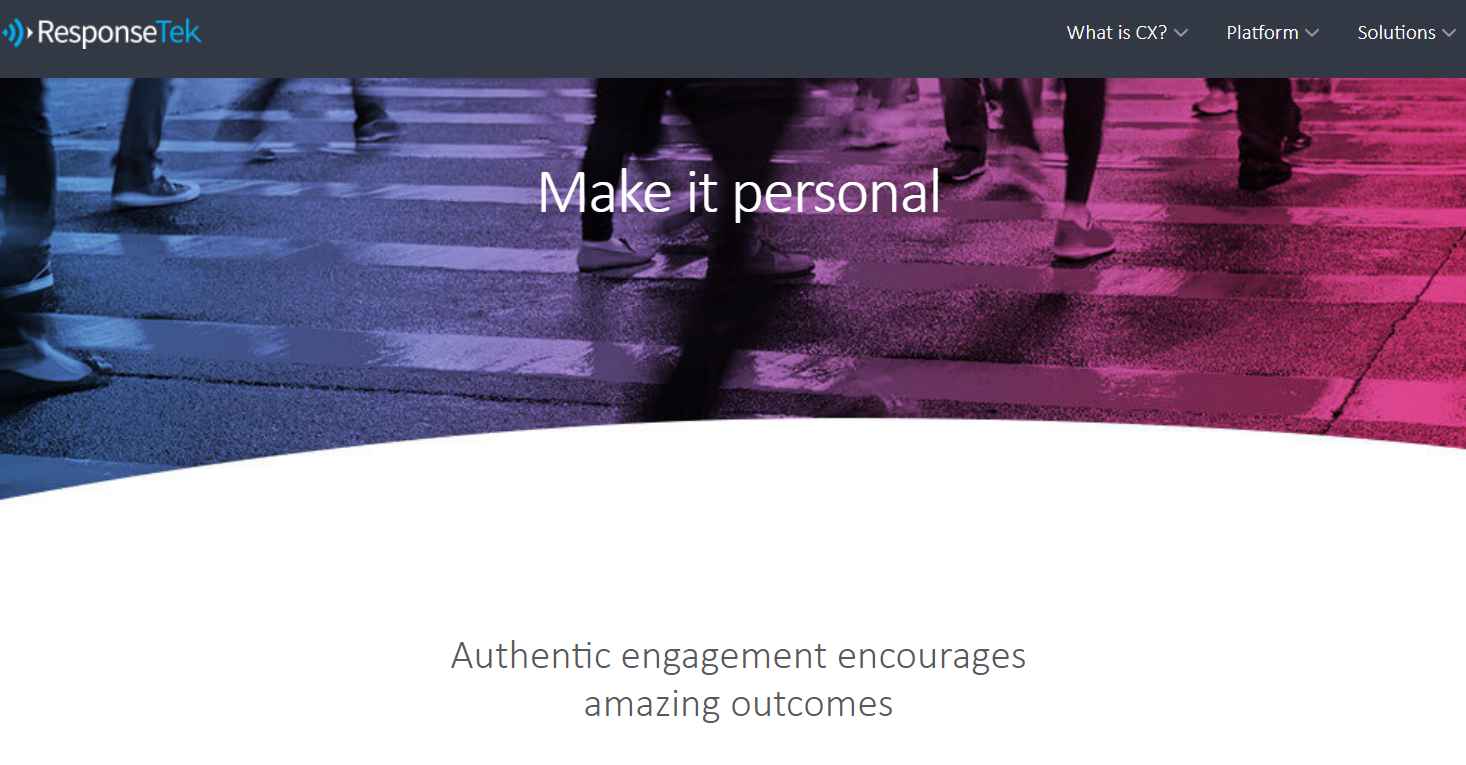 ResponseTek is one the best Voice of the customer(VOC) tools & it is the perfect choice for start-ups and SMEs as the Voice of the Customer application. This customer experience management system offers alerts, escalation, Knowledge Base, and more.
The tool can also be used to give customers contextual acknowledgment after they leave feedback. No matter what way they are providing feedback, its Listening Platform can respond to them in personalized and in-context formats.
Let's see some of its features.
Choose for: Sentiment analysis, text analysis, customer experience management
Suitable for: Small to mid-sized businesses
Price: Available on request
Features:
Lets you create personalized surveys for gathering customer feedback.
Lets you automate survey campaigns to send surveys automatically.
Integrates with your existing CRM, ERP, POS, and billing systems.
Offers automation for alerts and actions.
Assists in real-time feedback data analysis.
Comes with a Listening Lab feature that helps create surveys and measure the results.
Pros:
Offers solutions for end-to-end CEM workflows.
Cons:
AI Suite is pretty basic as compared to its competitors.
Use case:
Kcell is a cellular operator that wanted to establish an NPS system to understand the customer experience. In the words of Gulfanu Yergaliyeva, CX Expert KCELL –
"With the ResponseTek Listening Platform, we are now able to identify our detractors and implement operational changes to close the loop with these customers. Having real-time access to our customer feedback helps us understand our current problem gaps and identifies areas for us to focus on."
5. Qualtrics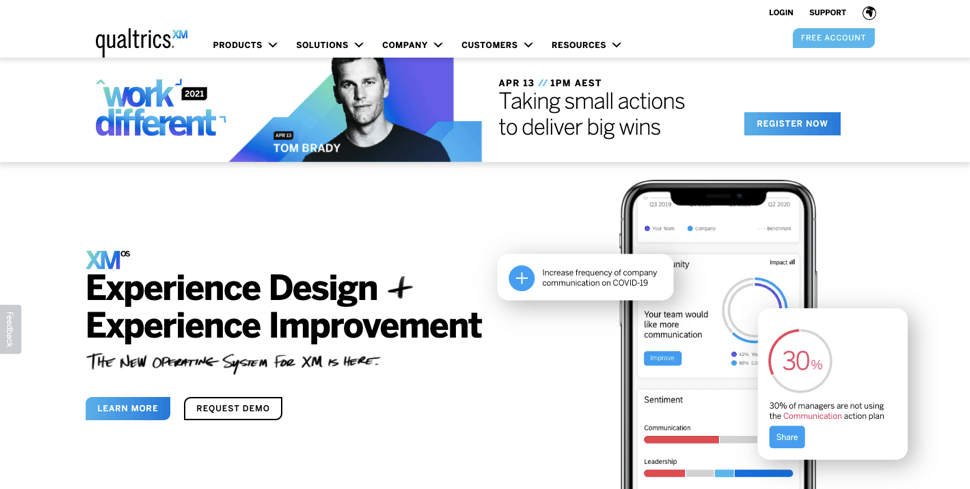 ---
Qualtrics is a famous Voice of Customer software & one of the best voc tools that offer purpose-built solutions to procure actionable customer insights from all interactions and improve the experience.
It has multiple features that help collect customer feedback effectively. Let's check out some of its helpful features.
Choose for: Text analytics, real-time service alerts, natural language processing
Suitable for: Small to large businesses
Price: Available on request
Features:
Use the Qualtrics Connect feature to let customers interact and observe the activity using conversation analytics.
Create different surveys like NPS, CSAT, and more.
Another popular feature is its XM Discover which alerts you when nuances are detected in customer feedback.
Comes with pre-designed and customizable survey templates to help you deploy surveys in real-time.
Provides ExpertReview function that analyzes different questions and provides design recommendations for surveys.
Sentiment analysis capabilities to analyze customer emotions in the feedback.
Comes with predictive intelligence (after acquiring Clarabridge) that analyzes data reports to offer actionable insights.
Lets you share data reports in different formats such as CSV and PDF.
Helps visualize survey data in 30 different graphs.
Pros:
Excellent reporting features.
Rich analytics features.
Facilitates crosstab and reporting.
Cons:
UI could be more interactive.
Customer responses don't attach to individual threads.
Use case:
SharkNinja is a leading housewares company with very little visibility into its agents' activity and performance. It also wanted to improve its understanding of agent training needs and customer engagement.
With Qualtrics, the company could procure deep insights by analyzing posts, resolving issues in real-time, and distributing insights efficiently between teams. All this helped them understand the customers better and track agents' performance.
Related read: 11 Best Qualtrics Alternatives & Competitors in 2023
---
6. InMoment
---
InMoment is another amazing Voice of Customer tool offering impressive feedback collection and analysis features. It aims to find positive results for businesses by finding optimized solutions to enhance customer experience.
The cloud-native XI platform has different modules like Employee Experience Cloud, Customer Experience Cloud, and Market Experience Cloud.
Choose for: Customer feedback analysis, market research, employee research & management
Suitable for: Medium to large businesses
Price: Available on request
Features:
Comes with customer journey maps that help businesses improve their experience and decrease churn rates.
Manages big data straight from the dashboard.
Has action planning tools and facilitates case management to effectively collect individual and collective feedback.
Helps you gauge customer sentiment using its text analysis capabilities.
Comes with a sought-after all-in-one reporting platform.
Pros:
Supports holistic CX management.
Increases customer lifetime value.
Cons:
Poor customization options.
Doesn't offer survey templates.
Use case:
A healthcare provider based in New Zealand and Australia, nib New Zealand used InMoment to give a complete overhaul to their CX program. By doing this, the company reduced its churn rate by 6%.
7. Confirmit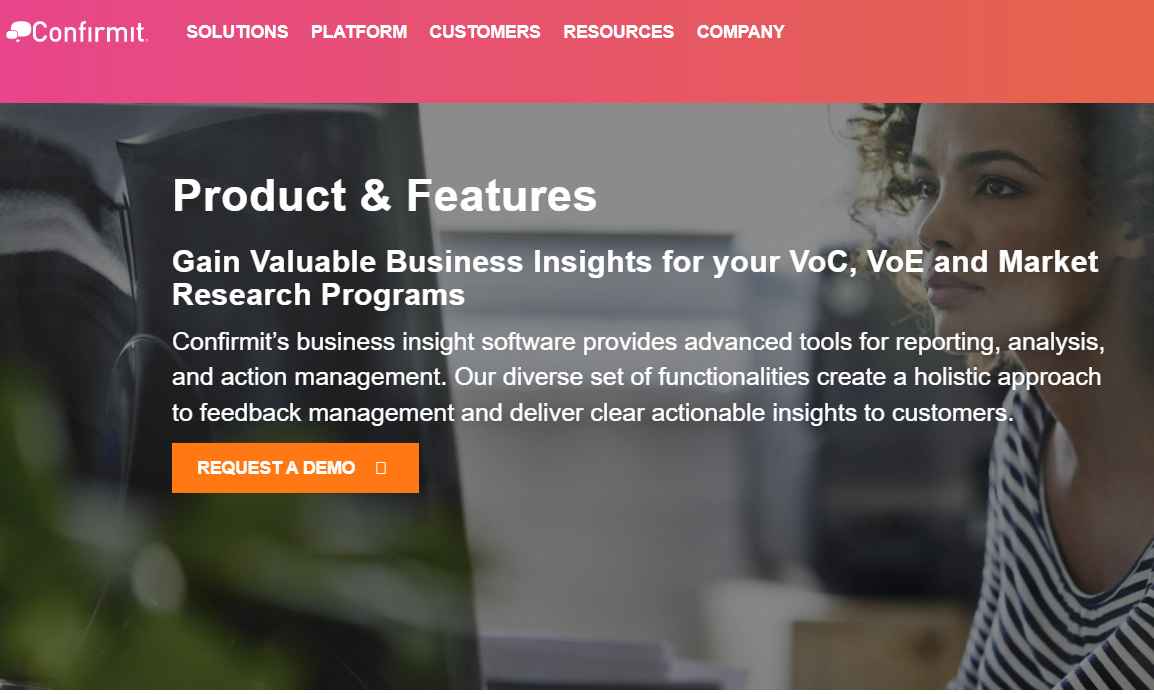 ---
Confirmit is a viable and scalable end-to-end feedback solution that helps capture the Voice of the Customer. You can use it to deploy questionnaires and surveys without any coding.
It also helps perform feedback data analysis and offers features like market research solutions, multi-channel employee experience management, and more.
Choose for: Employee pulse surveys, mobile surveys, science-based templates, Cloud-based surveys
Suitable for: Mid to large businesses
Price: Available on request
Features:
Offers text analytics, social analytics, and reporting analytics.
Help you create and deploy mobile-first and on-site surveys.
Supports multi-channel customer feedback distribution and collection.
Facilitates poll and panel management, among other things.
Lets you add rich media like videos, images, etc., to your surveys.
Offers integration with tools like Affectiva, Salesforce, Import.io, Brandwatch, and more.
Pros:
Has flexible integrations.
Editable and customizable survey templates.
Supports CSS, query HTML, and JavaScript.
Cons:
Limited survey types.
Lacks variety in survey templates.
Use case:
Heathrow is an international aviation hub company with a vast ecosystem handling complex operations. The company prioritizes its customers' satisfaction, so it surveyed 500,000 customers in a year.
With the help of Confirmit, Heathrow digitized the survey process from surveying to analyzing the feedback.
[Related read: 12 Best Market Research Tools & Software in 2023]
8. NICE Satmetrix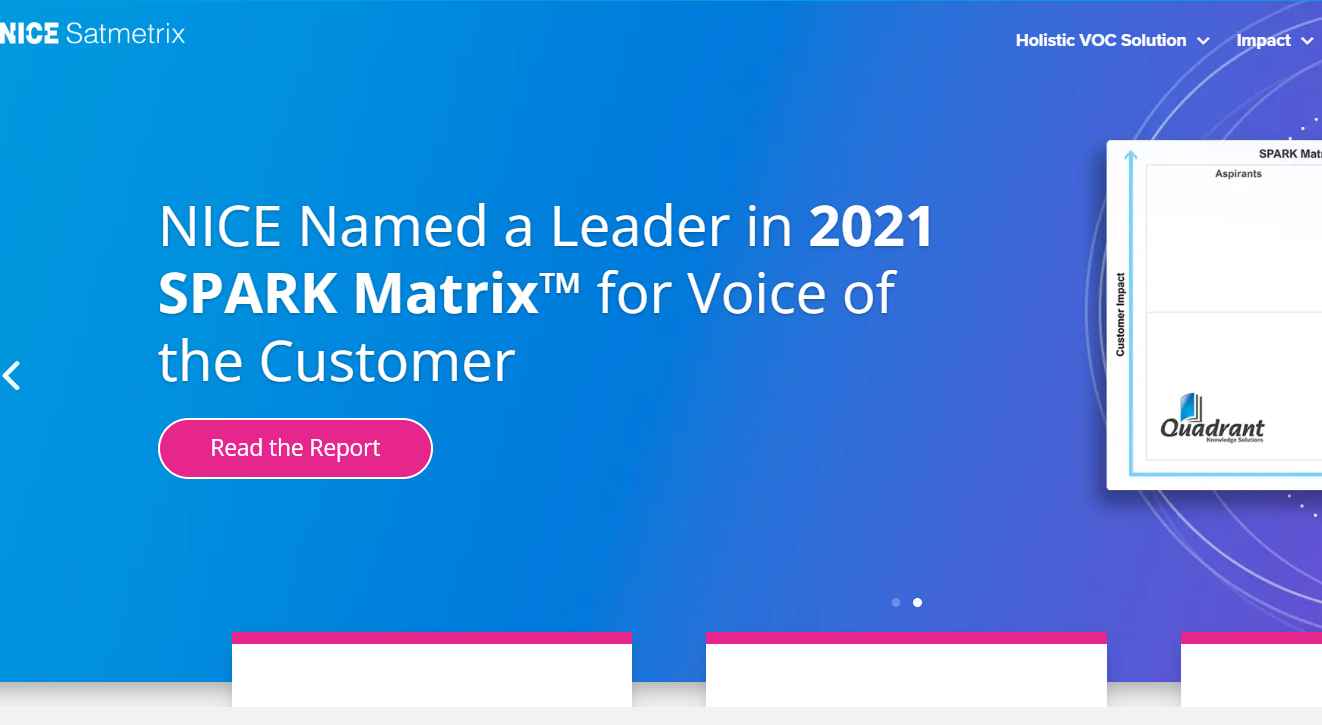 ---
Satmetrix is one of the best Voice of Customer analytics applications available in the market, acquired by NICE Systems in 2017.
This CEM system comes packed with incredible features like NPS surveys, text analytics to summarize feedback, automated triggers, and much more. Let's have a detailed look at its features.
Choose for: Discovering customer trends, contextual surveys, real-time feedback
Suitable for: Small to large businesses
Price: Available on request
Features:
Offers deep insights into high-risk interactions so that companies can take corrective measures.
Provides holistic solutions to manage omnichannel feedback and offer a unified customer experience.
Supports trend discovery, hyper-personalized and real-time surveys.
Leverage AI models to analyze feedback and procure proactive measures.
Supports custom dashboards.
Provides call recording feature to capture voice insights.
Pros:
User-friendly UI.
Easy to survey campaigns.
Salesforce integration.
Offers analytic charts and graphs.
Cons:
Lack of integrations.
Can't contact detractors from the system.
Limited customization.
Use case:
OneSource Virtual is a Business-Process-as-a-Service pioneer that wanted to take a holistic approach to its Voice of Customer strategy to maximize feedback data.
In the words of Myra Nunez, Director of Employee Services –
"Before CXone Feedback Management, we would get 100 surveys back each month. Last month, we got 2,700, and 62% of them received perfect scores."
Their internal feedback system had many drawbacks, such as frequent missed calls. The team at OneSource used Satmetrix's Contact CXone because of its callback and quality assurance features that helped them improve the process of collecting feedback.
9. AskNicely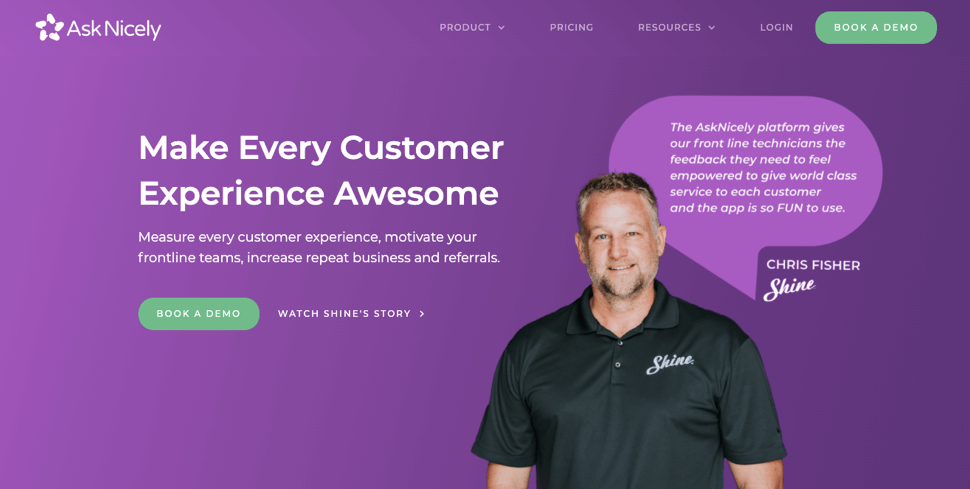 ---
Another one of the top Voice of Customer platforms is AskNicely. You can collect feedback to gauge customer happiness using customer satisfaction surveys like NPS, CSAT, CES, etc.
This cloud-based VoC tool lets businesses create surveys from scratch and collect real-time insights.
Choose for: Outbound surveys, employee performance tracking, survey cards, unified message center
Suitable for: Small to mid-sized businesses
Price: Available on request
Features:
Lets you create different surveys like CSAT, CES, NPS, etc.
Deploy surveys on websites and mobile apps. You can also share them via SMS.
Helps you create conversational and short surveys.
Offers features like skip logic, multiple question types, theme customization, and survey previews for designing survey cards.
Comes with advanced text analytics to categorize the responses.
Lets you tag the team members with internal notes.
Sends alerts when a user takes a survey.
Comes with an in-built dashboard to monitor and analyze the performance of your survey campaigns.
Facilitates tracking NPS trends, average scores across multiple devices, follow-ups, etc.
Pros:
Conversational survey cards help ask follow-up questions to the respondents.
Comes with pre-designed survey templates.
Cons:
Survey reminders don't work for SMS.
Limited channels of distribution.
Use case:
The Snorkel Store uses AskNicely's NPS surveys to create customized snorkeling gear to offer a personalized experience. They use these targeted surveys to ask customers about their store experience and the issues they face.
Using the feedback from these NPS surveys, the store achieved the Net Promoter Score of 97 with 400+ five-star reviews.
[Related read: 10 Best AskNicely Alternatives & Competitors in 2023]
10. GetFeedback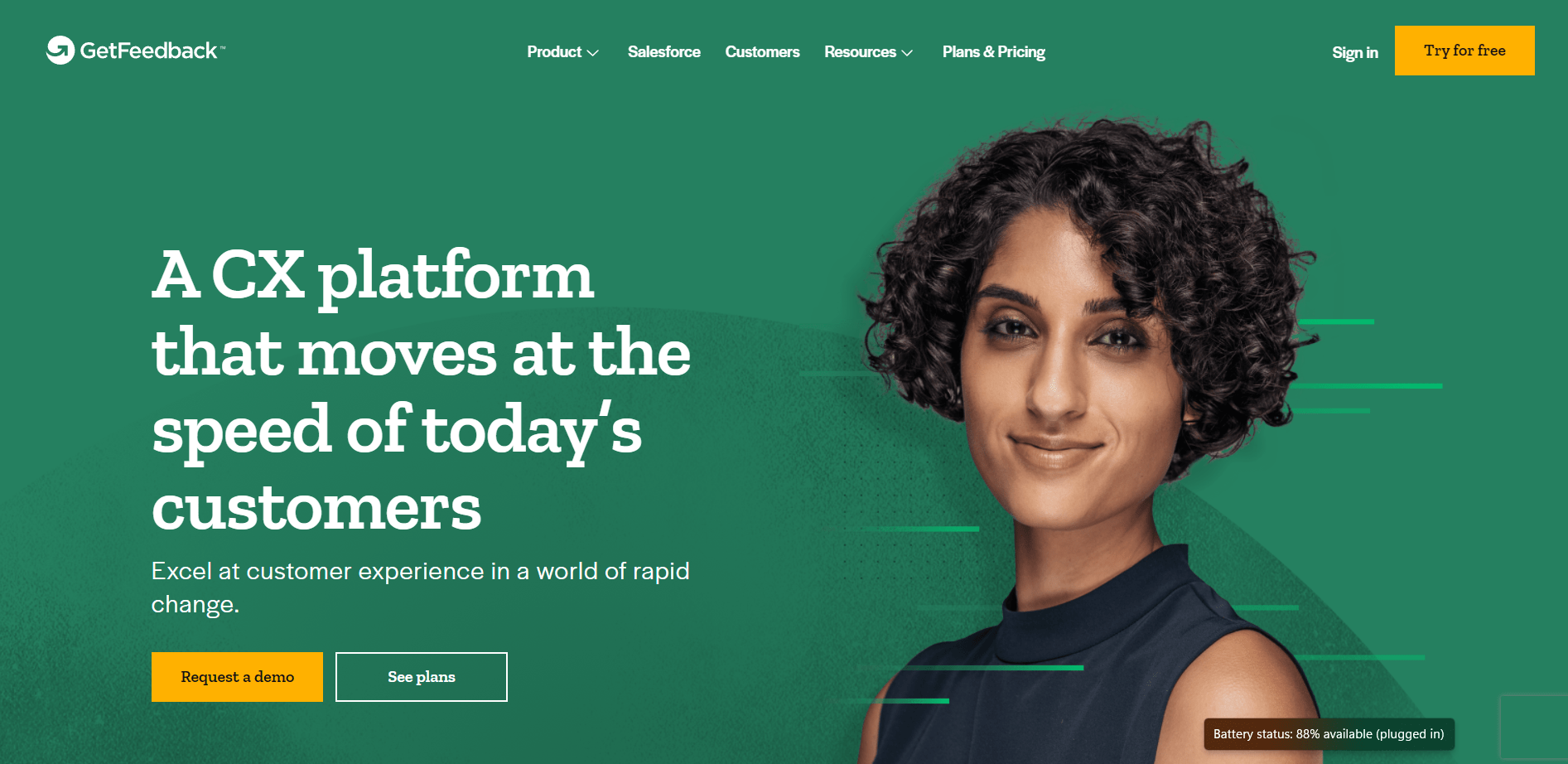 ---
GetFeedback is an excellent option as a Voice of Customer analytics or VOC tool with a drag-and-drop editor to create flawless surveys.
It offers free survey templates that you can customize according to your needs and branding. The tool quickly adapts to different channels and platforms to send surveys.
Choose for: Complaint monitoring, negative feedback management, customer segmentation
Suitable for: Small to large businesses
Price: Available on request
Features:
Rich dashboard offering 360-degree feedback insights by showing feedback analysis reports.
Support feedback management with its customizable surveys, reporting, and analysis.
Predictive analysis functionality that helps businesses make decisions based on solid data.
Supports mobile surveys and multi-channel communication.
Offers branching logic for surveys to target the right people with the right questions.
Comes with a vast question library to help you create surveys with ease.
Supports integrations with tools like Jira, Slack, Salesforce, and more.
Pros:
Flexible survey customization options.
Quick survey deployment.
Trigger settings for targeted surveys.
Cons:
Limited templates.
Salesforce integration is expensive compared to other tools on the list
Use case:
Yeti is an outdoor gear manufacturer looking for a tool that can help improve its omnichannel feedback system. Using GetFeedback, they collected customer feedback at several touchpoints like live chat, web, email, etc.
With rich feedback, Yeti created a CX program that effectively gauges customer issues.
11. Zonka Feedback

Zonka Feedback is one of the top omnichannel VOC platforms to measure customer experience across different touchpoints, view real-time analytics, and close the feedback loop.
With features like partial feedback, text analytics, one-touch reports, CX automation to set up workflows, and feedback auto-tagging, Zonka Feedback lets you hear the voice of customers throughout the customer journey, create better customer experiences and grow your business.
Choose For: Multi-channel surveys, microsurveys, feedback button
Suitable for : Small, Mid-size and Large Businesses
Price: Starts at $49 per month
Features
Run surveys multiple across channels – offline, online, website, in-app, in-product, link surveys, QR code surveys, email and SMS
Collect partial responses from abandoned surveys
Simple to use platform and survey editor to measure CX metrics
One-touch, drill-down reports including real-time Insights and trends
Customizable workflows to set up auto responder based on CX scores
View contact profiles and track their CX scores over time
Connect to other customer service Tools, CRMs, and marketing Tools including Zendesk, Hubspot, etc.
Use Case:
Nikon uses Zonka Feedback across all their flagship stores in South East Asia to take real-time feedback from customers about their experience at the Nikon Experience Hubs.
Improve Your VoC Strategy with the Right Tool
And with that, we wrap up our list of Voice of the customer(VOC) tools you can consider for your business. Remember, customers will tell you what they need; you just have to ask them the right way and listen.
You can listen to your customers the hard way or take an easy approach to this: a good Voice of Customer tool that will make all the difference.
You can choose from these Voice of Customer tools based on your budget, need for specific functionalities, etc.
For example, if you want to leverage sentiment analysis and advanced targeting, you can go with Qualaroo in a heartbeat. If you are more focused on analyzing feedback on social media, then MonkeyLearn is your tool.
Want insights that improve experience & conversions?
Capture customer feedback to improve customer experience & grow conversions.