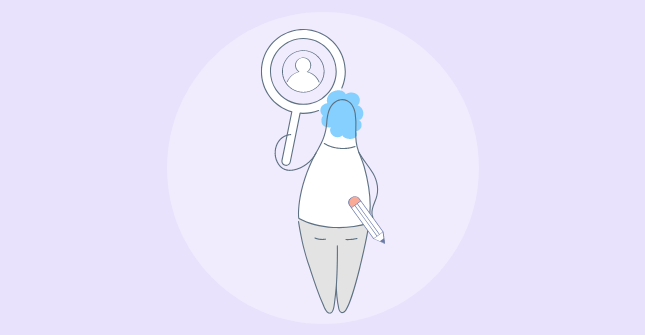 Whether you are a product manager, UX designer, or marketer, a good UX research tool can help you develop better products. But it can do much more. You can also optimize the development cost and increase conversions by aligning your product offering with the customers' needs and expectations.
Today, the biggest challenge is finding the right tool. The market is flooded with several UX research software, and making a sound decision can eat away a lot of your time.
But don't worry, we are here for you.
This comprehensive blog lists the top 15 UX research tools in the market. And we would not brisk over them. We have taken the time to compile each tool's features, pros, and cons in one place so you can pick the one that suits your needs.
Let's begin.
What Are UX Research Tools & Software?
UX (User experience) research tools help you gain insights into user behavior, needs, issues, and concerns to build user-centric products. These tools can be used at different stages of the product cycle to gauge how users feel about the product's UI, ease of use, navigation, features, and other aspects.
You can get many types of user research software based on the methodology used to collect contextual user data, such as:
Survey-based user research tools like Qualaroo
User experience testing tools Mixpanel
Usability testing tools like Usertesting
UX research participant recruitment tools like User Interviews
Remote interview tools like Dscout
The aim of conducting user research is to deliver optimal solutions that solve the problems of your target audience with minimal effort.
Now that we understand the core operation of such tools, let's explore the different ways you can deploy them to develop an amazing user experience.
Benefits of Using a UX Research Software
Regardless of the type of UX research tool you use at your end, it can provide a lot of positive results in your business, such as:
Gauge users' experience in a natural environment
As UX research tools easily integrate with your product or design prototype, it allows observing the users in actual working conditions. You can record the users interacting with the product to understand where they face problems and what elements they like. It provides more in-depth data than controlled testing.
Pinpointing exact product issues
Expanding on the previous point, most UX testing tools let you design dedicated tasks for participants to perform during the test. These can be following a series of outlined steps, reaching a particular page, navigating the menu, or sorting out the categories and subcategories.
In the case of survey-based tools, you create a survey and target specific customer behavior and actions.
Both tool types let you pinpoint where customers face issues with the products. It can be minor errors, significant bugs, or simply a complex UI. You can also collect data on how easy it was for the user to complete the task or action to optimize it further.
How early are we talking about? Well, as early as the conception of a product idea.
With the best UX research tools, you can validate the product concept with tests like card sorting and paper prototyping long before committing to development.
It helps weed out the problematic areas before they even creep into the product. And you can do this at every stage of product development.
The net effect is lower development costs, better product build, and rapid testing.
Since the product is optimized at various development stages, you release a nearly optimal product solution. Throw in a good onboarding process, and you have the perfect recipe for improving product adoption and retention. You can run further optimization with survey-based UX research tools to gather feedback about users' experience with the released product.
Related read: UX Survey Detailed Guide
How to Choose the Best UX Research Tool?
The choice of user testing software comes down to a handful of elements that you need in a tool, such as:
As mentioned above, various tools offer different means to collect user experience data like surveys, prototype testing, usability test, live interview, etc. So, take the scope and scale of your project into account while picking the method, as each method has a different approach to data analysis.
Data analysis is crucial to quickly make sense of the feedback and turn it into actionable insights. We have tools that have advanced video editing features, AI-based analysis techniques, and a detailed analytical dashboard for user behavioral signals, heatmaps, and clickstream data.
Always a significant factor, budget determines the availability of options. We have listed the prices for each tool in the list. If budget is a top priority for you, you can sort the list by pricing and then look for the best UX research tool for your project.
Each tool brings something new to the table, so choose the one that helps you produce results faster.
Top 15 UX Research Tools in 2023
Here's the list of what we think are the top-of-the-tier experience mapping tools you can implement in your business:
1. Qualaroo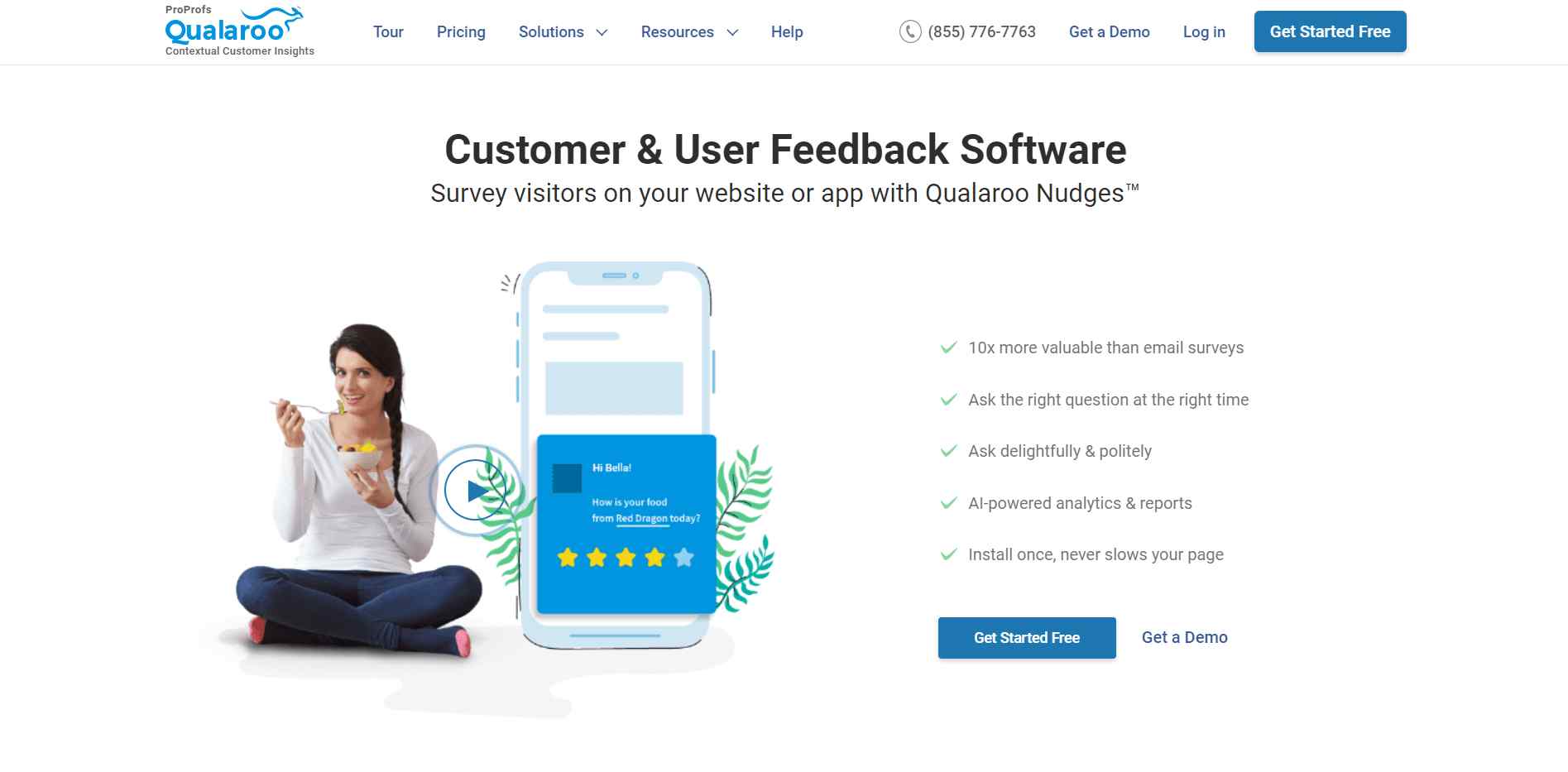 ---
Let's start with one of the best survey-based UX research tools. But what makes Qualaroo unique from other survey tools is its ability to run prototype testing. You can add Qualaroo survey Nudges™ to your design templates like InVision and AdobeXD to collect targeted feedback from the users, stakeholders, and other team members.
The tool also works perfectly for any website, mobile, and product to gauge user experience with focused surveys. Its advanced targeting options let you target niche user actions and behavior to show the survey to the right people at the right time.
Choose for: Design prototype testing, multi-channel surveys, in-product surveys, AI-based analytics,
Integrations: Yes
Suitable for: Small to large businesses
Features
Creat multiple survey types like exit-intent, exit-intent, CSAT, NPS, SUS, five-second test, and others.
Add surveys to different web pages or product menus to collect user experience data.
Embed the survey Nudge™ into the design prototypes to gather feedback about product UI and design.
Use 12+ question types, automatic language translations, skip-logic, template library, customization options, and survey branding to design targeted surveys.
Offers advanced targeting options to collect feedback from the desired audience.
Built-in AI-based sentiment analysis and word cloud engines to provide real-time feedback analysis.
Provides a detailed reporting section to create custom reports using filters.
Integration with 40+ tools like Salesforce, Intercom, and Slack.
Pros:
One of the best tools to get a 360-degree view of customer experience.
Run prototype testing in minutes without writing any code.
Cons:
Needs more filters and export options in the reporting section.
Price
Starts at $69/month, billed annually
---
2. ProProfs Survey Maker
---
If you need more than surveys to conduct user research, ProProfs Survey Maker is your tool. It's another user research software that uses surveys, quizzes, feedback forms, and polls to gauge user experience. The platform has one of the best reporting sections among feedback tools. You can create presentation-ready reports in real-time and reduce manual data analysis.
Choose for: Polls, surveys, forms, quizzes, feedback sidebar
Integrations: Yes
Suitable for: Small to large businesses
Features
Provides a drag-&-drop survey builder to create interactive surveys, polls, assessments, questionnaires, and quizzes.
Offers 100K ready-to-use survey questions, scoring mechanism, 100+ templates, skip-logic, 15+ question types, and other useful features.
Add the survey to your website or mobile app to gauge user experience.
Provides a feedback sidebar to encourage unsolicited feedback from actual visitors and users.
Use the built-in detailed reporting section to consolidate and analyze the feedback data.
Offers integration with tools like Mailchimp and Salesforce.
Pros
A large repository of free survey questions and professional templates.
Create scored quizzes to improve response rates.
Cons
Needs more customization options for survey templates
Price
Starts from $19 per month.
Related Read: 16 Best UX/UI Tools for Designers and Researchers In 2023
3. Maze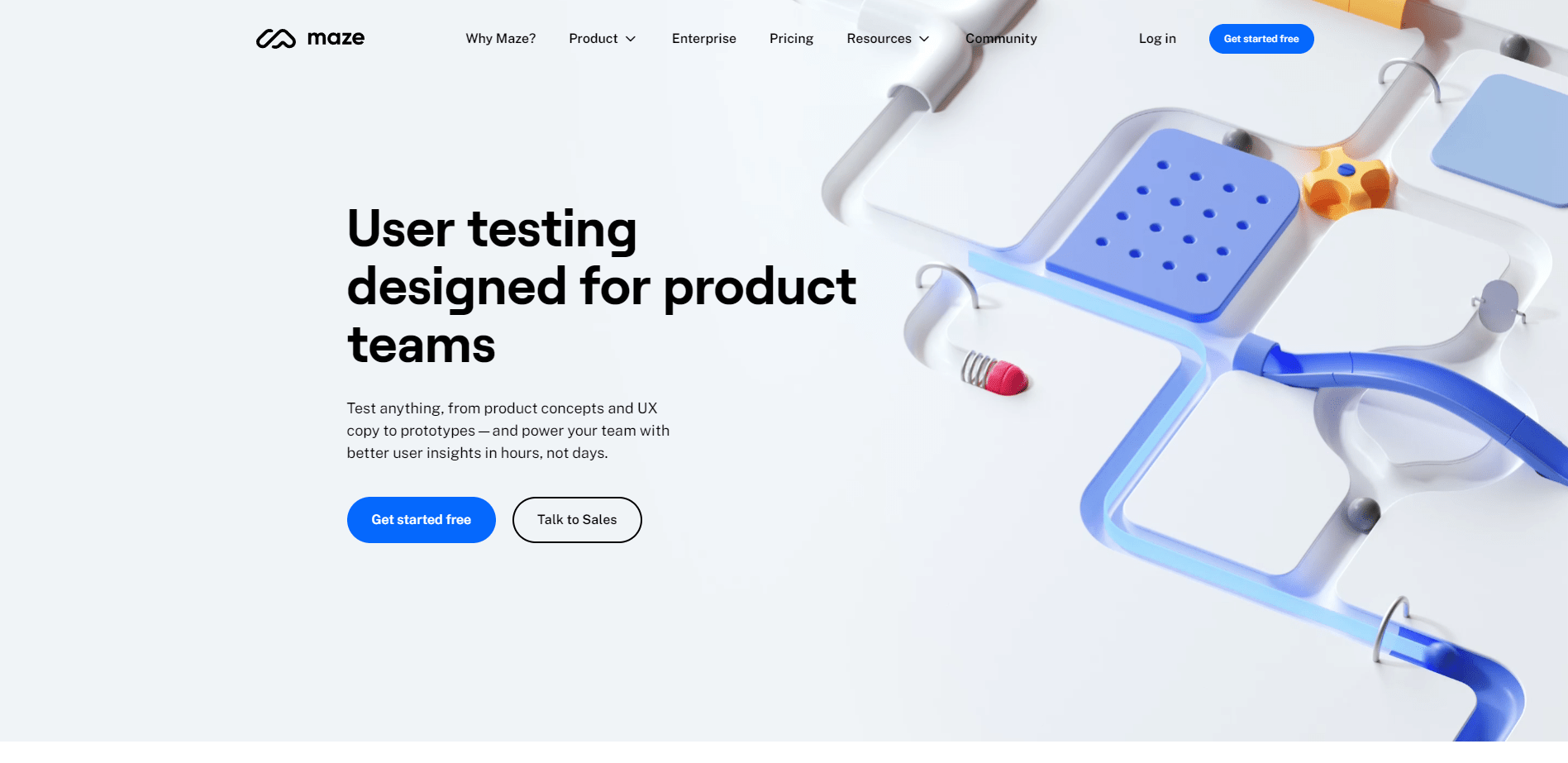 ---
Maze is one of the few UX research tools that provide a complete toolkit for product managers, content creators, and user experience designers. You can test your products and prototypes, validate content ideas, test website copy, and collect feedback to gauge user satisfaction.
It lets you conduct successful tests in hours and make data-backed decisions for continuous development.
Choose for: Tree testing, card sorting, five-second tests, prototype testing, feedback surveys
Integrations: Yes
Suitable for: Small to big enterprises
Features
Build different remote usability tests like tree test, 5-sec test, card sorting, open question, and more.
Test product concept, prototype, and content copy to run continuous optimization.
Add the test studies to your prototype templates to run unmoderated remote testing and map users' journeys.
Share the survey and usability test via link to your participants and maximize reach.
Supports screen capture and video recording features.
Provides an inbuilt participant CRM to help you build and manage your panel.
Use inbuilt filters to segment your participant pool.
Bulk send emails to the desired participants and update them about any upcoming studies or tests.
Measure test results with quantitative and qualitative data from the reporting dashboard.
View misclicks, heatmaps, success/failure rate, bounce rates, and other metrics.
Visualize the data using automatically created charts to create dynamic reports.
Invite other stakeholders, create team spaces, assign roles, add comments, and collaborate.
Pros
Generates the most detailed reports for your usability tests compared to other tools.
Compatible with desktop and mobile devices.
Integrated heatmaps to capture clickstream data.
Cons
The complexity of Mazes can increase test load times for some users.
There is no dedicated panel to recruit participants.
Price
Starts at $50/month, billed annually
Related Read: Best Customer Feedback Tools For 2023 Compared
4. Loop11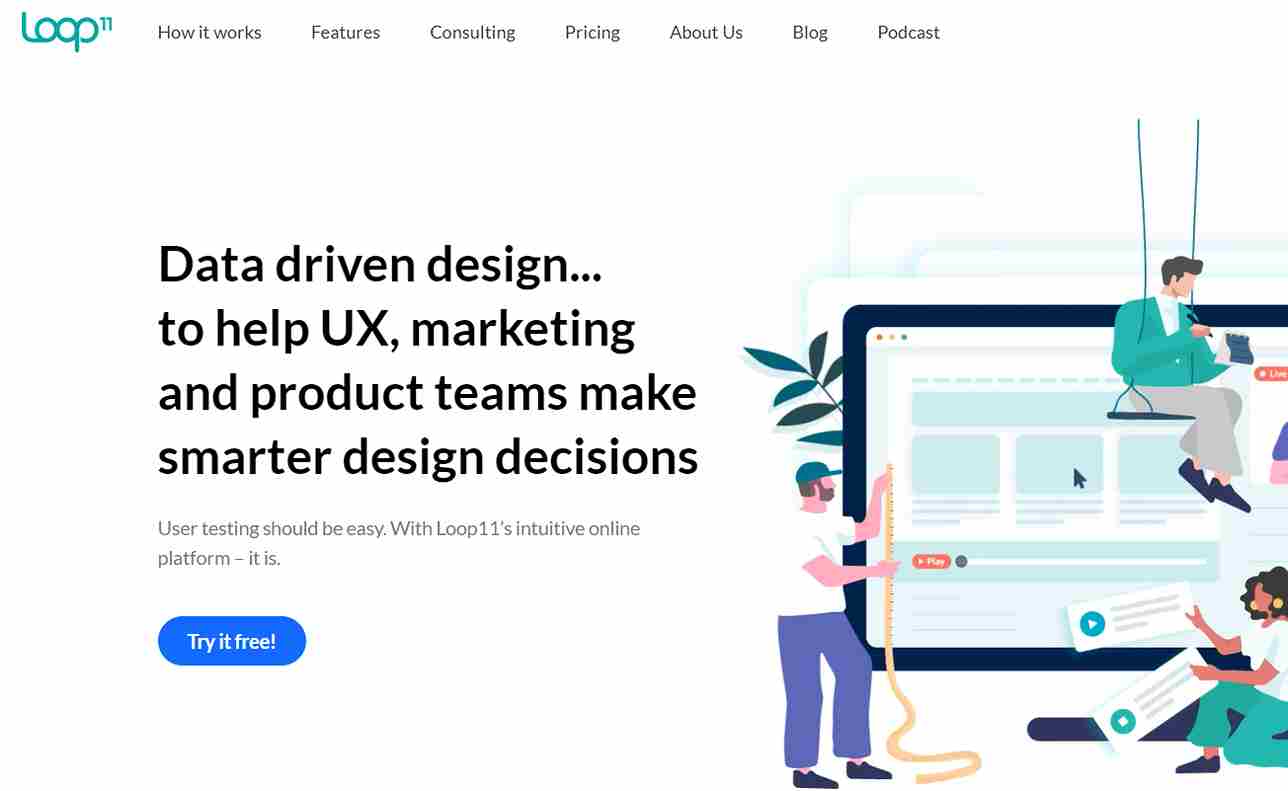 ---
Loop11 is one of the most popular usability testing and UX research tools to validate your concepts and improve products. The platform comes with advanced features to test your prototype, product information architecture, and benchmark your products.
You can do all this in both moderated and unmoderated testing environments. It also offers a participant panel to help you find testers easily and produce results in hours.
Features
Use the intuitive usability test builder to design your studies without any coding.
Create multiple tasks like tree test, five-second, first click, and others.
You can also design and add surveys to collect in-depth feedback from participants.
Suitable for running tests on any device like mobile, desktop, and tablet.
Add your own participants or choose from Loop11's dedicated participant panel service.
Provides video, audio, and screen recording features to gather real-time data from users.
Edit the video feedback with timestamps, tags, and annotations to create highlight reels.
Monitor test metrics like time on task, lostness, NPS scores, and task completion rate.
Offers built-in heatmap and clickstream to help you map the user's journey during the test.
Pros
Provides better flexibility in annotating the clips than other tools.
The participant panel has granular filters to let you find the right participants.
Cons
No option to make changes to a test once you publish it.
May slow down your website a little.
Price
Starts at $63/month, billed annually
Related Read: Best NPS Software
5. Userlytics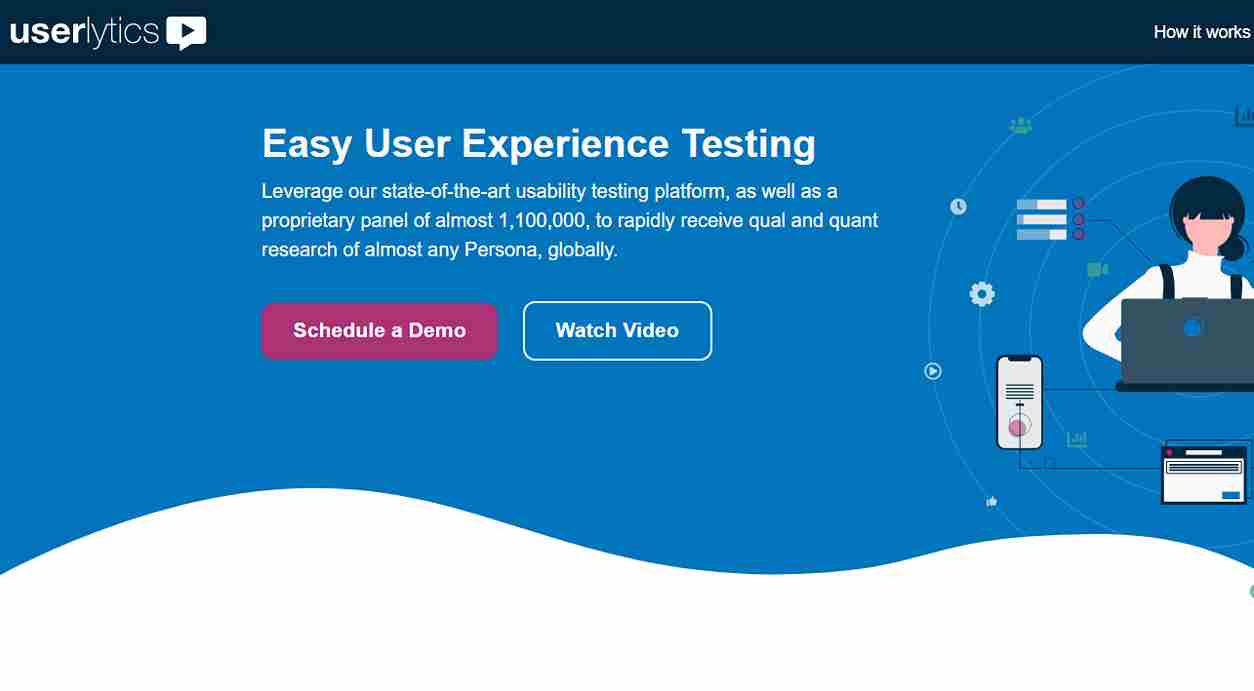 ---
Userlytics makes remote usability testing easy with a user-friendly interface and multiple testing options. You can design test studies and start collecting valuable insights in hours, not days. The tool also features a live interview feature so you can directly connect with the users after the test to ask follow-up questions. The platform is totally browser-based, so there is no need to download any application.
Choose for: Card sorting, prototype testing, tree testing
Integrations: Yes
Suitable for: Small to big businesses
Features
Offers different test types, such as card sorting, usability testing, prototype testing, and tree testing.
Gather user experience data for your products and prototypes with targeted tasks.
Design tasks with branching logic, rebranding, multiple question types, and multi-language support.
Provides participant panel with over 100K quality testers.
Offers picture-in-picture(PIP) recording to monitor participants as they perform the tasks.
Built-in dashboard to track test metrics like time on tasks, NPS scores, and success/failure rate.
Pros
Offers in-depth targeting options for the global panel, making it easy to find the right participants.
The editing tool is perfect for bookmarking, tagging, downloading, and sharing the transcripts easily.
Cons
You need to buy separate panel credits for each company account.
Can be a bit expensive option for some businesses.
Price
Subscription plans start at $399/month, billed annually
6. Lookback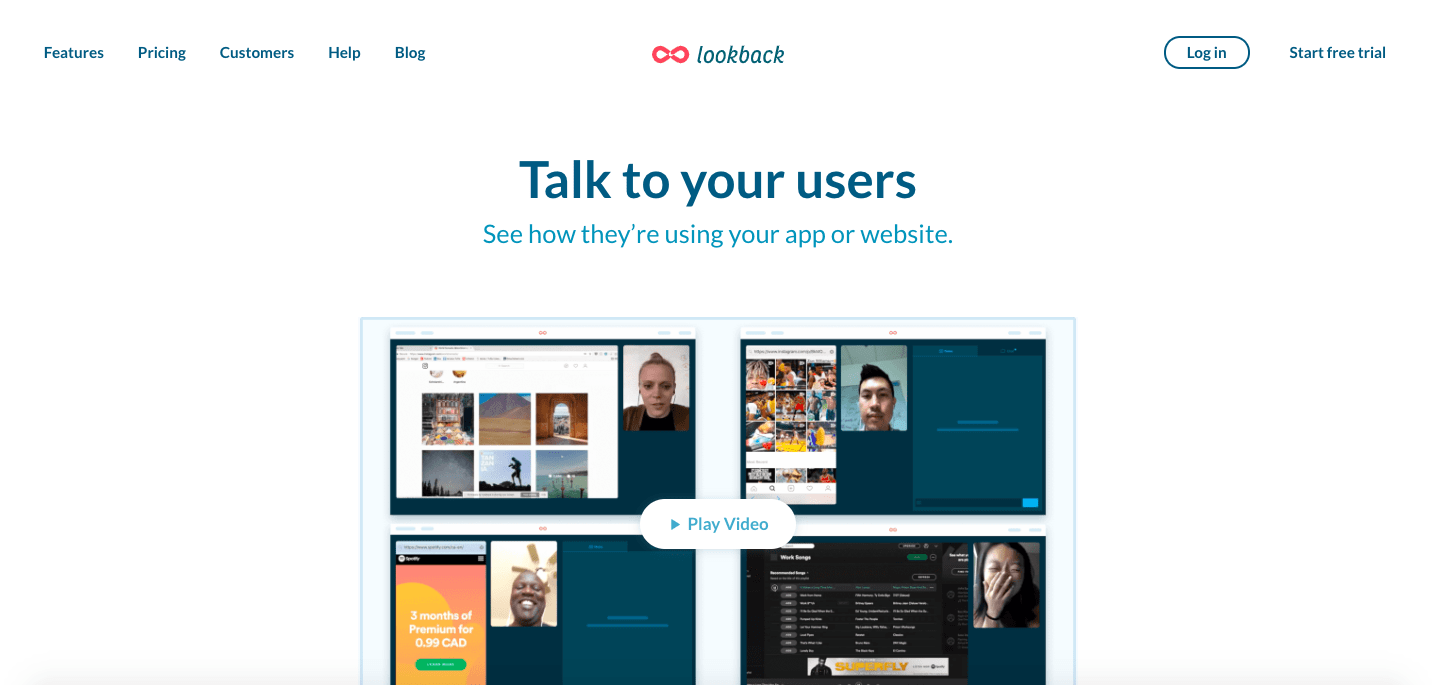 ---
Lookback is customer research and user testing software to run usability tests and live interviews. It enables mixed methods research to turn customer experience data into insights. You can test prototypes, websites, live apps, and betas to understand what's working for your users and how you can optimize the product further.
The platform also keeps on adding new features to make it more user-friendly.
Choose for: Live interviews, usability testing
Integrations: Yes
Suitable for: Small to big businesses
Features
Supports moderated and unmoderated user testing.
Test on any platform, i.e., desktop, mobile app, and tablet.
Invite participants via a public or private link that can be accessed on any device.
Organize live interviews with your participants.
Access the global participant panel to recruit the best testers for your studies.
Add timestamps, transcribe sessions, add notes, and create highlight reels.
Invite teammates, add tags, and collaborate with your team using virtual observation rooms, notes, and chat.
Pros
Allows touch indicators on taps and gestures to give a clear picture of how the product works.
Offer cloud recording, which eases data sharing.
Cons
Needs to optimize the iOS testing. Sometimes the test URL doesn't work correctly.
Price
Starts at $17/month, billed annually
7. Dscout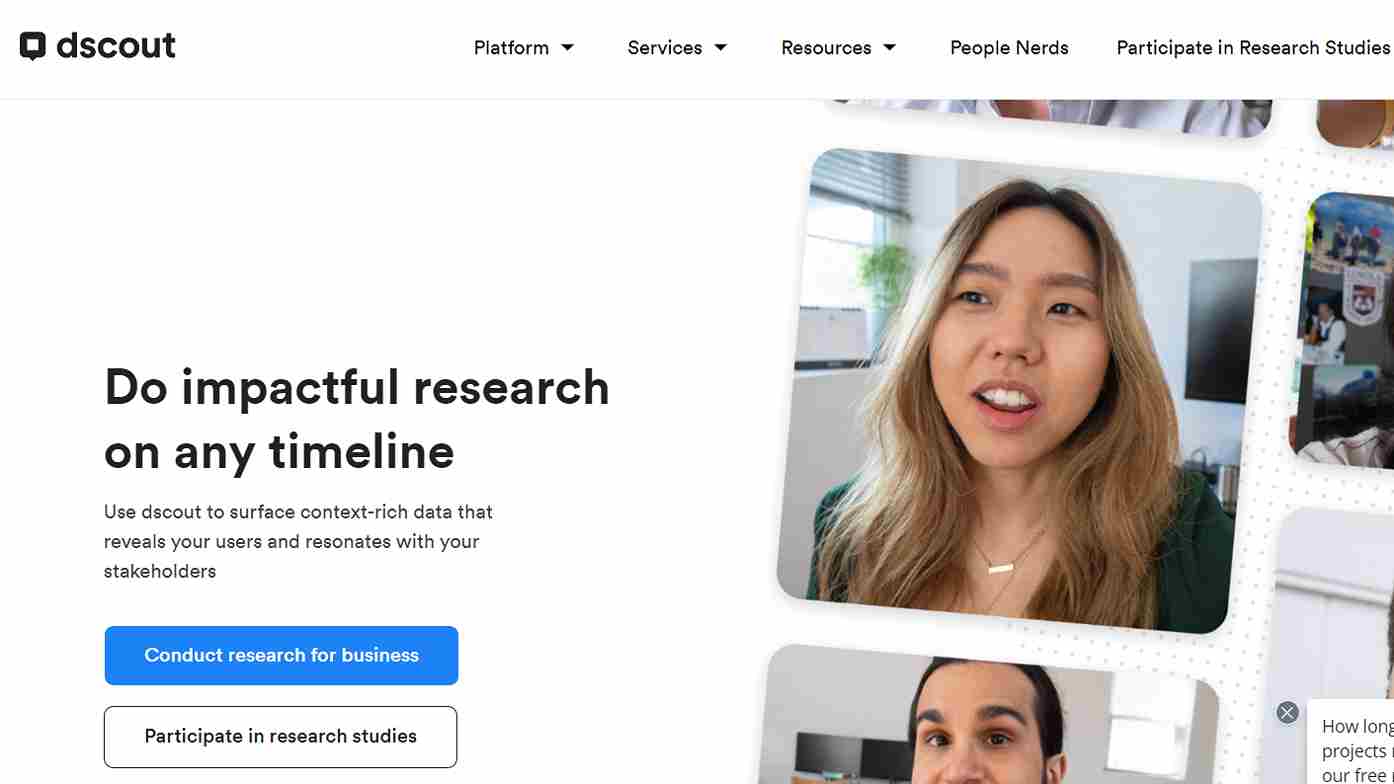 ---
Dscout is among the leading qualitative UX research tools to conduct remote testing and collect context-rich data about your products. You can efficiently perform multiple operations like prototype feedback, in-the-wild product discovery, competitive analysis, and fieldwork supplementations.
The user research software also supports screen-sharing and live interview features to help you visualize the user experience.
Choose for: Remote usability testing, prototype testing
Integrations: Yes
Suitable for: Small to big businesses
Features
Run the unmoderated remote studies on desktop and mobile devices.
Recruit test participants from over 100K panel testers to find the right people for your UX tests.
Supports multimedia screener surveys.
Offer screen capture, video recording, and surveys to capture user feedback.
Conduct live interviews with your participants to build in-depth UX research reports.
Provides multiple observing options like auto-transcribe, live-notate, invite observers, embed stim, share screens, and more.
Add stakeholders to your projects and assign each of them a participant to monitor the test remotely.
Use inbuilt UX analytics tools to filter the data, add tags, cut specific video clips, add timestamps, and create highlight reels.
Pros
Video surveys are a great resource to collect pre-test information on participants.
Tons of help materials and support options for new users.
Can cut and annotate small clips from live interviews to create highlight reels for analysis.
Cons
Can be an expensive tool for smaller businesses
Price
Contact for a quote
8. UserZoom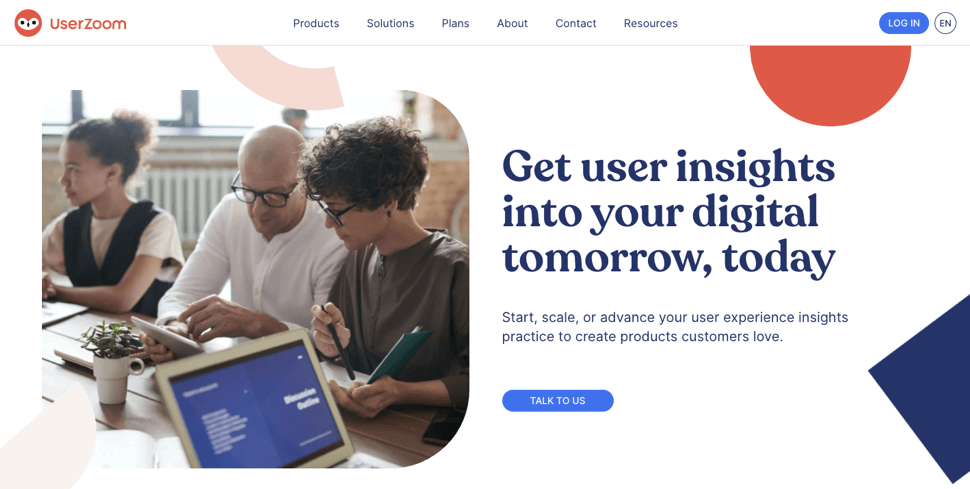 ---
As one of the most commonly used UX research tools, UserZoom is perfect for running remote usability tests for your prototypes and products. It also features one of the most extensive participant panels of over 120 million vetted participants. You can conduct multi-method UX tests for any location worldwide to improve your products.
Choose for: Surveys, UX testing, tree testing, card sorting
Integrations: Yes
Suitable For: Small to big business
Features
Run unmoderated and moderated remote tests on a global scale.
Support multiple test types like usability testing, interviews, card sorting, tree testing, and click testing.
Provides screen sharing, video recording, and verbal feedback options.
Invite stakeholders to view participants as they take the test to map their experience firsthand.
Track usability score, customer satisfaction, task success rate, NPS, and other UX metrics.
Conduct live interviews with your users to gather valuable insights.
Add your participants or choose from UserZoom's panel.
Create surveys to collect feedback from your customers.
Edit the video, make notes, add timestamps, and share the clips with the team to analyze the feedback.
Integrates with tools like AdobeXD, Dropbox, and Delighted.
Pros
Integrates both template designing and testing capabilities in one tool.
UserZoom Go feature is excellent for moderated testing.
Offers a virtual observation room to add stakeholders.
Cons
Comes with a steep learning curve for new users.
Price
Contact for a quote.
9. User Interviews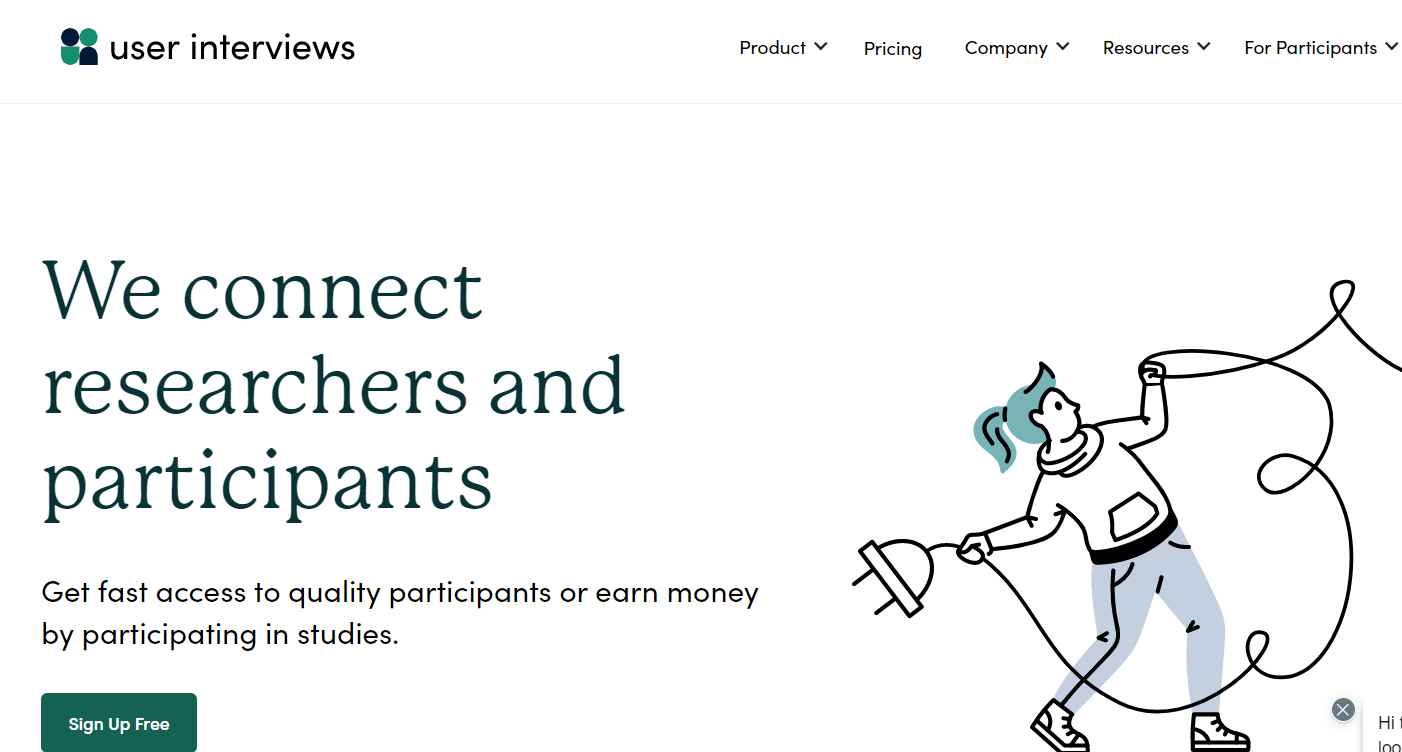 ---
What good are the best user research tools if you can't find the right audience for your tests?
That's why we have also included User Interviews tool in the list. It's a participant recruitment tool. Most user experience testing tools have a separate participant panel, but if you are looking for bigger sample size and better accuracy, this is the software for you.
You can recruit and manage quality test participants in hours to ensure rapid testing and data reliability.
Choose for: Find test participants
Integrations: Yes
Suitable for: Medium to big businesses
Features
Source authentic and quality UX testers from over 850K participants.
Use built-in attributes to filter the audience based on demographics, location, profession, and other attributes.
Build your own participant panel for remote user research projects and manage it within the tool.
Use the Research Hub to track survey answers, history, messages, and incentives of each participant in the panel.
Set a test schedule in the tool and sync the calendar so the participants can automatically schedule themselves for the test.
Send bulk reminder emails and texts to participants about the upcoming UX test.
Add other teammates to the studies, leave comments and manage permissions for seamless remote team collaboration.
Pros
The Research Hub saves you from going participant hunting for your test each time.
You can use the same participants for iterative tests.
Easy to communicate with participants via Zoom, email, and text.
Cons
Cannot conduct any UX research tests.
Need more variety in the screener question types.
Price
Paid plans start at $250/month, billed annually
10. Ethnio.io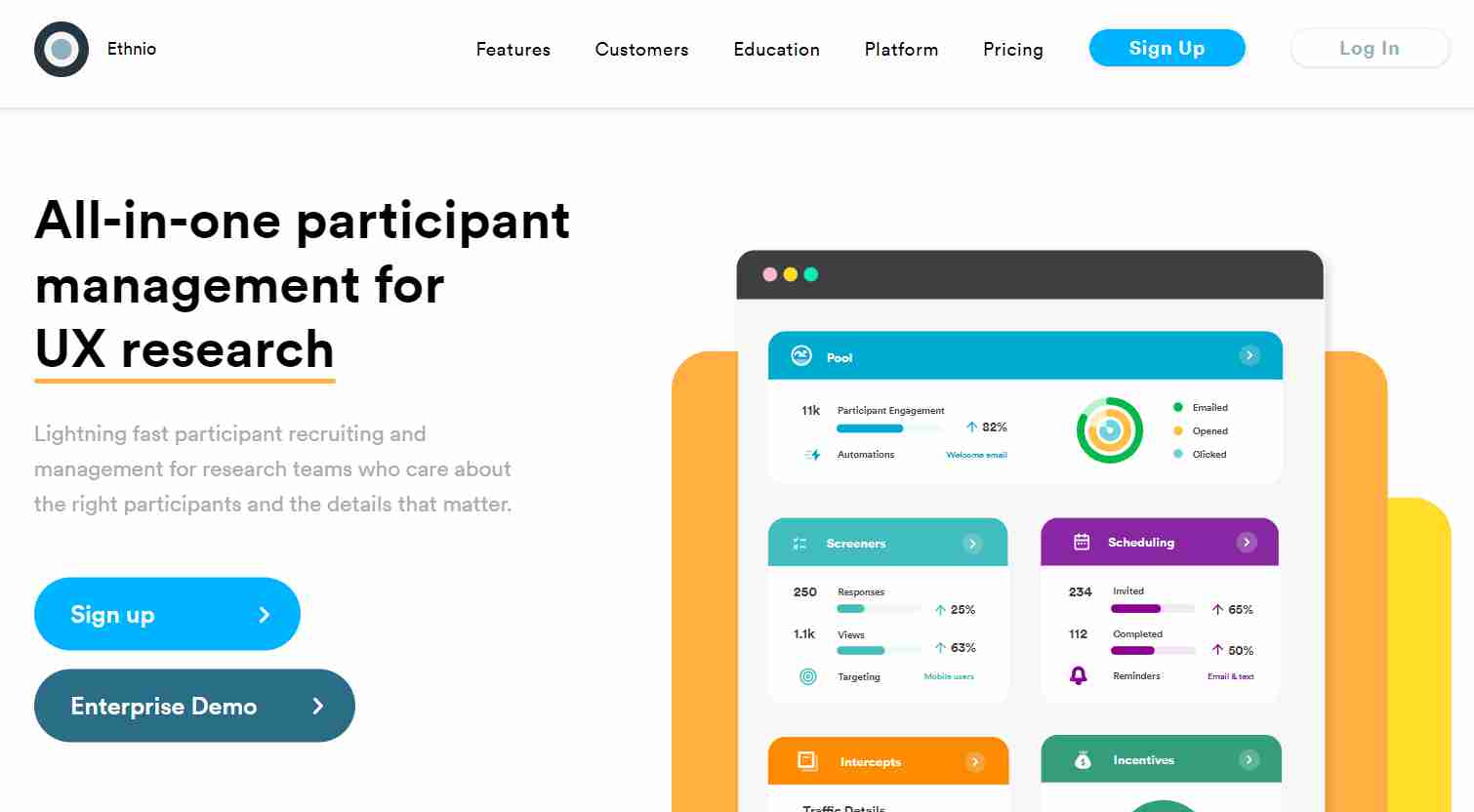 Speaking of user-research platforms for participant recruitment, Ethnio is one of the best in the market. It acts as a centralized database for the participant list. You can hire testers from their panel or upload your own list. This UX research CRM lets you find the right participants for your studies and manage the list in one place.
Choose for: Find test participants
Integrations: Yes
Suitable for: Small to big businesses
Features
Recruit test participants worldwide based on demographic, psychographic, and technology attributes.
Design screener surveys using 16+ question types, skip-logic, and page logic.
Share the screeners via email, social media, Craigslist, and more.
You can also embed them into your website, app, and product.
Pay participants with one click using 18+ payment options.
Use the centralized dashboard to manage the participant pool.
Create segments, add tags, track participant history, and set up advanced filters to manage the pool.
Sync your calendar to schedule 1:1, group, and multi sessions.
Add teammates, collaborators, and stakeholders to your participant list.
Design and send personalized email reminders to selected participants.
Pros
Supports advanced workflow automation based on set conditions.
Offers much more flexibility than other tools to design screener surveys.
Multiple options to distribute and manage incentives.
Cons
Comes with a bit of a learning curve.
Price
Starts at $66/month, billed annually
11. Optimal Workshop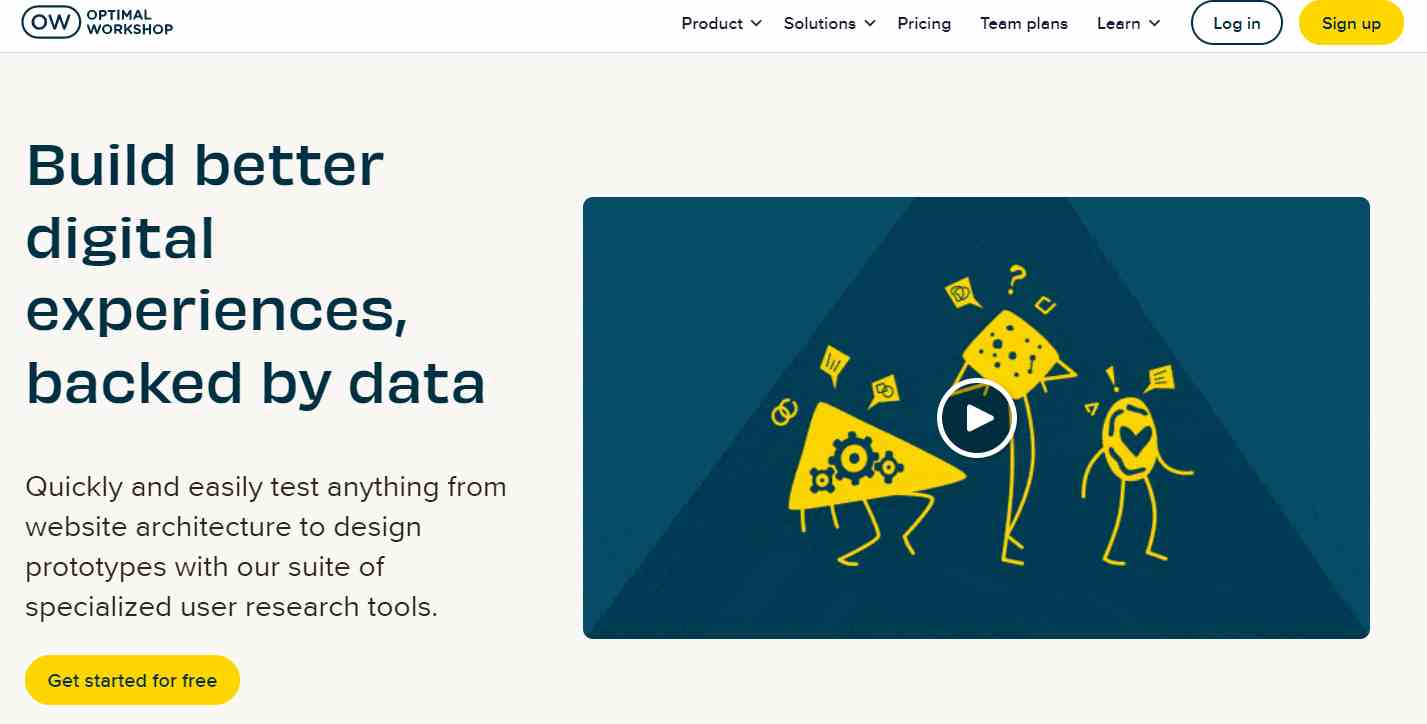 ---
Another intuitive UX testing tool, Optimal Workshop, lets you quickly test anything from website architecture to design prototypes to build the best products. It consists of a suite of top user research tools to test, capture and analyze the user feedback and experience data in one place.
You can conduct usability tests, design online surveys, and even recruit test participants from their professional panel.
Choose for: Tree testing, card sorting, first-click testing, surveys
Integrations: Yes
Suitable for: Small to big businesses
Features
Conduct multiple usability tests and UX tests on your products to optimize them.
Leverage the dedicated panel to recruit the right participants from over 50 million users worldwide.
Design targeted surveys to capture experience feedback from product users.
Add surveys to your design prototypes and products to gather valuable insights.
Use the inbuilt Reframer dashboard to analyze user interviews and usability testing data.
Invite team members to collaborate, manage access permissions. And add hashtags to each task.
Pros
Qualitative tagging is an excellent feature to spot patterns in the testing data.
Ideal tool to test the informational architecture of your product quickly.
Cons
The pricing is a bit higher than other testing tools.
Lacks detailed documentation of each feature to promote user onboarding.
Price
Starts at $99/month, billed annually
10. Usability Hub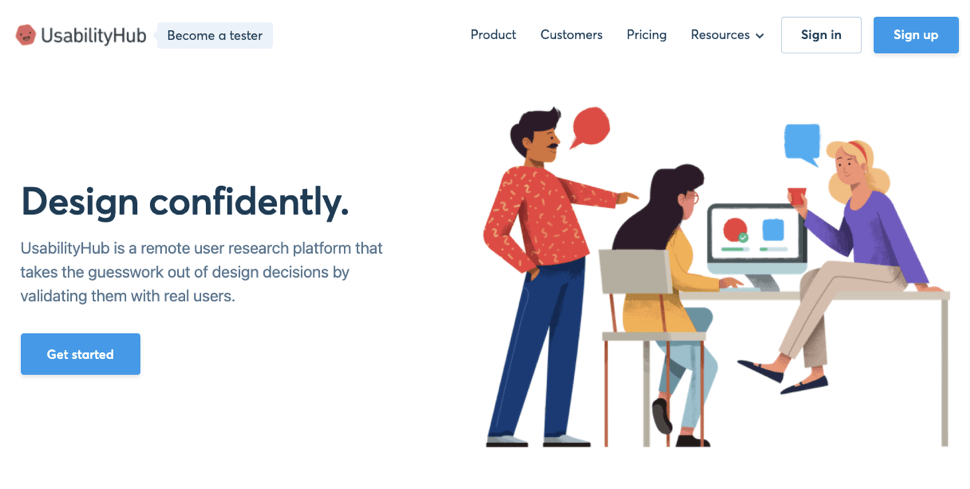 ---
UsabilityHub is another user testing software that helps you make data-backed decisions to validate your ideas and improve the product experience for users. You can create a usability test in minutes, add it to the design template, and send it to the desired participants to collect valuable feedback. The tool also supports an easily accessible participant panel to let you find the right people for your tests.
Choose for: Surveys, first click test, five-second test, preference test, UX research
Integration: Yes
Suitable For: Medium to big businesses
Features
Run multiple tests like five-second, preference, prototype testing, tree test, and first click.
Create surveys and embed them into your design templates to collect target feedback from users.
Supports multimedia question types in surveys like image, video, and audio.
Offers a dedicated participant panel of over 340K testers.
Provides integrated heatmaps and clickstream data in your test results.
Study the test feedback with an inbuilt word cloud generator to pick common themes among the test responses.
Offers seamless integration with other tools like Figma to collaborate better.
Pros
UsabilityHub Participant panel helps to reach required sample sizes easily.
Offers quick response time on your tests.
Ability to combine surveys with usability testing to get more targeted insights.
Cons
Needs more demographic options in the panel for B2B segmentation.
Price
Starts from $66 per month, billed annually
13. UserTesting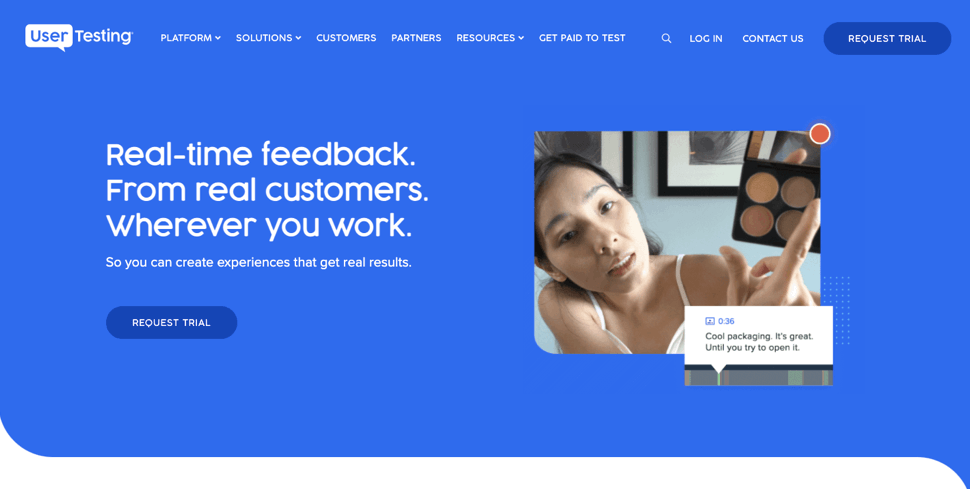 ---
UserTesting lets you collect first-hand information about what users think about your products. This UX testing tool follows a video-first approach so you can see and hear how participants engage with your processes, concepts, products, apps, and designs. Use the UserTesting contributor network to find the right audience for your studies.
Choose for: UX tests, market research
Integrations: Yes
Suitable for: Small to large businesses
Features
Run UX tests on your website, mobile app, and product to map user experience.
Add your own participants or choose the suitable testers from UserTesting's Panel.
Create multiple usability tests like five-second, navigation, tree, first impression, pilot test, benchmark, discovery test, and card sorting.
Add tasks, actions, and questions for the participants to follow while taking the UX test.
Offers ready-to-use usability test templates.
Supports screen and video recording to let users leave feedback during the test.
Add screener questions and advanced demographic filters to disqualify ineligible participants.
Cut, annotate, edit, or combine video feedback clips to create highlight reels to analyze the data.
Sync your calendar to schedule live interviews with the participants to dig deeper into their product experience.
Pros:
Offers quality testers from around the world.
Screen and video recording features let you visualize the user journey.
Live interviews make it possible to connect with any participant to ask follow-up questions.
Cons:
Features can be a little overwhelming for new users.
Needs more filter options to sort the project dashboard.
14. Mixpanel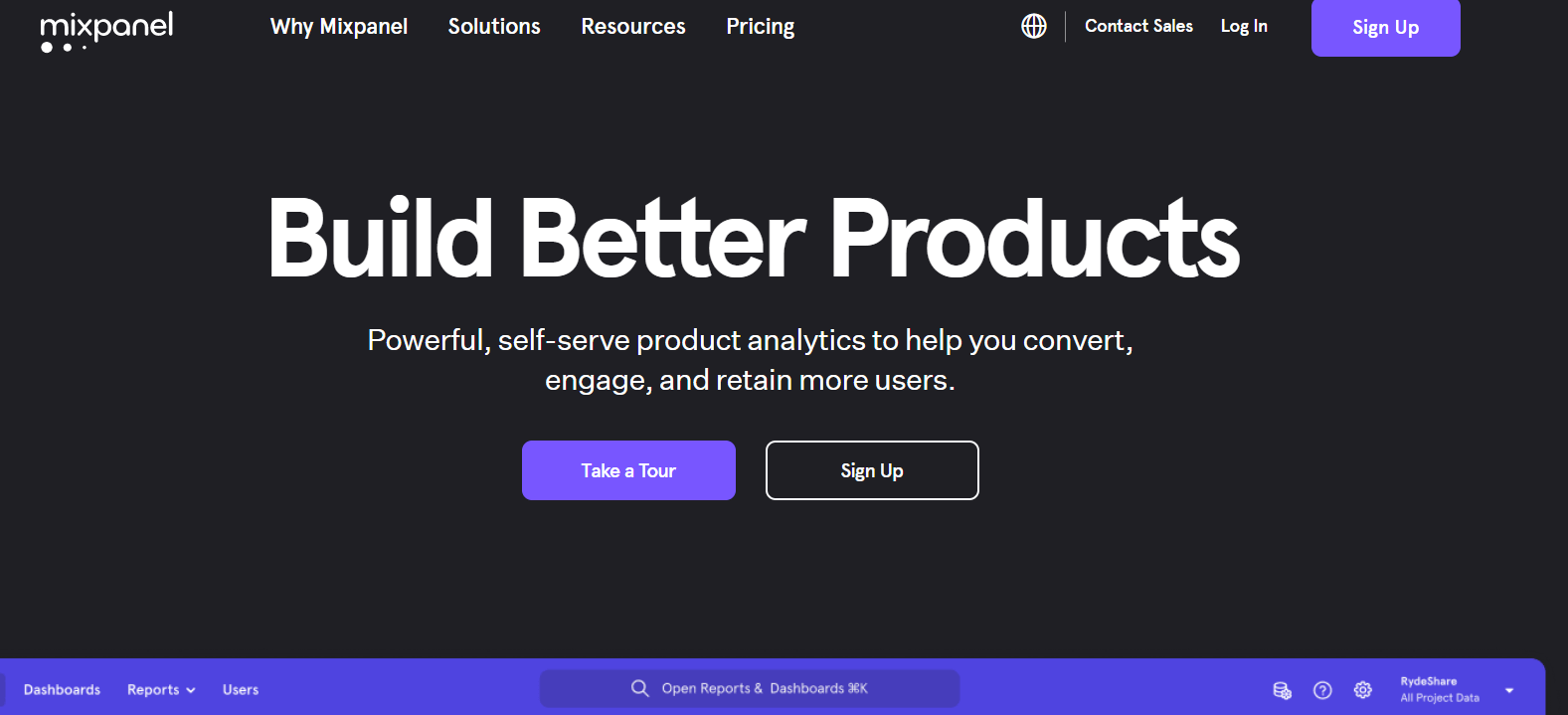 ---
Mixpanel is a UX analytics tool that gives you detailed data about product engagement and user insights. You can see how users interact with your product, the most popular features, who your best customers are, and where users drop off across the funnel.
The tool integrates rich dashboards to help you slice and dice the data to study user behavior trends, track user segments, and understand their journey in numbers.
Choose for: Product analytics, behavioral analysis
Integrations Yes
Suitable for: Small to big businesses
Features
Build funnels on the go and analyze friction points at each stage.
Segment the user journey by attribute or behavior metrics to understand which users convert best.
Identify important user paths that offer frictionless conversions.
Use the launch impact feature to see how new features affect conversions and user behavior.
Run A/B tests to find the winning variants of your product design with high statistical significance.
Offers detailed dashboards to monitor key performance metrics of your products.
Track any spike or drop in trends to spot and fix critical issues on time.
Run retention analysis to track churn and identify the user segments with the highest retention rate.
Pros
One of the best tools to run user flow and funnel analysis.
Offers limitless user segmentation options to break down the data.
Cons
User event tracking dashboard UI and navigation can be improved.
Price
Paid plans start at $25/month
15. Evolt.io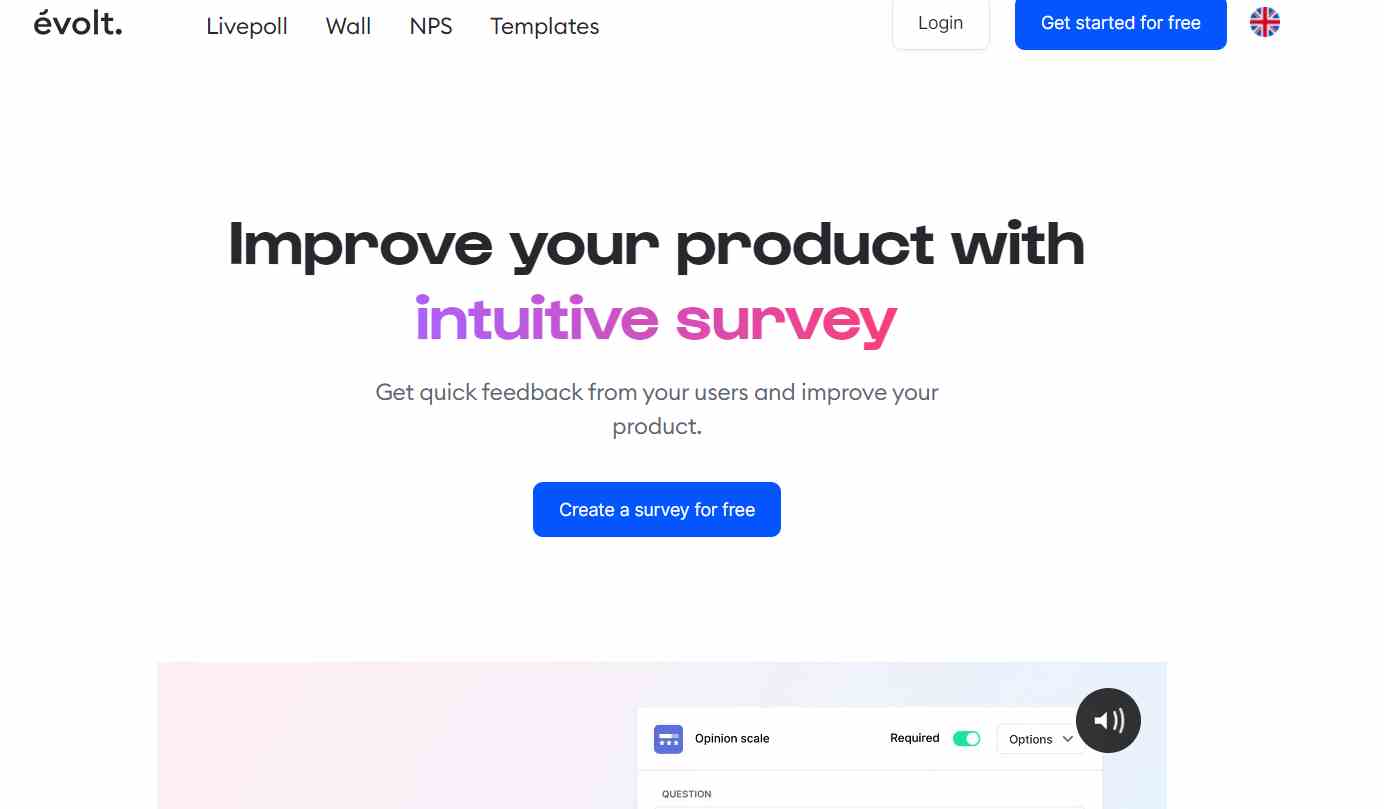 ---
Evolt.io is among the best survey-based user research tools to collect feedback about your product designs. Its design suite offers multiple tools like the suggestion board, survey tool, persona builder, journey mapping, and more. Plus, you can collaborate with other team members to brainstorm ideas and work on the feedback data.
Choose for: Surveys, suggestion board, buyer persona templates
Integrations: Yes
Suitable for: Small to big businesses
Features
Create surveys, questionnaires, and live polls to collect UX feedback on your product templates.
Offers multiple question types, real-time preview, skip-logic, survey testing tool, and other features to design targeted surveys.
Choose from over 20 ready-to-use survey templates to conduct user research.
Add a suggestion board to the website or product to collect ideas, suggestions, and feedback.
Provides pre-built templates to create buyer personas and journey maps using the feedback data to gauge user experience.
Collaborate with your team on the design templates, invite other teammates, and add comments.
Pros
Ideal for design prototype testing.
Reduce manual work in creating journey maps and buyer personas.
Cons
Needs more data export options like Pdf.
Did You Find Your UX Research Tool in the List?
The best way to find the right user research platform for your business is by starting with a purpose. Draw a scale of your operations and where you would need to implement the tool. Ask yourself questions like:
Do you have a new product idea that requires heavy input from users at different stages, or do you want to run post-release optimizations for a completed product?
Do you have the time and budget for a full-scale testing environment, or can you achieve your goals with simple surveys and feedback forms?
Once you have the answers to these questions, the next step is to list the features you would require in the tool to conduct user research. Then, use our best UX research tools list to find the perfect one for your business.
Want insights that improve experience & conversions?
Capture customer feedback to improve customer experience & grow conversions.