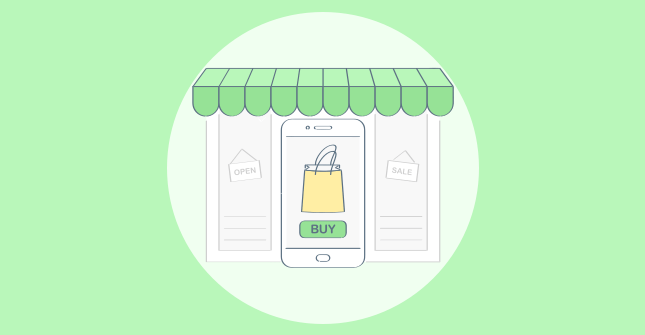 An app cannot be successful if it doesn't attract users who engage with and use the app. Getting users to use your app frequently is one of the challenges businesses struggle to overcome.
But why is retaining users so critical? High acquisition cost, among other things.
The average cost to acquire a user who makes in-app purchases is as high as $74.68.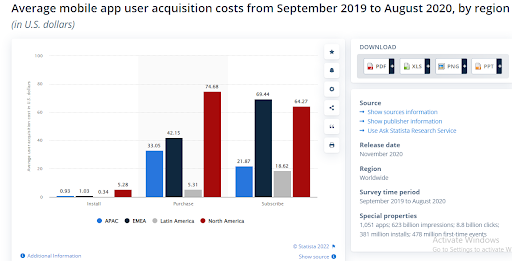 So, it makes financial sense for businesses to focus on retaining existing customers using mobile app retention strategies that work.
Besides the cost factor, a good retention rate brings repeat business and increases sales and conversions.
So, if you want to know how to increase app engagement and retention, stick around until the end.
Before discussing mobile app retention strategies, let's understand the significance of mobile app engagement in achieving a high retention rate.
What Is Mobile App Engagement?
Mobile app engagement measures the value users find in your products and services. It uses different metrics to estimate how people use your mobile app and gauge user interaction.
Here are some metrics you can use to measure mobile app user engagement:
Number of app downloads via the app store(s).
Active mobile app users who use your app regularly.
Session length to determine the amount of time users spend on your app.
Session interval to gauge the time between the recent and last sessions and user stickiness.
Lifetime revenue which you can measure before the users stop using your app by tracking purchase value per user and the advertising revenue.
But why are companies so concerned about this?
The quality and level of engagement are significant differentiators between a successful app with a high retention rate and an unsuccessful one with a high churn rate.
The more engaged your users are with the app, the more likely they will keep using it.
These metrics can highlight the loopholes you need to work on, but they alone aren't enough to increase mobile app engagement.
For that, you need mobile app retention strategies that guarantee improved user stickiness, something we will cover in great detail in just a moment.
But first, here's an important question:
What Is a Good Retention Rate for Mobile Apps?
Although there is no specific "good" mobile app retention rate, a report by Statista shows retention rates for different types of apps.
The average app user retention rate across industries from Day 1 to Day 30 ranges between 16.5 to 33.8. So, if you're somewhere in between, you are doing something right.
But there's always room for improvement.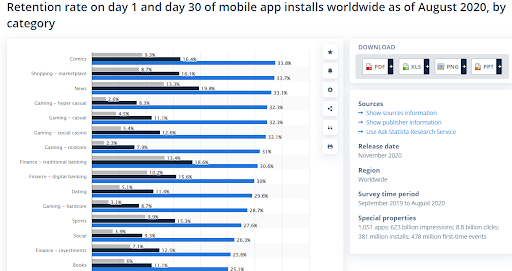 With that cleared, let's get down to business. Here are the best app retention strategies you can take advantage of to level up your retention efforts.
20 Best Mobile App Retention Strategies in 2023
Mobile app retention strategies are industry-approved tactics that businesses use to improve their apps' user retention. These strategies help businesses target imperfections in their user app experience and implement solutions to rectify them.
So, without further ado, here they are.
1. Optimize Onboarding for Valuable Insights
After going through the legwork to get users to download your mobile app, use your onboarding moments wisely.
Users' first interactions with your app are crucial for your customer experience. It is also an excellent time to gather key insights to develop strategies to drive more users to your app.
You can successfully optimize your onboarding process if you know which one to leverage based on your needs. In essence, there are three types of onboarding processes:
Function-oriented onboarding focuses on explaining and highlighting a large number of your product's features.
Benefit-oriented onboarding is excellent for highlighting the benefits of your app to new users.
Progressive onboarding is a common process used by many companies to show the features of their apps in a particular sequence of usage.
So, choose any one type of onboarding process based on your app's features, UI, UX, and users.
Try to make your onboarding process as simple as you can to eliminate any challenges new users may face while exploring your app.
Besides this, you can also leverage online popup surveys to optimize your onboarding and listen to the voice of customers.
You can collect their feedback on the process and challenges they faced while using it for the first time. Doing so will allow you to simplify your UI and optimize your app as per new users.
Also Read: 16 Best UX/UI Tools for Designers and Researchers]
CASE STUDY: TWILIO
Twilio provides powerful APIs that help create apps like SMS, voice calling, video calling, etc.
Twilio had multiple onboarding experiences due to different APIs that the team wanted to optimize.
To meet different onboarding user needs for different tools, Twilio turned to Qualaroo, an app feedback survey tool, to gauge the user experience and how they can improve it.
Laura Schaffer, Product Manager for Twilio's Experimentation Platform, says, "There are so many ways to approach this challenge. The hard part usually isn't coming up with the hypotheses for what might work best – it's knowing which are the right ones to try first."
With the collected feedback, Twilio could focus on the crucial insights and prioritize hypotheses for experimentation.
"In less than 5 minutes, teams can go from having almost entirely opinion-backed ideas to having ones that are data-backed by targeted customer feedback." – Laura Schaffer, Product Manager for Twilio's Experimentation Platform
Sign up with Qualaroo to build A/B test hypotheses using targeted insights
2. Use Insights to Personalize Experiences
Through critical insights gathered during onboarding, you can refine your mobile app experiences to the needs of each person you onboard.
The data you collect will enable you to:
Address the user with their name upon signing in
Customize the background image based on the city they're signing in from
Offer content relevant to what they've searched on your websites, like information on a feature or a help article
To get started with personalization, you first need to understand your web visitors and why they have come to your website.
Based on this data, you can begin to develop buyer personas and design a customer journey focused on delivering a personalized experience.
The Chase mobile app is a fantastic example of a personalized experience. Wherever you're logging in from, geographically, they update the background image on your sign-in page to a familiar scene in your city.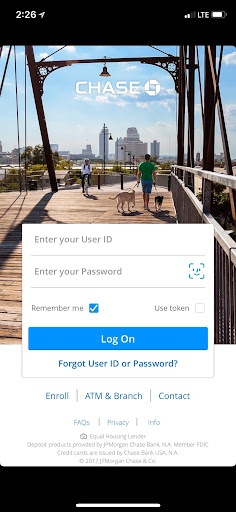 Every data point the app collects can be used to make the experience more personable and personal.
CASE STUDY: AWA DIGITAL
AWA Digital helps its customers improve online sales. Canon, a leading company in the imaging technology industry, approached AW to increase the demand for its products in different countries.
AWA Digital opted for an effective shortcut to first understand the target audience of Canon by using popup surveys. The company deployed surveys on Canon's website to ask customers various questions related to Canon and its products.
The feedback showed some customers had issues with the pricing of cameras, and some said that the brand authenticity and reputation were their priority.
To increase the sales of Canon products, AWA took the feedback and tweaked the messaging for different regions to personalize the experience and explore the upsell opportunities. As a result, Canon generated an ROI of 700%!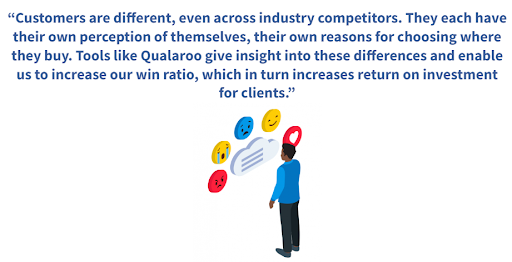 3. Pulse Check Throughout User's Lifecycle With CSAT Metrics
Being able to quantify how people feel about your app will help determine:
Where you need to make improvements
What value propositions to highlight in your messaging
What tone of voice you should use to communicate
How to improve the overall customer experience
You can use customer satisfaction metrics to achieve all the above points. But, the question is "Which ones?"
Customer Satisfaction Score (CSAT)
CSAT is a metric that helps you gauge the satisfaction level of your customers. You can ask them about the overall level of satisfaction with your products and services.
With a follow-up question, you can collect contextual feedback on the customer's first response and figure out where you can improve. Here are a few best practices for creating CSAT surveys.
CSAT is a metric that helps you gauge the satisfaction level of your customers. You can ask them about the overall level of satisfaction with your products and services.
With a follow-up question, you can collect contextual feedback on the customer's first response and figure out where you can improve. Here are a few best practices for creating CSAT surveys.
Use This Customer Satisfaction Score Template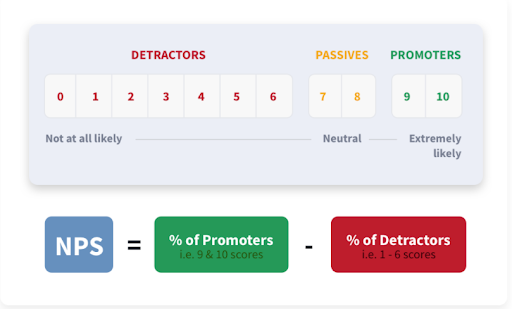 Net Promoter Score is an actionable metric designed to capture customer loyalty in the form of one question: "On a scale of 0-10, how likely are you to recommend this product or service to a friend or colleague?"
Use This Net Promoter Score Template
You can implement the following steps based on your users' scores. Use these scores to build segments based on how much enthusiasm people show for your company.
Customer Effort Score (CES)
CES gauges customer satisfaction based on the effort customers put into doing something or how easy or difficult it is for customers to use your products/services.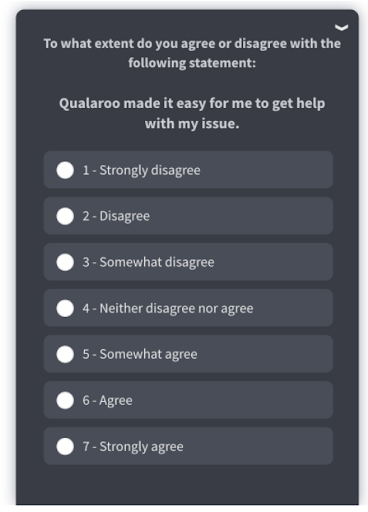 Use This Customer Effort Score Template
If the app is difficult to use, it instantly impacts customer satisfaction and experience. With this metric, you can explore customers' pain points while using your app and offer them a seamless experience.
4. Create Push Notifications That Delight, Not Annoy
Push notifications are effective in boosting app engagement by 88%. You can easily retarget app users by sending push notifications like "Your cart is missing you" to their devices.
Nonetheless, try not to go overboard, as too many notifications can become annoying for users.
So how do you make a push notification valuable, rather than distracting, to your audiences?
From a strategic standpoint, you're walking a fine line in making an experience valuable vs. annoying.
There are a few parameters that can help make your push notifications more useful:
Ensure that the notifications are relevant to the users rather than just a promotional element.
Consider where the user is in the user journey so you provide value at a crucial moment in time. For example, you can send a cart abandonment push notification if the users have added products into the cart but then left the app.
Personalize push notifications around specific needs and interests.
Allow users to share feedback and adjust the types and number of push notifications they receive.
5. Leverage in-App Messages
In-app messages such as surveys, popups, nano bars, slide-ins, etc., make it easy for companies to connect directly with their customers. Like push notifications, sending in-app messages to the users regarding deals, discounts, events, asking them to review your app, etc., will keep them engaged on the app.
But there's a catch – users need to be active on the app for in-app messages to work.
Think of it like this: You send push notifications to bring the users back to the app and then send in-app messages to engage via strategically executed CTAs.
For example, Netflix sends in-app notifications for different purposes:
Inform users of coming releases.
Remind them to continue watching a series/movie.
Rate the content they watched.
These are just a few examples of how you can use in-app messages.
Another way is to create in-app popup surveys and engage users by asking for their feedback using tools like Qualaroo.
In doing so, you collect valuable user insights, retain users on the app, and show them you care about their experience and thoughts.
You can leverage interactive popups using tools like Picreel that garner user attention. This way, you can leverage your loyalty reward model and engaging popups to boost your sales and retention.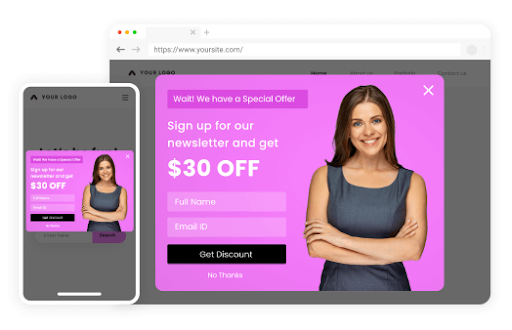 Here's an example of how apps incorporate in-app messages into their mobile app retention strategies.
Suppose you own a gaming app that requires daily active users to succeed. In that case, you can use in-app messages to reward gamers for reaching milestones within the app.
Pro Tip:
One crucial thing for a successful in-app messaging strategy is segmenting the users before sending the messages.
For example, you can send the new users tooltips on using product features. You can ask existing users about the features they struggle with using surveys and then share tooltips tailored for them.
6. Build Reward Models to Drive More Users
If applicable, give people a discount (for example, an onboarding discount) in exchange for trying and spending time on your app. This is one of the popular mobile app retention strategies used by businesses.
You can even include a refer-a-friend program or introduce a loyalty program for repeat purchases.
Whether your incentives are freemiums, interesting content, or monetary rewards, try to understand what gives your target audience a reason to return to your app.
Every audience is different and will find different incentives appealing. Conduct user research and determine which incentives are right for your buyer personas.
Here are a few examples of mobile apps that do a great job with freemium, monetary, and refer-a-friend incentives.
Tchibo, a chain of German coffee retailers and cafes, offers loyalty cards and personal vouchers on their mobile app as a part of their loyalty program to bring in repeat business and retain users.
Dunkin Donuts DD Perks program offers gift cards, loyalty offers, and On-the-Go ordering using mobile payment through the app. The brand also shares engaging content like nutritional facts to encourage its customers to use the app.
7. Offer Seamless Cross-Platform Experience
The last thing you want to do is treat your mobile app as a siloed part of your business. You want to make sure you connect the dots between mobile, web, and native OS apps for desktop to create a seamless, integrated experience for your users.
Doing so will also help you personalize experiences and understand friction points.
If you see that a user has visited your mobile app and later visited your website via a mobile device, you can ask why to understand their journey and behavior. It could be that your mobile app is missing a core feature, or there might be a bug you need to fix in your app.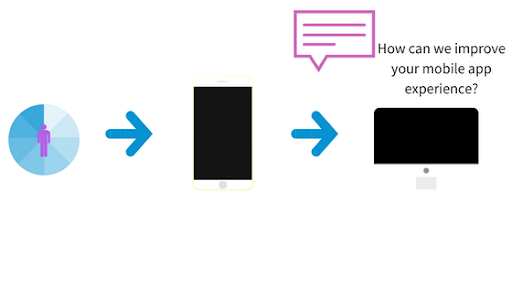 For example:
Whatsapp offers native mobile apps and a web app for users to access from the device of their choice.
Evernote offers both native mobile apps and native OS apps for Windows and other operating systems.
Netflix also has a website and native mobile apps to create a seamless cross-platform experience.
8. Create Content Marketing Strategies
A well-planned and inclusive content strategy is a boon for your business. It not only attracts new users but also helps you educate & engage them. It also presents excellent opportunities to upsell without being obvious.
Creating rich and diverse content like videos (long and short), podcasts, articles, storyboards, quizzes, etc., will motivate users to use your app and boost the app retention rate.
For instance:
A news app can leverage visual storytelling and create storyboards to share facts about a new event, the latest news, and much more.
The app can also benefit from launching original podcasts on various topics. It's best to create content that users are interested in. For this, you can use in-app surveys.
You can gauge which topics are popular among the users through surveys and then base your content marketing strategy on those topics.
A language learning app like Duolingo can use quizzes to help users revise what they learned and bring engagement.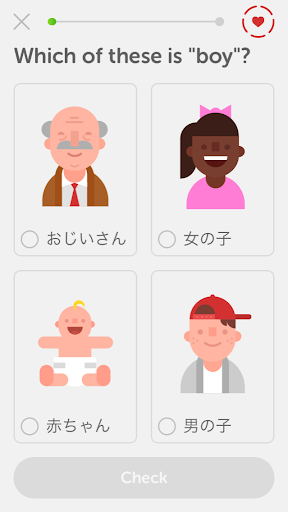 An app like Evernote can create blogs and podcasts featuring expert tips on how they can optimize the app in different ways.
A travel app can create travel guides and videos on popular destinations to help customers prepare for their trips. It can also add a section for users to add their travel stories for others to see.
An eCommerce app can create short informational videos to share tips on using different products. For example, a beauty products-selling app can create helpful content around skincare, make-up tips, product dupes, etc., to keep the engagement alive.
You can also leverage content from your social media into your mobile app. All major social media platforms have a "Stories" feature in the app, which is a rich source of user engagement.
Why do we say this, you ask?
It's because 1 billion stories are shared on Facebook-owned mobile apps. More so, in a Facebook survey of 4508 people, 58% of the respondents said they become interested in a brand and its products after seeing it on Stories.
So, instead of developing this feature in your app from scratch, you can use SDK software like Storyly and add a stories section to your app.
You can fetch stories content posted with your social media strategy or create new ones highlighting your app/product(s) features, conducting polls/quizzes, and much more.
As long as you offer content that users value and find interesting, they will inevitably engage with your content.
An eCommerce app can create short informational videos to share tips on using different products. For example, a beauty products-selling app can create helpful content around skincare, make-up tips, product dupes, etc., to keep the engagement alive.
You can also leverage content from your social media into your mobile app. All major social media platforms have a "Stories" feature in the app, which is a rich source of user engagement.
9. Make It Easy for Customers to Resolve Issues
One of the crucial mobile app retention strategies is not making users work hard to achieve something.
It is a big turn-off for users when they can't get the help they need while using an app. Let's understand this with an example.
Suppose you have an eCommerce app for clothing. If your customers can't reach you regarding product exchange, cancellation, etc., with a few steps, they'll feel frustrated and may resolve to ditch your app.
The best way to avoid this is by creating a customer-friendly UI where all the critical elements of your app are accessible to the users in a few clicks. Make the user journey as simple and uncomplicated as possible.
One of the simplest ways is to implement live chat support on your app. It's highly accessible for the users to resolve their issues within minutes.
You can also create a knowledge base so users can resolve small queries independently without having to call customer support.
10. Avoid Cognitive Load With Simple UI
Every digital experience has an intent, from checking out new posts to ordering a nice pair of pants online. The longer it takes for the users to achieve a goal, the greater the cognitive load gets.
An efficient and user-friendly UI is paramount for simplifying the users' journey towards a goal. You can tweak certain UI elements of your app to reduce the cognitive load and make users' mobile experiences pleasant.
Don't try to concentrate too much information on one fold of the mobile screen, and keep the UI clean.
For example, Instagram used to have both text and icons for its bottom bar menu, but then it changed to just icons.
But why?
Because users recognize the icons and their functions. So, it made sense to remove the text, reduce the cognitive load, and keep the UI clean.
11. Change the Game With Gamification
Gamifying certain app elements or introducing gamified content makes the app more exciting and appealing for users.
Many eCommerce apps frequently employ gamification elements like spin the wheel, quizzes, progress bar at the checkout process, and other such dynamic elements.
Let's look at a few examples that can inspire you to leverage gamification for your mobile app.
If you have an online beauty app, you can gamify it with a personality quiz using a tool like ProProfs Quiz Maker that will:
Engage the users > Get you qualitative insights about your customers > Help you recommend better products with such insights and more.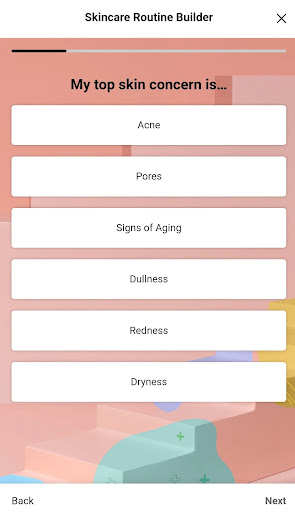 Another great example is Amazon. It has a "Funzone" section on the app where users can spin the wheel and play quizzes to win prizes and discounts.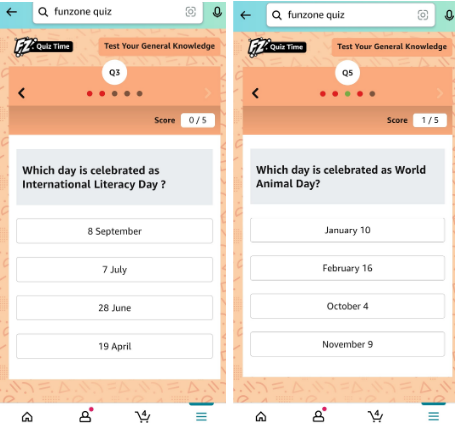 Fitbit, a wearable tracker app, offers badges to measure achievement when a user completes a goal, i.e., walks a certain distance, loses a certain amount of calories, etc.
It also enables users to socialize with other Fitbit users and compete with them. Another remarkable gamification feature in the app is that it lets you virtually walk around a city of your choice.
So, you see, you are only limited by your imagination.
You need to analyze your app's unique features and the needs of your users to leverage gamification in a way that's unique to your app.
12. Align Your Marketing and Product
Flashy marketing will only take you so far. If you want to create a sustainable business, you need loyal users. And you cannot foster loyal users with marketing strategies that don't turn into excellent user experiences.
To avoid this, you need to analyze your product offerings and create a marketing strategy highlighting your app's USP in the best way without exaggerating.
But, why does it matter if you align product offering with marketing or not?
With flashy marketing, you may be able to attract new users to your app, but they will uninstall it if they don't get the promised experience. It will be a devastating blow to your retention rate in the long run.
So, it's best to be true to your product. For example, you should show the actual UI and other elements of your app in the teaser videos rather than design and display screens that don't exist.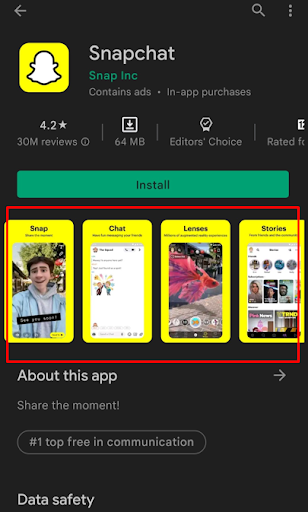 [Also Read: 15 Best Product Marketing Tools For Product Marketers]
13. Practice App Store Optimization (ASO)
App Store Optimization is the app equivalent to Search Engine Optimization (SEO) for your website. A well-thought-out mobile app engagement strategy like ASO will rank your app higher on app stores and increase visibility.
Here's an example: If you search for an E-Scooter app on Google Play Store, you'll get multiple results. But the apps on the top have a strong ASO strategy that's helping them rank higher.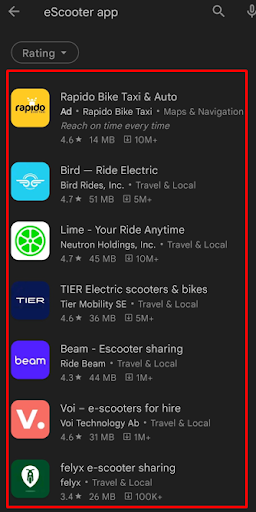 With ASO, you'll be able to attract high-value users organically and boost mobile app user retention. It focuses on optimizing keywords related to your app to get it into top results when users search those keywords.
For this to happen, you need to optimize your app's name, title, and description with high-volume keywords. Adding your app's screenshots and videos also helps your app rank higher.
You can divide the app description into sections since it makes the content more scannable and keyword-friendly. This way, the new users know what to expect from your app and won't churn away.
14. Leverage Email Marketing
With an average open rate of 21.33%, no wonder businesses prioritize email marketing for their mobile app retention strategies.
You can also use email marketing to increase customer engagement and retention with a rich emailing list.
Many apps collect user emails at sign-in and signup points after the app is downloaded, and others use coupon codes, discount popups, etc.
They ask users to enter their email to access a discount code or other monetary rewards. Besides this, you can collect users' emails using popup surveys. For example, you can ask for their feedback and follow it up with an email collector popup (like the one shown below).
Once you have an email list handy, you can create marketing campaigns resonating with users that they'll want to check out. Your campaigns can offer gated content, newsletter, or even upsell other products or new features.
For example, Evernote uses email marketing to share informational content to constantly engage and turn users into loyal fans.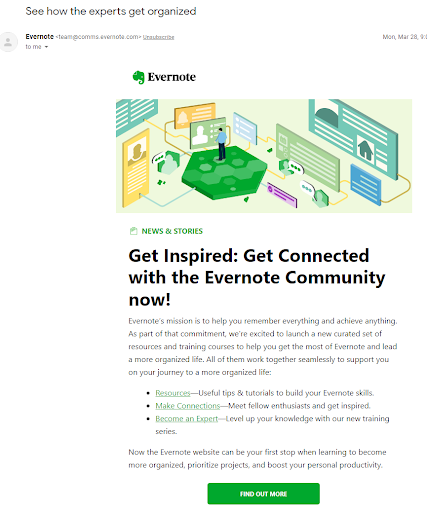 So, with the right content to support your email marketing, you'll be able to improve the retention rate for your mobile app significantly.
15. Make the CTAs Stand Out
Call-to-Action buttons are a medium through which users complete their goals, be it checking out a product/service/content on the app, making a purchase, or something else.
Unlike a website page, an app has limited screen space, so the placement and the design of the CTA should be very strategic.
Try to make your CTAs as evident and easily recognizable as possible, so the users don't miss them and churn.
For example, Amazon places its CTA at the top of all the items in the shopping cart. It stays static as users scroll down the cart, making it always visible and in focus.
[Also Read: Best Practices for adding call-to-action (CTAs) in Qualaroo]
16. Re-Engagement via Win-Back Ad Campaigns
Retargeting ads have become a popular re-engagement strategy for different types of businesses on social media.
Since users spend hours using social media apps daily, businesses use this as an opportunity to remind customers to return to their offerings.
Retargeting users with ads is popularly used to reduce shopping cart abandonment, but many apps also use it to re-engage and retain customers.
For example, apps show ads on users' social media to make them perform an action. As they click on the CTA, they are taken directly to the app using deep linking.
Apps require device-level data to show personalized ads on social media. So, retargeting this way can be a challenge for iOS apps since it requires explicit user consent for data sharing through Apple's App Tracking Transparency framework.
But if you have user consent, you can carefully strategize when and what ad campaign you can leverage to gain the best results.
17. Segment App Users for Personalized Experience
As mentioned in Point 5, user segmentation is key to delivering tailored experiences. Each user segment has its user journey roadmap with goals and touchpoints designed to engage different user personas.
For instance, let's say you have an eCommerce app. There are two user/buyer personas you focus on: Persona A with higher disposable income, ready to purchase, and Persona B with a low disposable income, who needs time to consider their purchase decision.
Suppose you segment users based on their purchase history, such as buying ability.
You can target Persona A by upselling other related products they might be interested in or using FOMO (fear of missing out) in-app messages and popups to drive sales and engage them on your app.
Example: Amazon shows time-sensitive 'lightning deals' to encourage more sales.
In the case of Persona B, you can show them discount in-app popups to retain them for longer on the app and encourage them to purchase.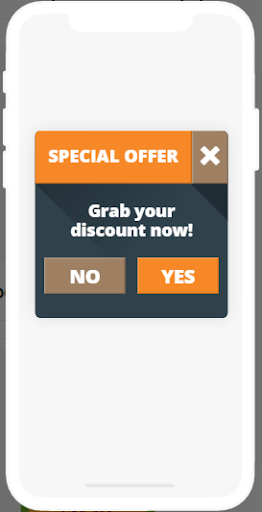 You can target users based on the average amount of time they spend on your app. For example, a gaming app can target daily active users by upselling its in-app offerings.
[Also Read: Market Segmentation – Types, Benefits, Mistakes & Examples]
18. Increase Product Value With Cross-Sell and up-Sell
Customer experience is all about improvement. If your app experience doesn't offer as much value to users as it used to, they will abandon your app.
That's why brands keep innovating new ways to engage and retain users. One of the top mobile app retention strategies you can use to enhance the value of your product/services is cross-selling and up-selling.
For example:
A gaming app can upsell its paid version as a way to improve the customer experience with more features and in-app monetary benefits.
An eCommerce app can use cross-selling to increase the average spend time on the app, which helps improve retention.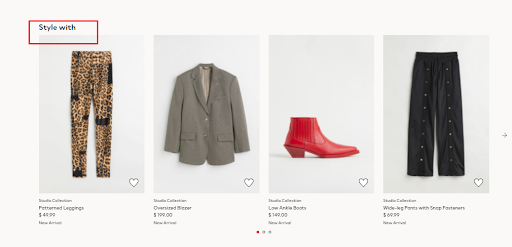 A great use case is Spotify. It offers free streaming services to its app users and upsells its subscription to them. It helps the app retain customers by offering an ad-free experience, which ultimately translates into increased conversions.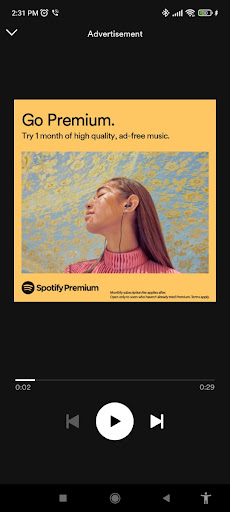 Use the Right Strategy to Get Your Users to Stick
By now you know:
What a good app retention rate looks like,
How engagement plays a pivotal role in retaining users,
Which mobile app retention strategies you can consider.
But that's not all there is to it. You must first analyze your app's requirements, strengths, and weaknesses. Once you know where your app stands, it'll be easier to decide which mobile app retention strategies can help you with what issues.
For example, suppose you find out that users aren't using your language app enough. With feedback from a small popup survey, you figured out that your app activities are not interesting enough for users. You can quickly fix this problem using gamification.
You can apply this cause-and-effect approach to understand which strategies will work best to solve any number of issues causing a lack of user interest in your app.
So to conclude, if you listen to your users, understand their experience with customer satisfaction metrics, and resolve the problems that cause your customers to churn, you'll only have happy, loyal users who are in for the long haul.
Want insights that improve experience & conversions?
Capture customer feedback to improve customer experience & grow conversions.