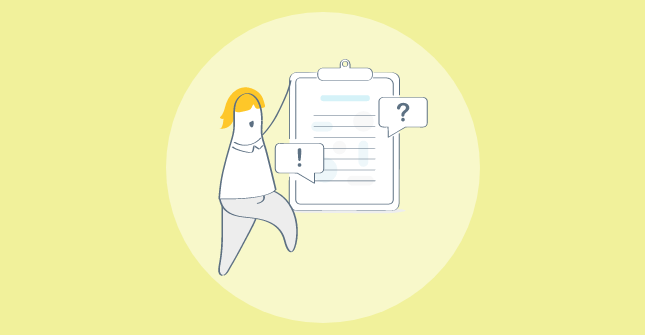 Product marketers and marketing managers have a lot on their plate, and not having a reliable toolset add to the frustration.
So, does it ever get easier for product marketing managers?
Indeed, with the right product marketing tools, they can launch successful marketing campaigns that drive enormous traffic and optimize the sales funnel to convert leads, to name a few benefits.
For this, we have stepped up to help our fellow managers with the list of best product marketing tools to consider in 2023.
We have divided the list of product marketing resources based on the purposes. Here are the points covered for each tool:
Suitable for: Small, mid-sized, to large businesses
Choose for: Things the tool is known for
Price: Minimum monthly plans
Features: A detailed account of the product's capabilities
Pros: What's best about it
Cons: What you should be aware of
Types of Tools Product Marketing Managers Use
The key responsibility areas (KRAs) for product marketing managers include everything from coordinating with team members to launching new marketing campaigns. So, it requires a diverse tool stack they can trust for different purposes.
These include:
Identifying new marketing trends and ideas.
Creating original content for marketing such as ebooks, articles, social media posts, etc.
Collecting feedback on products and digital assets and sharing it with the team.
Automating recurring processes such as email marketing, chat support, and more.
Tracking performance of marketing campaigns using analytics tools.
We have categorized all the tools based on their purpose in our list to help you quickly pick the best ones.
Benefits of Product Marketing Tools
Before discussing the top product marketing tools, let's discuss why you should consider adding them to your stack.
Helps Understand Customers
Product marketing managers use feedback survey tools to ask customers the right questions and get deep insights into customers' experiences, preferences, needs, and online behavior.
Customer feedback from these tools helps businesses meet customers' expectations and improve their shortcomings, even the unanticipated ones.
Streamlines Workflows
Product marketing tools also help marketers plan and organize their workflows. It lets them streamline projects and processes, from assigning new assignments to tracking deadlines.
Automates Processes
The recurring processes like email marketing, feedback collection, and live chat support are easy to automate with product marketing tools.
For example, you can use a tool to automate newsletters delivery or follow-up emails, collect survey responses, and offer customer support 24X7.
Helps Create Successful Marketing Strategies
For your marketing efforts to be spot on, you need to know what your customers are interested in and would engage with. A product marketing tool will help you find trending keywords among customers and what kind of content will bring you the most engagement.
With such insights, you can plan your content strategy accordingly, which will be foundational for your marketing campaigns.
15 Best Product Marketing Tools to Try in 2023 [Categorized]
From tools that measure user feedback to give actionable insights, help you manage projects, and curate content to automate marketing campaigns, this list of top tools for product marketers has it all.
Product Marketing Tools: User Behavior and Feedback
1.Qualaroo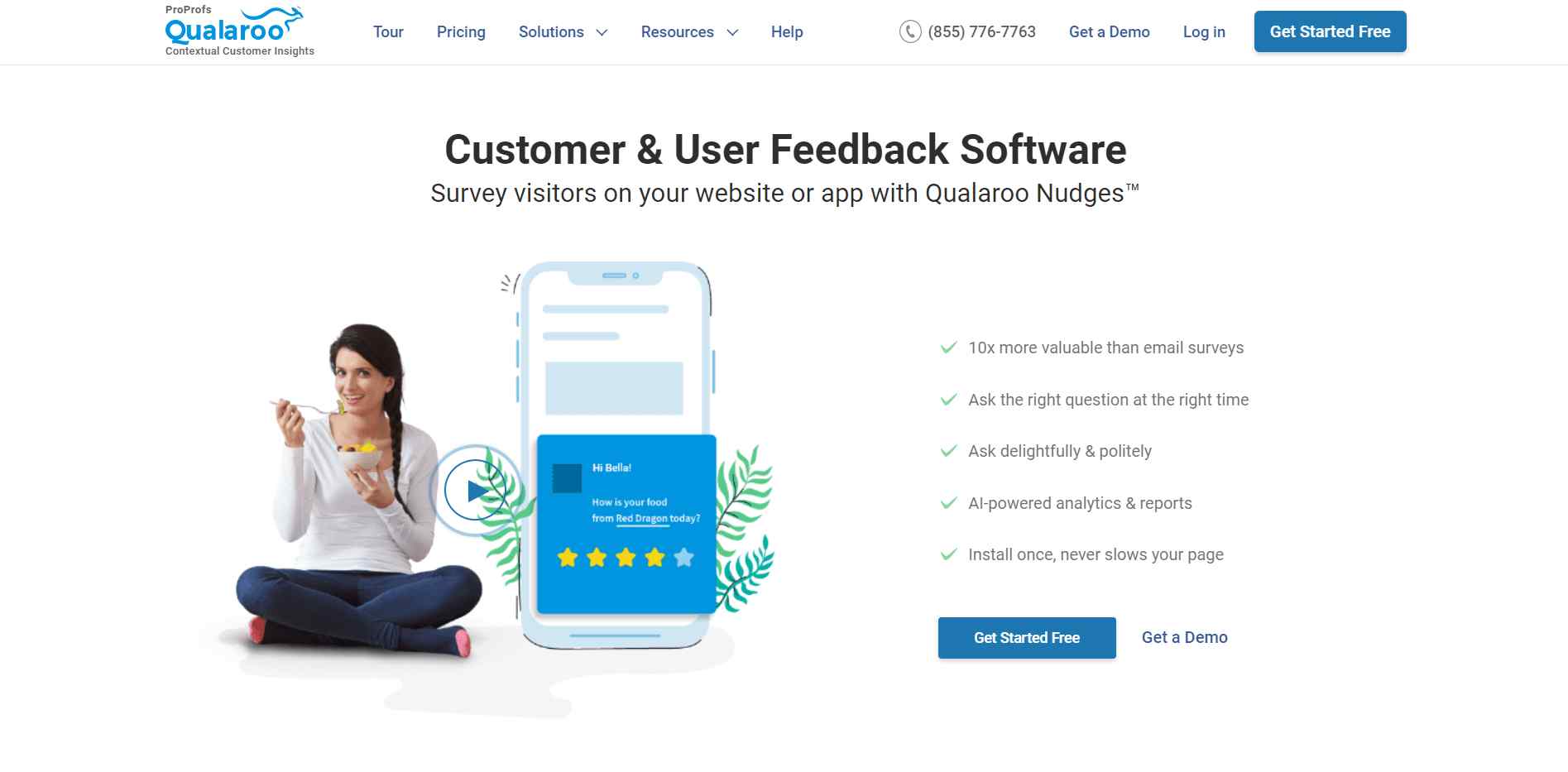 ---
Want a product marketing software that can provide real-time customer insights to improve your marketing strategy? Qualaroo is your best choice.
It's a customer experience and feedback tool offering incredible features such as advanced reporting, advanced targeting, survey templates; the list goes on.
This product marketing tool offers proprietary NudgeTM technology that helps collect real-time, contextual feedback.
You can leverage its marketing and feedback survey templates on your website or mobile app to gauge how customers find out about your business and collect data that helps you create accurate buyer personas.
Suitable for: Medium to large businesses
Choose for: AI-based Sentiment Analysis, conducting multi-channel survey, advanced reporting
Price: Starts from $69 per month.
Features:
Lets you create surveys such as Customer Satisfaction Surveys (CSAT), Net Promoter Score (NPS), System Usability Score (SUS), User/Customer Effort Score, etc., from scratch using its easy-to-use editor.
Offers a multitude of survey templates to get you started with customer feedback collection in real-time.
Supports 100+ languages.
Collects deep customer insights in a non-intrusive way with its pop-up surveys.
Branching and skip logic to target the right audience with relevant surveys.
Offers exit-intent surveys that help reduce bounce and churn rates by asking customers their reason for leaving right before they exit the website.
Enables you to schedule surveys to target website visitors at a specific time.
Helps you manage where the pop-ups show up, who sees them, and the frequency at which they appear.
Supports complete customization and personalization of surveys.
Comes with an AI-powered feedback analysis engine to gauge customer sentiment.
Integrates with various tools like Salesforce, MailChimp, Zapier, and more.
Pros:
Collects feedback without disrupting the customer experience
Response Tagging
Skip and branching logic
Word Cloud
Cons:
More templates can be added for different industry-types and purposes
---
2. Proprofs Survey Maker
---
Another excellent recommendation for top product marketing tools is ProProfs Survey Maker, a feedback collection software.
The platform helps you create surveys from scratch and offers many templates to collect real-time feedback. This tool can help you create quizzes, surveys, and even polls.
It is one of the trusted product marketing tools since brands like Sony and Dell have used the tool to improve their customer feedback process.
Suitable for: Small to large businesses
Choose for: Conducting multi-channel surveys, Surveys, Forms, Quizzes, and Polls
Price: Starts from $19 per month.
Features:
Drag-and-drop editor to make the editing of survey templates and survey creation in general easier.
Pre-designed survey templates for faster survey deployment.
Support for 40+ languages.
Enables you to add branding and customize surveys and templates.
Has more than 100K goal-oriented questions in its question library.
Offers web forms for different purposes such as job recruitment, product feedback, etc.
Lets you launch surveys on websites and mobile apps.
Integrates with third-party apps like Zendesk and MailChimp.
Pros:
Multi-channel survey deployment
Comes with a non-intrusive feedback sidebar button
Share surveys with a link
Cons:
Load times can be slow at times
Survey editor comes with a slight learning curve
---
3. Hotjar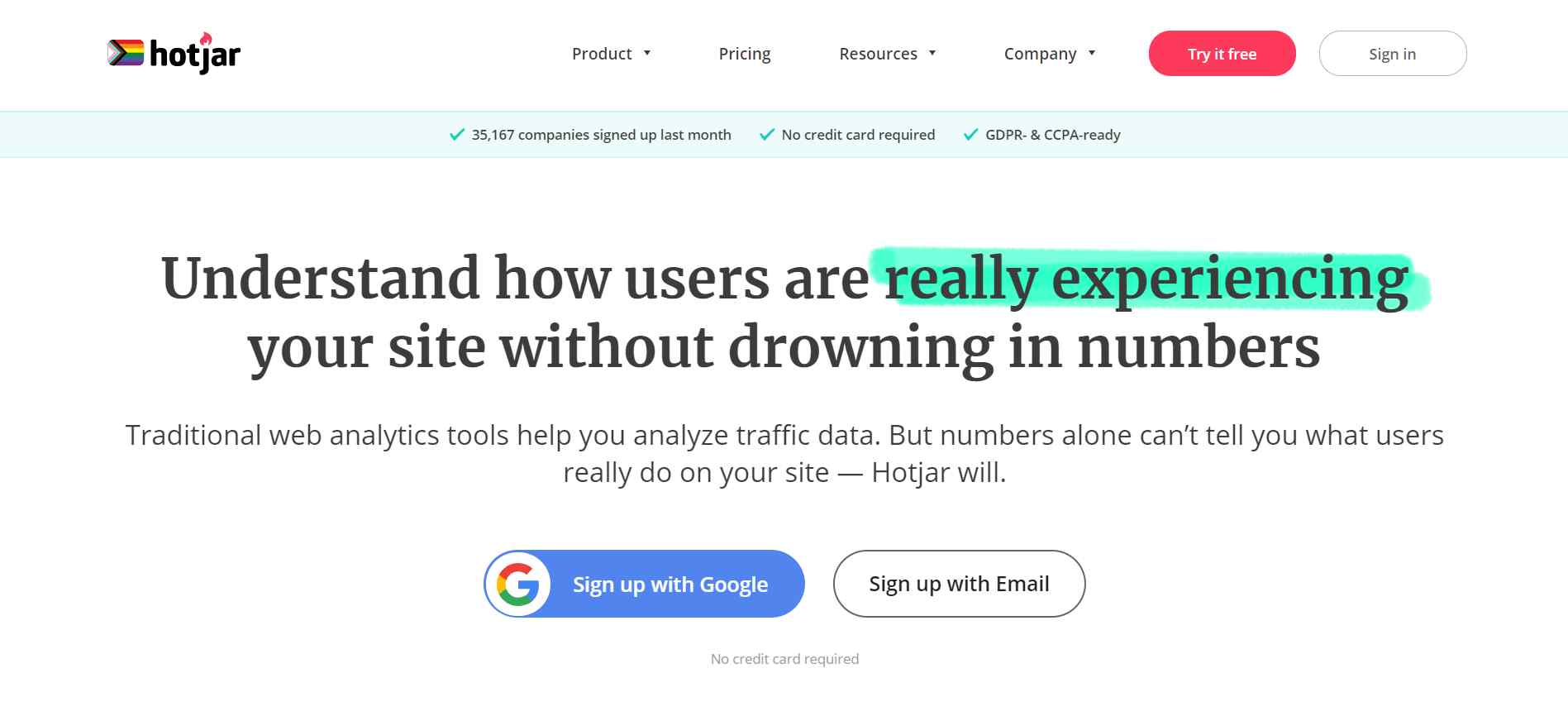 ---
Among the top tools for product marketing, Hotjar is one fantastic software. It's a behavior analytics company that monitors user behavior on the website and collects insights using features like session recordings, heatmaps, and more.
The tool also lets you analyze the data from Google Analytics using its behavior analytics software.
Suitable for: Medium to large businesses
Choose for: Consolidating, discovering, and communicating user needs
Price: Starts at $31/month
Features:
Built-in survey templates to create surveys within minutes.
Offers a suggestion box to get feedback on specific elements in real-time.
Supports a live playback of the website visitors for more detailed insights.
Built-in heatmaps to help you understand online customer behavior.
Comes with widgets to collect feedback seamlessly.
Offers PCI and GDPR compliance for higher security.
Pros:
Lightweight and simple to use
Easy to switch between tasks within the tool
Intercept surveys are highly flexible
Cons:
Slightly counter-intuitive interface
Limitations in tracking the sessions
---
4. UserTesting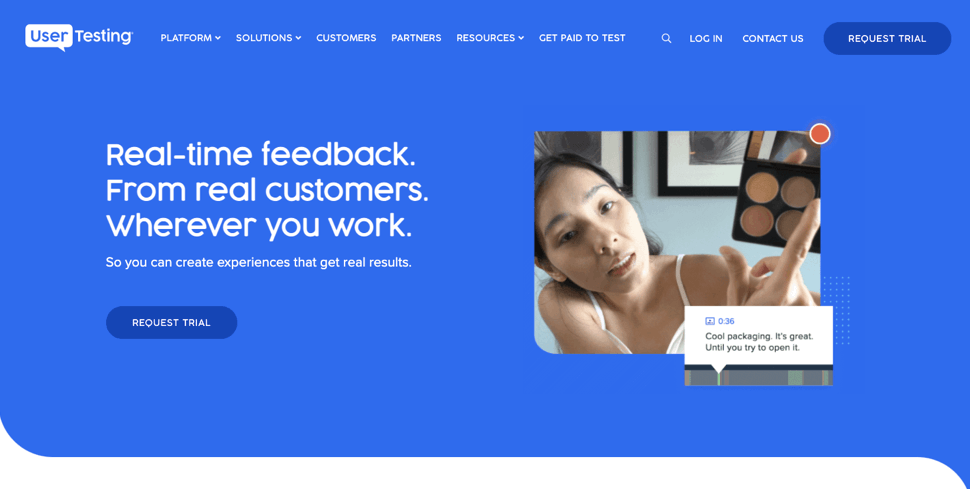 ---
Another one of the product marketing manager tools is UserTesting. Businesses use this usability testing tool to boost their conversion rate optimization process. The tool is also helpful for product optimization and improving the UI/UX experience.
Using this tool, you can also test websites by finding the relevant user demographics resembling your targeted audience through their participant panel.
Such features make it a strong contender in our product marketing tools list.
Suitable for: Mid-sized to large businesses
Choose for: Mobile testing, website testing, usability testing
Price: Available on request
Features:
Offers a participant panel to let you conduct usability testing.
Tailored test creation to fit all businesses' needs.
Supports integration with Adobe XD, Slack, Jira, and Trello, among other tools.
Test usability of your products, mobile app, website, etc., and gauge customers' experience by engaging hundreds of participants.
Collects feedback at various development stages such as discovery, design, iteration, etc.
Track performance of campaigns, ads, and content on different platforms.
Helps create NPS surveys and track the completion time.
Pros:
Useful and in-depth product documentation
User segmentation for running tests
Templates for user testing
Playback option for subtitles and speed
Allows you to add moderator notes
Cons:
Some users provided by the tool hurry up taking the surveys
Issues with comparative tests on mobile devices
Qualifying questions do not get saved properly
Hard to reuse a saved template
---
Product Marketing Tools: Project Management
5. Proprofs Project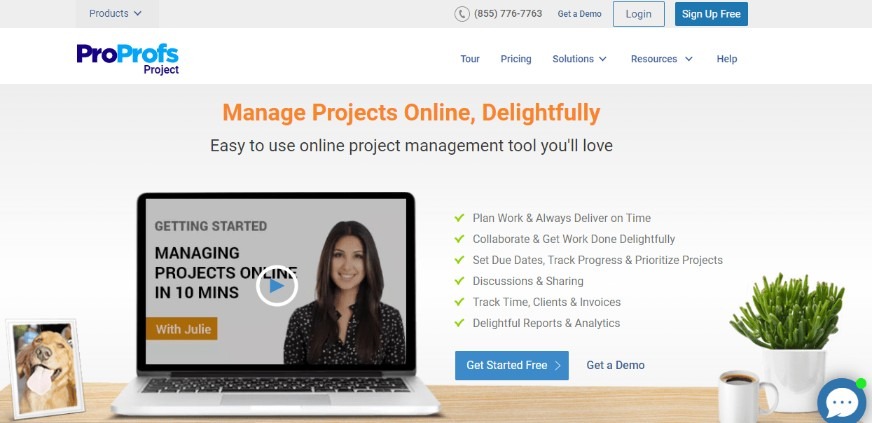 ---
ProProfs Project is a fantastic software for product marketing that helps with project management. You can plan your workflow, set due dates, collaborate with others seamlessly, and track the progress of different projects related to your product.
The tool also lets you perform report analysis and track deliverables and invoices, making it a great fit among other product marketing tools.
Suitable for: Small to large businesses
Choose for: Project management, team collaboration
Price: Starts from $2/user/month
Features:
Offers a single dashboard for managing multiple projects.
Add estimated delivery dates and reallocate resources accordingly.
Track the time taken for each project by individual teams.
Helps you collect feedback on tasks using comments and alerts about each feedback using notification.
Comes with the Gantt chart feature to facilitate data visualization.
Has detailed analytics reports feature.
Automatically generates invoices.
Pros:
Reporting for projects
Share files within the platform
Color code different project elements
Cons:
Limited integrations
Lags when using certain features
---
6. Monday.com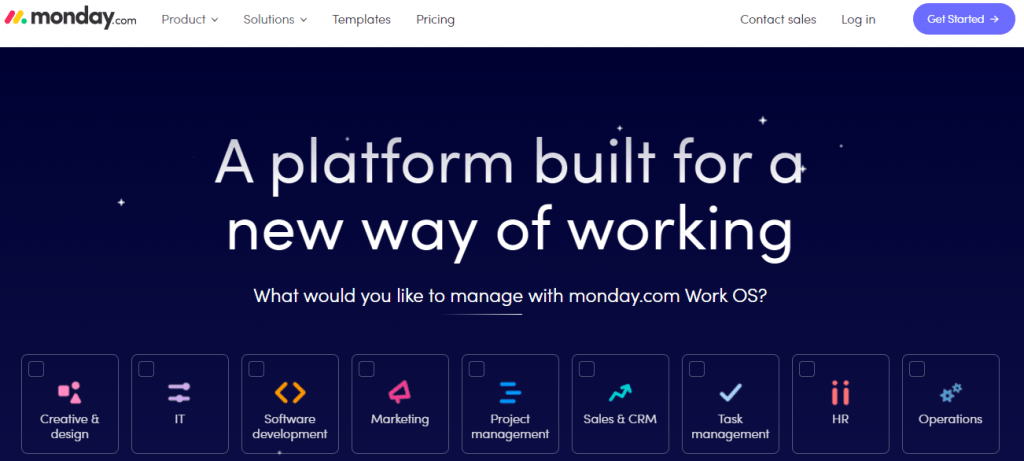 ---
Monday.com is yet another contender in our list of top product management tools. It is an all-in-one platform widely used by product managers and has helped more than 100,000 businesses to grow.
Unlike Microsoft's spreadsheets which can be sloppy at times, Monday offers a more streamlined version of spreadsheets.
Suitable for: Small to large businesses
Choose for: Streamline workflow, spreadsheets, resource management, team collaboration
Price: Starts from $8/seat/month
Features:
Helps you manage and organize project plans.
Effectively assign work to members.
Offers pre-built templates to create and manage projects for clutter-free workflows.
Facilitates repeated task management.
Helps with project budget management, file sharing, resource management, and workflow automation.
Allows coordination between teams in one place.
Provides visualization for all tasks on specific boards using Gantt charts.
Offers integrations with 200+ powerful apps.
Pros:
Helps schedule tasks
Can save views and filters for regular reporting-based data
Personalization for creating boards
Cons:
Limited reporting
Difficult to filter as per user name
Design is not responsive
7. Asana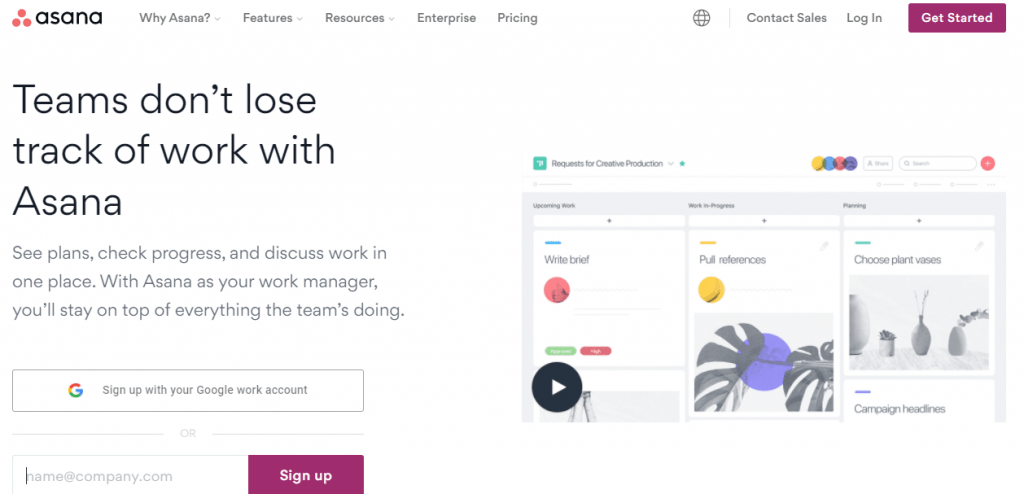 ---
Another one of the top tools for product marketing to increase productivity is Asana. It facilitates workflow management.
Asana can handle many administrative functions such as managing and assigning tasks to team members, scheduling deliverables, and collaborating in general.
It also sends notifications for approaching deadlines and when new tasks are added or assigned.
Suitable for: Small to large businesses
Choose for: Virtual workspace collaboration, project management, and task management
Price: Starts from $10.99/month
Features:
Offers pre-designed templates for marketing and product development projects.
Robust privacy functionality such as Single Sign-On (SSO).
Comes with two-factor authentication.
Enables managers to manage different kinds of tasks and access permissions.
Helps you prioritize and schedule tasks using different formats such as kanban systems and Gantt chart software.
Offers a shared team calendar that sends event notifications, facilitating collaboration.
Lets you store documents.
Dashboard view to show the status of all tasks.
Pros:
Offers a free plan
Customized dashboard
Allows you to monitor workload
Cons:
No time tracking
Limited exporting features
Only one person can be assigned one task
8. Slack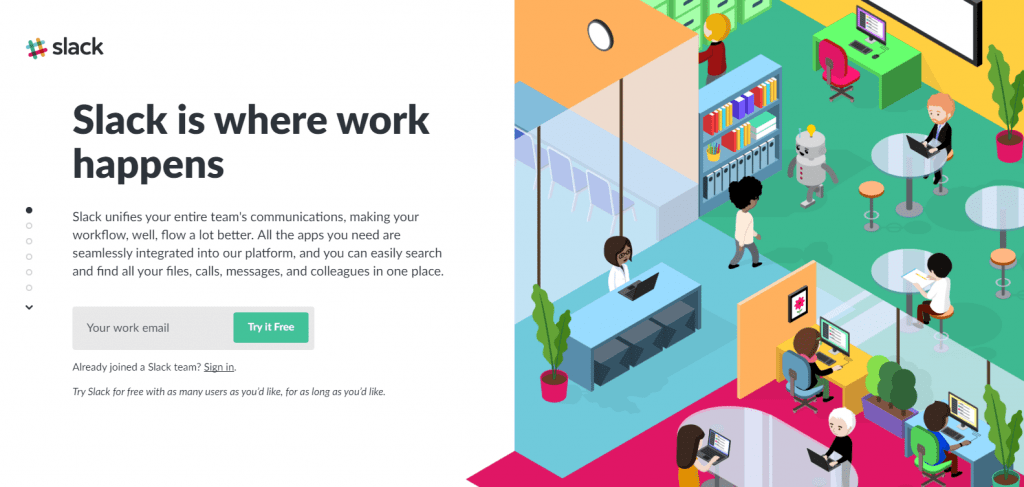 ---
Slack is yet among the best product marketing tools you can try if you need something more sophisticated than Microsoft teams or Google chats. It is an excellent inter and intra-communication tool for businesses and promotes seamless collaboration.
It does so my breathing several "channels" with related topics, messages, and people in one place to keep projects moving smoothly. It lets you collaborate with people live or in your own time to support a flexible work schedule.
Suitable for: Small to large businesses
Choose for: Collaboration, internal communication, project and product management
Price: Starts from $2.67/month/user
Features:
Offers a chat-based workspace in which you can share files.
Let's you delete or edit sent messages.
Create 'Channels' that are topic-oriented chat rooms.
Enables you to make video and audio calls and facilitates switching between chats and calls.
Share your screen during video calls.
Comes with Slackbot, a built-in tool to help you navigate the tool, set reminders, and do much more.
Offers integrations with tools like Google Suite.
Pros:
Compartmentalize communication
Built-in video calls, voice calls, and screen sharing
Cons:
Pay-per-user pricing model
---
9. Trello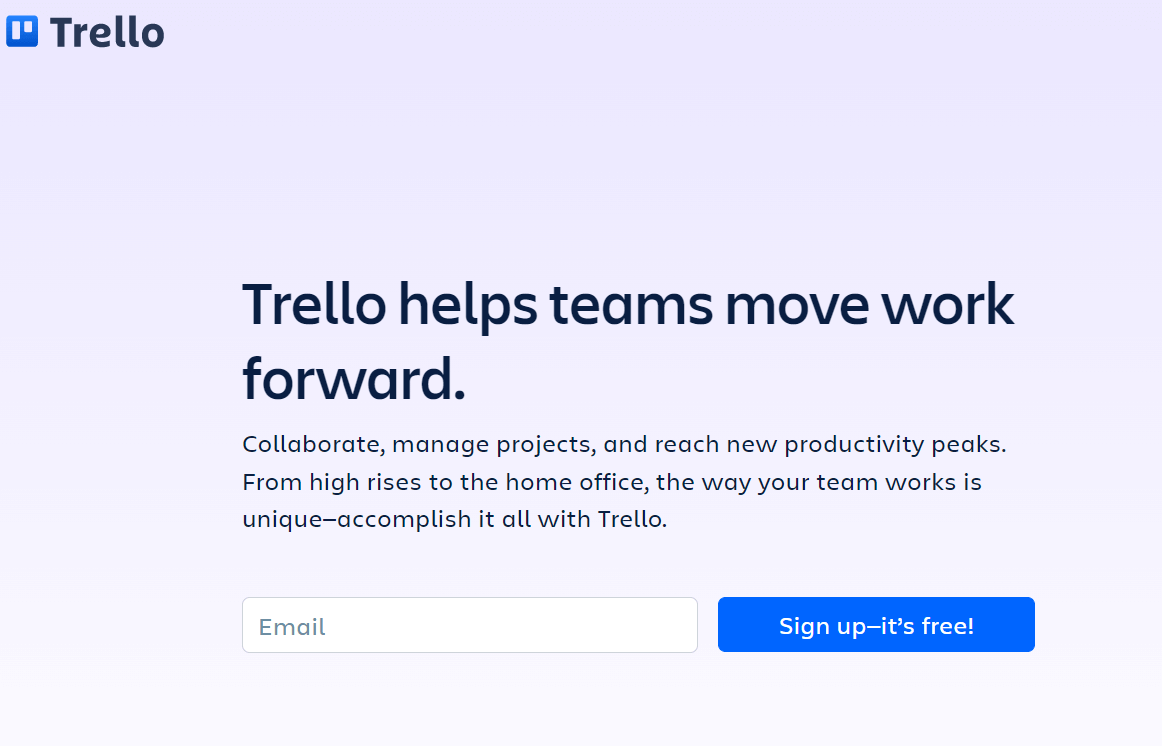 ---
Trello is one of the top tools for product marketers out there. It is an online product management platform that helps manage multiple projects flawlessly and boosts collaboration.
You can add or remove members from projects, edit due dates, assign color codes, and more. It
Suitable for: Small to mid-sized businesses
Choose for: Project management, Product management, Collaboration
Price: Starts from $5/month
Features:
Comes with 'Cards' that are assigned or added tasks and help with time management.
Drag and drop cards in different categories to organize the dashboard and add labels.
Lets you create a dashboard for different projects to manage the tasks.
Set automatic deadline alerts on members' email IDs.
Comes with SSL data encryption.
Provides a user-friendly mobile app so members can access and manage projects on the go.
Store data on Google Drive, Dropbox, etc.
Offers integration with tools like Jira, Adobe XD, Slack, etc.
Pros:
Has a responsive design
Kanban system
Lets you add attachments to cards
Cons:
Needs internet connection
Doesn't send alerts for comments
10. Process Street
---
Process Street is a great pick if you are looking for product marketing tools that offer checklists and workflow automation.
The tool helps you document everything business-related. You can create effective workflows and checklists to manage and organize your product marketing and management activities.
You can also use this product as a marketing tool to perform marketing research, product research, and much more.
Suitable for: Small to large businesses
Choose for: Workflow automation, document storage, creating checklists
Price: Starts from $25/month
Features
Helps manage, create, and assign recurring workflows for different teams.
Create structured documents using a simple interface.
Notifies you when the tasks are done and allows you to track activity.
Offers conditional logic to design dynamic and adaptable workflows according to your team's needs.
Create multi-stage, single instance, and sequential approvals.
Supports intuitive keyboard shortcuts.
Offers permissions for sharing data unification, document generation, templates, etc.
Pros:
Integrates with different CRMs
Conditional logic among the tasks
Lets you add text, videos, and links to tasks
Cons:
Doesn't have the right add-ons for editing templates
Reporting feature only highlights due dates and not subtasks in checklists
Hard to set specific permissions for subfolders without affecting the main folder
Product Marketing Tools: Content Curation
11. Semrush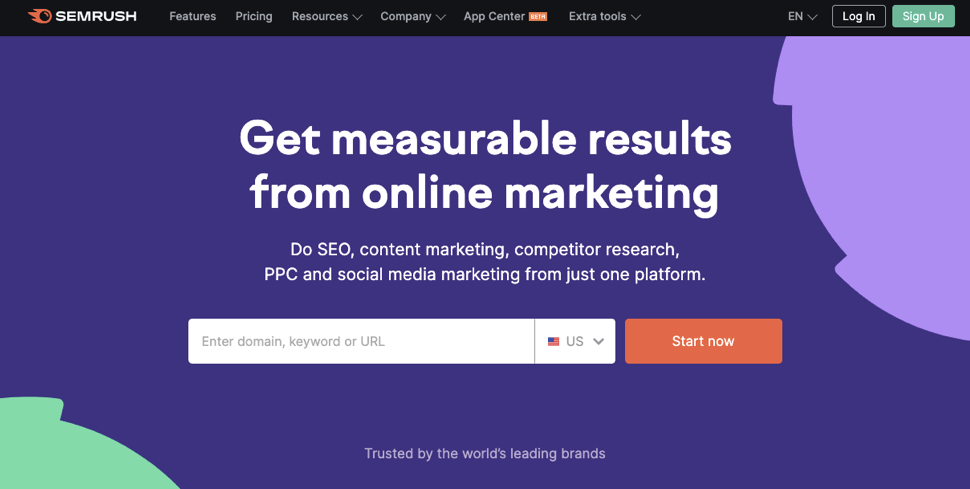 ---
One of the product marketing resources popular among product managers is Semrush. The tool helps you understand topics for your content and how popular they are among people.
It offers add-ons and comes with 50+ products for content creation, social media, paid ads, PPC keyword research, and more. It also offers seamless integration with Google Suite.
Suitable for: Small in-house teams to large enterprises
Choose for: Market research, SEO, keyword research
Price: Starts from $119.95/month
Features:
Facilitates keyword research for Monthly Search Volume (MSV) and Cost-per-click (CPC).
Explore the seasonality of keywords and also research long-tail keywords.
Comes with an on-page SEO tracker, project dashboard, position tracker, and keyword alerts.
Offers domain overview and helps get organic traffic insights.
Provides keyword magic and tagging, link tracker, traffic percentage metric, site audit, etc.
Supports competitive research analysis.
Offers SEO content template and content marketing toolkit.
Pros:
Tracks competitors' PPC campaigns
Detailed position tracking
Offers visibility report
Cons:
Some features cost more compared to competitors
---
12. Ahrefs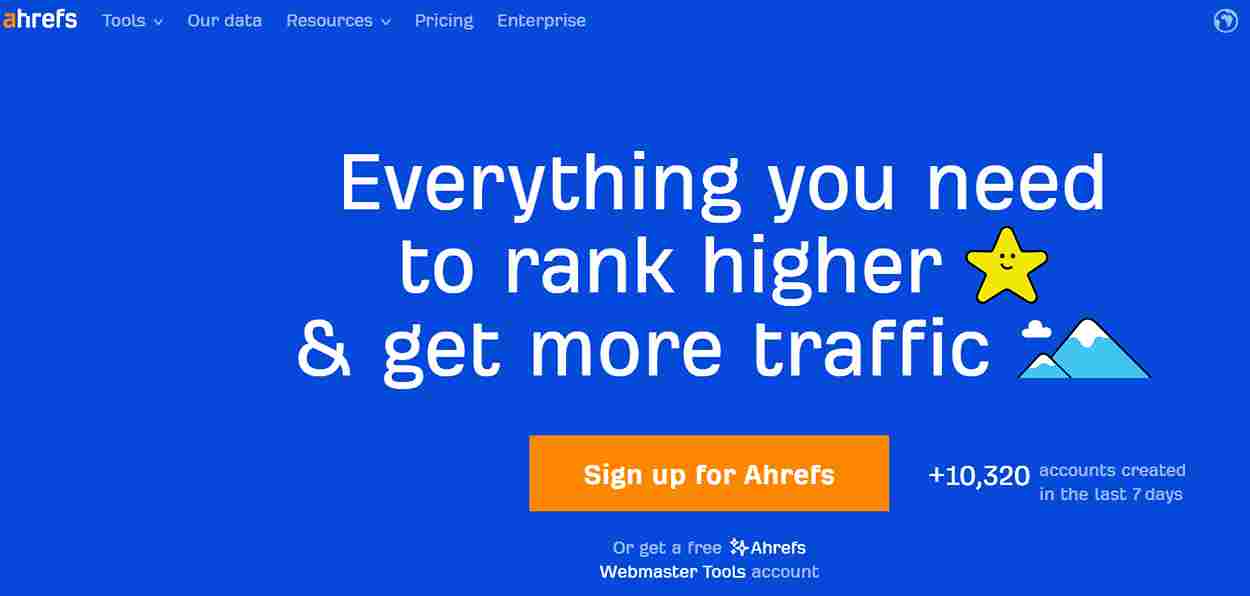 ---
Ahrefs is an excellent product marketing tool that's a must-have for all product managers for marketing and SEO purposes.
It's an all-in-one tool for product marketing as it supports competitive analysis, link building, keyword research, and more. You can also search for keywords for other platforms like YouTube and Amazon.
Suitable for: Mid-sized and large businesses
Choose for: Link building, keyword research, competitive analysis
Price: Starts from $99/month
Features:
Supports tracking internal backlinks and SERP history.
Detailed dashboard that shows a graphical overview of multiple website metrics.
Provides metrics on backlinks, authority from Site Explorer, and traffic.
Track website Health Score using its site audit feature.
Rank Tracker feature to measure changes in keyword ranking.
Tracks keyword distribution and clicks, content gaps, backlink growth, outbound links, and ranking history, to name a few.
Has a backlink and index crawl.
Pros:
Helps with market research
Updates on the database
Organic results for searches
Cons:
Restricted features even in a paid version
13. BuzzSumo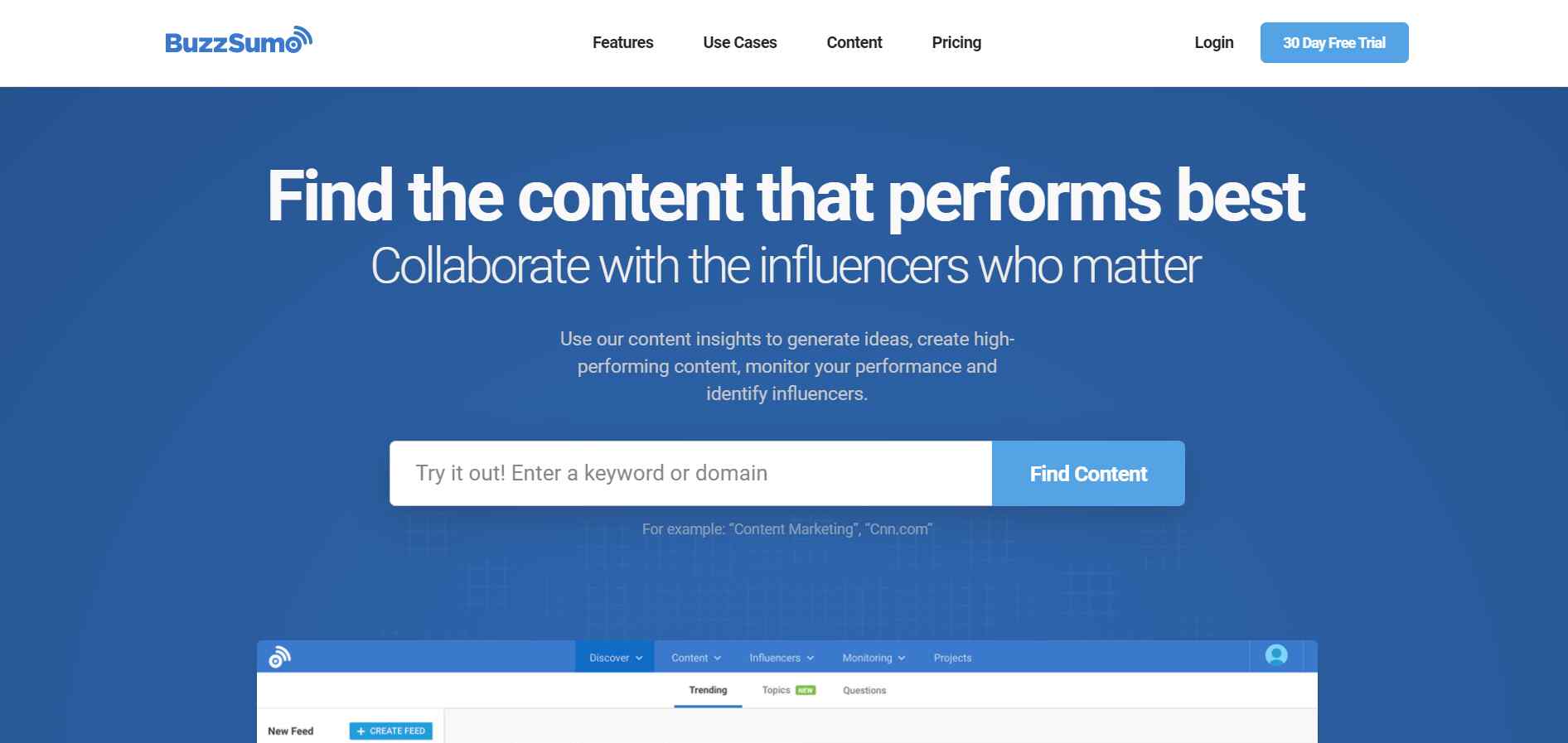 ---
BuzzSumo ranks among the most important marketing tools for product development. It focuses more on the content marketing and creation front. It does not just explore the trending keywords but also the kind of content that gets the most attention.
You can use it to explore what kind of content your target audience enjoys so you can design and improve your marketing strategy to get the most traffic and engagement.
Suitable for: Mid-sized to large businesses
Choose for: Content marketing, keyword research
Price: Starts from $99/month
Features:
Solid content analysis feature that spots content trends.
Monitors online comments.
Helps you explore trending influencers to boost your social media endeavors on different platforms such as Twitter.
Lets you re-evaluate and re-invest customer personas.
Analyzes data points on the internet to refine your marketing strategy.
Helps you perform Social analytics, competitor analysis, etc.
Pros:
Real-time monitoring
Has a content suggestion tool that suggests keywords with high-traffic
Cons:
Explorer shows all the words at once, making it confusing
Expensive for the features it offers
Product Marketing Tools: Marketing Automation
14. Intercom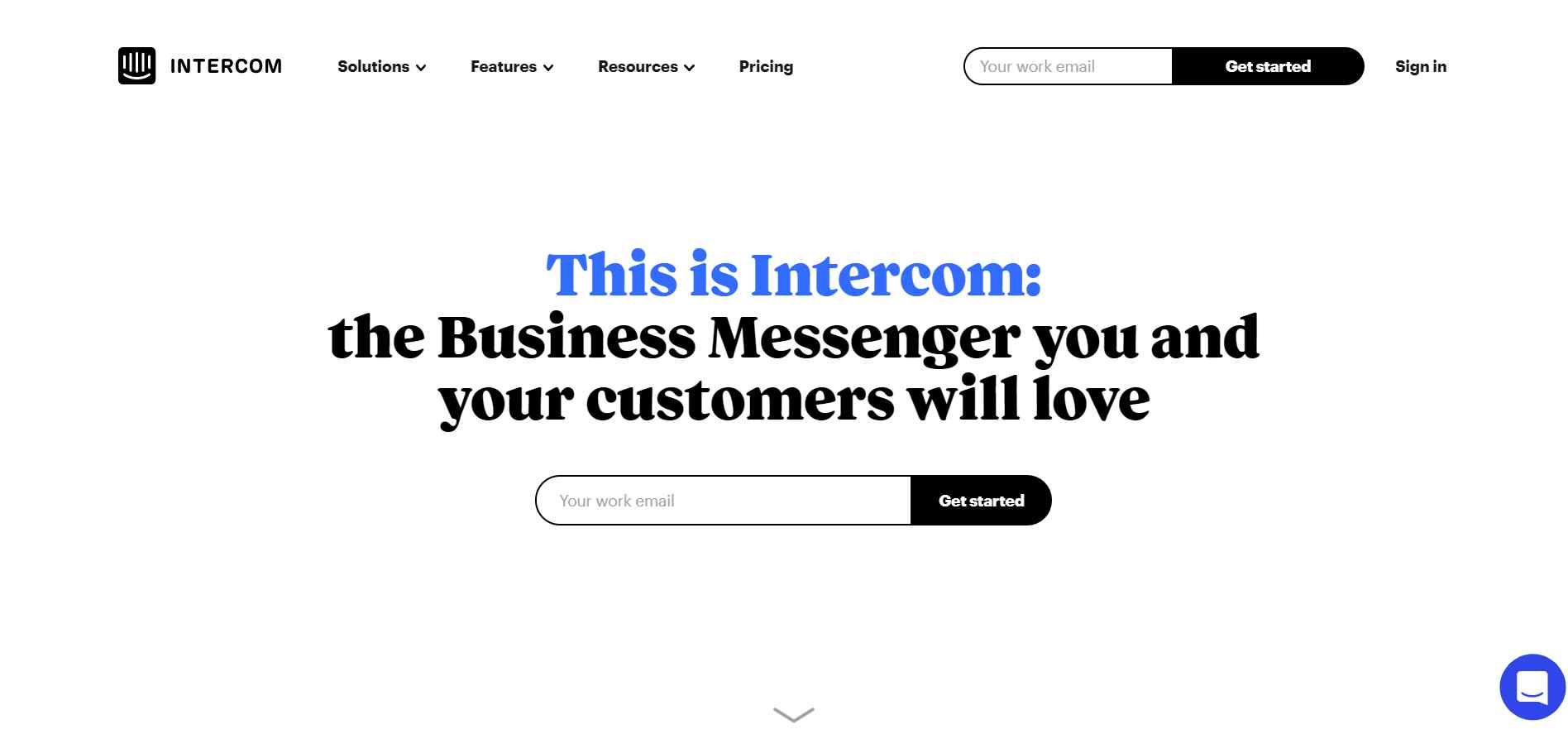 ---
Intercom is a live chat and messaging software that offers some top-notch features. There are many reasons why it's one of the best product marketing tools.
For one, it offers email analytics and templates to get you started immediately.
You can chat with your website visitors and ask for their insightful feedback. Let's see more of its popular features and why you should consider this software for product marketing.
Suitable for: Mid-sized to large businesses
Choose for: Live chat, Internal messaging
Price: Starts from $74/month
Features:
Intercom Messenger is an intuitively designed chat feature you can deploy on your website.
Offers canned responses, articles, images, emojis, links, and GIFs for your support agents to use during live conversations with customers.
Supports custom conversation views
Helps you snooze, resolve, and mark chats as a priority.
Lets you export chat transcripts.
Messenger is compatible with desktops, mobiles, and tablets.
Comes with a chat widget so customers can reach you in their time of need.
Supports outbound messages that you can schedule for recurring needs and send to specific customer segments.
Enables you to create a customer feedback and activity database for personalized marketing campaigns.
Pros:
Pricing structure can be optimized
Trigger automatic bots with a button
Supports A/B testing
Design product tours
Cons:
Can improve the pricing
Add-ons are chargeable
Cannot add videos, only links
No message preview in live chat
---
15. GetResponse
---
One of the top choices for product marketing tools for small businesses is GetResponse. It's a fantastic software for creating landing pages and sales funnel, sending emails, and automating the marketing process.
It helps you personalize emails and marketing campaigns to boost your conversion rate.
Suitable for: Small to mid-sized businesses
Choose for: Email marketing, email analytics, list management
Price: Starts from $15.58/month
Features:
Autoresponder to schedule and send automated emails to subscribers.
Email analytics to help you understand your customers and what engages them in your emails.
Provides an email editor to design unique emails from scratch and even offers email templates.
Promotes A/B testing, dynamic content, form creation, and data quality management.
Supports lead scoring and grading, lead nurturing, etc.
Integrates with tools like Zapier, Shopify, Jotform, Bounder, and many more.
Pros:
Optimizes email designs for several ESPs and devices
In-built sales funnel and webinar tools
Lets you use its ebooks as lead magnets
Cons:
Limited A/B testing capability
Segments limited to 8 attributes and conditions
Phone support only available in the Max plan
Product Marketing Tools: Editor's Picks
No business is complete without a handy and robust toolkit. So, if you are still waiting on your top product marketing tools, this list will take care of it.
You can consider multiple options in this list based on your business needs, preferences, budget, etc.
You can choose a single tool, to begin with, or go all out and pick one from each product marketing software category for different purposes.
For example:
If you need a content curation tool that goes beyond social campaigns as well, choose BuzzSumo;
if you are looking for a project management tool, look no further than ProProfs Project, a helpful and budget-friendly option;
And if you seek feedback software to assist your marketing campaign and product strategy, Qualaroo is your best bet.
So, that's a wrap on our list of best product marketing tools catering to different purposes and budgets. We are sure you will find the right tool for your business if you assess your needs well.
Want insights that improve experience & conversions?
Capture customer feedback to improve customer experience & grow conversions.