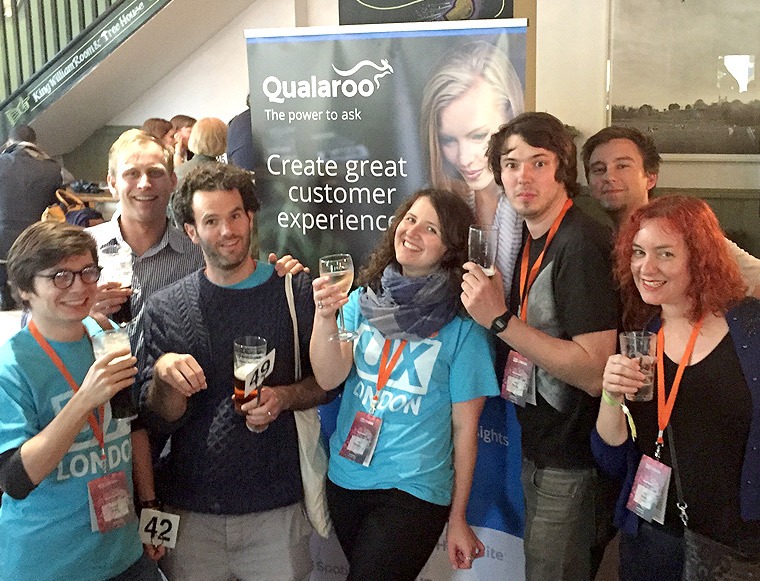 At some point amidst the clinking beer steins and hearty cheers in a myriad of languages, the downright magic of UX London dawned upon me. Still, it was hard to really put my finger on. It wasn't just the phenomenal speakers I'd heard all day, though the talks were edifying. Sure, the venue was hip and intimate within a city of nine million. Looking around our table of a dozen, no more than a pair were from the same country, which added an essential flavor, but the real magic ingredient was the cross-disciplinary who's who of thought leaders that permeated the event. Like the UX London team had shone a great bat-signal to the skies over Greenwich to bring together a fantastic group of doers for three days of sharing, enlightenment, and camaraderie.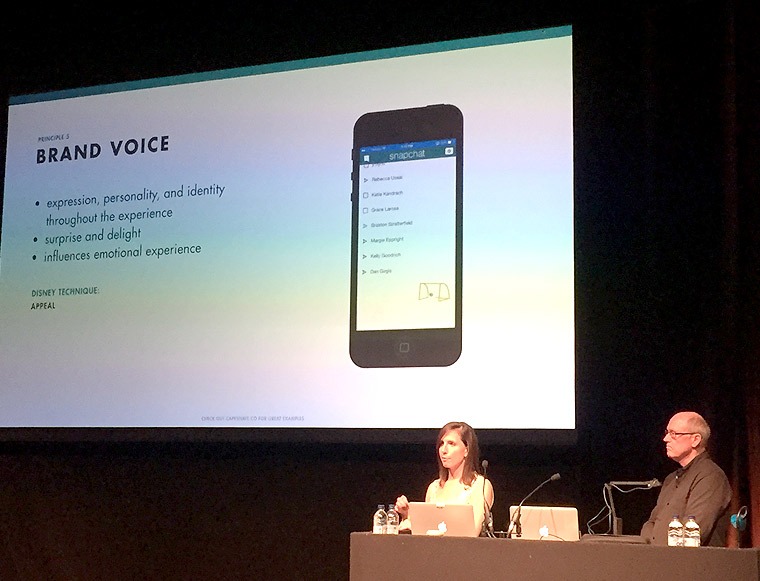 Rebecca Ussai of R/GA and Legendary Animator Glen Keane, former Disney
One of our advisors had attended UX London in 2010 and encouraged us to participate. I'm delighted we did! We were able to attend as part of Qualaroo's sponsorship and got much more than expected.
While we were in London, we were able to sit down with customers, from Enterprises to Start-ups. Chatting with House of Kaizen, Secret Escapes, British Council, Property Partner, thoughbot (thank you!) among others yielded more than just food for thought on our roadmap. It was revealing to hear these customers want to put more of their personality on surveys, so we're bolstering in-app design functionality to enable further creativity. Their users are increasingly on mobile, and I was delighted to be able to share that our native iOS SDK is already in early access! (Send us a request if you're interested in iOS surveys!)
No surprise, these customers wanted better international language support so you'll see this in our upcoming updates. Seeing first-hand pain-points helps us match our product roadmap to our community needs–and these requests just jumped rungs on our product priority list.
Like a great mixtape, the speakers were consistently top-notch and engaging. Some stand-outs: Melissa Perri was so on point with Qualaroo's mission throughout and then challenged us to take our game to the next level: how can we help our customers deliver "enlightened hospitality" and anticipate user needs from the patterns shared by their peers.

Erika Hall questioned the balance of qualitative versus quantitative data used to support conclusions in the enterprise. Yes, quantitative data is powerful and the industry reliance on hard data is only growing as data grows.
But, as Erika puts it, "Quantitative approaches feel better, but are often actually worse." Since human beings are largely irrational, "Human problems require illogical approaches." You need some pure qualitative data in solving ux or design problems.
"The most measurable data is not the most valuable." Enterprises seeking efficiency, biased to the simple quantitative, and collecting data for the sake of collecting data are prone to harmful shortcuts. This can mean forcing qualitative data into a quantitative form. The result is finding a lackluster, incomplete solution to the root problem. Instead, fully understand your question, be mindful of your bias in interpreting data, and have that data be actionable. "We have a lot of data. We make a lot of decisions. We like stories. We aren't good at math. The hard problems aren't math problems, anyway." We're taking her slides into our enterprise customers audits, leveraging her thoughtful approach to survey/data collection for more impactful outcomes.
Louise Downe is making government service UX user-friendly (yes, leading government UX!). She's a example of getting into the semantic trenches to make impact. On her platform, they're deleting words like "sorn" and having services that entail verbs, like "learn to drive," instead of nouns, like "Wildlife License." "A service is something that helps someone do something better" and achieving that requires making your service approachable to real people; we just couldn't agree more.
Lastly, I'm still waiting for the package to hit with a lego calendar from Clara Gaggero Westaway, if she's feeling so generous!

Give us a shout at info@qualaroo.com to find out about the techniques and tactics we learned for Qualaroo in the EU marketplace; we'd be happy to share a half-hour review. As always, step one is the Beginner's Guide to Conversion Rate Optimization. Just ask, and we'll ship you a hard copy.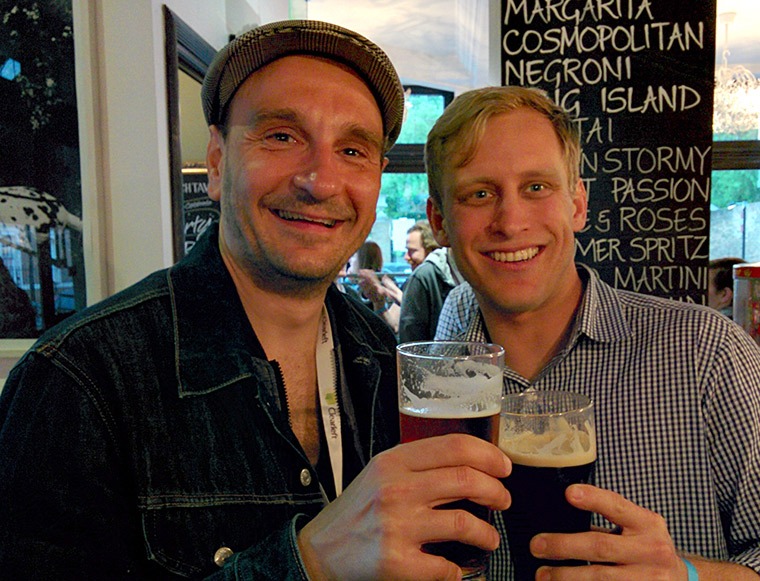 So cheers to UX London and our beloved customers across the pond, see you next year! And don't miss us at Traction conf on June 22nd in Vancouver! And if you find yourself in SF, I owe you a tour of our local watering hole.
Never stop questioning,
The Qualaroo Team
Want insights that improve experience & conversions?
Capture customer feedback to improve customer experience & grow conversions.