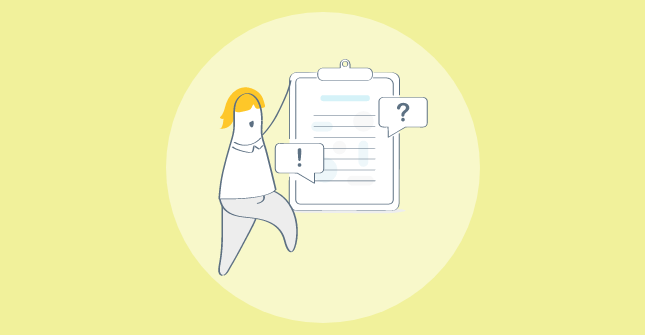 Want to conduct a survey but wondering where to start? We've got you covered.
Surveys are one of the most effective methods to collect user insights for research and product optimization. However, these can be a little tricky to plan and execute.
To produce desired results, you would want your survey questions to be highly focused on collecting the necessary data from the right respondents.
At this point, you may be wondering…
Who are these right respondents? How would I identify and approach them?
What questions should I ask while conducting a survey?
How will I interpret the results quickly, so I use that data to achieve my goals?
What problems can occur during a survey campaign, and how to overcome them?
That's why we have created this ultimate one-stop guide to teach how to conduct effective surveys. After reading this blog, you'll know how to plan the surveys, collect responses and analyze results with step-by-step instructions to design your survey campaign that produces tangible results.
Let's begin.
What is a Survey?
A survey is a set of questions that's meant to collect useful information from the target respondents. The collected data sheds light on the behavioral and psychological aspects of the respondents.
As we will see in the following sections, you can use these insights in market research, UI/UX optimization, product development, lead generation, goals measurement, and other business areas.
---
Surveys are a preferred data collection method because they are easy to implement, highly targeted, and gather precise information from the respondents. The respondents can be your customers, product users, random population sample, employees, website or app visitors, and more.
10 Different Methods to Conduct a Survey
There are prominently two modes to conduct a survey – Online and Offline. Each medium has different channels you can use to survey your users. Let's take a look at the merits and demerits of each of them.
---
Online Methods
Online methods to conduct a survey do not require any direct interaction with the respondents to collect the data or feedback. You can design and deploy your survey, and users can respond to it on their own accord.
1. Email
Best For: Surveying verified customers & prospects
Email surveys are the earliest form of online mode for collecting user insights. The survey is embedded directly into the mail body or added as a link that redirects respondents to the survey page.
Embedded survey:
---
Survey link in the email:
---
The biggest advantage of conducting a survey through email is you can get started for free. With tools like Mailchimp, you can create your email campaigns with a free account and purchase the premium as you scale up with time.
The average email open rate is 23.1%, while the average response rate for email surveys is around 30%, which is quite impressive.
However, the downside of email surveys is that you must have a list of email addresses to send the emails.
One way to build up your prospect list is using a lead generation form on your website or app.
---
2. Website
Best For: Surveying core audience and producing large sample size with less effort
Website surveys are embedded into the web pages as overlay popups, Nudges™, widgets, or a sidebar. Using advanced survey tools, you can target visitor behavior and actions on a particular webpage to show the survey at the right time. These are called targeting attributes.
For example, a customer satisfaction survey can be shown to people who complete their purchase to collect their satisfaction ratings with the website.
---
Website surveys let you collect data from more significant visitor segments than email surveys but with a similar response rate (29%) as seen from the above chart.
You can survey your audience without the need to collect their contact information which promotes anonymity. Plus, you can target multiple segments across your conversion funnel using the same survey like new visitors, return visitors, leaving visitors, verified customers, etc.
This makes it easy to compare the experience and insights of each segment against the same questions.
3. In-App
Best For: Improving app adoption and optimization
The world's total population is 7.6 billion, out of which more than 6 billion people use smartphones. Combine this with the fact that over 218 billion apps were downloaded in 2020, and you have a potential gold mine to collect user feedback if you deploy the survey in an app.
Like website surveys, in-app surveys are embedded into the app as a popup, widget, or Nudge TM. You can set the targeting conditions to show it to the right people at the right time.
---
As you can see, in-app surveys offer lower response rates than website surveys. Another limitation of an app survey is people need to have your app installed on their phones to interact with the survey, which reduces available population size and thus leads to lower response rates.
Watch: How to Collect Mobile App Feedback
---
4. Link Surveys
Best For: Running polls, and quick general surveys
Survey link is the most flexible survey distribution method. You can embed the survey into a URL link and share it with anyone via mail, SMS, website form, and social media. The user can click on the link which takes them to the survey page to complete it.
Survey links can be used as a part of both online and offline survey modes, but since an internet connection is required to access the link, we have added it to the online category.
However, since link surveys require a two-step process, i.e., clicking on the link and then filling the survey, you may experience a lower response rate than other methods where surveys are visible directly on the same page.
5. In-Product
Best For: Gauging product usability and experience
In-product surveys target people towards the end of your conversion funnel — potential prospects and verified customers.
You can add these surveys directly into your product or product demo to collect feedback from the users. They can help you improve product usability, fix issues or bugs, and optimize the product for a better experience.
For example, suppose you have a SaaS product. In that case, you can collect feedback from demo users about the product usability and missing features using surveys like a five-second test, first impression test, usability test, and others.
---
You can also gauge customers' product experience and satisfaction level using survey tools like Qualaroo.
Offline Methods
Offline methods do not require the respondent to have a working internet connection. They can interact with the survey interface or interviewer to leave their feedback.
6. One-on-One Interviews
Best For: In-depth market research or detailed study
In-person surveys are one of the most effective means of conducting very detailed research. You interview the respondents face-to-face and ask them the survey questions.
Apart from providing a much higher response rate than online methods, they offer other significant advantages. You can probe users for collecting deeper insights and ask personal questions with their permission. You can alter your questions depending on their answers and gather much more nuanced data points than online surveys.
However, they require more planning, resources, and time than other methods. Plus, it might become challenging to find the required respondent sample size for a physical interview.
Geographical limitations are also a significant challenge for personal interviews as you can only survey people from one area at a time.
Personal survey methodology is suited for projects that require deep research, such as new product launches or extensive user research.
7. Focus Groups
Best For: Product sampling, prototype testing
A focus group is also an in-person discussion but involves a group interview rather than a one-on-one session. A moderator presents the questions to the participants, and their reactions and feedback are noted down.
You can collect suggestions about new products and ideas. The purpose of a focus group is to collect qualitative data from the population sample for research.
However, it is also one of the most expensive methods for collecting data. You have to hire a professional moderator, choose a suitable location, and manage other overhead costs to conduct the survey.
8. Phone Surveys
Best For: Quick short survey after the customer finishes the interaction
You can conduct a survey via phone using a human interviewer or IVR (Interactive voice response). Calling people randomly and asking them to take your survey can frustrate them and lead to abandonment.
That's why this method is more suited for interactions when a customer calls your support and technical department. You can ask them to leave quick feedback after resolving their query.
Today, phone surveys are conducted by IVR because it saves resources and time. The respondents are asked to punch the appropriate number on their keypad for each question to leave the desired feedback.
---
There are certain limitations to this method. You can only ask one or two questions on a phone survey. People are not interested in taking long surveys, especially over the phone.
9. Kiosks
Best For: Gauging transactional experience
Feedback Kiosks are one of the most common mediums to conduct a survey in stores or public places. They are one of the best offline means to collect in-the-moment feedback and provide better response rates.
---
You can collect satisfaction scores or net promoter scores and add an easy follow-up question to gather insights about store issues and delights.
10. SMS
Best For: Post-interaction surveys
SMS surveys offer eight times the response rate than that of email. With the increasing mobile penetration conducting a survey via SMS is a viable method to collect customer feedback and insights.
You can embed the survey directly into the SMS body or send a survey link.
---
You can also integrate surveys into your SMS notification system to conduct an SMS survey after successful delivery, order placement, and other significant customer interactions. It will help collect transactional feedback and map customer experience.
9 Types of Surveys With Examples
Different types of surveys provide different data sets, which are then used across various teams in the organization. There are several methods to categorize the surveys. Here we have listed their types based on the information collected from the users.
1. Market Research Surveys
A market research survey is used to study a given market and understand the interests and preferences of the target audience.
They can help you achieve different goals, such as:
performing competitive analysis
creating a buyer persona
measuring brand awareness
measuring customers' expectations
With market research, your team can develop new acquisition strategies and optimize existing ones for different customer types.
Example of market research survey questions:
How would you explain our product to a friend, family member, or colleague?
What communication channels would you prefer we use?
What companies or products do you perceive as our competitors?
How does our messaging stand out from the competition?
2. Demographic Surveys
A demographic survey is a subset of market research surveys. It helps you understand your target audience and their attributes.
You can use these surveys to categorize your users into various segments based on their gender, location, age group, customer type, income, and other attributes
The survey data is used to map the experience journey of each segment and personalize it according to their interests and expectations.
For example:
You can target the desired segment using personalized ads on Youtube, Facebook, and other platforms.
Develop products to cater to different customer types.
Compare the difference between the purchase preferences of various user segments and channel the insights into your marketing strategy.
Examples of demographic survey questions:
What gender do you identify as?
What is your age group?
What is your current employment status?
Which languages are you capable of speaking fluently? (Check all that apply)
3. Exit Intent Surveys
Exit-intent surveys target leaving visitors to collect information about their website, app, or product experience.
Existing customers form a significant portion of your website traffic. Think of them as missed chances of conversions. That's why it is essential to hear their voices and understand why they didn't convert.
With exit-intent surveys, you can target visitors when they are about to leave the website to understand their grievances, uncover issues or bugs in your website, and collect other valuable information.
Example of exit-intent survey questions:
Did you find what you were looking for?
What would convince you to finish shopping?
What prevented you from signing up?
Did you complete the goal of your visit?
What should we do to improve your experience?
To sweeten the deal, you can also use Exit Popup Software like Picreel that can help you:
Reduce cart abandonment
Increase sales
Get leads & nurture them
Understand why visitors leave your sit
4. Polls
Polls are great for collecting quick votes for new ideas, suggestions, and product updates. You can use them to optimize the product roadmap and align the priorities with the customers' expectations.
Examples of poll questions:
What new marketing channels should we experiment with?
Which of these areas should we focus on improving?
Which feature should we build next?
Of the three, which feature would you like to see on the website/app/product?
5. Product Opportunity Surveys
Product opportunity surveys let you check the market potential and demand for new products. You can perform pricing analysis, find the appeal for new planned products or features, and uncover new ideas.
These surveys help plan the product development cycle, create product maps and improve products using customer feedback.
Examples of product opportunity survey questions:
How does this new feature make you feel?
Which of these products appeal most strongly to you?
What makes it so appealing to you?
How would you use this new feature?
How do you think this new feature will improve your experience?
6. Experience Mapping Surveys
As the name suggests, these surveys let you measure transactional and overall experience at various stages of their journey.
For example:
Survey the customers when they complete the purchase to collect information about their checkout experience.
Send an experience survey after the customer interacts with the support agent.
Ask the customer to fill the survey when they stop using your service or product to gauge their overall experience and collect data that may help to retain them.
Examples of experience mapping survey questions:
What problem does our product solve for you?
How can we improve your general experience with the company?
Please describe your experience with our customer service team.
7. NPS (Net Promoter Score) Survey
NPS surveys measure two important customer metrics – long-term customer loyalty and retention. These surveys ask the respondents to rate the likelihood of brand advocacy on a scale of 0-10.
The responses are then divided into three groups:
Detractors (0-5)
Passives (6-8)
Promoters (9-10)
The NPS score is the difference between the percentage of promoters and detractors among the total responses.
NPS score = % of promoters – % of detractors
Examples of NPS survey questions:
On a scale from 0-10, how likely are you to recommend us to a friend or colleague?
Considering your experience with us so far, how likely are you to recommend [company name] to a friend or colleague? (0-10)
8. CSAT (Customer Satisfaction) Survey
CSAT surveys measure how happy the customer is with your products and services. CSAT score directly translates to satisfied customers and their repurchase probability.
The response anchors to these questions are usually the Likert scale, numeric rating scale, emojis, or star ratings. These question types are explained in the next section.
The method to calculate the CSAT score depends on the scale used in the question.
For a 5-point Likert scale ranging from negative to positive sentiment, the CSAT score is the percentage of people who chose 4-5 as their answer.
Examples of CSAT survey questions:
How would you rate the support you received?
How happy are you with [product name]?
9. CES (Customer Effort Score) Survey
CES survey quantifies the effort made by the customer to complete an action on your website, app, or product. It is used to test product usability and ease of use to optimize the customer experience.
The respondents are usually asked to agree or disagree with the given statement on a 5-point or 7-point Likert scale.
The CES score is the percentage of people who choose 4-5 or 6-7 as their answer. Like NPS, CES is also an indicator of customer loyalty and repurchase probability.
Examples of CES survey questions:
How easy did we make it to solve your problem?
How easy was it to set up the product?
How easy was it to navigate through to find the desired settings or features?
Question Types to Use While Conducting a Survey
Before you start developing and deploying a survey, it is essential to understand the type of questions that you can ask from the respondents. Each question type aims at collecting a different kind of feedback. That's why we have listed some common question types and their usage below:
1. Open-Ended or Free-Text
An Open-ended question offers the opportunity to the respondents to express their feedback in their own words instead of selecting the response from a given list of choices. They are an essential part of the questionnaire while conducting a survey.
Use them as follow-up questions to uncover customers' pain points, collect suggestions and in-depth feedback.
Add them to the end of the response anchors to gather new ideas that you might not have thought of earlier.
---
However, they require more time to answer as compared to closed-ended questions. Plus, the feedback data can be hard to analyze and interpret as there is no concrete structure.
Survey tools with advanced techniques such as sentiment analysis and text analytics can reduce the data analysis time to help you extract meaningful insights quickly.
2. Close-Ended
In close-ended questions, the respondents can select their responses only from the given options. This added limitation provides more focused feedback data, which is easy to analyze.
Closed-ended is a broader category that comprises of various other question types such as:
Yes/No question
Single choice
Multiple choice
Ranking
Likert scale
Matrix matching
Rating scale
Ranking question
3. Yes/No or Dichotomous question
Yes or No questions are used for screening the respondents or dividing them into two groups when you conduct a survey or study.
---
For example:
Are you currently using [product name]?
Using this question, you can divide the respondents between your customers and prospects. Then, you can add relevant follow-up questions for each respondent type using skip-logic and question branching.
Add follow-up questions to explore the delights or problems of your customers.
Learn about the preferences and interests of your prospects. You can also add a lead generation form to the survey for adding these respondents to your prospect list.
You can also disqualify the respondents using yes/no questions to keep the data set clean. For example, if you want to collect data from verified customers, you can show the 'Thank you' screen to people who select 'no' for the above question.
4. Single Answer Type
As the name implies, you can only select one answer from the given options. The response anchors may vary depending on the number of choices you want to provide to the respondents.
---
For example:
What is your age?

Below 18
18-25
26-40
41-60
Above 60
You can add different single-answer-type questions and response anchors to collect desired data points from the respondents.
Use these questions while conducting surveys to segregate the respondents based on demographics and psychographic aspects.
Add them to the beginning of the survey to qualify/disqualify the respondents.
Ask which feature your users want to see on the website, product, or app. Collect the votes to know your users' consensus and implement the feedback into your product development.
5. Multiple Answer Type
These questions allow users to select more than one option as their answer.
---
For example:
Which is your favorite movie genre? (Select all the apply)

Horror
Sci-fi
Adventure
Thriller
Suspense
Multiple answer type questions provide more leeway to the respondents than single answer type. But since the response anchors are still fixed, your data set remains clean.
6. Rank Order Questions
Ranking questions measure customer or user preferences. The respondents are asked to rearrange the sequence of the response anchors as per increasing or decreasing importance.
---
For example:
Rate the following aspects of our service in the decreasing order of their importance for you.

Quality
Price
Customer support
Novelty
Learning Curve
In the above example, the respondents can rearrange them according to their preferences from the most to the least important aspect.
These questions provide qualitative and quantitative measurements of customers' preferences.
You can use the answers to identify critical areas of improvement and their priority as per your customers.
7. Likert Scale
A Likert scale measures the respondents' degree of agreement/disagreement with a given statement. The responses are arranged in the order of increasing or decreasing degrees of positive/negative sentiments.
---
There are two Likert scales: a 5-point scale with five response anchors and a 7-point scale with seven response anchors.
For example:
How satisfied are you with the product and services?

Very satisfied
Satisfied
Nor satisfied nor dissatisfied
Dissatisfied
Very dissatisfied
These questions let you collect more precise feedback than single-choice answers.
You can quantify the users' sentiments instead of just asking a simple yes/no question.
The respondents also have more options to express their feedback.
You can add a follow-up question depending on the user's answer to collect more data and further refine your data points.
8. Matrix Matching
A matrix match question is like multiple questions combined in one. It helps to reduce the length of the survey.
The questions are added to the row, and the options are added to the columns. One caveat is that you can only use this question type when every individual question has the same response anchors.
---
One drawback of these questions is that they may lead to straight-lining, where the respondent may choose identical or random responses to each question. This behavior can skew the survey results.
9. Rating Scale
Rating scale questions like the NPS scale ask the respondents to provide feedback on a numeric scale. The scale can usually range from 1-5, 0-10, or 1-10.
The lowest number signifies the most negative sentiments, and the higher number indicates the positive emotions of the respondent.
For example:
How would you rate our customer service on a scale of 1-10?
Rating scales are a brilliant tracking technique for quantifying essential metrics like customer satisfaction, loyalty, and retention. By collecting rating scores at regular time intervals, you can easily track their improvements using charts or graphs.
Other rating scales include emoji scales and star ratings.
---
---
Before You Start to Conduct a Survey
Before you start creating a survey, you need to prepare a strategy to maximize the response rate and collect accurate feedback data. You cannot do surveys randomly at any point. It would only result in skewed feedback and a waste of time.
Here are some pointers that will help you to develop a plan for your survey campaign:
1. Identify the Points of Deployment
The customers' interaction points are scattered across various stages along with their journey. Take a look at the simple customer journey map.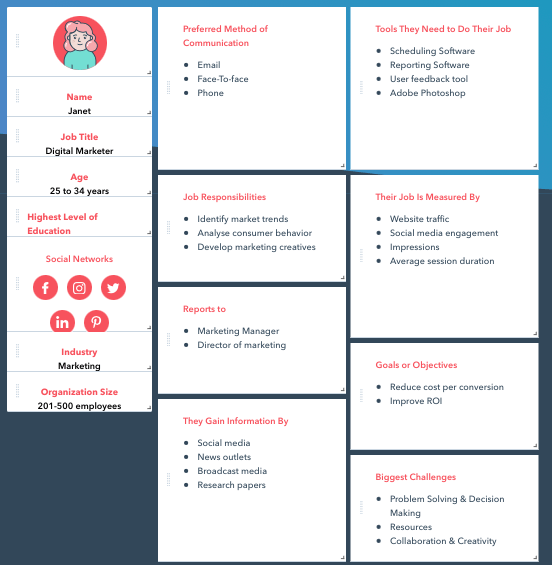 ---
We can see the number of channels and interactions from discovery to purchase and afterward, and this is just one customer persona. With so many other audience segments, these points increase by ten folds.
You cannot conduct at every point as it will frustrate the customer. Plus, the data would require more manpower and hours to analyze.
That's why it is crucial to pinpoint the precise interaction to show your survey to the visitors that they are more inclined to answer it.
A.) Identify the Points of Friction
Use Google Analytics to find the most underperforming pages on your website or app and compare them with similar top-performing pages.
You can pick the pages supposed to deliver high conversions but fail to do so like your high-value landing pages.
Or you can compare the past and current performance of the pages to identify the ones where the conversions have steadily declined.
---
Or select the pages with a higher bounce rate than your website's average.
Explore the support tickets and other grievance emails to find other customer issues such as problems with the checkout process, issues with product usage, and challenges while interacting with customer support.
You can add exit-intent surveys, experience mapping surveys, CSAT surveys, and others to uncover customer issues and grievances at these points.
B.) Choose the Points to Gauge the Overall & Transactional Experience
Apart from addressing the issues, you can also choose critical points where the users may form an opinion about your brand. Use these interaction points to collect the measure of user experience.
These include the order confirmation page, point of ticket resolution, after product usage, revisiting the website or app, and more.
You can conduct surveys at these points to measure important metrics and scores such as CSAT, NPS, CES and track them with time to see improvements as you make changes using customer feedback.
2. Set Measurable Goals
Organize the data collected in the previous under a single spreadsheet and assign the goals to each point. The goals can be:
Concrete: Collecting satisfaction ratings, evaluating page content, or
Generic: Reducing the page bounce rate.
Each survey serves a different purpose, and associating goals with your survey will help you frame the right questions.
For example:
If the goal is to reduce the bounce rate, you can choose to deploy the exit-intent survey and find out the reasons behind page abandonment. Let's say you find out that the issue is with page loading speed.
You can now optimize the page speed and conduct the survey again to see the change in visitors' feedback. You can also monitor Google Analytics to track changes in bounce rate.
If the goal is to increase conversions on high traffic landing pages, conduct a simple survey to probe questions like:

What's preventing you from signing up for the trial?
What's stopping you from making the purchase?
Once you have the feedback data, you can pinpoint the exact issue. Suppose the issue is with the signup form. You have now narrowed down the problem from the entire page to a single element.
In another example, the feedback may reveal that messaging is not clear and people cannot understand the purpose of the page. With this data, you can make the changes and measure the improvements in the subsequent survey responses.
If the goals are to measure how happy your customers are, you can collect CSAT scores using CSAT surveys.
If you want to evaluate newly added page content, choose the experience mapping survey to check how the content is performing.
3. Identify Your Target Audience
To successfully conduct a survey, you need a target audience. The survey objectives will point you towards the right audience.
---
For example:
You cannot collect satisfaction scores from first-time visitors. Technically, you can, but it is more worthy and meaningful to collect it from people who have used or purchased the product. They will be able to provide more reliable data.
In the same way, if you have added a new feature to the Chrome browser, you cannot show the survey to Firefox users.
If you want to collect data on the visitors from age 18 to 25, you have to select the sample size from this visitor segment.
That's why you need to choose your target audience carefully. It will ensure the reliability and accuracy of your survey responses.
Identifying the target audience will also help you add screening questions to disqualify irrelevant respondents.
4. Determine the Required Sample Size
One of the most important aspects of your survey campaign is achieving a sufficient sample response size. The more responses you collect, higher are the chances that the feedback data is reliable and accurate.
Here is a sample size calculator for your surveys

---
As you can see, for a target audience (population size) of 13000 and a confidence level of 99%, the required sample size is 3145.
It means that you need to collect at least 3145 responses for your survey for the results to be statistically significant.
5. Choose the Right Tool
Half of your work is done when you have the right survey tool. It will not only let you conduct the survey but also aid in analyzing feedback data.
What to Look for in a Survey Tool?
Number of deployment channels: Such as website, email, mobile app, product, links, and QR code. Choose a tool that offers all the channels on which you want to conduct the survey. It will help to keep all the data in one place.
---
Pricing options: That fit your budget. Some tools like Qualaroo let you get started with a free-forever account that offers basic survey features, and you can upgrade your account when required.
Data analysis techniques: To save time and resources in mining through feedback. With techniques like sentiment analysis, you can automatically categorize the responses based on user emotions and prioritize the negative feedback to take necessary actions.
Plus, text analytics helps you identify the most used phrases in the responses without going through each feedback manually.
---
---
5 Easy Steps to Conduct an Online Survey
You have done your research and come up with a workable strategy. You also have the right tool in hand. Now you are ready to conduct an online survey.
1. Select the Questions for Your Survey
Make a list of the possible questions you want to ask the respondents. Then, pick the ones that are important for your survey.
For example, if you are doing a survey for creating a user persona, the possible questions can be:
Describe yourself in one sentence.
What is your name?
What is your age?
Which device do you usually use to shop with us?
What did you come to this site to do today?
What were you hoping to find on this page?
Does this page meet your expectations?
You can add/remove the questions depending on your audience and the depth of information you want from them.
2. Make Your Survey More Relevant and Personalized
Make your survey personalized and highly targeted by adding screening questions and using question branching.
---
It will ensure two things:
Only people who qualify for the survey can answer it.
The respondents will only see relevant questions based on their previous answers.
For example, if your target audience is visitors from the age group of 18-25 and 26-40, you can add the following as the first question:
What is your age?

Below 18
18-25
26-40
41-60
Above 60
Next, using question branching, add the relevant follow-up questions to the people who choose the second or third option, and add an opt-out or thank you screen to the rest of the responses.
Now, you can safely create the user persona for the selected age groups without worrying about other groups compromising the survey data. You can understand their motivations, interests, and preferences to create products that appeal to all the segments.
If you are conducting a general survey, there is no need for screening, but you can still use skip-logic to show only relevant questions to the respondents.
For example:
Do you eat meat?
How often do you eat meat?

Daily
Twice a week
Once a week
Once a month
Here, if the respondent chooses 'No' as the answer, the next question is entirely irrelevant and absurd. It shows that their responses are not taken into account. It might frustrate the respondent, lead to survey abandonment and also skew the data results.
So, list the questions, assign appropriate branching and check that there is no broken or incomplete path for any branch.
3. Set the Targeting Options
Use the tool to set the appropriate targeting options.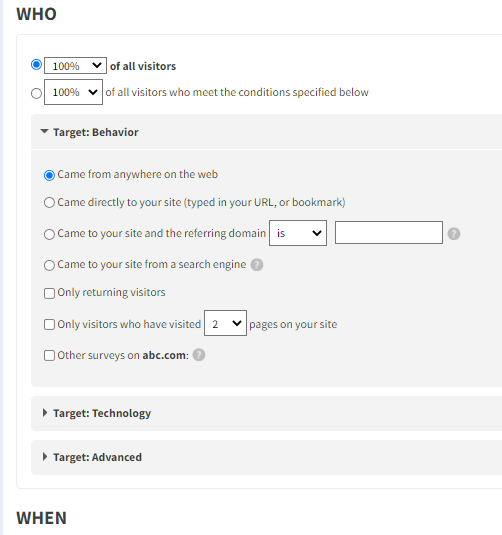 ---
If you are conducting the survey on a website or app, embed the survey on the right page and assign the desired attributes to trigger it. You can target visitors based on their behavior, location, device type, customer type, and other factors.
If you are sending email surveys, use a suitable time to send them to maximize the response rate.
If you have created link surveys, embed them into your emails, SMS, social media, and other communication media to collect customer feedback.
4. Deploy the Survey & Gather the Responses
Trigger the survey to start collecting the feedback data. The duration of your survey will depend on the response rate and required sample size.
Make sure you collect enough responses to ensure that data is reliable.
5. Analyze the Results and Take Actions
There are different ways to analyze the responses depending on the resources available at your disposal. Here are a few steps to structure and analyze the feedback data.
1. Analyze the Results and Take Actions
There are different ways to analyze the responses depending on the resources available at your disposal. Here are a few steps to structure and analyze the feedback data.
2. Organize the Responses Under One Screen
Restructure the data in a spreadsheet and add all the relevant information to reach response such as customer ID, metadata, feedback, point of interaction, customer type, and lifetime value.
3. Categorize Each Response
The next step is to mark the feedback by its types, such as issue, general feedback, bug, feature request, support grievances, and more. You can sub-categorize these into critical and non-critical to set a priority.
As discussed in the previous section, you can also use advanced analytical techniques to make your work easier.
4. Assign Suitable Actions
Once you have identified the feedback type, you can start assigning the appropriate action to resolve the problems. Make sure these are small and quick action points.
For example, if the feedback type is an issue and marked as critical, summarize the issue and the required action in a few words like:
Payment failure >> possible issue with Stripe API >> Check on priority.
It will help the different teams to identify the issue and start working on it quickly.
5. Take Appropriate Actions
Share the sheet with other teams and create the tasks for them to address the feedback.
Resolve the uncovered UI/UX on priority
Fix the broken flow with the help of your dev team
Reach out to the people who shared positive feedback to collect product reviews and app store ratings.
Get in touch with frustrated customers to solve their problems and retain them.
Best Practices for Conducting an Online Survey
Whether you are new or experienced, there are few basic rules that you can add to your checklist to get the maximum return on your investment. Let's quickly take some of these best strategies and practices to do a survey properly.
Whether you are new or experienced, there are few basic rules that you can add to your checklist to get the maximum return on your investment. Let's quickly take some of these best strategies and practices to do a survey properly.
1. Add Incentives to Improve the Response Rate
Incentives are one of the best ways to increase the response rate on your surveys.
According to PeoplePulse, incentivized surveys receive at least 10% more responses than surveys without incentives.
---
Use different incentives to improve response rates.
You can add discount coupon codes to the CSAT and NPS surveys. It will also act as an encouragement for the customers to purchase again.
Embed free consultation offer in the surveys on your pricing page or landing page. In return, you can collect visitors' contact information to add them to your prospect list.
Other incentives such as customized meal plans, exercise plans, personality profiles, and gift cards to entice people into filling the survey.
2. State the Purpose of Your Survey
It is always helpful to showcase the objective of your survey to your respondents. Make them understand that the survey feedback will help make their experience better.
---
You can also mention the recent interaction related to the survey to help customers recall their experience while filling the survey.
---
3. Always Follow up on Your Surveys
It is a good practice to send survey reminders to the customers or product users who haven't submitted their responses.
A single survey reminder can increase the response rate by 14%. It is a substantial jump in the number of responses as the sample size increases.
If you are using mail campaigns, you can send a reminder mail to non-respondents after a few days.
If you use the website or in-app surveys, set the survey to reappear to the visitor during their second visit.
If you use product surveys, add an unobtrusive survey reminder notification bar in the My Account section. Set the bar to auto-disappear after the user completes the survey.
4. Use the Funnel Technique
The Funnel technique is a powerful mechanism to direct the respondents through the survey starting with broader questions and asking specific questions towards the middle of the survey. It helps to pose more in-depth questions to the respondents.
For example:
Do you shop online?
How often do you shop online?
What are your favorite shopping websites?
What products do you usually buy online?
In the above example, each question narrows down the line of inquiry to gauge respondents' preferences and interests.
Using this technique, you can gradually ask more personal questions without making the respondents uncomfortable.
5. Keep the Surveys Short
Survey length is an important factor that can affect the response rate. According to the Internal journal for market research, the ideal survey length should be between 10 to 20 minutes.
What's more, the response rate may drop by over 15% if a survey takes more than 5 minutes to complete.
The reason for this drop is simple. The respondents won't wait for so long to complete the survey. They are more likely to abandon it with the increase in the number of questions or completion time.
Another drawback of longer surveys is that the respondents may answer the questions randomly without much thought to complete them quickly. This behavior will pollute the data samples and may produce incorrect results.
That's why it is vital to keep your surveys short and to the point. Share your survey with the internal teams to calculate the average completion rate before sending them out.
6.Use Randomization
It is observed that the respondents have a natural tendency to feel inclined towards the first option in a survey question. This is called order bias. As a result, respondents are more likely to choose the responses that sit towards the top of the list.
Randomizing the order of response anchors can help mitigate this issue. Since each respondent sees a different sequence of the responses, the data results are less likely to be affected by order bias.
50+ Survey Questions to Choose From
The questions are the crux of survey campaigns. To learn how to conduct a survey is to learn about the right questions to ask the respondents. You can get everything right, but it will all be for naught if you don't ask the right questions.
That's why we have compiled a list of professional questions you can use in your surveys. Choose the questions depending on the feedback and survey type you wish to conduct on your website, app, or product.
Many survey tools also offer readymade templates to help you get started if you are new to this.
1.c Market Research Surveys
Rate the factors that affect your buying decision for [product].
Would you purchase the product at [price]?
According to you, what is the ideal price range for the product?
Would you purchase this product if it were available today?
Based on its current features and attributes, would you recommend [your brand name] to others?
If yes, please tell us what you like the most about [your brand name]?
If no, please specify the reason.
According to you, In which area is this product/service lacking the most? Specify below.
Which product/service would you consider as an alternative to ours?
Rate our competitor based on the following:
2. Demographic Surveys
Tell us something about yourself?
What is your gender?
What is your age group?
What is your highest level of education?
Which best describes your family?
Do you use the [product name]?
How likely is it that you'd recommend our product to a friend or colleague?
3. Polls
What feature would you like to see in the website/product?
Which feature do you think will help improve the product experience for you?
Of these four options, what's the next thing you think we should build?
4. Product Opportunity Surveys
What's the one feature we can add that would make our product indispensable for you?
Of these four options, what's the next thing you think we should build?
How often do you use this feature?
What's the next feature we should build?
How disappointed would you be if you could no longer use [Product/feature name?]
How does the product run after the update?
Have you seen any website/product/app with a similar feature?
Would the implementation of [this feature] increase the usability of the [product name]?
How would you rate this new feature?
5. Experience Mapping Surveys
Rate our product based on the following aspects:
How long have you had the product?
How often do you use the product?
Have you faced any problems with the product? Specify below.
How satisfied are you with the product?
How likely are you to purchase a product from this company again?
Is there anything that can be improved? Please specify.
How well does the website meet your needs?
Was the information easy to find?
Was the information clearly presented?
What other information should we provide on our website?
How can we make the site easier to use?
6. Brand Awareness Surveys
[Your brand name] Have you heard of the brand before?
How do you feel about this brand?
Have you seen this brand's advertisements?
If yes, where have you seen or heard about our brand recently? (Select all that apply)
Have you purchased from this brand before?
Do you currently use the product of this brand?
Of all the brands offering similar products, which do you feel is the best brand?
Please specify what makes it the best brand for you in the category.
7. NPS
On a scale of 0 to 10, how likely would you recommend our website/ product/ brand to a friend or colleague?

If the answer is 0-6, please specify the reason for your answer.
If the answer is 9-10, what do you like the most about the brand/product?
8. CSAT
How satisfied are you with the product/website/app?
Please rate the product experience on a scale of 1-10?

If the answer is 1-5, how can we improve the product/website/app?
If the answer is 8-10, what 3 things do you like the most about the product/website/app?

How would you rate our service on a scale of 1 – 10?
Was this article helpful? (Yes/No)
How satisfied are you with our support?
9. CES
How easy/hard was it for you to use the product/website/app?
Does this [website/ product/ tool/ software] have all the features and functionalities you expected?
How would you improve this [website/ product/ tool/ software]?
What is missing from the website/product/app?
What is the most important feature you think we should add?
6 Common Survey Challenges & How to Overcome Them
1. Keeping the Scales Uniform Across All Surveys
The interpretation of survey scales varies as per their arrangement.
For example, if a Likert scale response anchors range from negative to positive, a higher score is desirable. However, if the sequence is reversed, a lower score would be considered as good.
The challenge is to keep the sequence uniform in all your surveys to track the scores correctly. If the scale gets reversed at any point, it can skew up the results.
Always stick to one pattern for all the scales – negative to positive or positive to negative to avoid confusion and misinterpretations.
2. Difficulty in Analyzing Free Responses
Analyzing free responses is one of the biggest challenges when you conduct an online survey. These are unregulated and depend solely on the understanding of the respondents. If they misinterpret the question, the open response will only skew your feedback data.
It's one of the main reasons to keep your survey questions simple.
What's more, they are also affected by the grasp of the language of the respondent. The sentences can be unstructured or hard to understand.
Free-text responses offer more in-depth feedback but pose a severe challenge of extracting valuable insights. They are time-taking and tedious.
One of the ways to mitigate this issue is using AI-based analytical tools like sentiment analysis, text analytics, and word cloud generator.
Advanced survey tools offer these techniques as an inbuilt tool feature to make data mining easier.
---
3. Avoiding Leading Questions in the Survey
Leading questions are framed in such a way that they allude to a specific direction. The problem with these questions is that they can influence the respondents to choose a particular answer from the options.
For example, what is your favorite fast food?
The above question implies that the respondent eats fast food. The respondent may either skip the question or answer it randomly.
You can add a screening question to improve the data quality and disqualify irrelevant respondents.
Example:
How often do you eat fast food?
What is your favorite fast food?
Another way to avoid leading questions is to get an extra pair of eyes. Share your survey with other teams or a control group to test it out.
4. Survey Fatigue
Survey fatigue is a real challenge that can affect both the response rate and feedback quality. People constantly receive surveys in their SMS, emails, website visits, and apps.
So, it is possible that the visitors may completely ignore the survey or answer it randomly without properly reading the questions.
---
There are few ways to combat survey fatigue while conducting a survey.
Add an incentive to encourage people to take the survey. As discussed earlier, it can improve the response rate.
Keep your survey short.
Separate critical surveys like NPS or CSAT from general surveys that take longer to complete.
5. Duplicate Responses
You cannot avoid duplicate responses in online surveys. But there are few ways to reduce them.
Use cookies to identify repeat visitors and prevent them from retaking the survey.
You can target IP addresses to prevent visitors from the same IP from retaking it.
A lot of tools also provide inbuilt duplicate response protection techniques.
6. Avoid Double-Barreled Questions
Double-barreled questions are those that pose two situations into one question. The respondent may have conflicting views about the statements, making it harder to choose one response.
For example, how satisfied are you with our services and customer support?
Here, the respondent may have positive sentiment toward the service quality but may be dissatisfied with the customer support agent.
To make the question more precise, you can split it into two questions. It will also let you add follow-up questions to each answer to find more details about customers' issues and delights.
5 Best Tools to Conduct Online Surveys in 2021
It's easy to get overwhelmed while looking for a correct survey tool because of their sheer numbers in the market. That's why we have listed the top 5 tools to lighten your load and help you get started with the survey campaigns.
1. Qualaroo
Qualaroo is a complete customer feedback management solution that can help you create and manage the survey data under one dashboard. You can conduct surveys on your website, app, SaaS product, social media, and email.
With features like skip-logic, 40+ pre-built question templates, 12+ question types, 50+ language translations, customer survey design options, rebranding, and advanced targeting options, you can start collecting feedback in a few hours.
The tool also supports advanced AI-based data analysis techniques – sentiment analysis and text analytics to categorize the survey responses and produce valuable insights automatically.
Price: Free forever account. Paid plans start at $80/month
2. ProProfs Survey Maker
ProProfs Survey Maker brings more than surveys to the table. It lets you create interactive scored quizzes, polls, assessments, and survey forms as well. You can also add a feedback sidebar on your website.
It also supports multi-channel deployment, i.e., you can add the survey to your website, mobile app, email, and social media. You can analyze and track the responses using a detailed dashboard.
Price: Forever free account. Paid plans start at $0.05/response/month
3. SurveyMonkey
SurveyMonkey is one of the best survey tools in the market that offers skip logic, multiple answer types, survey language translation, progress bar, scoring mechanism, question randomization, pre-built templates, and design customization options.
You can deploy surveys on your website, app, product, or email. It also features the sentiment analysis tool and word cloud generator to analyze the feedback and extract valuable insights. You can filter the data using custom charts and feedback summaries to study the desired data points.
Price: Forever free account. Paid plans start at $31/month
4. Typeform
If you are looking for a simple yet effective survey tool for your website, Typeform is the one to go for. The tool lets you build surveys, forms, polls, and quizzes for your website. You can show the survey on your website as a popup, popover, slider, or sidebar button.
Like other tools in the list, Typeform also has a plethora of survey personalization features like pre-built templates, question randomizer, progress bar, skip logic, customization themes, and mobile-responsive design. The targeting options are a little simpler than other tools.
Price: Forever free account. Paid plans start at $25/month
5. Survicate
Last but not least, Survicate is another one-stop customer feedback tool with features to conduct surveys on websites, web apps, mobile apps, and emails. Use advanced features like audience targeting, question branching, pre-built templates, 15+ question types, and white labeling to create highly targeted surveys.
With the inbuilt AI-based text analytics engine and analytical dashboard, you can extract valuable customer insights and track the survey campaign's performance.
Price: Free forever plan. Paid plans start at $89/month
Ask.Analyze.Act
As you can see, a survey is not just a list of questions but an entire strategic approach to establish a line of conversation between you and your customers. With the survey tools becoming less expensive and more versatile, learning how to conduct a survey effectively can help you gain new customers, retain existing ones, optimize your products and develop ideas to increase conversions.
So, what are you waiting for?
Understand what data you want to collect, pick the right survey tool, and follow these steps to build survey campaigns that produce tangible results.
Want insights that improve experience & conversions?
Capture customer feedback to improve customer experience & grow conversions.