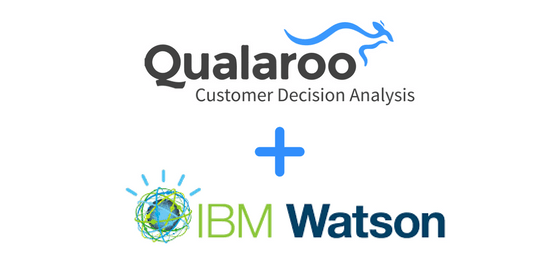 By Curtis Morris, CEO
Everyone wants to gather insights from their customers, but mining through customer feedback can be a daunting task for any team. Naturally, closing the feedback loop is the single most important piece to a fully functioning customer decision analysis program.
Having said that, when you fail to activate on feedback you receive from surveys, you've negated the work you've done putting into audience segmentation and question creation. It happens to the best of us, sometimes.
To make better decisions about your customers, you have to close that feedback loop.
Qualaroo customers have received over 120 million responses to date. We understand the amount of time and effort it takes for teams to mine through open text feedback. The process of mining through open text feedback usually requires a few steps like:
Divide and conquer. Create spreadsheets for team members to start reading through the feedback.

Add more feedback. Create columns that has categories for each comment so you can analyze the sentiment of the feedback received.


Assign an owner. Based on the category, assign the feedback to team members whether customer success, product or sales and marketing.


Follow up. Based on the category and the owner, following up with the customer with a next step.

Today, we're excited to introduce Qualaroo's Sentiment Analysis feature powered by IBM Watson integration with Qualaroo's real-time feedback platform. This integration allows companies to cut the time and resources it takes to mine through open text feedback and close the gap between feedback received to activation.
Companies running surveys with open text feedback can now utilize IBM Watson within the Qualaroo dashboard to automatically generate the sentiment and emotional score for each comment and identify common keywords.
Turn it on with just one click.
What is "sentiment analysis?"
Sentiment analysis, sometimes referred to as emotion mining, can be a very powerful tool in the search for sharper, more focused insights. If gathered, analyzed, and acted upon properly, these insights can very well provide your company with the winning edge—the proverbial golden ticket. But how are these truly valuable insights gained?
Research points to success being contingent not only upon what questions we ask our visitors, but also how we ask them. Are your questions specific? Are your questions focused? If they aren't, then neither are your insights.
A Use Case
Let's take E-Commerce as an example. As, let's say a market researcher, one of your primary objectives is to maximize the ability your website has to convert visitors into customers or new users. With that goal in mind, you cultivate the appropriate questions that would reasonably collect this information.
Easy enough, right? Well….
How much room for interpretation do you leave with your phrasing? If your goal is to better understand how easy or difficult it is to navigate through your new app and you're asking, "What did you think of your visit today?", your visitor might comment on its aesthetics instead of its accessibility. You effectively dilute your insights when you analyze the sentiment of responses spanning multiple topics.
However, if you ask, "How easy was it for you to find what you were looking for today?", you're more likely to gather information specific to your site's accessibility. If the sentiments you gather surround a specific topic, you can more readily recognize patterns in opinion and identify areas of your site that might act as barriers to purchase.
With Qualaroo's Sentiment Analysis feature, there are endless opportunities for gathering insights about your customers from how your product is perceived to why it was perceived that way.
Here are a few of the reasons why we've invested in making our offerings "smarter"
Save time by eliminating the man hours it takes to mine through open text feedback.


Activate on feedback in real-time by creating workflows for activation based on sentiment and emotional scores.


Make better decisions about your customers by using AI to guide you to understanding the "why" not just the "what."

We're excited to see how you leverage our real-time feedback platform along with IBM Watson's powerful technology.
Want to read another example on why the "why" is important? Give our analysis of a recent Netflix survey a read here.
Want insights that improve experience & conversions?
Capture customer feedback to improve customer experience & grow conversions.