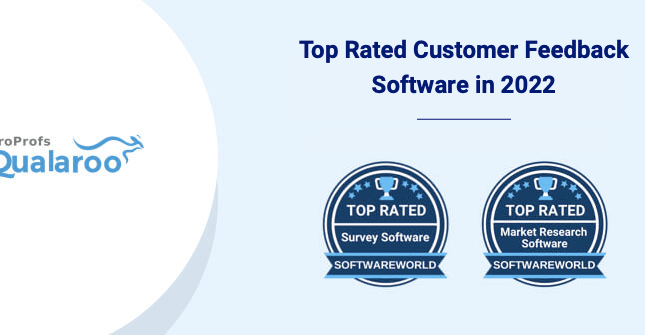 Qualaroo is proud to add one more feather in our cap: we have been ranked quite highly by the widely renowned SaaS review website, SoftwareWorld!
In the category "Best Market Research Software", we were accorded 4th place, with the users appreciating our software's ability to target the right audiences, carry out market analysis, and collect user feedback. Our professionally designed templates got praised as well, as did our AI-powered Sentiment Analysis feature.
Hootsuite's Jaxon Lam was quoted for this category. They used Qualaroo to "develop and completely redesign our branded landing page and validate our hypotheses. Qualaroo gave us a 16% lift in conversion at 98% statistical significance."
In the category "Top Survey Software", we achieved 8th place out of 18, garnering points for enabling our users to ask the right questions at the right time. This seemingly simple factor actually gives them in-context insights into customer satisfaction, user experience, and lead generation.
Belron's Stephen Payne gave our survey software top marks because they used Sentiment Analysis to great effect for their company. They identified the reasons behind customers facing difficulties and sorted them out by improving their processes.
In the category "Best Customer Satisfaction Software", Qualaroo was voted into 5th place by the users of Software World. They appreciated our suitability for businesses of all sizes, as evidenced by our client list that includes eBay, Udemy, Hootsuite, Art.com, Glassdoor, LinkedIn, and Twilio, among many others. Qualaroo's user-friendly interface, AI-enabled reporting & analysis, and versatile templates got us to a great rank among stiff competition.
Vouching for Qualaroo, Lalamove's Brian Garcia highlighted the importance of measuring customers' happiness with any feature and letting customer satisfaction guide the investment of time, effort, and resources.
We'd like to take this opportunity and thank SoftwareWorld for bestowing Qualaroo with such great ranks in the various categorical Surveys of Best Software.
Want insights that improve experience & conversions?
Capture customer feedback to improve customer experience & grow conversions.