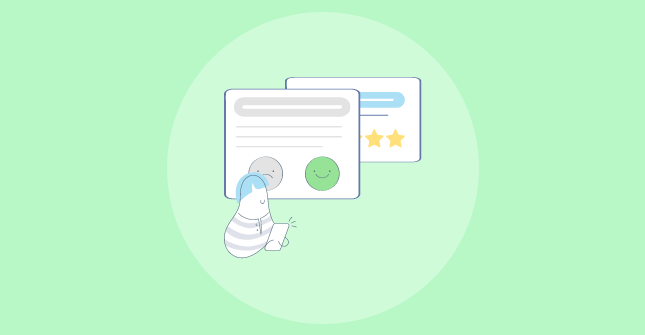 So you're here to know what to ask your customers in the form of pop-up survey questions. But what good is a list if you don't know when to ask such questions during a customer's journey with you?
Here you'll find questions based on different touchpoints across the customer journey and the interaction type between the brand and customers.
Now you don't have to guess what your customers want. You can design pop-up surveys and use our targeted questions to get feedback from your customers without interrupting their experience.
Just go to the required section and pick the questions that fit into your survey.
Easy peasy!
That's not all. We have also added some essential tips and tricks to keep in mind while writing the survey questions.
Let's get on it.
What Are Pop-up Surveys?
Did a feedback form appear over the screen while you were browsing a website, app, or using a product? That's called a pop-up survey. Pop-up surveys are feedback forms that collect insights from on-site visitors or customers.
A pop-up survey is set up to appear when the visitor takes a specific action on the page, like clicking on a tab, reaching a specific page length, or exiting the page.
This trigger-based deployment makes pop-ups more effective than email surveys in collecting visitors' in-the-moment feedback.
You can show survey pop-ups as:
Screen Overlay: Appears over the page, and the visitor needs to close it to interact with the screen again
Nudge: Shown as slide-in at the corner of the screen. The visitor can minimize it and open it again at any time to submit feedback.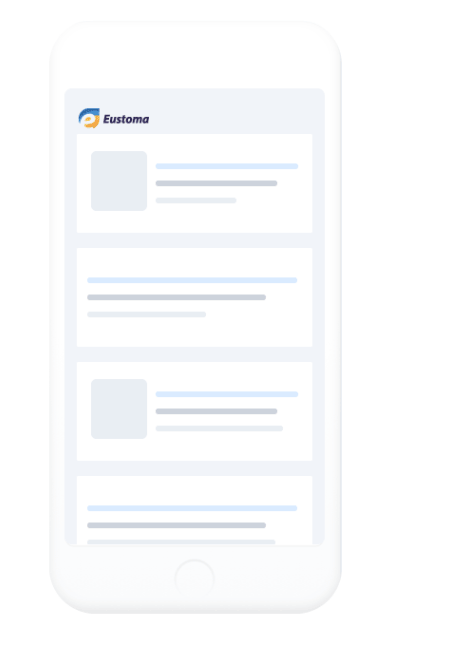 Widget: Added as the icon on the screen and usually appears when the visitor lands on the page.
Watch: How to Create a Popup Survey
---
Importance of Targeted Pop-up Surveys Questions
No one is excited to utilize their time filling out a survey, so if it's not optimized, you'll lose an opportunity to collect relevant feedback.
A pop-up survey is only as effective as the questions you pose to the respondents.
Luckily, there are plenty of question types to choose from to design the perfect survey that maximizes response rate.

For example, you can combine multiple-choice questions with follow-up free-text questions to collect in-depth feedback about their experience.
Plus, advanced survey tools like Qualaroo offer branching options so you can show only relevant questions to the respondents based on their previous answers.
Benefits of Using Pop-up Surveys on Your Website, App, & Product
Let's take a quick look at some benefits of using pop-up surveys before we move to the questions:
Watch: 3 Ways Udemy Learns From Their Students
---
Read More:
60+ Best Pop-up Survey Questions for Website & Other Channels
With an emphasis on mapping the customer journey, we have added targeted survey questions for your website, app, and SaaS product.
But like we said earlier, such questions are useless if you don't know how to target the niche audience and collect reliable feedback.
So, we have also added precise notes on where, when, and how to use these pop-up survey questions to target specific customers/visitors on different channels.
Related Read:
12 Pop-Up Survey Questions to Gauge Overall Experience
Let's first talk about the overall customer experience, which means that your target audience would be those who have spent some time with your brand. They can be regular blog readers, customers, and product users.
These website pop-up survey questions probe long-term customer satisfaction and loyalty towards your products and services. The tricky part is to identify this lot.
When and where to use them
The best way to target this audience on your website or app is by using cookies or other behavioral identifiers.
Target the logged-in users on your website or app, as they are the ones who use it often.
Combine the zero-party data, like data from lead forms, with contact list retargeting to show the survey to the right audience, like verified customers who have spent at least one month with your business.
After the customer places an order, ask them to rate their overall shopping experience.
Target repeat visitors on your website or app to collect feedback.
Use identity APIs to target long-term customers on-site and collect NPS & CSAT scores.
Here are some pop-up survey questions to get the pulse of your regulars:
On a scale of 1-10, how happy/satisfied are you with our products and services?
How can we make this website more helpful for visitors?
Based on website experience today, what is the likelihood of you recommending the [brand or product or app] to a friend or colleague?
Please specify the reason for your answer.
Before selecting the [product name], what challenges were you facing?
Is there anything that didn't work the way you expected?
Please specify how our product helped you in achieving your goals.
What's the one thing that you like the most about our product?
What are the top three features you use the most in our product and why?
Rate your overall experience with our website/app/product.
Have you come across any website/app/product with a similar feature?
What other information would you like to see on this page?
Watch: How to Measure Customer Satisfaction
---
21 Pop-Up Survey Questions to Understand the Target Audience
Market research is crucial to finding the perfect product-market fit, building product roadmaps, designing targeted marketing campaigns, and gauging brand awareness.
It lets you gather insights about questions like:
Who are your ideal customer types?
Which demographics do these customers belong to?
What are their interests and hobbies?
What technologies do they use in their business, and how can these technologies align with your product offerings?
And to get answers, you need targeted market research survey pop-up questions and relevant touchpoints to deploy them.
There is another use for these pop-up survey questions. They help you map the ideal customer profiles or ICPs.
What's that? You ask, dear reader…
Well, these are your ideal prospects that are interested in your product offerings.
You can move them into your sales pipeline by asking the right questions and collecting their email addresses. Plus, you can use this data to segment your audience base.
When and where to use them
Ideally, use them before launching new products or updates to map the visitors' and customers' expectations.
Add them to your high-traffic pages to maximize the response rate.
If you host a mobile app, you can use your survey tool triggers to launch the pop-up survey when a user interacts with the new feature.
Best pop-up survey questions for market research on your website and app:
Please specify your age.
What is your highest education level?
Please select your job title.
What's your gender?
How do you shop for the holiday season?
Please enter the name of your company/business.
Which channels do you use to find products/services you want?
What affects your buying decisions more- Price or Quality?
Which online/offline mediums do you use to shop for groceries?
Have you ever boycotted a brand? If yes, which brand and why?
Based on your overall brand experience, would you recommend it to your family and friends?
What is the likelihood of you buying from [brand name] again?
Are you currently using a product of [brand name]?
Which are the top three factors that affect your buying decision while purchasing the [product name]?
According to you, what can be the price of the [product name]?
Have you heard of [brand name] before?
How do you feel about [brand name]?
How was your overall experience with our brand?
According to you, which of the following is the best brand to purchase [product name]?
Have you ever shopped from the [brand name] before?
Which of the following products of [brand] have you tried? (Select all that apply)
Related Read:
12 Pop-Up Survey Questions to Gauge Page Content
If you are into SEO, you already know content drives traffic on your landing pages. You might also have a dedicated CMS system to publish blogs and bring in new prospects.
But even if you are targeting the right keywords, how will you ensure you get the right page traffic?
The right audience would mean higher engagement and more clicks on the blog and landing page CTAs.
One word – Content Evaluation Surveys pop-ups!
Surveys are a great resource for exploring the customers' intent on your blogs and landing pages. They let you know how readers feel about your content to make changes and add value for them.
When & where to use them
Use tools like Qualaroo with advanced targeting options to trigger the content survey at the right time.
Show it when the visitor scrolls down to a specific portion of the page.
When the visitor moves to the feature section of the product page.
If the visitor spends a certain amount of time on the landing page or blog.
Here are some pop-up survey questions for your blogs and landing pages:
Does our product page meet your expectations?
How well does our website/mobile app meet your needs/expectations?
Is our product pricing and plans information transparent?
How can we make the website/app more helpful for our visitors?
On a scale of 1-5, please rate the product page based on the aspects:
Was the required information clearly presented on the page?
Was it easy to find the required information on the page?
How can we make this site/blog more helpful?
What additional information should we add to our website?
Please help us make the website/product better. Please leave your feedback.
How easy/difficult was it for you to find what you were looking for?
Have feedback or an idea? Let us know!
Watch: Strategies on How To Convert More Web Visitors into Customers
---
7 Pop-Up Survey Questions to Track Cart and Page Abandonment
Page abandonment or bounce rate can become serious if your target landing pages don't convert the incoming visitors.
It would mean lower returns on your investments and an increase in acquisition costs. There can be several reasons why users abandon the page like:
Lack of required information
Wrong audience type
Page is not optimized for different devices
Lower content quality
To pinpoint the exact reason, you must ask the visitors themselves, using exit pop-up survey questions.
Then, there's another exit behavior more serious than page bounce – cart abandonment.
When a visitor leaves your website or app during checkout, you lose a potential customer at the brink of conversion leading to a direct loss of revenue.
Ouch!
A higher bounce rate may indicate an unknown issue in your checkout process, causing people to leave without completing the purchase.
Some of these issues can be:
Security issues
Bug or error
Confusing checkout process
Higher shipping cost
Fortunately, you can easily target both of these aspects using exit intent surveys.
Many tools have built-in exit-intent targeting options to track user actions and behavior to show the survey before they leave the site.
When and where to use them
Deploy them on pages with high bounce rates and lower conversions.
Use the exit-intent triggers to display the survey at the precise moment.
Use behavioral analytical tools to show the survey to repeat visitors who added the products to the cart but didn't purchase them.
Here are some exit intent pop-up survey questions:
Is something discouraging you from registering for our free product trial?
Is something stopping you from purchasing from our website?
Is there anything preventing you from achieving your goals on the website/app?
What is the biggest thing that nearly stopped you from registering for a free product demo on our website/app?
Do you have any queries or questions before you purchase the product?
What's your biggest concern or fear about purchasing from us?
What's preventing you from signing up for our newsletters?
12 In-Product Pop-Up Survey Questions to Ask Churned Customers
What's worse than visitors leaving your website? Customers who leave your business.
Own a SaaS product? Then you must control customer attrition as it directly affects your monthly recurring revenue, acquisition costs, and brand credibility.
And collecting feedback is one of the most effective ways to mitigate churn with its two-pronged effect:
Collecting insights and data to win back leaving customers/users.
Using that data to monitor and lower future churn.
The challenge is you cannot target such customers directly on your website or app.
That's where in-product survey pop-ups help.
When and where to use them
Deploy these surveys on your subscription cancellation page to collect feedback from these users.
Then, channel the insights to your customer success teams to get in touch with the customer and win them back.
Here are some questions for in-product pop-up surveys for SaaS:
Please specify the reason for canceling your account.
Please mention the reason for leaving our business.
What's the one problem our product/service helped to solve for you?
How easy/difficult did our product/service make it to solve your problem?
What issues/challenges did you face while using our [product name]?
What's your biggest concern about the [product name]?
On a scale of 0-10, rate the following features based on their importance to you.
According to you, which three features are missing from the product?
Do you use other similar products? If yes, please specify why you chose it over our product.
Please state the areas in which our product/service lacks the most.
How would you describe our products/services?
Please help us make the product better by leaving your feedback.
Easy Tips & Tricks to Write Awesome Pop-up Survey Questions
You cannot always rely on ready-to-use questions for your survey campaigns. What if there is a specific survey type you want to design to accommodate custom questions?
Now you are in a fix.
Don't worry, this section will help you deal with this. We'll give you some tips that our success teams use to craft surveys that fetch high engagement and targeted insights.
1. Be Mindful of the Target Device
It's important to keep user experience in mind so your survey pop-ups don't interrupt users along their journey. Change your pop-up survey type based on the device you want to deploy it on.
For example, if you plan to release the survey on mobile, it's better to use a Nudge™ instead of a screen overlay survey as it would not occupy the entire screen.
In the same way, a widget makes more sense when you want to collect unsolicited feedback or trigger the survey as soon as the visitor lands on the page.
2. Take Help of Behavioral Tools
Dig deep into your behavioral and analytical tools to find the perfect points for pop-up survey deployment.
For example:
You can use heatmaps to find the most interacted sections of your page and then trigger the demographics or market research survey pop-ups when visitors reach these sections to maximize the response rate.
Alternatively, if your CTA tab garners the least interactions on the page, you can add a pop-up survey at that point to gauge why users are not clicking on it.
Like always, pick targeted pop-up survey questions to collect reliable data without annoying the respondents.
3. Analyze Customer Data to Find the Gaps in Information
To understand which questions to add to your surveys, you need to know what's missing from your data sets.
That's where CRM tools like BIGContacts come into play. Use the platform to analyze the customer data and find out what information you require for marketing campaigns and other customer success strategies.
For instance, if you want to run personalized mailing campaigns, you would require more than just purchase history. You need data on customers' preferences, interests, and hobbies to design tailored campaigns for each visitor.
Once you know what you need, select relevant questions from our list and modify them to design the best pop-up survey questions.
Then, add them to your lead generation survey pop-up to collect in-context insights.
4. Measure Changes With Time
Constant iteration is the key to writing the perfect pop-up survey questions.
As the insights start trickling down in your feedback tool dashboard, monitor the responses to see if the data matches your expectations.
If the insights are not what you intended to collect from the users, make changes to the questions and redeploy the survey to refine the feedback data.
Did You Find the Right Questions for Your Popup Survey?
There you have it – a comprehensive list of questions to get you started on your next pop-up survey. By asking the right questions, you can collect valuable feedback data from the targeted audience.
But your work doesn't end there. Dig into this data to uncover valuable insights to improve your business in small and large ways.
Our advice: Use advanced tools like Qualaroo with AI-based feedback analysis techniques like sentiment analysis and word cloud to find customers' issues and concerns. Then, use the data to improve the overall customer experience.
We hope you find these questions helpful and that they give you some ideas for your surveys. Have fun gathering data and good luck with your campaigns!
Want insights that improve experience & conversions?
Capture customer feedback to improve customer experience & grow conversions.