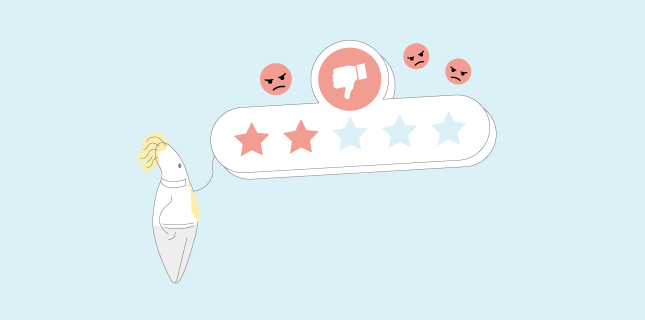 No one likes a negative review. If you're a small business owner with few reviews to showcase your quality, a bad review can feel like your sales will suddenly nosedive.
You can find these negative responses in a survey you sent out to your customers. Or a negative review could be in new responses on a specific product or just in the form of Google my business reviews.
But don't panic.
Everyone receives negative feedback from time to time. Even the most popular items and services have several negative reviews.
So a 1-star review isn't the end. You can bounce back from it. It just takes a bit of determination.
To help you with that, in this blog post, we'll go over how to respond to negative feedback from customers, ways to use it to your advantage, and how to make things right with your customer.
Here's what you'll learn:
Importance of Feedback in the Customer Experience and Ecosystem
Customer feedback plays a crucial role in moving customers along the sales funnel. At the awareness stage, potential customers may read Google reviews from existing customers to learn more about your product.
When they are ready to convert, they may look for specific information about your product and either reach out and ask or look at the feedback from other customers.
Communicating with your customers helps you improve both your customer service and product.
Role of Negative Feedback
While positive feedback can make your product seem more trustworthy, negative feedback is also useful. You can use critical feedback to gain a better understanding of your customers.
---
Your customers may find areas in your service that could use improvement or issues with a product that slipped past quality control.
But learning a customer was unsatisfied is only useful if you address their concerns. You need to learn from their experiences and improve. Think of it as reputation management.
Besides that, negative feedback helps you:
Build better customer relationships — Good customer relationships are essential for long-term business strategy. 93% of customers say they are more likely to become repeat customers when they have a good customer experience.

You can provide a decent customer experience by appropriately addressing the first negative feedback.

Provide social proof — A negative customer review acts as social proof. 95% of customers are suspicious of products with no negative reviews. It makes a product or the reviews appear fake.
Inform your customers — Online reviews from other customers provide an outside source of information to help people decide and complete their purchases.
Read Also: How To Use Psychology To Get Customers To Take Your Surveys
What Does Negative Feedback Mean?
---
A positive review can still provide negative feedback. This review from 2017 was addressed and used to improve Qualaroo. Not only did the customer feedback software start providing the scores, but it can also show detailed reports that are actionable for you
---
Negative feedback isn't the end of the world; it can be useful in the long term. But what does it say about your company?
When you receive negative feedback, it indicates a failure within your business, product, or service. You let your customer down somewhere along the line by sending a faulty product or providing poor service.
Sometimes these issues are one-off. You can have bad batches of products. Or a phone call with customer service goes wrong. The bigger issue is when these problems come up repeatedly.
Alternatively, there could be something missing from your business. Maybe your product is overly complicated, or the instructions provided just aren't cutting it.
Are you providing enough contact information, or is there a single general email address for all issues?
If you have unhappy customers and they give you a compelling reason for their negative experience, it's in everyone's best interest to try and fix the problem.
This is where knowing how to respond to negative reviews comes into play.
How To Respond to Negative Feedback
---
1. Don't Take It Personally
People often respond to negative feedback with a negative reaction of their own.
But remember, the customer isn't making a personal attack on you. You should remain calm and separate the situation from your emotional gut reaction.
2. Identify the Root of the Problem
Have your customer service teams analyze your customer feedback, both good and bad. For negative review responses, make sure you understand the real reason behind the customer complaints.
They may complain about the color scheme, but maybe their real concern is the lack of customization.
3. Make Decisions With Your Team
Don't ignore your sales or service staff's opinions.
Ask them about typical business reviews and see if they agree with the customer's concerns.
They interact with your customers and products every day and have valuable insight into your customers. They can take action to address any issues in the right way.
4. Look for Pain Points To Improve
After analyzing negative feedback and discussing it internally, you may be ready to improve your business areas. These can include:
Customer service — You might lack bandwidth on your team. Look into automation tools that can help decrease the workload for your employees. If you aren't doing so already, you can also look into customer service tracking software apart from measuring your CES or Customer Effort Score using feedback from the customers.

Blindspot correction — Customers might complain about a lack of instruction from your sales staff. Address this in your onboarding process, so your new staff learns about these issues. Make sure your current employees follow up on this as well.
Future business development — Some issues may not be fixable for the moment, but you should still track them.

If customers have an issue with a certain feature not being included, note it down for future updates. Your business development team should be on the lookout for ways to address long-term issues.
5. Asking for Improvements
Sometimes customers provide constructive criticism that helps you improve. Other times, a little outreach is needed. Reach out through different communication channels to find the best way to improve things.
This could be:
Making It Right With the Customer
---
By now, you know how to deal with negative feedback internally. It's time to translate it into a positive experience for your customers.
Related Read – Introducing the Marketer's Guide to Surveying Users
Customers Are the Key Drivers Behind Your Business
You need customers. Without customers, your business fails.
Happy customers are vital. They tell their friends and family about their interactions and can help drive more potential customers to you if nurtured.
Build an excellent online reputation by engaging with your customers. Almost 50% of consumers say they want to share a positive experience online. And 30% say they want to discuss a bad experience.
Must Read: 100 Market Research Questions to Ask Your Customers
Respond on Time
Over 59% of buyers surveyed say they expect a response from a company within 30 minutes. This means you need to be prepared to respond quickly.
In your response, take care of the following:
Treat your customers' problems as if they were your own.
Prioritize their issues and communicate with the customer to find a solution
Apologize for any issues, and take ownership of mistakes.
Be friendly and direct. Try to be as transparent as possible with your customers.
If communicating by email, develop a few templates that can be personalized to each customer as needed. This can save time and make your emails appear more professional
Retain Your Existing Customers
Retaining customers is cheaper and easier than chasing after new customers. They provide a more dependable source of income. If you increase your customer retention rate by 5%, it can lead to a 25-95% increase in revenue.
Customer churn rate – The rate at which you lose customers, is an important indicator of your overall customer service. High churn means you aren't providing customer satisfaction with your service. And they are shopping elsewhere.
Ideally, you need a healthy balance of return shoppers and new customers to offset anyone who does decide to leave.
Related Read: 25 Best Customer Experience Management Software
Make It Right With Unhappy Customers
Can you make every customer happy?
No.
Some customers might make impossible demands. But try to meet the reasonable requests.
Show action and change — Let them see that you genuinely care about their issues and that you take responsibility for the problem in the first place.
Offer a promotion — A coupon or discount code can do wonders in saving a sale, especially if pricing was one of the issues for the customer.
Include a freebie — A free product shows a customer you care about keeping them as a customer, even if it means losing a bit of money.

Offer a refund when appropriate — Try to stick to your refund and retention policies. But sometimes a refund is the right option.
---
Final Thoughts: How To Respond to Negative Feedback From Customers
Negative feedback isn't always a bad thing. Customers who mention pain points in reviews help us better understand what our audience wants and how we can improve our product.
Negative reviews provide social proof, a chance to address concerns in public, and the opportunity to reduce your customer churn.
As a business owner, you can benefit from the tips above and turn your low star ratings into four and five stars going forward.
Learning how to respond to negative feedback from customers helps you address issues within your company and with your customers. When customers tell you how they feel instead of simply dropping your service, you have the opportunity to keep them around and make a positive impact.
Getting these testimonials is important. Start using a trusted feedback tool like Qualaroo to gain better insights and make your customers happier.
Want insights that improve experience & conversions?
Capture customer feedback to improve customer experience & grow conversions.