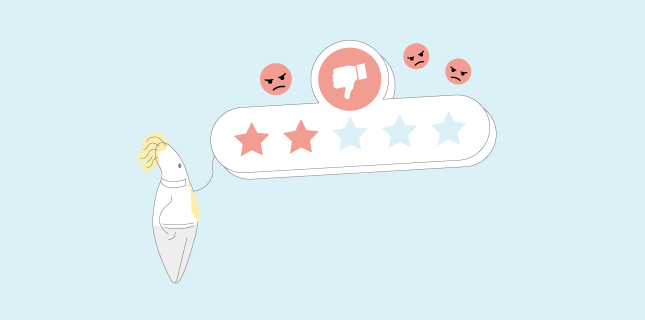 Have we got the perfect example of how to respond to negative feedback?
Apple's infamous notch has always been the center of criticism. People always complain about lost display areas in a sleek mobile phone design.
So what did Apple do? Remove it from their latest model? No.
They turned that into the 'Dynamic Island' – An interactive animated menu that shows notifications, reminders, and other background activities.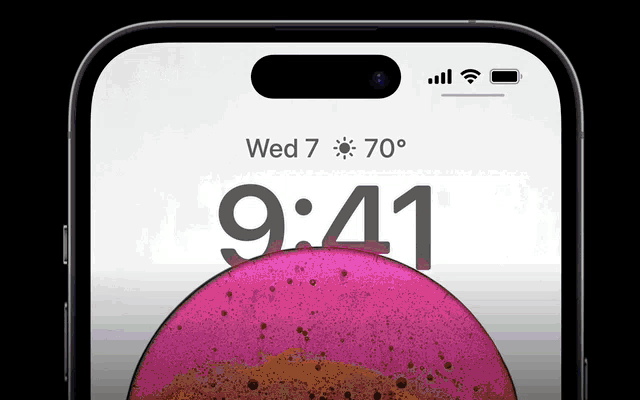 Am I in love with it? Sure it still needs refinement, but what a creative way to deal with negative feedback without throwing in the towel.
The overall reception has been overwhelmingly positive, with many thinking of it as a major UX change in Apple in years.
But you can only get creative in some situations. Sometimes you have to face the bull head-on. And simple steps like apologizing can go a long way to calm down customers.
That's what we have in store for you today. We will list scenarios where customers can leave bad feedback and how you can handle the situation and respond to such negative feedback.
We have also added some practical ways that we use to curb negative feedback in the first place.
Here we go.
5 Ways Negative Feedback Impacts Your Business
Let's explore both the detrimental and positive impacts of negative customer feedback and reviews on your business:
1. Increased Chances of Churn
Negative feedback comes directly from unsatisfied customers or users who've had bad experiences with your business.
They're so upset with your services or products that they took time out of their life to fill out your survey feedback form or leave negative reviews on websites.
At this point, there's still hope to course correct and win them back. But if you don't handle and respond to negative feedback, the customers will find a brand that listens to them.
What about website visitors? Now that's more volatile territory.
You have one or two chances to move visitors into your sales funnel via your website or app. But if they do not find value in your product offerings, they will immediately flock to your competitors.
That's why collecting and responding to Negative feedback makes more sense if you want to keep an eye on the churned customers and prevent it in the long term.
One of the best ways to target such customers is through exit-intent surveys so you can find the issues with the website that lead to higher bounce rates and plug those leaks.
2. Increased Acquisition Costs
Let's talk revenue now.
Product feedback, especially reviews, impacts online sales, brand loyalty, and even SEO. If people are reading negative reviews about your business on review sites, social media, and other places, they will steer away from you.
And have you heard of popularity bias?
It's customers' tendency to prefer the item with more positive reviews when given a choice between two similar products.
We've all done that.
A product with an overall rating of 4.9 with 5000 reviews garners more attention than the one with 4.9 ratings but only 100 reviews.
Combine this with unsatisfied churning customers, and you can see the sales graph going down with time. It means lower ROI on your marketing efforts and increased customer acquisition costs over time.
So, it's essential to know how to analyze and respond to negative feedback and turn it into positive ratings to grow your business.
3. Spot Issues & Errors
We know it may not seem favorable, but sometimes negative feedback also provides valuable insights into product or website issues.
Using advanced feedback tools like Qualaroo, you can consolidate all the feedback data into a single dashboard and spot any trends. You can pinpoint any critical product bugs and errors to fix them quickly.
For example, if you see customers leaving feedback about an issue with the "Add to Cart" button or a specific setting in your SaaS product, you can track and fix it.
In the process, you can prevent customers and revenue loss as KingsPoint did with its website.
The company installed survey Nudges™ at the checkout to ask a simple question – What stopped you from completing your order today?
It helped the team figure out a critical issue affecting Safari users and preventing them from completing the purchase.
As Steven Macdonald, CRO advisor at KingsPoint, states, 'based on conversion rates for both Firefox (12%) and Internet Explorer (9%), if we can convert just as many users with Safari, then fixing this problem could be worth approximately $60,000 this year.'
4. Analyze Gaps in Customer Experience
Learning to deal with negative feedback is an important part of customer success strategies to ensure an effortless and immersive customer journey.
You may think you are providing the best customer experience. But then comes the reality check – a scathing review or email from a customer about how disappointed they are with your brand.
A little bit disheartening, isn't it? But let's look at it as the cup half-filled.
It shows the differences between the actual and supposed customer experience at different interaction points.
You can see what prevents customers/visitors from completing the desired action, like placing an order. It lets you find the friction points and engage with the customers to improve their experience.
5. Helps to Create a Definite Product Roadmap
The positive reception to your new product and product updates is great for enticing new users. But often, the negative complements the positive one.
It gives you an idea about problems and bugs real users face so you can build upon it. By incorporating these complaints into your development process, you can modify the product roadmap to optimize it further.
And the best part is, why wait for the product release?
You can collect product feedback using surveys at the development stage, so when you release the product, it's already aligned with customer expectations.
Read More: 100+ Free-to-Use Product Feedback Survey Questions
5 Types of Negative Customer Feedback
Depending on your business type and scope, you can get a truckload of negative feedback into your system. To make sense of this data, you need a system to segregate that feedback into different categories, making it easier to route it to relevant teams.
Before we head out to strategies on how to deal with negative feedback, let's see some ways to categorize it. It's pretty straightforward, but it takes a load off our customer success teams here at Qualaroo.
1. Unsatisfactory Customer Services Feedback
Try to remember what frustrated you the last time you reached out to a brand's support team. Did you leave a bad rating or feedback after that interaction? That's what is called a services-related negative experience.
There can be several reasons for a customer to leave negative feedback at a service touchpoint, like:
No resolution to the raised issues
Delay in response to queries
Long waiting times
Robotic support pitch to genuine queries
Unempathetic staff
A quick response to negative feedback when your support services go wrong is an important step toward building customer satisfaction and loyalty.
2. Negative Feedback Concerning Product Issues
If someone invests money into buying a product that doesn't live up to their expectations, they are bound to get frustrated. It eventually leads them to leave negative feedback and, in the end, leave your business.
This type of feedback usually results in helpdesk tickets and feedback form submissions, complaints over calls and chats, etc.
Since product issues are directly related to your regular users (revenue bringers), they must be on the top priority list. Your team must be trained to quickly reply to negative feedback related to the product.
3. Price-Related Negative Feedback
Budget is a great motivator or detractor for businesses, especially small to medium enterprises. That's why pricing issues can become a cause of unsatisfactory experience.
The customers may feel the product features do not justify the price.
The pricing page may be unoptimized for visitors making it difficult for them to decide.
Any hidden charges may cause people to leave negative reviews.
The best way to deal with it is to run a pricing analysis from time to time and see how customers perceive your product pricing structure.
4. Delivery-Related Negative Feedback
Logistics play an important role in achieving customer satisfaction, and it can also become the bane of your existence when left unoptimized.
There can be several factors that can lead to customers leaving angry reviews on websites or submitting a ticket/feedback form, such as:
High delivery charges
Late delivery
Undelivered packages
Damaged packaging/items
The reality is that delivery issues can pop up at any time due to unforeseen circumstances, irrespective of the system you put in place.
This makes it important to respond to negative feedback promptly in these situations to turn the frown upside down and improve customer satisfaction.
5. Negative Feedback Due to Lack of Information
Just like the pricing page, if your landing page doesn't contain the required information for visitors, they could get frustrated with your business for wasting their time.
Collecting and responding to negative feedback from the landing and product pages can turn visitors into leads and help optimize the pages to increase conversions.
7 Strategies: How to Respond to Negative Customer Feedback
Here's what you need to do when negative feedback creeps into your system. These practical tips and strategies can help you respond the negative reviews on time and prevent them as well:
1. Set Prompt Action Protocols & Rules for Your Success Teams
Prompt action is key to managing feedback, especially from a frustrated customer. And it won't help if the customer waits for an eternity to get a reply from the support team.
Imagine how you would feel if you sent an email about an issue preventing you from placing an order. But the product goes out of stock by the time you get the reply.
A simple solution for such incidents is to lay some ground rules of active engagement, such as:
Set a timeline for sending the first reply within 4-5 hours of receiving the email or ticket. You can also automate the first responder mail.
Divide the feedback as per the priority and focus on the critical negative feedback related to issues, bugs, or angry customers.
Set up an automated system to facilitate the call-back if the customer is in the queue. This way, they won't have to be on hold for long to get in touch with the support agent.
Follow up with the customers 24 to 48 hours after the ticket is resolved to ensure the problem hasn't recurred.
The first step towards improving the experience is quickly responding to negative feedback and assuring the customers that you are there to listen to their voices.
2. Always Follow up & Update the Customers
There are two types of follow-ups we are talking about here.
Follow-up #1 – Right After the First Contact (Acknowledgment Mail)
It's the first reply you send to the customer, acknowledging the receipt of their feedback or complaint.
The best way is to tailor the acknowledgment mail to the customer's issues. But if you have a lot of incoming negative feedback, you can automate the process.
It can be an autogenerated email that assures the customer that you've started working on their feedback.
You can add the following things to the mail to imbue confidence:
Ticket reference
Estimated TAT
Complaint number
Name & signature of the support agent
The contact number of the customer care
Follow-up #2 – Update the Customer if the Issue Is Not Resolved on Time
Customers are more likely to remain loyal if they receive regular updates about their issues.
No one has the time to remain in a queue or write back to you whenever they want to know the status of their complaint or issue.
Proactively updating the customer is a crucial part of responding to negative feedback. It's also an opportunity to show empathy and reassure the customer that you value them.
For this, you can use a dedicated helpdesk system like ProProfs Help Desk to keep every mail interaction in one place and avoid mismanagement. It can help you:
Follow up with clients regularly to keep them updated about the progress of their complaints and issues.
Have enhanced process clarity by keeping everything documented.
Never miss upcoming meetings or follow-ups with notifications and alerts
Improve productivity with readymade templates and canned responses to
Check progress and improve performance by tracking individual and team metrics.
3. Thank the Customer (Maybe Add a Small Appreciation Token)
If people take time out of their day to write to you and it's a complaint, the best way to pacify the situation is to thank them for bringing the issue to your attention.
Remember, every negative feedback gives you clues about what can be improved. So show a little appreciation to the customer for highlighting it.
You can add the thank you note to the acknowledgment mail.
A simple thank you also paves the way to ask for more questions about the issue or concerns, like:
Please explain more about the issue.
Have you faced the same issue before?
Based on the experience, how satisfied are you with products and services?
And when you are at it, how about a complimentary appreciation token to win their trust?
It can be as simple as a free shipping coupon or a direct discount on the order.
4. Perform Root Cause Analysis
You have sent the acknowledgment mail, thanked the customers, and assured them you are working on their feedback.
Now it's time for root cause analysis. It's an important opportunity to establish trust and optimize the experience by:
Making customers feel their complaints made a difference
Reducing repeat issues
Here's what a 2019 research by advisory firm Huntswood revealed about root cause analysis as a strategy to respond to negative feedback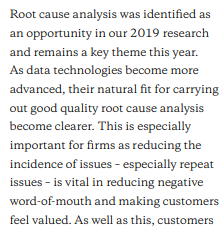 Here's how to deal with negative feedback using root-cause analysis:
Get in touch with the customer using the appropriate medium based on the complaint's priority.
Ask them about the details of the complaint.
If it's a product issue, ask the customer to send an image or video of the same on their device.
Assign the complaint to the appropriate team.
Look for similar reported issues within the week or month to see if the issue is affecting other customers. Tagging the feedback is one of the easiest ways to categorize the feedback and avoid the manual search.
The importance of root cause analysis lies in the fact that it:
Lets you drill down to the reason for the issue.
Prevents repeat issues.
Makes you prepared to respond to negative feedback in the future about the same issue.
5. Create a Testimonial Using Negative Customer Feedback
The perfect way to act on negative feedback is to publish it proudly on your website, social media, and other platforms.
Don't get us wrong!
We mean, post the entire experience of how you turned the frown upside down.
All five stars are too good to be true and negative feedback also helps to establish credibility. As a matter of fact, 82% of customers specifically search for negative reviews and feedback.
So leverage this behavior to your advantage.
Once you have resolved the issues, ask for customer testimonials and publish them as customer success stories.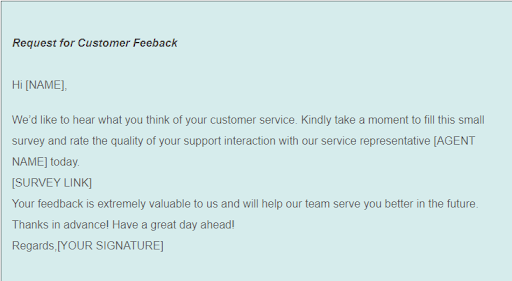 Here is a perfect example of responding to negative feedback and using it to demonstrate your commitment to the customers: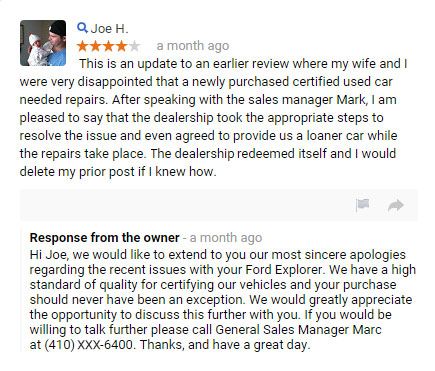 This simple review can impact existing and future customers, improve brand credibility, and imbue trust among the prospects looking to buy from you.
Here is another example of a customer testimonial before and after leaving negative feedback: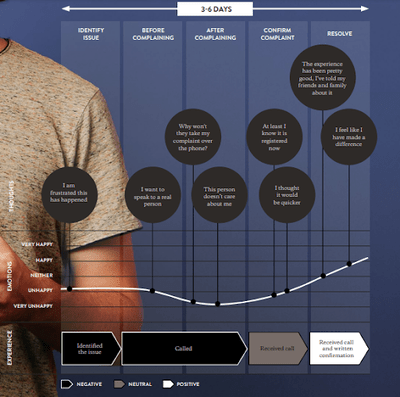 You can send a quick survey to ask about their recent experience and collect CSAT or NPS scores.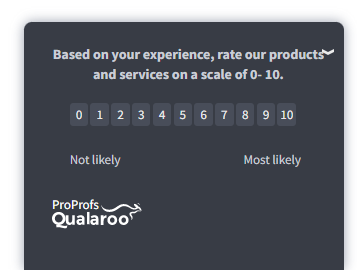 If the customer rates you high on the rating scale, you can ask them to contribute towards the customer success story and testimonial.
Then, add it on your website and use it in your marketing campaigns to bring in more customers.
6. Design & Embed Proper Negative Feedback Templates
Do you know what's more frustrating than not replying to the customer's mail at all?
It's a half-baked reply that looks like either the agent did not even read the complaint, or they are not knowledgeable enough to provide adequate answers.
And now you have a furious customer with a grudge.
How do you ensure it doesn't happen to your team?
With feedback templates!
Feedback templates guide the support agent about the structure of your response and the points they need to cover so all the queries and concerns of the customers are addressed.
It also gives a uniform face to your support services irrespective of which agent takes up the feedback for follow-up.
These canned responses are quite helpful for new team members. They can learn how to respond to negative feedback without worsening the situation.
Tip: Design the templates in such a way that the agents cannot use them as canned responses, or the strategy may backfire. Instead, train your staff to personalize the response to make it empathetic and genuine.
7. Apologize & Offer a Discount or Refund for the Inconvenience
A simple sorry can boost both retention rate and customer satisfaction. Here's the impact of dealing with negative feedback with a sorry:
A simple sorry can boost the retention rate by as much as 17%.
The people who received sorry scored twice as higher on the CSAT score as the ones who were never apologized to by the support agent.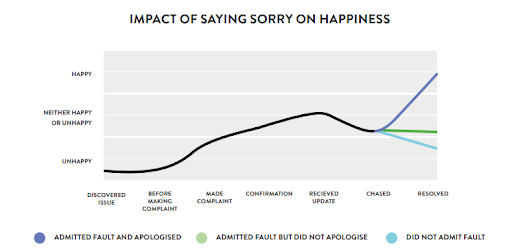 Now combine this with a little compensation for the inconvenience, and you've got a solid strategy for responding to negative feedback.
The financial compensation can be a small discount, free shipping, voucher code, reward points, etc.
But why are we stressing about giving away goodwill payment with an apology? Why not just give away a small discount every time?
Because some customers may otherwise think they are being paid to go away. You need to convey that it's a positive gesture and their complaint has been understood.
It's also an effective way to make customers feel valued and build a positive perception in their minds.
7 Ways to Prevent Negative Feedback in the First Place
It's great to know how to respond to negative feedback. What's better is preventing it in the first place. Ironically, to curb negative feedback, you need to collect feedback along with other simple checks in place.
1. Collect Periodic Feedback
If you are proactively collecting insights from customers, you are already closing the feedback loop, which translates to lower complaints down the road.
Simple and short surveys placed at the right places along the customer journey can do miracles to keep customers happy.
For example:
Place surveys when visitors click on the landing page CTA to gauge if everything works fine.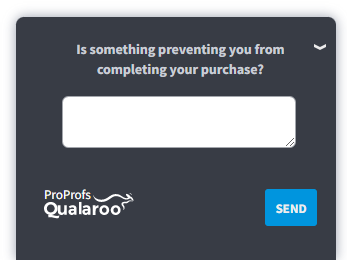 Show survey Nudges™ when visitors spend time on the page and ask if they found what they were looking for.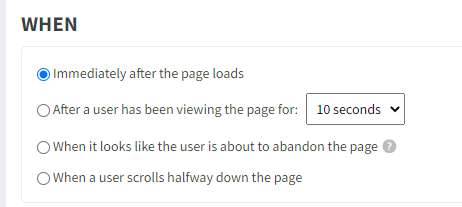 Use surveys on the order confirmation page as KingsPoint did and gauge customer satisfaction to find any issues with the checkout process.
Use in-product surveys to measure the quality of product adoption and usage.
Find the crucial customer touchpoints to collect feedback for streamlining their experience and reducing negative feedback.
Here's a case in point – Hootsuite
The company was concerned about visitors bouncing off their branded landing page, so they conducted on-site surveys to find the reason for this behavior.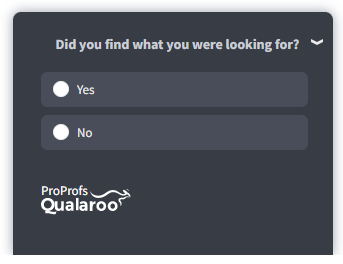 They discovered that the page seriously needed more information to help visitors decide. Over 65% of respondents stated they wanted to know how the product worked on the page.
With the insights in hand, the team revamped the page's UI, design, and images. The conversions on the new page shot up by 16%.
But the more in-depth outcome of this exercise was that it aligned the page with customers' expectations. So, when people browsed the website or bought the tool, they already had detailed information about the product.
This translated to fewer unsatisfied customers and lower churn.
It means the team could avoid adding extra resources to deal with negative feedback in the future.
2. Use Targeted Surveys
It's logical to assume that more than one person can face the same issue. But not all of them report it to you.
So how do you solve it for all the customers before they come to you with negative feedback?
Target different customer types and their behavior.
Many survey tools like Qualaroo offers means to explore customers' issues proactively using survey and feedback forms.
You can show these surveys on your site, app, or product. Start with questions like:
Did you find what you were looking for on the page?
Is our pricing structure clear?
Do you currently use the [product name]?
Based on your overall experience, would you recommend [product/brand] to your friends and family?
Then, you can use question branching to collect more in-depth data based on their answers.
Suppose the customer chooses 'No' as the answer to the question – Do you currently use the [prodict name]?
You can then probe why.
Have you used [product name] before?
Why did you stop using it?
Please share your overall experience.
What can we improve in the product to encourage you to use it?
As you can see, you are already working on the customers' issues without waiting for them to come to you. And if you can solve the problem for this visitor/customer, you will have solved it for this entire customer segment.
Imagine the positive impact of such an exercise!
Here are some questions you can ask your customers to begin the customer feedback loop:
How satisfied are you with our products and services?
Enjoying the product? Please share your experience.
What problems have you been facing with the product?
How can we improve the product further?
How can we make this site more useful?
Please rate our website/app/product based on the following aspects.
What is the main reason for canceling your account with us?
Read More: What Survey Questions Should I Ask?
To ensure reliable data collection, you can modify these questions based on the use case and target medium.
And if you are worried that tracking and analyzing each response can become a daunting task, an AI-based analysis engine can come in handy.
Advanced tools provide built-in means like a sentiment analysis engine to cut down data analysis time, so you can focus on resolving customer issues and responding to negative feedback.
3. Focus on High-Value Customers to Maximize Retention Value
All customers are important. But you have to agree some bring in more beans than others.
These are your high-value or high-spending customers.
They help offset the increasing acquisition costs due to churning customers, increase overall customer lifetime value, and act as brand promoters.
So, prioritize these customers to collect insights and solve their issues proactively.
You can set up a separate team to get in touch with such customers quickly and act on their feedback to make things right.
It will prevent a lot of customers from churning and save you from the tedious task of responding to negative feedback later.
4. Provide Real-Time Support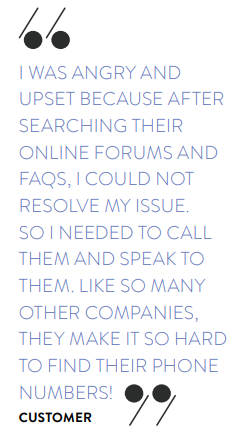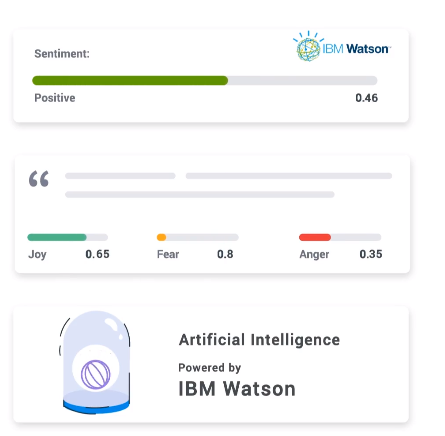 One of the major points of frustration for customers is the lack of quick action from support staff to resolve their queries.
Mails and tickets are highly effective in addressing long queries but are slower regarding TAT.
The solution is real-time support tools like live chat, so the customers don't need to leave what they are doing to contact you.
They can just click on the widget on the page and get in touch with your support representatives instantly.
It's a great option to solve small queries in real time, so they don't build to unsatisfactory experiences later and negative feedback.
And if you employ advanced AI-based chat platforms like ProProfs live chat, You can let automated chatbots handle queries and free up your staff. This is especially beneficial during odd hours.
These bots can also automatically create tickets for more complex queries for your team.
Speaking of small queries, the helpdesk works like a charm to reduce customer frustration.
You can create a dedicated knowledge base to add help articles, FAQs, and other essential material for the customers.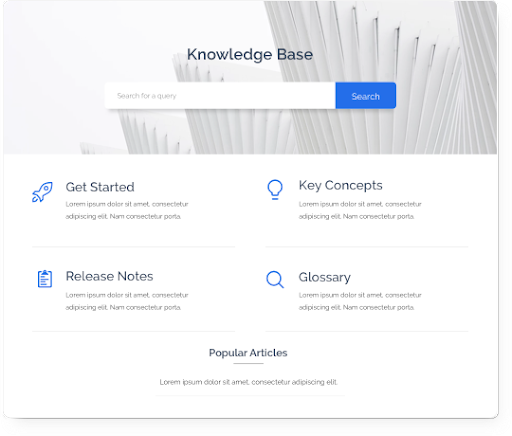 For example, if you host an ecommerce website, you can add FAQs about what to do if your payment gets stuck. Or, you can create a dedicated page on return and exchange policies to educate the customers.
If they can resolve the queries on their own, you won't have to worry about responding to their negative feedback because there won't be any.
5. Monitor Team Stats Regularly
Set up KPIs and goals for your customer success teams to track their efficiency and productivity. You can assign team and individual targets to track how effectively they respond to negative feedback and resolve customer issues. It prevents repeat complaints and angry customers.
Here are a few metrics to track:
Post-interaction CSAT scores:
Once you reply to the customer, it's time to measure the effect of that interaction. Send a post-interaction CSAT survey and work your way from there to see what needs to be done further.
Post-resolution CSAT scores
As you resolve customers' problems and close the final call or ticket, send another CSAT survey to gauge their overall satisfaction and experience.
If the customer provides a positive rating, ask them to leave a review. If the score is still negative, escalate the case to find out what went wrong. This is especially helpful when dealing with high-value customers.
The number of queries handled daily:
Depending on your daily volume of incoming tickets, calls, or chats, monitor how many tickets your team handles per day. It'll help to check if the team responded to the negative feedback on time or if you need to bring in additional resources to meet the flow volume.
6. Calculate the Ratio of the Incoming Negative Feedback
As you categorize the incoming feedback, continuously track the negative to overall feedback ratio so you can divert the resources if needed to handle any surges.
For example, if you see many people complain about the product issue and an increase in such tickets in the last hour or so, you can ask the staff to focus on these complaints first to bring the situation under control. In the meantime, the development team can work on the solution.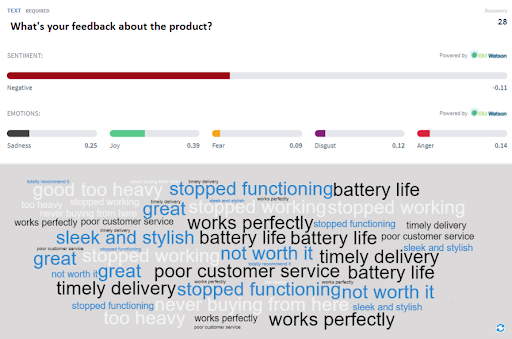 7. Quality Check Responses Regularly
To ensure your front-facing team is not the cause of customer frustration, run quality checks on the agents' interactions.
An insincere reply to customers' tickets would only frustrate the customer. Even if you have the best-trained staff and systems, it's better to keep things in check.
Whether it's calls, tickets, surveys, or chats, establish a quality control team to track how the staff responds the customer complaints and queries.
Did the agent address all the questions?
Is the response properly structured?
Did the agent address the customer by name?
Did the agent try to probe for more information from the customer to determine the cause of the issue?
Was the reply personalized to empathize with the customer or a generic robotic pitch?
These are some questions the quality team at Qualaroo explores while digging through the agents' responses to customers' feedback.
It helps to find the gaps in the desired and actual interactions happening in real time with the customers.
By making it a regular practice, you can optimize the response templates, find out the areas of improvement, and train the staff to improve the response quality.
Negative Feedback! – Don't Run Away From It; Use It for Growth
There will always be unfavorable comments, feedback, reviews, and ratings in your system – no matter how much you try to reduce them.
The best way is to set up systems in place so you are ready to deal with it and make such customers happy.
It starts with understanding customers' issues using closed feedback loops and trained staff.
With tools like Qualaroo, you can simultaneously target customers on multiple channels to gather feedback about their problems with your products and services.
Prioritize the negative feedback and learn what elements make it a satisfying journey for others. Then, use them to improve the overall customer experience.
It means you can resolve them before the customer is at your door with an official complaint.
And if they do, treat it as an opportunity to show that you care about their concerns and are committed to providing the best customer experience.
Take notes, ask questions, and find solutions to turn that frown upside down.
Want insights that improve experience & conversions?
Capture customer feedback to improve customer experience & grow conversions.