When you work closely with your own product day in and day out, you think you know what all the benefits of it are. But your customers have another idea. Here is Ty Magnin from Appcues explaining how to address this disparity and create the right messaging for customers.
You could have anywhere from 20 to 20,000 customers. If you don't understand why your customers love your product, you'll be stuck when you try to iterate on your product to grow the business.
It's surprising, but not knowing why customers love your product is normal. If you created it to scratch your own itch, you assume that's the reason people use it. Most of the time, your customers have their own ideas.
Building a product that people pay for and love is only the first step. Continuing to grow and improve your product boils down to two things:
Having customers that love your product, and
Knowing why they love it.
Knowing why customers love your product sets up your perpetual growth machine. You'll know what to build next, and that expands your customer base.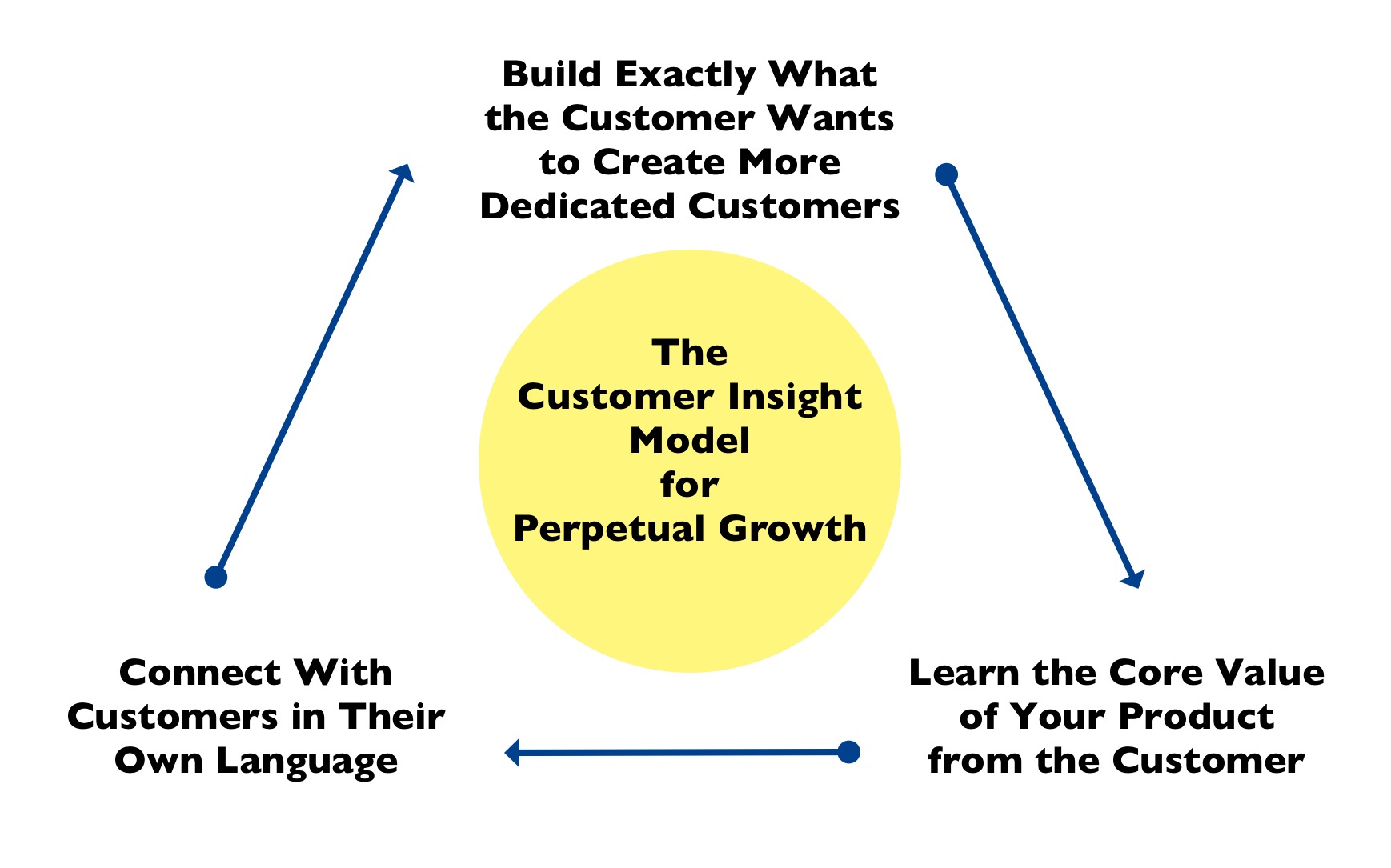 Learning why customers love your product most often isn't a result of sophisticated quantitative analysis. The process is simple but incredibly powerful—just ask them.
By surveying your customers about why they use your product, you can find out—in their words—the value of it. The language they use should, in turn, figure into your messaging. This is how you continue to communicate the value of your product to your customers and find new ones. By doing this you'll create a flywheel for growth.
Learn the Core Value of Your Product from the Customer
According to Zendesk, 95% of customers will tell others about a bad experience with a product. And a modest shift in improving customer experience, says Forrester, can cut down on churn and boost revenue. But there's no way of knowing whether customers are having a bad experience using your product unless you ask.
Survey your customers about their experiences with specific questions.
1. Segment out Your most Dedicated customers
First identify the customers who are dedicated to your product. To do this, implement an in-app survey which asks "How would you feel if you could no longer use this product?"
Those that answer "Very Disappointed" are your dedicated customers.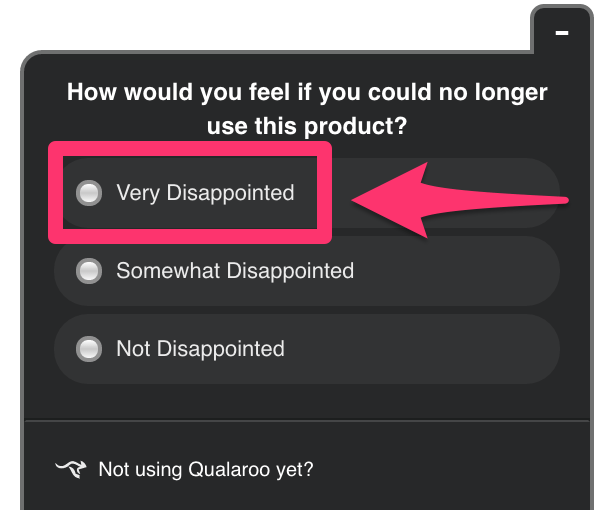 Your dedicated customers hold crucial insights about your product. What they say about how they use your product holds more weight than those who aren't dedicated.
Since your dedicated customers are the ones who continue to use your product, they are therefore the ones you are developing your product for. You need to take their experiences into account.
2. Find Your Product's Key Benefit to your most dedicated customers
Now split your dedicated customers into two groups. The first group will fill out an open-ended survey question which asks "What is the primary benefit of this product?"
By having them respond to the question in their own words, you can collect customer-centric language about their experiences. This language will encourage more responses from other customers.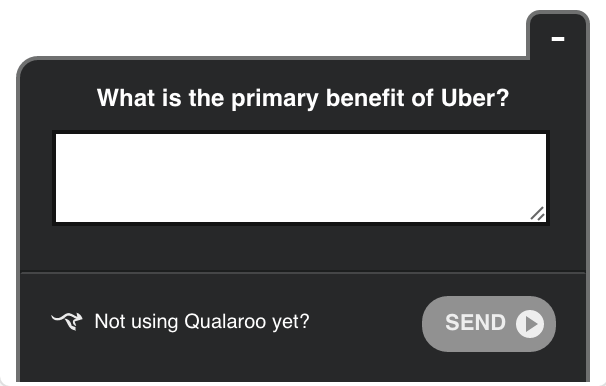 Then ask the same question to the second group, reframing the responses from group one into multiple choice answers.
As a follow up question, ask "Why is that benefit important?"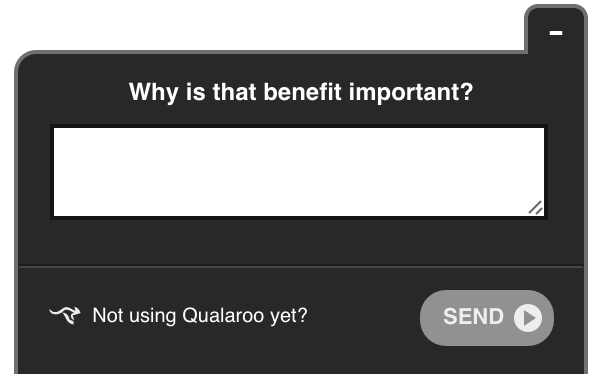 By surveying your dedicated customers about the benefits they derive from your product, you can determine value propositions for your product's messaging for things like your landing page and onboarding process.
3. Discover Your most dedicated customers' signup Intent
Next, you're going to seek the intent of your dedicated customers in signing up for your product. Ask them "What were you hoping this product would do for you when you signed up?"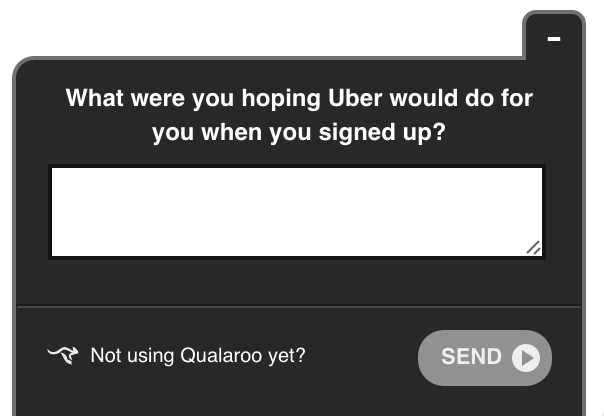 Often the intent customers had when using a product is somewhat different from the core benefit that your product actually delivers.
A survey like this can show the disparity between the core benefit of your product and what you thought it was. For example, if Uber thought they had created an on-call taxi service but customers were using their service because they used much nicer cars than taxis, a survey like this would highlight that.
4. Crowdsource Your Product Description from your most dedicated customers
For your final survey, ask your dedicated customers whether they've recommended your product and how they described it. This is a clear cut way to develop a customer-centric product description to employ in your messaging.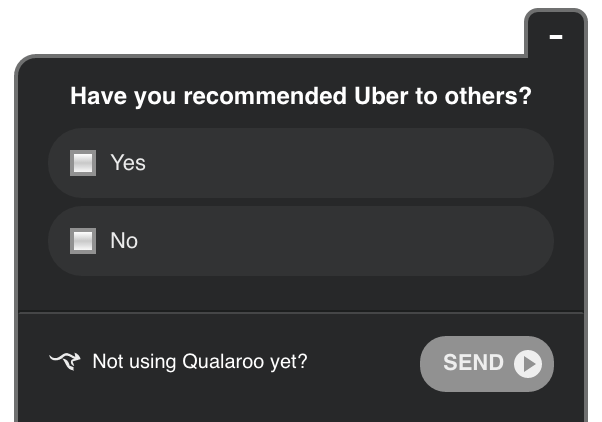 You now have all of the insight you need. It's time to implement it into your messaging.
Connect With Customers in Their Own Language
Your surveys give you a clear view into how your customers think and feel about your product. Using their answers to your surveys, you address their needs via your messaging. They have also now given you the exact language you need to appeal to other customers.
5. Put the product description, intent and promise on Your Homepage
What your customer indicated as their purpose for using the product is your hook. Their benefits they outlined above become your product's promise.
Here's how these insights align with typical messaging on popular landing pages likes Uber: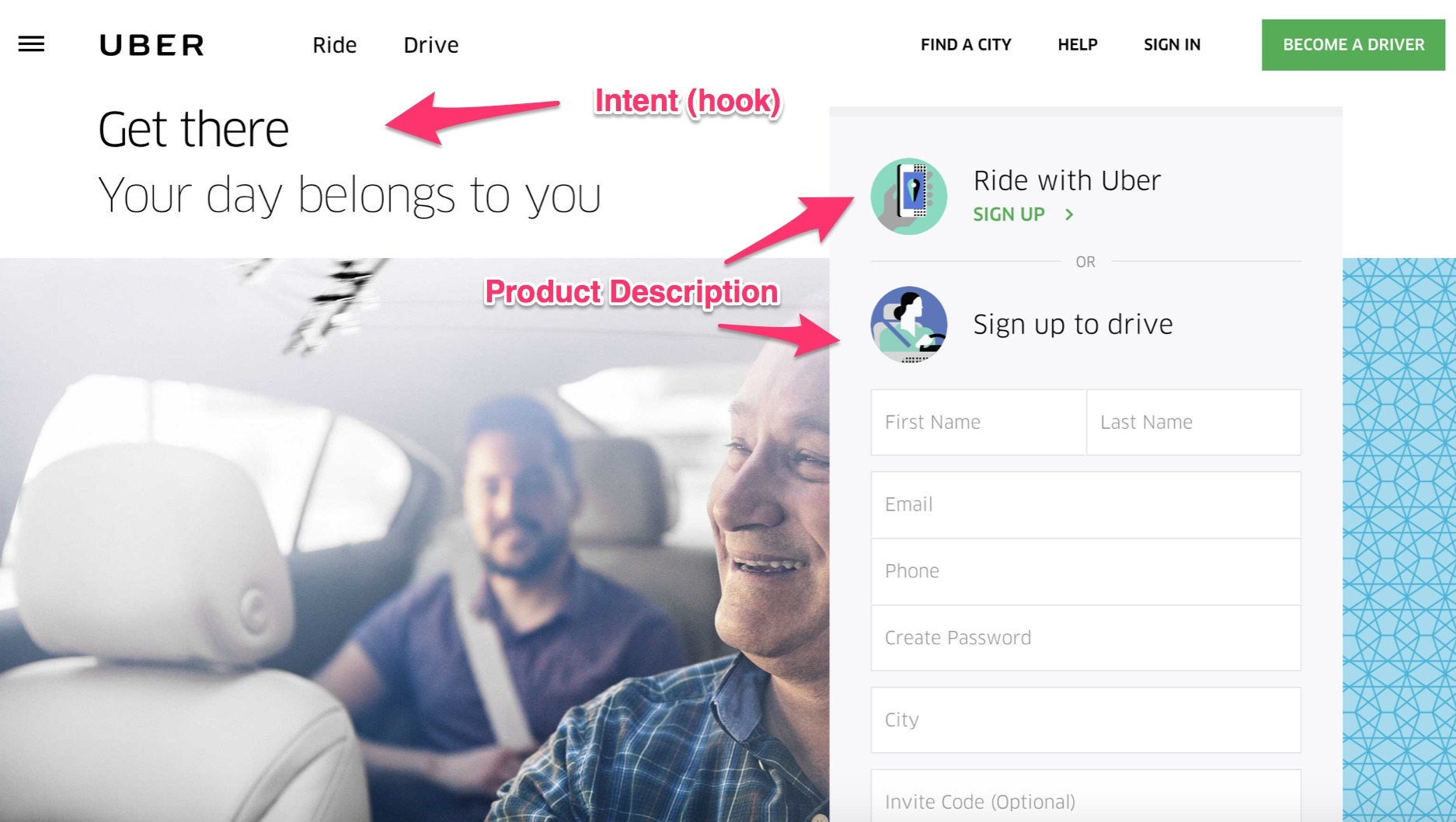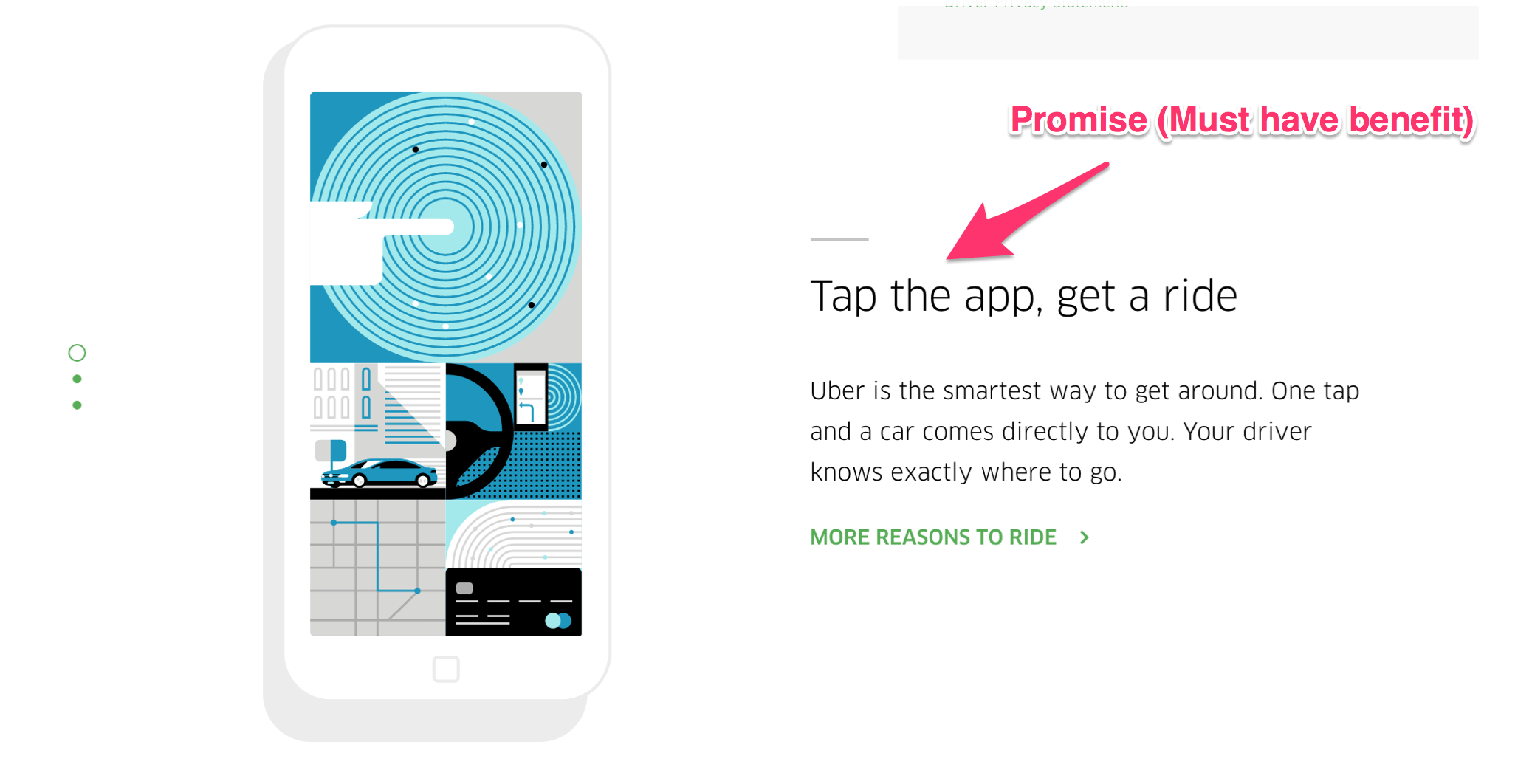 Study survey responses and look for patterns. From those patterns, pluck responses for each element and A/B test them against each other. Keep iterating until you find the combination that drives the best results.
One thing to keep in mind is that you can be fairly broad in your hook and description testing, but when testing your promise statements be sure to limit tests to what the product is authentically great at delivering.
The result should be an increased conversion rate from your homepage of the right type of people, and a boost in word of mouth traffic. But the customer insights you've collected shouldn't stop here—they can also be applied to user onboarding.
Build Exactly What the Customer Wants to Create More Dedicated Customers
Your messaging needs to speak to your customers in a way they will respond to. When you use their language in your onboarding, you are translating the experience of using your product in a way that's easy for them to understand.
It doesn't have any of the high level technical details you may include, but will get to the core of what customers are looking for quickly.
6. Feed survey feedback into customer onboarding to increase activation
Now that you know where your product's core value is, you've got to find ways to make your new customers dedicated to your product. You can do this through clear onboarding.
By plugging in the language you've derived from the surveys above, you can educate your customers about your product through friendly, non-technical language. Through Appcues, you can also focus your onboarding on new features or your reconfigured core values with their step-by-step pop-ups.
In addition, you can create a reverse funnel by getting customers inside of your product before asking them to complete their signup. Or inspire them with a vignette that gives them a sneak peak of your product's magic. Make sure to incorporate annotations and tutorials so your new customers know how to use your product and interact with its interface.
Once your customers understand the core value of your product, they'll launch into using it with full enthusiasm. And with your new expanded base of dedicated customers, you can begin the flywheel again and again and keep surveying yourself to growth.
Want insights that improve experience & conversions?
Capture customer feedback to improve customer experience & grow conversions.