B2C survey questions or business-to-consumer survey questions have gained a lot of importance in the past few years, and marketers worldwide are jumping on the bandwagon to make the most of it.
But why is all of this important, you ask?
Statistics say that 59% of the customers will leave you after having a few bad experiences.
That's 59% of your audience choosing not to purchase from you.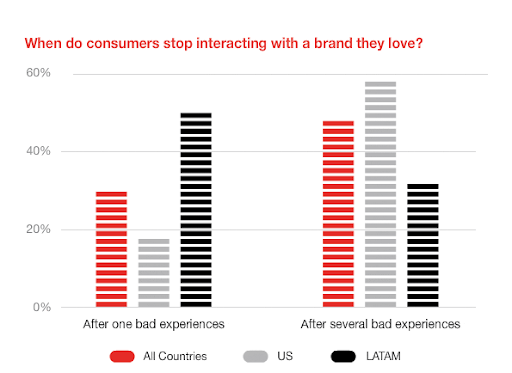 ---
Also, when your customers leave, they are not obligated to explain. They just leave.
If you were working with a traditional brick-and-mortar store, surveys wouldn't have been a problem because there, you can simply rely on your observation and ask questions directly to customers if needed.
But in an online setting, you can't do the same.
This is why B2C survey questions are used to understand how satisfied your customers are, where their loyalty lies, and why they are not converting.
By the end of this blog, you'll know some of the best B2C survey questions that will help you identify problems with your sales funnel to improve conversions.
---
What Is a B2C Survey?
A B2C survey stands for business-to-consumer surveys, and they are specifically targeted toward the end-users who purchase a product or service.
B2C surveys are typically focused on the post-purchase experience of the customers, which helps companies gauge customers' behavior and easily predict retention and churn rates.
These surveys can have questions like:
How would you rate your stay at our hotel?
Please rate your recent interaction with our support team?
To what extent did you like your recent purchase experience?
So what's the difference between B2B and B2C surveys?
While B2C surveys focus on measuring experiences B2B surveys are used to measure customer relationship.
What's the Average B2C Survey Response Rate?
The average response rate of an email survey is anywhere from 25% to 30%. When you collect data from at least two or different modes, like combining popup and email surveys (multimode surveys), your response rates can average around 72%.
So, if you get a response rate of 50% or so, there is nothing wrong with it because, in most circumstances, it's considered excellent.
When Should You Send Your B2C Surveys?
Research suggests that weekdays are the most popular days to send your B2C surveys- more specifically, on Tuesday, followed by Monday and Thursday.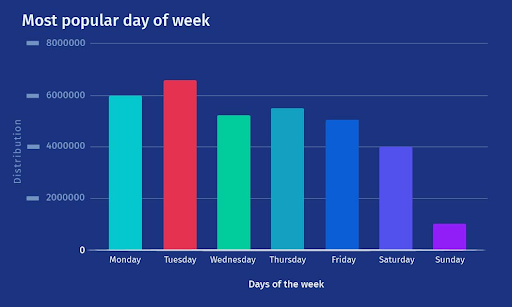 ---
Also, when it comes to the most popular time of the day, 10 AM to 11 AM local time, is said to be the most effective because that's when customers respond to the surveys the most. Between 6 AM and 9 AM local time is the second most popular time to send B2C surveys as per the data.
Note:If you use an online survey tool like Qualaroo, you can use triggering options in advanced targeting to automatically display your surveys at the right time on a website or app.
---
Where to Deploy Your B2C Surveys?
There are plenty of places where you can deploy your surveys. Since online surveys are the most effective, we'll just focus on their deployment for now.
The most popular places to deploy online surveys include:
Emails
Website
Embedding links in blogs
Social media
SMS
You can also embed your surveys into QR codes that people can scan and give feedback at their convenience.
How Long Should Your B2C Surveys Be?
Your online surveys should not have more than 15 to 20 B2C survey questions. If you go above and beyond this length, the chances of survey abandonment will increase significantly.
It shouldn't take more than 5 minutes for your respondents to answer 15 to 20 questions, which is always a preferred time frame for high-performing surveys.
Tip: Your business-to-consumer survey questions should be simple and easy to answer so that it doesn't involve a lot of effort from your respondents.
With that, your most important questions have been answered. Now let's move on to some of the best practices for conducting B2C surveys.
---
Best Practices to Conduct B2C Surveys
You can pour all your heart and soul into creating amazing surveys only for them to underperform and yield underwhelming results. This can happen if you miss out on some best practices that make your surveys impactful.
Here are some of the best practices for you to follow:
1. Ask the Right Questions at the Right Time to the Right People
Asking the right questions at the right time to the right people is crucial when it comes to gaining contextual insights about your sales funnel.
Imagine you come across a survey question that says:
How frequently do you purchase cat food?
Once a month
Twice a month
Three times a month
Four times a month
It varies every time
But, you've never owned a cat,
You're obviously not going to answer that, right?
That's why you should always build your survey questions for customers in a way your audience finds relatable and is happy to answer.
For this, you can take help from our guide- What Survey Questions Should I Ask? and stick to the end for the big reveal.
Besides the questions, the survey's timing and targeting the right audience are also important.
We've already discussed when to send your surveys in detail in the above section, so feel free to go back for a refresher.
As far as targeting is concerned, it is the only way of gathering contextual information from your audience, which is why you need to ensure who takes your survey.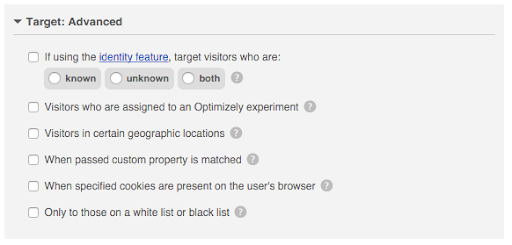 ---
Also, same as before, you can use the advanced targeting modes of your online feedback tool and customize identity, geographics, and many other attributes to only display your surveys to people who are relevant for your data collection.
---
2. Keep It Short, Keep It Simple
Your respondents don't have all the time in the world to interact with your surveys, so it's best to make the most of what's available.
The best way to start doing this is by keeping your B2C survey questions short and not including a lot of them in your surveys.
For instance: Here's question 1-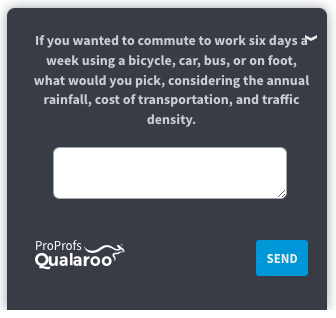 ---
And
Here's question 2-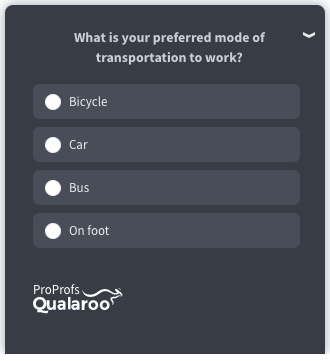 ---
Which one do you think is better?
If you picked the second option, brownie points to you, and this is what you have to repeat all across your questionnaire.
By keeping your survey questions for customers short and simple, your audience will find it really easy to go through your entire survey, and you can collect data about your sales funnel, customer experience, and much more in no time.
Not to forget, you still have your online feedback tool, which you can use to get access to professionally designed built-in templates to always ask amazing questions.
Watch: Webinar: Templates by Qualaroo
---
3. Create a Well-Balanced Structure
One of the most overlooked things when building a survey is its structure.
A well-structured survey will enable you to keep your participants engaged for a longer period of time instead of leaving it abruptly in the middle.
In addition, when your surveys are structured well, they provide a great experience to the participants, and they enjoy being a part of the process.
For a good survey structure, you need to ensure that the simplest questions come first and the slightly complex ones follow later.
This will let your participants quickly build momentum and breeze through the survey in no time.
Note: Complex questions do not mean questions that are hard to answer. Your aim should always be to keep it simple at all times.
Well-balanced, structured questionnaires can also be created by inserting multiple question types into the survey.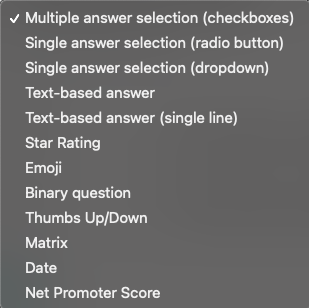 ---
For instance: You can use an online survey tool like Qualaroo and build questionnaires using 12+ question types. These questions include:
Multiple choice
Essay type
Rating
NPS
Binary Questions
Emoji
4. Work on Personalization
Personalization is the gateway to an amazing customer experience. This is what makes the best companies in the game the best.
Personalizing your touchpoints for every customer will allow you to build a more customer-centric brand and improve and fix problems in your sales funnel by elevating the customer experience.
A great starting point for personalizations can be your surveys. You can add warmth and pleasantries to your surveys to give your audience a sense of attachment.
---
Here, you can gather all the data and metadata you have on your customers and customize the messaging of your surveys, email subject lines, questions, and much more.
For instance: If a customer buys a jacket from your company, you can approach it in two different ways.
1. Non-personalized approach-
How would you like to rate your shopping experience with us?
2. Personalized approach-
Hey there, Brian; we hope you love your new jacket! Would you like to share some thoughts about it?
---
5. Close the Feedback Loop
There is no better feeling than knowing that you are being heard.
Closing the feedback loop by acting on feedback is essential because it lets your customers know that their feedback is considered. It motivates them to provide more feedback, stick with your brand and generates more revenue through sales.
Also, if your customers find out that their feedback is of no use, they will not come back, leaving your sales funnel leaky as before.
For this, you can use your online feedback tool and look at the feedback analysis report to identify trends and gauge customer sentiments.
Your sentiment analysis report will automatically analyze descriptive feedback and tell you how your customers feel about your product or service.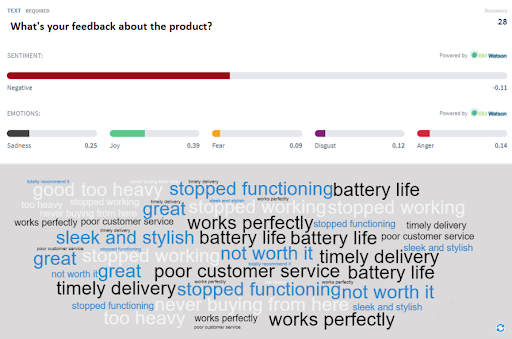 ---
You can even contact those customers to better understand the problems they have shared with you. Once you have all the information you need, you can start working on fixing those problems.
Also, let your customers know that their feedback has been taken into consideration and their problems have been resolved. You can do this via:
Newsletters
Notifications
Marketing material
Social media channels
Future surveys
Now that you know some of the best practices, it's time to give you the best B2C survey questions to implement those best practices.
25 B2C Survey Questions to Plug the Leaks in Your Sales Funnel
There are thousands of online business-to-consumer survey questions that you can ask your audience, depending on the type of information you are trying to collect.
Here are 25 good ones for you to get started. Also, to make it easier for you, we have segmented the questions into different categories so you can easily pick questions relevant to your use case.
Customer Satisfaction Survey Questions
Watch: How to create a customer satisfaction survey
---
To what extent are you satisfied with our products/services?
What changes can we make to our products/services to improve your satisfaction?
Have you ever been dissatisfied with our product/service, and if so, can you please describe what happened?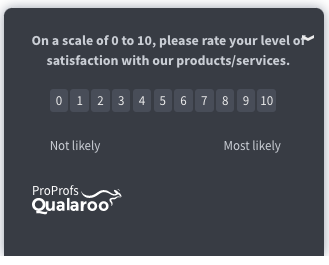 User Experience Survey Questions
Please rate your experience navigating our website?
Were you easily able to find the information you were looking for?
Is there anything you would like us to change in our product/service?
How would you rate your overall experience of using our product/service?
---
Based on your experience using our product/service, how likely are you to recommend us to your friends and family?
Exit-Intent Survey Question
Why did you choose to leave our website?
What stopped you from making a purchase?
Is there anything preventing you from signing up with us?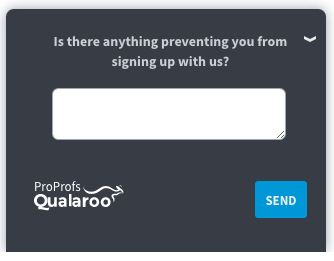 ---
Is our pricing clear?
What can we do to make you purchase this product/service?
Post-Purchase Survey Questions
On a scale of 0 to 10, how would you rate your post-purchase experience?
Were you satisfied with your recent purchase experience?
Based on your recent purchase, how likely are you to recommend our product/service to your family and friends?
Considering your recent purchase experience, will you recommend our product/service to someone with similar needs?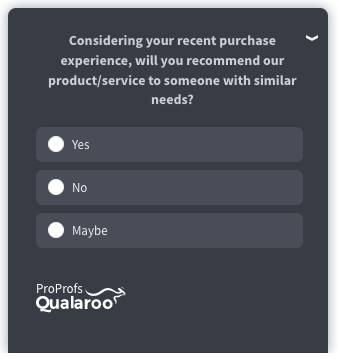 ---
What more can we do to make your purchase experience even better?
Customer Support Survey Questions
How would you rate your interaction with our customer support team?
Was our customer support team able to assist you with your problems?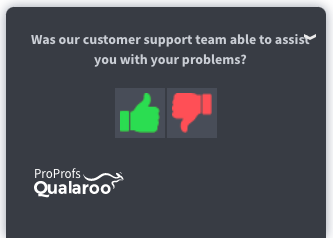 ---
On a scale of 0 to 10, please rate the quality of customer support that you received?
Based on your interaction with our support team, would you recommend us to your friends and colleagues?
Is there anything you would like us to change in our customer support?
---
---
Ask Great Questions ⇒ Fix Your Sales Funnel
B2C surveys are the most powerful tool when it comes to knowing how satisfied your customers are and identifying gaps in your sales funnel.
Not to forget the actionable insights you can gain to improve your products and services.
Also, it's quite straightforward. Just pick the right online survey tool and ask questions at the right time to the right people to get the information you need.
Want insights that improve experience & conversions?
Capture customer feedback to improve customer experience & grow conversions.