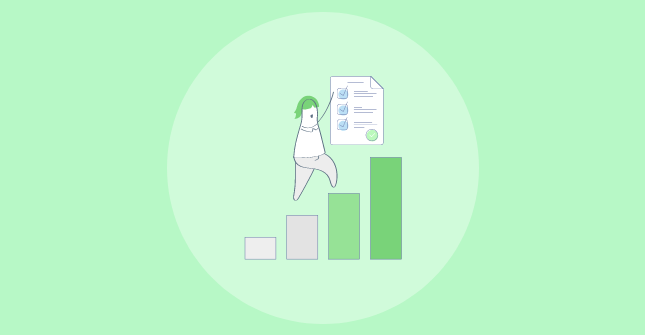 Conducting surveys and not generating enough responses is not unusual at all. Even the most savvy marketers deal with low response rates at some point of time in their career. This is where creativeness and out of the box thinking gets the job done.
Before you make necessary changes to your own survey, you need to have a proper understanding of why some surveys do not generate enough responses. Here are some of the most common reasons:
The survey is too long
The survey requires a lot of effort from the respondents
The survey is not relevant to the respondents
The motive behind the survey is unclear
There is no incentive for the respondents
Creating a survey is just the beginning, but influencing your customers to take the survey is where the real challenge lies. To ensure that your survey doesn't end up being just another marketing message that your customers receive everyday, we have curated some effective tactics in this article that you can easily implement to increase your survey response rates.
Let's dive in.
What's a Good Survey Response Rate?
The reason why surveys are so important is that they are extremely reliable and an accurate source of gathering critical data and insights from the users of a particular product or a service.
A survey response rate generally represents the percentage of people who took the survey out of all the people who were sent the survey. This is calculated by dividing the number of respondents by the total number of surveys sent, multiplied by 100.
But the important question is, what percentage is actually considered good in terms of response rate? According to PeoplePulse, the average survey response rate for online surveys is around 26.45% and it hovers around 41.2% for surveys with respondents under 1000. Genroe states that any response rate that surpasses over 25%, can be considered as good.
Even though researchers say that a response rate of 50% or more is considered excellent in most cases, it is far from being realistic because the responses tend to decrease as your invitation list increases. Therefore, businesses and organizations should aim for a response rate of 25% or more.
Importance of Surveys and Participation
At this point, you already know that surveys are a great way for people to get up to speed with how the customers in a given market perceive a particular product or service. But that's just the tip of the iceberg as there are several other advantages as well:
1. Surveys talk in numbers
The survey responses that you collect provide statistical data on how the customers feel about a product or service and to what extent. Surveys are more than just story-telling as they represent accurate opinions and behavior of the masses.
2. They help in benchmarking
Surveys are actively used by businesses to make critical decisions. These decisions are based on the statistical data provided by the surveys that allow organizations to set progression goals and benchmarks.
3. They are cost effective
Online and email surveys are some of the most cost effective ways of gathering user data. The total cost per respondent is almost negligible and even when you add the incentive, the overall cost would still be substantially less as compared to administering paper surveys.
4. They offer flexibility
When you account for all the ways you can conduct a survey, there are a plethora of them including: online surveys, mobile surveys, social media surveys, email surveys, paper surveys, telephonic surveys etc. You can always deploy different types of surveys based on the audience's characteristics, which makes them an extremely flexible choice.
5. They help analyze trends
By surveying your audience, you get a perspective of the bigger picture and also a clear understanding of the ongoing trends in the social world. This would allow you to stay ahead of the curve and understand hidden needs.
For instance, if a company's Net Promoter Score (NPS) ratings drop significantly, appropriate changes can be made to the website or the services the business offers, and benchmarks can be set to acquire ratings above a certain threshold.
If you would like to create your own NPS survey, we'd suggest taking a quick look at How to Create Net Promoter Score Survey with Qualaroo
---
One of the examples can be taken from Great Schools, an American non-profit organization that provides information about PK-12 schools and education. The company relies heavily on the direct customer feedback loop and has built their database on the ratings and reviews provided by the American users.
Let's have a look at how Great Schools deployed NPS ratings for the betterment American parents and their kids.
Case Study: GreatSchools
Founded in 1998, GreatSchools is an American national non-profit organization that created a school quality rating system based on the school resources, student outcomes and the ratings provided by the school residents.
The vision of GreatSchools is not to make profits, but to lead American parents, students, organizers, schools and policy makers towards a promising future by offering resources. Therefore, gathering information to expand their insights on educational needs and parents attitudes is always a challenge.
Non-profit organizations often struggle with gathering the resources needed to learn about the communities they intend to serve. On-site visits and user testing aren't always feasible or inexpensive, which adds up to the challenge.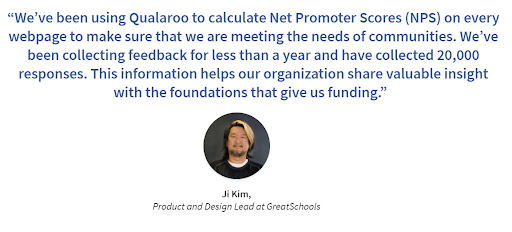 ---
By deploying Qualaroo to collect NPS on every webpage, GreatSchools was able to capitalize on fast feedback to make themselves as robust as any other commercial entity. Some of the questions that Qualaroo helped them answer were:
What are your goals?
Why are you on this particular page?
Why are you looking at this particular section?
Why is this information important to you?
What don't you like about this content?
Are you feeling confused, and if so, why?
As a result- GreatSchools collected more than 20,000 responses in less than a year, which helped their organization design a website that everybody preferred and share valuable insights with the foundation that provides them funding.
Now, moving on to the important bit, let's have a look at the tips that you can use to increase your survey response rates.
7 Tips to Increase Your Survey Response Rates
Before you start sending out the surveys, there are some important factors to keep in mind that would affect the overall response you receive from the audience. Here is a list of top 7 tips that you can implement in your surveys:
Create personalized survey templates
Be considerate towards respondent's time and keep the surveys brief
Give them a gentle nudge for participation
Make use of multiple channels to deliver surveys
Offer incentives to the respondents
Segment the customers and target the right audience
Do not be repetitive and over-survey the audience
Now let's go over each tip in detail.
1. Create personalized survey templates
When it comes to offering services and uplifting customer experience, organizations have been working increasingly hard to push boundaries and set new standards. This is why customers nowadays want personalized services from the brands and would not settle for anything less than that.
According to the research, over 70% of all the customers would prefer brands knowing them on a deeper level and providing services and experiences that are tailored to their needs. This evidently shows that incorporating personalization in every aspect of the surveys is now a necessity.
---
Using personalization techniques as simple as addressing the respondents by their first name and asking open-ended questions would proportionately increase the average survey response rates.
2. Be considerate towards respondent's time and keep the surveys brief
Consider this: Would you be interested in participating in a survey that asks never-ending questions, most of which are not even relevant to you? Most definitely not. Similarly, the survey respondents would never consider taking a survey that either consumes a lot of time or has nothing to do with what they are doing on the web.
---
This is something that can be easily fixed by knowing what to ask the customers and, most importantly, when. According to the data from Smart Insights, 23.6% of all email surveys are opened within the very first hour of sending them. And by the fourth hour, this rate drops to about 4.8%. This is the reason why the timing of the survey delivery is extremely important.
3. Give them a gentle nudge for participation
Customers don't normally consider participating in a survey as their top priority, and some of the respondents might even forget to participate after receiving the survey. This is the reason why giving your respondents a gentle reminder at regular intervals is necessary.
---
This can be done by setting up automated survey Nudges™, which would discreetly pop on the screen of the customers and remind them about their survey participation. This is a completely unobtrusive way of sending reminders that are known to increase the survey response rates without hurting the morale of the customers.
4. Make use of multiple channels to deliver surveys
The channel that you use to communicate with your audience is another crucial factor when it comes to surveys. Two of the most common and highly responsive survey channels include:
By doing so, the frequency of the surveys increases, and customers are more likely to participate, which they would have initially avoided or missed.
You can start posting your surveys on social media and integrating them on relevant websites, which would significantly increase your coverage and footprint over the internet. This way, you are essentially making the customers 'run into you' by already being available where they are likely to visit.
Watch: How to Collect Mobile App Feedback
---
5. Offer incentives to the respondents
Customers are more likely to participate in a survey when the reward for participation is worth the effort put in by them. Monetary rewards are known to increase the average response rate by over 19% and non-monetary rewards by almost 8%.
---
Incentives such as gift cards and raffles do increase the overall cost for the company, and people might even just rush through the surveys to get those incentives. Although, research suggests that 94% of the respondents claimed to have still given honest answers, even with the incentives on the line. This makes the increased cost for information gathering completely justifiable.
6. Segment the customers and target the right audience
To get the most accurate representation out of your survey data, you need to make sure that you only survey a specific demographic. By asking the right audience, you not only get precise information but also increase the response rate up to 14%.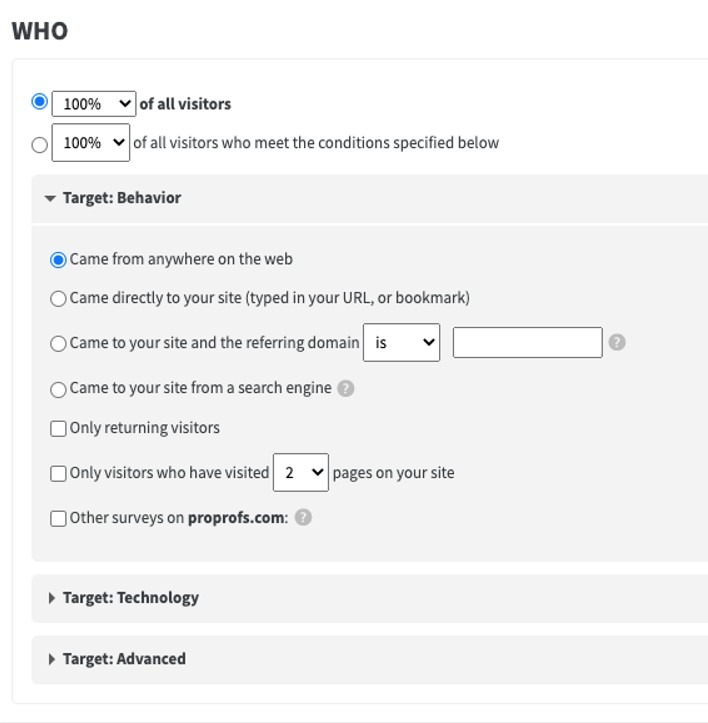 ---
You can also base your segmentation on the customer lifecycle stage, which would help your survey wisely target the right set of audience at the right time. Therefore, understanding the nature of your survey and the positioning of your customers is an important consideration.
There are several different ways you can target your customers for surveys. Here are some of them:
1. Targeting based on behavior
An effective way of targeting your respondents is through their online behavior. This would include factors like:
The website they came from
Number of times they visited
Search engine they use
2. Targeting based on location
Another way of targeting customers is by choosing a specific website or a page to display your survey on.
3. Targeting based on time
Choosing the timing of your survey is also crucial and here, you can decide when you want to display your survey to the respondents. You can time your surveys like this:
Immediately after the page loads
After a specific time period
When it looks like they might abandon the page
4. Targeting based on frequency
Targeting can also be determined based on the number of times a survey is displayed. This would include factors like:
Once per visitor
Continue showing until the respondent answers
Recurring survey after a stipulated time period
Watch: How to Segment With Advanced Targeting
---
7. Do not be repetitive and over-survey the audience
Increasing the frequency of the surveys is one thing, but over-surveying is another. Bombarding your audience with the surveys will only end up alienating them instead of generating any meaningful response.
---
Collecting feedback from the customers at every touchpoint is extremely frustrating from the customer's perspective, which is why you should thank the customer at every step and set parameters for the surveys to only pop up after a set duration.
You should also use survey throttling to stop particular surveys from popping up again for the same customers. By doing so, you would allow the customers to take their time and process all the information, along with making them curious about survey participation.
Bonus Tips to Generate Good Survey Response Rates:
1. Only ask questions that your audience can relate to or have information pertaining to that subject. Here is a list for some of those questions:
Where exactly did you first find out about us?
What search term did you use to find our website?
Does this page meet your expectations?
2. To get a better understanding of the survey questions, feel free to take a look at this survey question library.
3. Keep the questions to a minimum, without compromising any information. For example, if you are able to gather all the needed information from 5 questions, don't include any more questions that could be redundant.
4. Use skip-logic to quickly send the respondents down the right path. This would allow you to eliminate responses that add no value to your results.
5. Make use of short questions and mainstream vocabulary for easy understanding.
6. Use small incentives for each respondent instead of big incentives for some.
7. Be transparent towards your audience and let them know how the data would be used.
8. Tell the respondents why you chose them for the survey.
9. Allow the respondents to compare their responses with their peers.
---
Case Study: University of Alberta
The University of Alberta had its own news section, which generated almost 50,000 unique page views every month. Although the number of subscribers for the news did not increase and at 500 subscribers in a year, they were nowhere near representing the page views. Even the call to action did not bear any results.
---
So UAlberta implemented Qualaroo Nudges™, which included a prompt to appear to every viewer who stays for more than 10 seconds. The prompt asked the users if they would be interested in signing up for the newsletter.
---
The results only took a day or two to show up and the total subscriber list grew by almost 500% within the span of a year.
Survey Mindfully
When you're planning to deploy a survey, always be mindful of the nature and components of your survey. Having a better understanding of your survey and the audience would allow you to make the best of the given opportunity.
Also, if you are looking for a survey tool for yourself, make sure to check out Qualaroo. It's a highly intuitive survey tool that gives you contextual customer insights. With Professionally Built Templates paired with features like Branching Logic and Exit Intent Surveys, it is the most comprehensive surveying tool that you will ever need.
Want insights that improve experience & conversions?
Capture customer feedback to improve customer experience & grow conversions.