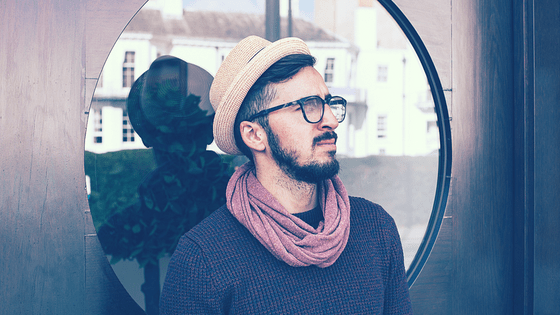 When you work on your product every day, it's easy to design for a better product, not necessarily a better user experience. There are many dangerous assumptions lurking around our natural human tendencies to believe that what is good for us is good for the customer. But how does a company go about getting into the mindset of its users? It turns out user feedback plays a huge role.
Understand Their Needs Throughout the Life Cycle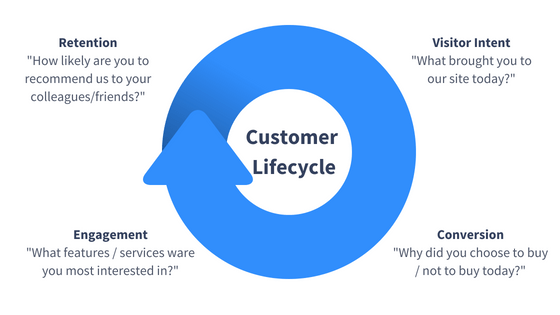 For user feedback to have a real impact on a company, it's simply not enough to survey existing customers after customer service interactions and call it a day. A good user experience team should understand as much as possible about the customer in all stages of their journey. Why? Because there are many uses for such specific knowledge:
Understanding customer intentions by prompting first-time visitors with a simple "Why are you here today?" can help define messaging as well as provide attribution for direct load population.


Contextualizing conversion behaviors with questions specific to a certain type of action can help your team find missing pieces or pain points within landing pages or the flow of the sales funnel.


Pulsing users with net promoter–type questions over their life span as a customer can reveal whether they are an active promoter or detractor.

Understanding users throughout their journey requires different questions and approaches—you need to gain a complete picture of all the types of users engaged with a business at any one point.
Practice Empathy
When it comes to consumer feedback, gathering data isn't the problem. Michael Ventura, CEO of Sub Rosa and author of Applied Empathy: The New Language of Leadership, explained the importance of empathy in an interview with Forbes.
"All of these CMOs and organizations have massive data lakes with more data than they will ever be able to go through," Ventura said. "So, in some respects, the only way they're going to be able to make informed decisions is to use empathy to understand their data."
Empathy is what allows a company to actually apply what it learns about its users in order to grow and adapt to their needs. Gathering qualitative data from consumers about their behavior, preferences and intentions is key to walking a mile in their proverbial shoes, which can lead your company to make good decisions.
You Are Not Your Users
No matter how diverse, how talented, how open-minded the UX team is, they are not the users. Only the users are the users. When a product management team is living in the product, it's very tempting to make assumptions about the user experience. The dangers of things like the false consensus effect are real and tangible.
Knowing a product inside and out does not correlate to knowing a user inside and out. The two are completely separate bodies of knowledge but must work together to achieve a successful product and consumer relationship. This is why "you are not your users" has become something of a mantra in the user experience field and is good advice to heed.
Observe
One of the best ways to find out how a user is interacting with your site is to simply watch them. Visits to a user's environment to see exactly how they get along with your tool can yield invaluable feedback. An attentive user experience professional not only sees what a person is doing on screen, they can also read the body language and facial expressions that further explain how that person feels.
However, in-person observation may not be feasible for smaller companies. Tools like FullStory can help designers get page insights and even have live co-browsing sessions to observe what people are doing. Observation can provide a window into the user's mind, and it's invaluable to a user experience team because it cuts out a lot of the guesswork involved with understanding user data.
Be Timely in Applying Feedback
After all this effort to collect the right feedback from the right user at the right time, wouldn't it be a shame to have to throw it out the window and start from scratch? Unfortunately, this is a frustrating reality for many companies.
User feedback is a perishable item, which must be activated as quickly as possible to retain its value. Acting on out-of-date feedback can result in poor decisions, such as Blackberry doubling down on the physical keyboard even though consumers had begun switching to the digital alternative of Android and iPhones. Feedback can start to go stale as soon as there are changes to your product, the competitive landscape or your audience's behavior. Acting on current feedback that's still relevant to your audience is key to creating the best outcomes for your users.
Want insights that improve experience & conversions?
Capture customer feedback to improve customer experience & grow conversions.