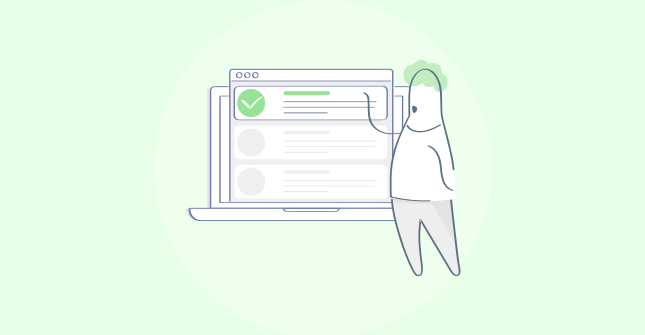 Finding the best help desk software for your business is not as easy as spotting the sun on a clear, bright day.
You have to visit dozens of product websites, endlessly scroll through product reviews, decode pricing terms and conditions, consult your service experts, and whatnot. Moreover, with every company claiming their tool is the best, the job only gets more complicated.
The good news?
There are some competent help desk system options to choose from. The right help desk software can help you track support tickets, get to the button of every issue, enhance team productivity, and monitor how happy customers are with your process.
This blog will teach you everything you need to know about the various benefits, types of help desks and provide an in-depth look at the 10 leading help desk software solutions for 2021.
Let's do this.
What is Help Desk Software?
Help desk software helps you enhance the quality of your customer service operations. Agents can capture requests or issues from multiple channels such as email, phone, live chat, web forms, knowledge base, etc., and track their progress until they are resolved. You can organize support conversations in one place, offer assistance in real-time, and allow customers to find relevant answers using a self-service portal.
What's more, the best help desk software helps managers analyze performance by tracking customer service metrics and KPIs. You can monitor metrics such as ticket resolution time, first contact resolution, ticket backlogs, open tickets, and more. You can even share surveys with customers after every service interaction and monitor customer satisfaction using tools like Qualaroo.
Read More: Help Desk Software Features
What Are the Important Features of Help Desk Software?
While there are hundreds of features you can find in any tool, some features form the core of your process, let's explore some of the top help desk features in detail:
1. Cloud Storage
Cloud-based help desk software comes with many benefits that can help your business reduce costs and delight customers. Rather than investing in purchasing expensive servers or software licenses, you just pay a monthly subscription fee per agent.
Also, you don't need to worry about maintenance, security, or data backups as the help desk vendor handles these. Whether your agents work at the office or home, they can access all help desk features anytime and anywhere.
2. Internal Collaboration
Customer service is not a one-person job and requires a team effort. This means that you need to offer your agents the right platform to discuss ideas, share suggestions, and help each other out. The best service desk software offers robust internal collaboration features so that your team is always on the same page.
For instance, agents can discuss tickets among themselves using internal notes, break complex tickets into multiple child tickets, and create canned responses for faster replies.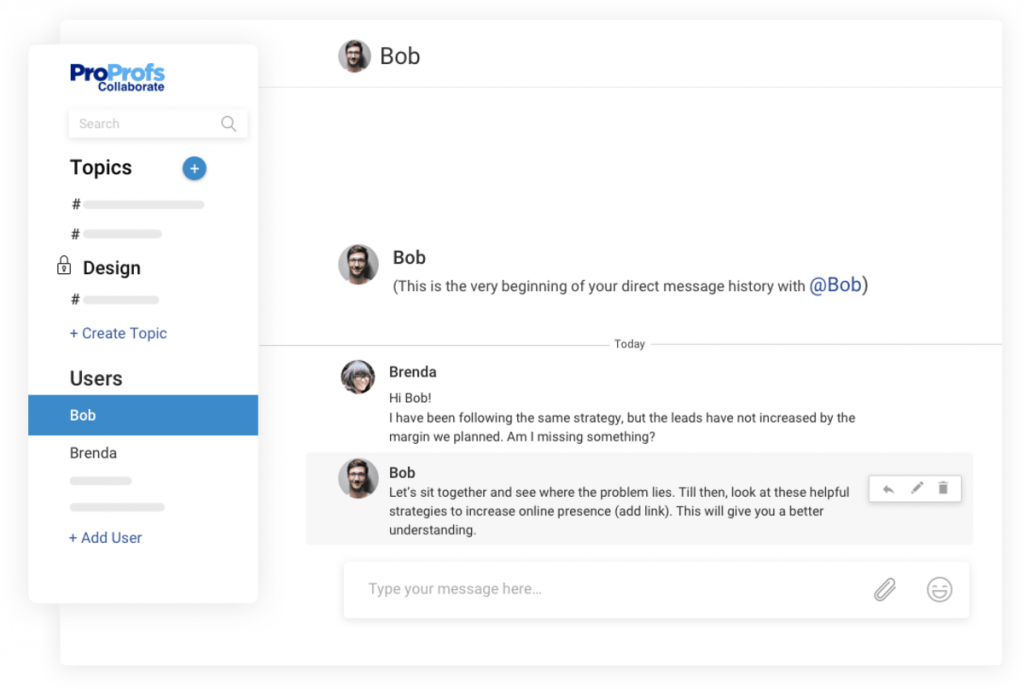 3. AI-Powered Chatbots
Chatbots may seem like a premium feature that can cost a lot. But the best help desk software allows you to develop your own chatbots at a nominal cost. Intelligent bots can be used to interact with customers and answer their basic questions related to product availability, price, return policy, delivery time, and more.
In addition to customer assistance, bots can be used to generate reliable leads on your website and close more sales opportunities.
4. Self-Service Knowledge Base
A self-service knowledge base is one of the most fundamental features of popular help desk ticketing systems. A good knowledge base consists of a collection of FAQs, help articles, video tutorials, guides, and other forms of content that can help customers resolve their queries on their own.
For business owners, it can help you reduce your support ticket volume and service costs. Instead of responding to similar customer questions, agents can dedicate their time and effort to resolve urgent issues.
5. Help Desk Metrics
A lot of businesses are clueless when it comes to measuring the performance of their customer service team. However, with the right ticketing system, you can track key performance indicators (KPIs) and metrics that help you identify anomalies in your process and see what is working well.
For instance, you can generate reports that help you measure your average ticket response time. By consistently tracking and improving this help desk metric, you can enhance agent productivity and improve the customer experience.
Read More: 15 Help Desk Metrics to Improve Customer Support
What Are the Types of Help Desk Software?
In order to find the best help desk software for your business, you need to know about the various types that are available. Let's look at the four different types of help desk systems that can transform your business:
1. SaaS-Based Help Desk: A SaaS-based or cloud-based help desk software is offered as a service where you do not have to make any heavy investments upfront. Your help desk system is hosted on the cloud and can be accessed by agents on multiple devices such as desktop, tablet, laptop, or mobile. The vendor takes care of factors such as data security, backups, and maintenance.
2. On-Premise Help Desk: An on-premise help desk is hosted by a business on its own server. You get complete ownership of the software after buying the license for the same. Although this type of tool is known for a one-time setup cost, your business will need to hire a separate team for maintenance and data backup.
3. Enterprise Help Desk: As the name suggests, enterprise help desk software is designed to meet the requirements of enterprises and large support teams. This tool offers the best scalability, where you can easily expand your business and support thousands or millions of customers.
Features such as inventory management, multi-brand help center, and powerful automation give this tool a unique advantage.
4. Open-Source Help Desk: This is usually a free help desk software that gives users access to its source code. This means that your developers can take it as a project and build more features that can help you meet your business goals.
For instance, you can get rid of bugs, add more integration possibilities, enhance reporting capabilities, etc., and create a tool that works the best for your business.
List of 15+ Best Help Desk Software for 2021
Looking for the best help desk tools? Your search ends right here! After diligent research and comparison, we have curated this help desk tools list to help you make a better decision.
1. ProProfs Help Desk

ProProfs Help Desk tops the list of best free help desk software as it offers rich features without burning a hole in your pocket. You can manage multiple customer-facing shared inboxes such as support@, contact@, returns@, etc., in one place and give 360-degree visibility to your agents.
Unlike other tools, ProProfs comes as a complete customer service package. In addition to a ticketing system, you get a knowledge base, live chat, survey maker, and more capabilities. Your team members can collaborate in real-time by using features such as private notes, parent-child ticketing, and canned responses.
Top Features of ProProfs Help Desk:
Deploy intelligent chatbots to assist customers and generate more sales leads
Avoid multiple agents working on the same ticket with agent collision detection
View past support conversations at a glance and get all the context you need
Monitor ticket resolution time, customer satisfaction, and other help desk metrics
Add a support form to your website and enable visitors to raise issues instantly
ProProfs Help Desk Plans Include:
Forever Free: Forever free with limited features
Essentials: Starts at $10/agent/month
Premium: Starts at $15/agent/month
---
2. Zendesk

When we talk about modern help desk systems, the popularity of Zendesk overshadows all. The company provides a highly scalable solution that offers your team all the features and customer information they need in one place. You can have a seamless conversation across channels such as messaging, live chat, social media, voice, etc.
Zendesk offers robust automation features that help your team get more done in less time. You can even leverage AI-powered bots to help customers find relevant help and ensure that agents don't have to repeat themselves often. The tool comes with a 14-day free trial, but there is no forever free plan offered for users.
Top Features of Zendesk:
Build a dedicated knowledge base and reduce incoming service requests
Understand how customers interact with your business and improve their experience
Leverage pre-built reports for all your customer service channels
Create a community forum where customers can get together and collaborate
Integrate with third-party applications and enhance help desk performance
Zendesk Plans Include:
Suite Team: $49/agent/month
Suite Growth: $79/agent/month
Suite Professional: $99/agent/month
---
3. Freshdesk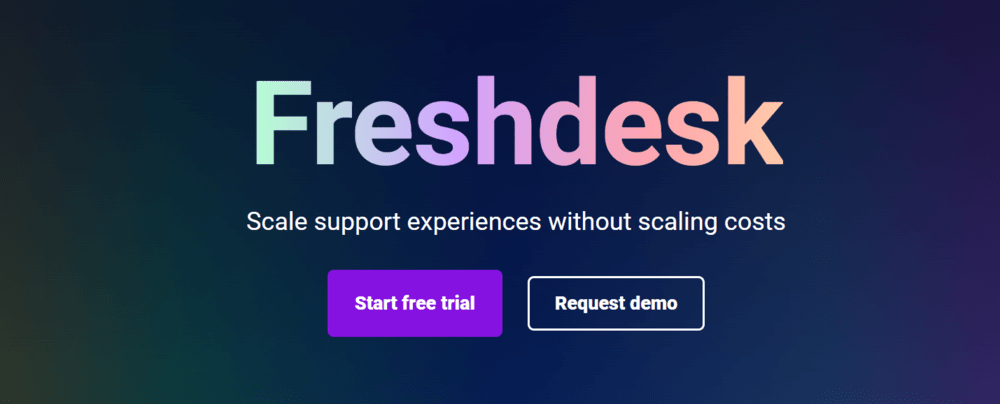 Freshdesk is one of the most used help desks that allows your business to engage in more meaningful conversations with customers across multiple channels. Your business can even launch AI-powered chatbots to easily guide customers in finding the right answers to their problems or queries.
If a phone is your top priority channel, then Freshdesk has a lot in store for you. Your agents can get a 360-degree view of the customer and hold meaningful conversations. You can leverage powerful routing engines that dramatically reduce call wait times and achieve faster escalations.
Top Features of Freshdesk:
Prevent reopening of support tickets when customers reply with a thank you
Create pre-formed replies or canned responses and resolve issues quickly
Share the ownership of tickets with other teams and get their valuable suggestions
Manage your company's Twitter and Facebook messages or mentions
Track time spent by agents on the field and log billable hours
Freshdesk Plans Include:
Sprout: Free for unlimited agents with email and social ticketing
Blossom: $15/user/month
Garden: $35/user/month
Estate: $49/user/month
---
4. Zoho Desk

Zoho Desk is another top help desk system that helps your business use the power of customer context to improve the quality of support conversations. Agents can easily interact with customers across popular channels such as email, chat, social media, phone, website and resolve cases without breaking a sweat.
If your team is struggling to support global customers due to differences in time zones, you can create a self-service portal that covers frequently asked topics. This allows your business to offer 24×7 uninterrupted support. You can even embed a live chat widget on your help center so that if customers are not able to find the relevant solution, they can chat with your agent.
Top Features of Zoho Desk:
Create a vast online community of customers and allow them to interact with each other
Integrate with Zoho CRM and give agents all the context they need
Share automated notifications to inform customers about their ticket's progress
Create service level agreements (SLAs) and track their violations
Map your help center to your business domain and keep your brand voice intact
Zoho Desk Plans Include:
Free: Forever free plan, limited to 3 agents
Standard: $12/agent/month
Professional: $20/agent/month
Enterprise: $35/agent/month
---
5. Spiceworks

Spiceworks offers a cloud-based helpdesk solution that can help you manage IT tickets and tasks in no time. Since your help desk is stored in the cloud, you don't need to worry about server procurement, backups, or even maintenance.
With Spiceworks, agents can easily track IT incidents, reply to tickets, add private comments and close them without delay. You can even create custom fields to track additional information that is relevant to your business. Create a customizable user portal for employees and customers and allow them to track the progress of their tickets.
Top Features of Spiceworks:
Automatically assign tickets to agents and track progress
Share support tickets with other team members and resolve issues faster
Generate reports and view team performance metrics at a glance
Track new tickets and calculate your first response time
Allow customers to share questions, ideas with others on the Spiceworks community forum
Spiceworks Plans Include:
Spiceworks is available free of cost for all users.
---
6. HelpScout

Help Scout is undoubtedly one of the best helpdesk tools that come with a robust shared inbox feature. You can easily create multiple shared inboxes for different teams, email accounts, brands and ensure everyone is on the same page.
Help Scout takes team collaboration to a whole new level. Agents can discuss tickets before replying using private notes with @mentions. They can even create a vast library of shared replies and insert them into tickets in seconds.
You can also assist customers or close a sale in real-time with the help of live chat. In case no team member is available to take chats, customers can be routed to email without wasting time.
Top Features of Help Scout:
Easily add text, images, hyperlinks, videos, and tables to help articles
Onboard new customers and offer proactive support with triggered-messages
Generate reports on total conversations, busiest hours and measure performance
Avoid duplicate conversations with the help of the agent collision detection feature
Track ticket volume by channel – email, chat, or phone
Help Scout Plans Include:
Standard: $20/user/month
Plus: $35/user/month
Company: Price available on request
---
7. Jira Service Management

Jira offers a robust IT service management tool that can be used to track IT requests and incidents. Whether you are a small business trying to track incoming issues or an enterprise looking to strengthen your support operations, Jira has relevant features to help you reach your goals.
Jira offers the right platform for real-time incident management. You can track every incident, escalate incidents to development or ops teams, and encourage interdepartmental collaboration. In addition to this, you can track the complete lifecycle of your IT assets and allow agents to access asset details from Jira tickets.
Top Features of Jira Service Management
Submit, approve, and resolve tickets quickly using the Jira mobile apps
Set multiple SLA (service-level agreement) policies as per your requirements to keep track of deadlines
Create an employee self-service portal and reduce your internal ticket volume
Leverage customer satisfaction reports for improving the customer experience
Integrate with Slack and Microsoft Teams for better internal collaboration
Jira Service Management Plans Include:
Free: Forever free for up to 3 agents (with limited features)
Standard: $20/agent/month
Premium: $40/agent/month
Enterprise: Available on request
---
8. Vision Helpdesk

Vision Helpdesk is another remarkable tool that deserves to be on this help desk software list. The tool enables your customer support representatives to receive, process, and respond to incidents or service requests. With its multi-channel capabilities, you can centralize all your support conversations taking place over email, web portal, Facebook, Twitter, phone, or chat.
Vision Helpdesk's multi-language feature helps you translate both staff and client portals in multiple languages, including French, German, Spanish, etc. This allows end-users to find solutions in their language and helps your business support customers across the globe. In addition to this, agents can offer timely responses and resolve issues in the given turnaround time with robust SLA management.
Top Features of Vision Helpdesk
Gamify your process by setting up agent achievement levels and quests
Allow your agents to record the time they are spending while solving a certain ticket
Create a multilingual client portal and assist customers from across the globe
Automatically suggest knowledge base articles to customers
Create SEO-optimized help articles to improve search engine visibility
Vision Helpdesk Plans Include:
Starter Help Desk: $12/agent/month
Pro Help Desk: $20/agent/month
Satellite Help Desk: $24/agent/month
---
9. HappyFox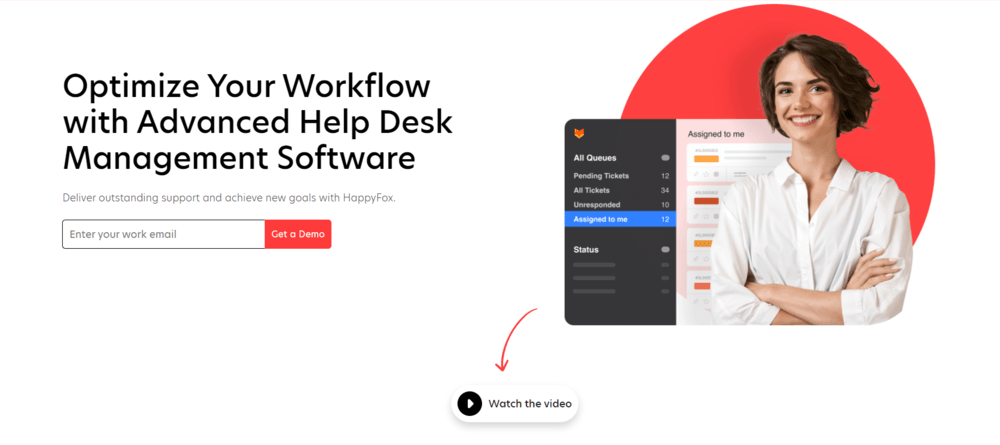 HappyFox helps you improve customer service by combining the power of a robust support ticket system, self-service knowledge base, and community forums. Your business can easily convert phone, email, chat, and other customer conversations into tickets and keep them well organized in a central place.
HappyFox's intelligent help desk automation helps your team get more done. For instance, you can create smart rules that dictate the course of action for support tickets and improve your workflow. It offers support for 25+ languages so that help desk agents can view their dashboard in the language of their choice.
Top Features of HappyFox:
Create a multilingual knowledge base and support your global audience
Send customer satisfaction surveys and improve the support experience
Generate agent activity reports to individual performance and SLAs
Onboard new agents faster with the help of an internal knowledge base
Receive automated email notifications about help desk activities
HappyFox Pricing:
HappyFox provides four subscription plans- Mighty, Fantastic, Enterprise, and Enterprise Plus. However, if you wish to receive the pricing details, you'll need to request them on their website.
---
10. Jitbit Help Desk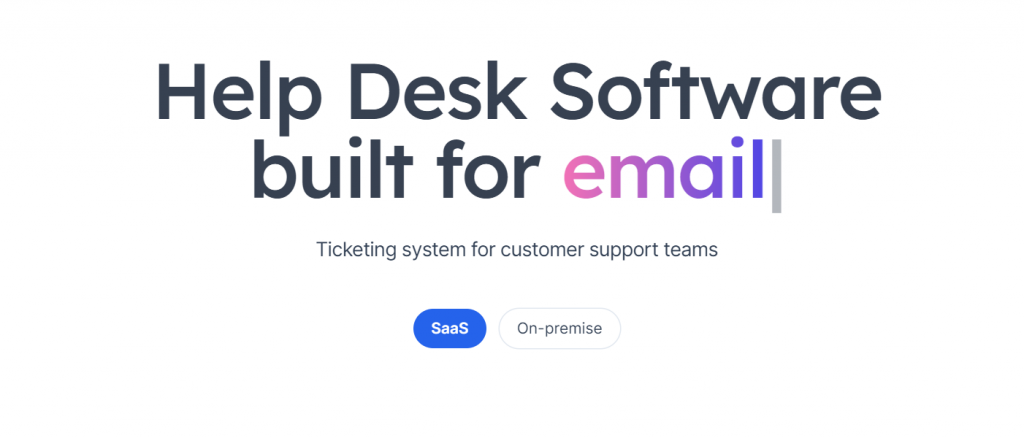 JitBit offers a ticketing system that is easy to use and can be set up in minutes. Simply forward your emails to the help desk app and start resolving support tickets. Based on your team size and business requirements, you can either choose the SaaS (software as a service) version or the on-premise version and start offering 24×7 support to customers.
JitBit offers free mobile applications for both Android and iOS users. This means that agents can support customers even when they are not at their desk – they can view tickets, assign agents, update ticket details or attach files. You can even automatically suggest relevant Knowledge Base articles to customers while they're typing.
Top Features of JitBit
Assign IT assets to tickets and track company-wide inventory
Enjoy built-in integration with Slack, Dropbox, Github, Google Drive, etc.
Use reports to understand your top-performing knowledge base content
Divide a complex ticket into multiple sub-tickets and assign them to different agents
Customize your help desk interface by adding your own logo, colors, and fonts
JitBit Plans Include:
Freelancer: $29/month (1 user)
Startup: $69/month (up to 4 users)
Company: $129/month (up to 7 users)
Enterprise: $249/month (up to 9 users)
---
11. Intercom
Intercom offers a non-conventional platform called Conversation Support that is packed with features you cannot ignore. The platform is famous for its messaging feature that works in-app, online, and on mobile to help your team offer faster support.
Intercom helps you create chatbots that are powerful enough to resolve your customers' repetitive questions or requests. You can even encourage self-service by publishing great-looking and information-rich help articles.
Top Features of Intercom:
Share proactive messages with customers when unanticipated events occur
Develop powerful chatbots without any coding expertise
Produce and share compelling help content with easy-to-use publishing tools
Enhance the onboarding experience with insightful product tours
Leverage chat history which is saved for both customers and your team members
Intercom Plans Include:
Start: $59/month (includes 1 seat)
Grow: $119/month (includes 5 seats)
Accelerate: $499/month (includes 10 seats)
Scale: $999/month (includes 10 seats
---
12. HelpDesk
HelpDesk is another popular ticketing system that is known for its powerful shared inbox and other email ticketing features. The tool makes it super-easy and fun for you to convert emails into tickets and track all conversations in one place.
Your team can collaborate in real-time using features such as private notes, assignment rules, and team mailboxes. HelpDesk allows you to create automated workflows to accelerate your processes and achieve your daily tasks even faster. For instance, agents can get new ticket notifications even when they are not logged in to their system.
Top Features of HelpDesk:
Create canned replies for different situations and speed up your response time
Spot peak times when your team receives more messages than usual
Create personalized signatures to share emails that are friendly and professional
Check what you've already talked about using the ticket history
Integrate with Shopify, Salesforce, and other popular tools
HelpDesk Plans Include:
Starter: $4/agent/month
Team: $19/agent/month
Enterprise: Available on request
---
13. Team Support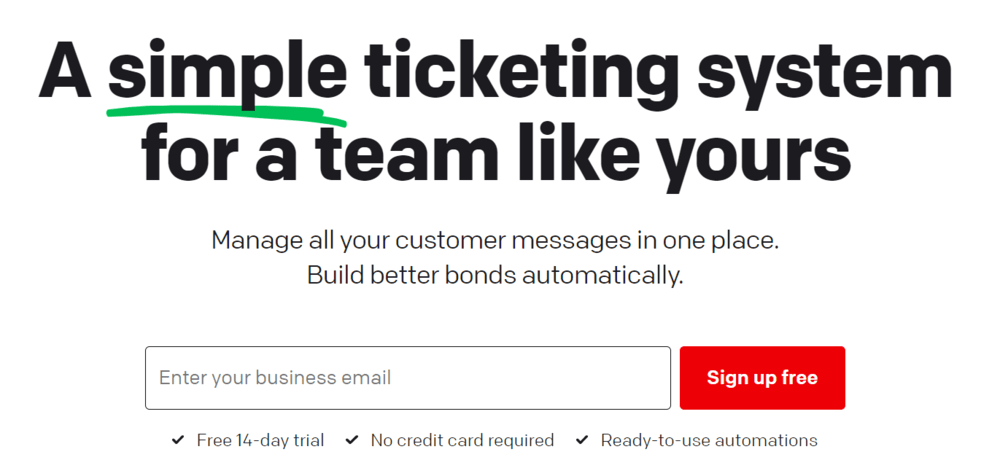 TeamSupport is a popular B2B customer support solution that helps organizations build long-term customer relationships. In addition to effective ticket management, you get all the features to streamline support issues, enhance internal collaboration, and provide an omnichannel experience to customers.
You can use this tool to consolidate all the communications you have with your customers. This puts you in a better position to gain rich insights into user sentiments and identify critical issues or opportunities.
Top Features of Team Support:
Easily assign customer support tickets to individuals as well as groups
Communicate in real-time with team members about tickets, customers, or products
Plan your tasks and tickets better with Team Support's integrated calendar
Create reports to understand which customers are contacting you again and again
Monitor customer satisfaction and the overall customer health
TeamSupport Plans Include:
Support Desk: $50/agent/month
Enterprise: $69/agent/month
---
14. LiveAgent

LiveAgent offers an intuitive help desk software that helps you track customer service emails, live chats, phone calls, and more. In fact, you can even monitor your social media messages and mentions on Twitter and other social media platforms.
With the help of gamification features, you can keep your team motivated and engaged. LiveAgent also allows you to share proactive chat invitations with your target audience members who are scrolling your website. You can distribute tickets among team members or assign them to different departments.
Top Features of LiveAgent:
Create internal notes inside tickets to discuss complex issues with other agents
Identify, reward, and appreciate your top-performing help desk agents
Merge multiple tickets that are similar in nature into a single ticket
Create email templates to speed up different types of communications
Generate SLA reports and see how well your team is meeting customer expectations
LiveAgent Plans Include:
Free: Forever free plan with limitations
Ticket: $15/agent/month
Ticket + Chat: $29/agent/month
All-Inclusive: $39/agent/month
---
15. Web Help Desk

Web Help Desk is another popular tool that is known for its affordability and asset management capabilities. With the help of SLA notifications and reminder alerts, you can ensure agents are always on their toes and know when they need to respond to customers.
With its IT asset management capabilities, you can discover and manage all your hardware and software assets in one place. In addition to this, you can centralize knowledge management by creating a vast knowledge base for your customers from across the globe.
Top Features of Web Help Desk:
Create and maintain knowledge with a built-in help desk knowledge base
Automate request management through ticket creation, assignment, and escalation
Leverage built-in asset discovery, inventory management, as well as reporting
Manage change requests and minimize their impact on your business
Share automated surveys with end-users and monitor customer satisfaction
Web Help Desk Plans Include:
Starts at $367/year (for up to 5 users )
16. Hiver

If you're looking for an easier and more intuitive way to manage customer support, check out Hiver – the world's first helpdesk built for Google Workspace.
Hiver lets you streamline customer support queries arriving in your shared inboxes such as support@ and help@. Using Hiver, support agents can assign customer queries as tasks, track them in real-time till the point of resolution, and collaborate internally – eliminating Ccs and forwards.
Hiver fits intuitively within Gmail's native interface and therefore, customer support teams don't have to spend time and effort in learning new software. Moreover, support agents don't have to constantly switch tabs since they can manage work emails as well as customer queries from the same place.
In addition to email support, Hiver also offers Live Chat using which companies can interact with their website visitors and provide real-time support – again, from within Gmail.
All of this makes Hiver a reliable multichannel helpdesk within the Google Workspace ecosystem.
Top Features of Hiver:
Works within Gmail
Assign customer queries to support agents in a single click – ensuring every query has a dedicated owner
Advanced analytics to track key support metrics such as first response time, and more.
Automate your workflows and repetitive tasks
Setup and manage SLAs to ensure your team responds promptly to customer queries
Hiver Plans Include:
Lite: $15/month/user
Pro plan: $39/month/user
Elite plan: $59/month/user
---
How to Choose the Right Help Desk for Your Company
Does the prospect of choosing the right help desk tool seem daunting? Don't worry; you are not alone.
To select the best-of-breed help desk software, there are some best practices you can follow.
Identify the problems you wish to solve: Initially, your focus should be on the problem and not the technology. For instance, if you have a small customer base, there is no point in going for a tool that offers complicated features that you don't even need. Sit with your team, discuss your problem areas, and make a list of features to solve them.
Avoid going after the latest "buzzy" tool: Many businesses fall into the trap of going after a tool that is somehow trending in the market. Just because a help desk tool has got the attention of a lot of business owners, it does not necessarily mean that it is the right fit for your business.
Understand the total cost of ownership: To work within the budget, you need to get a clear picture of your total costs by answering these questions.
What are the plans offered by the vendor?
What can be the cost of deployment?
How much time and money will go into agent training?
The answers to these questions will help you create a transparent process and make informed decisions.
Comparison of Top Help Desk Tools
| | | | | | | | | |
| --- | --- | --- | --- | --- | --- | --- | --- | --- |
| Software | Price | Forever Free Plan | Shared Inbox | Multi-channel Communication | Alerts & Escalations | Live Chat | Self-Service Portal | IT Help Desk |
| ProProfs Help Desk | $10/month | Y | Y | Y | Y | Y | Y | Y |
| Zendesk | $49/month | N | Y | Y | Y | Y | Y | Y |
| Freshdesk | $15/month | Y | Y | Y | Y | Y | Y | N |
| Zoho Desk | $12/month | Y | N | Y | Y | Y | Y | N |
| Spiceworks Help Desk | $0/month | Y | N | Y | Y | N | Y | Y |
| Help Scout | $20/month | N | Y | Y | Y | Y | Y | N |
| Jira Service Management | $20/month | Y | N | Y | Y | Y | Y | Y |
| Vision Helpdesk | $12/month | N | Y | Y | Y | Y | Y | Y |
| HappyFox | $24/month | N | Y | Y | Y | Y | Y | Y |
| JitBit | $29/month | N | N | Y | Y | Y | Y | Y |
| Intercom | $59/month | N | Y | Y | Y | Y | Y | N |
| HelpDesk | $4/month | N | Y | Y | Y | Y | Y | N |
| TeamSupport | $50/month | N | Y | Y | Y | Y | Y | Y |
| LiveAgent | $15/month | Y | Y | Y | Y | Y | Y | N |
| Web Help Desk | $367/year | N | Y | Y | Y | Y | Y | Y |
---
Delight Customers With the Best Help Desk Software
Around 54% of all customers globally say they have higher customer service expectations than they did just one year ago.
It is clear that customers want your business to buckle up and resolve their issues on priority. The best help desk software can be the only tool your team needs to achieve this goal. The trick is to pick the right tool that not only meets your current needs but can also scale quickly as your business grows.
Consider the tools mentioned above, and we are sure you will find the one that matches your workflow and fits perfectly into your company culture. Remember, before you opt for a paid plan, it is important to go for a free trial and evaluate the features yourself. So are ready to offer delightful support experiences?
Want insights that improve experience & conversions?
Capture customer feedback to improve customer experience & grow conversions.