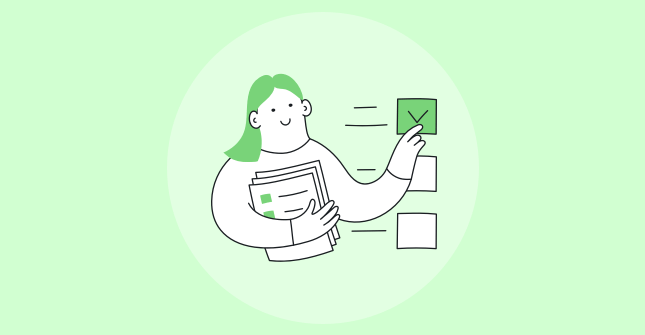 There are different challenges present at every stage of a SaaS startup's growth. If you're a founder, you know that overcoming one hurdle only leads you to another, and another, and another.
When you're building a company, the roadblocks never end — they just change.
But the good news is that keeping a keen eye on customer feedback can help you overcome these hurdles faster — and give you actionable data to drive yourself through any roadblocks you face.
To go ahead, you'll need to understand how this works as per the phases of startups that work as a pyramid.
The first stage is Product/Market Fit, where companies hone their niche and the solution they offer to their customers.
After that, they make sure that their business is scalable in the Transition to Growth Phase.
In the Growth phase, they expand.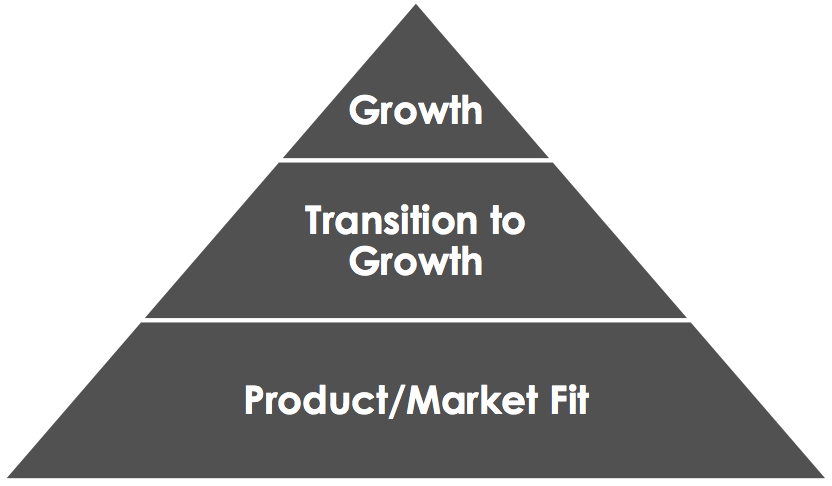 ---
Building on this, we put together a list of customer survey questions you can ask for gathering actionable customer feedback to grow your SaaS business.
You can use surveys as a growth engine, no matter where you are in the SaaS business pyramid. Product survey questions are beneficial not only for startups but established businesses too.
Check out our 13 'smart' survey questions to ask your customers (plus a few bonus survey question' examples). Make sure you customize them according to your startup's needs!
Question 1: How would you feel if you could no longer use our product?
Survey.io created a litmus test for measuring product/market fit. The test calculates the percentage of users (who respond to your survey) that need your product.
According to the test, you've achieved product/market fit if over 40% of users say they'll be "very disappointed" if they couldn't use your product anymore. To use Survey.io's metric, ask this question, using these multiple-choice answer options: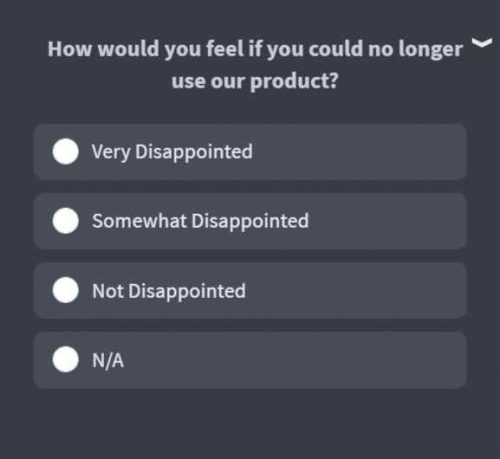 ---
Why does this question matter?
If 40% of your respondents or more choose "Very disappointed," you've solved a problem in their everyday life. They need your product (for example, Slack achieved 50% "Very disappointed").
If less than 40% of respondents choose that option, you know you've got work to do—and you have a measurable understanding of how far you need to go and how significant the adjustments you need to make to your product.
Question 2: What can we do better?
Getting feedback about how you can serve your customers is key to establishing product/market fit or how you can best solve those pain points. But first, it's best to ask business survey questions with an open-ended answering option.
It's hard to know what you don't know—so making guesses for multiple-choice boxes probably won't get you too far.
Why does this question matter?
Once you start to see a pattern in your open-ended survey results, you can use multiple-choice surveys to collect more responses and sharper information about the problem.
For example, if a few customers responded "Bad UI" in your survey box, it doesn't tell you what was wrong with the UI. Using an additional online survey tool will help you hone in on the problem.
---
Question 3: What was the purpose of your visit today?
This question lets you check in on your product/market fit and gathers data on how to expand it. This form should be open-ended. If visitors are coming to your website looking for a solution to an unexpected problem, it can help you identify holes in the market.
Why does this question matter?
There might be a whole customer base out there with needs unmet, looking for you to build a single feature on your pre-existing product. It is important to setting up your LLC & it is really easy.
Investor Ben Horowitz points out that achieving a permanent product/market fit is a myth because markets change dramatically over time. As you acquire new customers, your product/market fit could be changing drastically under your nose.
Question 4: Were you able to complete the purpose of your visit?
This one is different from "What was the purpose of your visit today?" because there's a difference between what you know your product can do and what your customers think it's capable of.
Qualaroo worked closely with "I Done This" to map their path to success. Qualaroo created a survey that asked "I Done This" users why they signed up for the free trial. Check out in detail how they did this.
For example, suppose you've got potential customers coming to your site looking for heatmaps in your analytics program, and you already offer them. In that case, you need to change your marketing materials to better or represent your product to your widening audience.
Why does this question matter?
These question answers can also help you expand your customer base by gauging your visitors' ability to get what they want from your site and fixing SEO elements, like optimizing your site for a certain browser or mobile use.
Question 5: Would you like more information?
You can ask customers this question to gauge their interest in your products or services. It leads prospects further into the sales funnel where you can provide them with more information and turn them into customers.
Why does this question matter?
This question can be asked at various stages of a buyer's journey and at different touchpoints.
Asking this information opens up the doorway to conversations that improve the customers' understanding of your offerings and shows you whether the existing information being offered is sufficient or not. When you're asking a customer if they'd like more information, you can use Qualaroo's delightful micro surveys. They're a non-intrusive way to gather data on your expanding customer base and open up further communication channels to gather their feedback.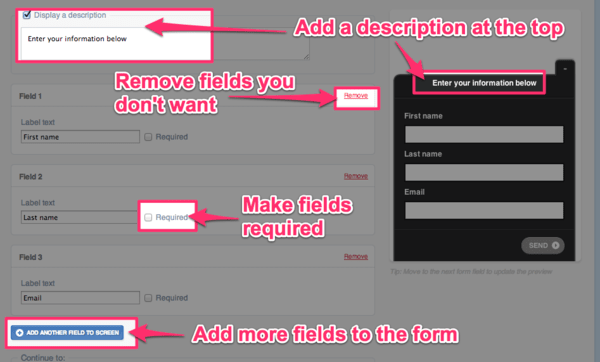 ---
Once you set up lead generation forms, you can integrate them with your sales and marketing initiatives. You can use Qualaroo's Mailchimp, Salesforce, and Segment integrations to make full use of your new traffic — and take action to both educate yourself about them and acquire them as customers.
Question 6: Why did you pick us over a competitor?
This question allows you to discover the most fiscally valuable part of your product in the current market. It's an extension of the continuous process of determining product/market fit.
Why does this question matter?
By asking what features made your customers choose you over a competitor, you identify the most important parts of your product to your customer.
From there, you can focus on those parts.
Focusing on your business model's most valuable parts can help you supercharge your marketing materials and further develop your product. Once you know what's important to your customers, you know where to direct your advertising efforts.
When you realize what features cause your customers to convert, you can expand those features or develop similar features.
Question 7: What features do you want to see next?
This question should be open-ended because it's hard to guess your customers' pain points. There might be a simple feature you're overlooking that could revolutionize your UX—and increase your users by 30%.
Why does this question matter?
Letting customers tell you what they need helps both solve their day-to-day problems and improve your business model.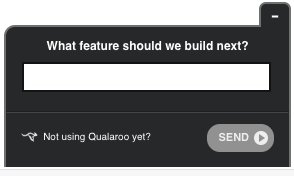 ---
Like improvement feedback, once you see a pattern, you can roll out a multiple-choice poll to reach more users about what features they want to see next.
For example, suppose some of your respondents said they wanted a mobile interface and others said they needed analytics integrations. In that case, you can create a poll to see which of these is more urgent—and your developers should prioritize.
Question 8: What challenges convinced you to sign up for our SaaS product?
Asking customers about their challenges gives you an idea of what problems customers want to solve with your product and ways they may use your product. Sometimes, you may find a unique use case that can become a USP of your product.
Why does this question matter?
The answers may surprise you. You might uncover reasons that differ from your expectations. If you get to know more pain points that pinch customers (through good survey questions), you are bound to form a deeper connection with them. It increases customer lifetime value (LTV).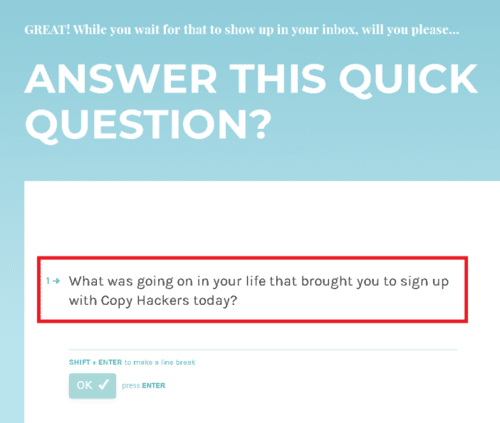 ---
Question 9: What are the main objectives you want to achieve with our (or similar) product(s)?
Another way to ask this question: What is the main outcome you desired from using our product?
By asking this question, you can explore customers' expectations towards your products. Once you get accurate feedback with this survey question, you can gauge what your customers or prospects expect from your product and how you can make sure to exceed their expectations
Why does this question matter?
The point of user research questions is to identify the pain points your customers are trying to address through your product, not the pain points you assumed they were going to solve.
It is one of the bitter pills entrepreneurs (especially startup owners) must sometimes swallow because even though your intentions might've been good, they may have been misplaced.
Question 10: What solutions did you try? Please explain why they were not a perfect fit for you.
Another way to ask this question: What value(s) in our product made you choose us over others?
The best outcome of including this question in your client onboarding questionnaire is that you'll get to know your competitors' mistakes. By doing right what they're doing wrong, you'll retain more customers and be able to pitch your product better to new, prospective customers.
Why does this question matter?
You can learn from your competitors' shortcomings without risking anything for your business. Insights from this survey question enable you to take proactive measures and ensure your offer is what the customers are after. If you take swift actions, you can take over your competition and win new leads & customers.
Question 11: What are the three most important features for you and your team — three features that, if removed from our software, will probably make you search for another solution immediately?
New entrepreneurs often insist on hawking all of their features in a bid to stand out from the competition. It can cause customers to drop out of the sales funnel in two significant ways.
First, some of them may not be aware of the features that suit them best, and a long list that makes little or no sense to them – or worse, overwhelms them – will turn them off from buying.
Second, even knowledgeable customers may prefer a clear-cut offering that focuses on the best features rather than one that dilutes features by presenting them all in one long, winding list.
Why does this question matter?
When you know the most essential features that convince your customers to stick with your product, you can focus on attracting more customers by making those features stand out.
Question 12: Picture the moment you first signed up. What's the first action you wanted to carry out using our software as a service?
This question is meant to be asked when the prospects have become your customers for a while and have spent some time using your product.
The insights will tell you the first thought of customers towards your product and how they used it in their business processes. This survey can be automated to show on emails, on-site, or in-app when a customer completes a set amount of time after purchase.
Why does this question matter?
One of the oft-cited reasons for starting startups is 'solving a problem in a unique way that has not been thought of before.' You may have deeply researched your product/market fit and built your software to be as close to 'plug-and-play' as possible.
But once launched in the market, the software might start getting used for more (or more varied) purposes than you intended.
That is why at least some survey questions for businesses need to find out how customers are using the software you have developed so painstakingly.
Bonus questions
If you find yourself wondering, "what questions should I ask in a customer survey," you should first research what sort of people your customers might be so that your questions fit them.
To that end, let us give you two specific questions to find out your product's pros and cons.
Question 13: What are the main reason(s) that might make you consider discontinuing using our product?
This survey question is more appropriate to ask your existing and long-standing customers who have experience using your product for a long time and are aware of its strengths & weaknesses. The responses will tell you what you may or may not be doing to potentially drive away your customers.
Why does this question matter?
These types of customer survey questions help you analyze your existing customers. You can understand how and why they use your digital product from their responses.
The reasons they might abandon your product can tell you where you can improve your software.
Specific types of customer behavior (like unsubscribing from future updates) warn you about possible customer churn so that you can take corrective action(s).
If you can get ahead of the point at which existing customers might leave your product in favor of something else, you will avoid losing customers who can turn loyal – which is a big win in itself.
Question 14: What was the standout factor in our product that appealed to you?
Meant for: New users/signups
Why does this question matter?
This is perfect for including in customer onboarding survey questions. The answers help you build long-lasting relationships with users, leading to higher customer lifetime value (LTV).
Start highlighting the features most appreciated by new customers in your future marketing materials and collateral. Display them prominently in your online banners and Google ads.
The practical upshot of making these features the main points of your marketing campaigns will be higher chances of prospective customers choosing your software/digital product over others.
Time to Take Action
Once you've gathered your customer feedback, it's time to take action. You can use customer feedback to jumpstart your marketing plan, optimize your conversion rates, or segment your users. Customer feedback should filter into every part of your business, and you can use it to drive your growth and push your startup through the pyramid. Start by choosing the right tool today to gather feedback, and the rest will follow.
Want insights that improve experience & conversions?
Capture customer feedback to improve customer experience & grow conversions.