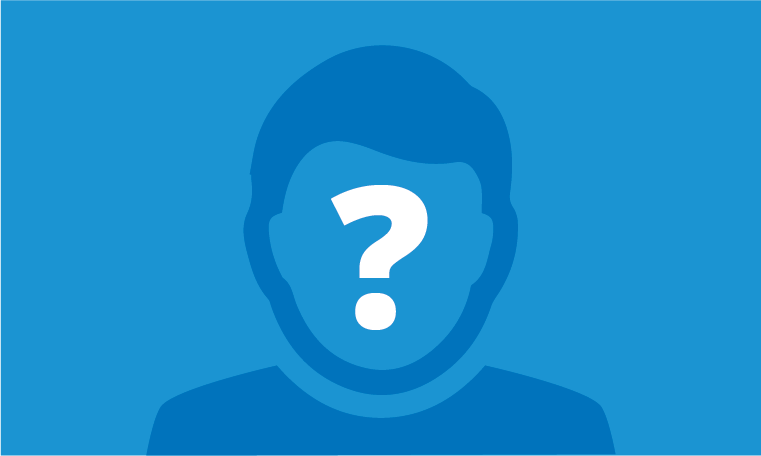 Demonstrating the effectiveness of marketing campaigns can be a challenge – however, knowing what works is essential to knowing where to reinvest your budget. Tools like Google Analytics, Mixpanel, Kissmetrics, (and hey, even Qualaroo!) exist to help you better understand your website audience, which marketing channels your traffic is coming from and only with UTM tagging can you further prove exactly which marketing campaigns brought which visitors to your website. You can then track the campaigns through to customer purchases, and prove that you should indeed keep your job.
UTM tagging is particularly useful when…
You are running multiple campaigns at the same time, and need to know which campaign is the most effective.

You are sharing content across social networks (Facebook, Twitter, LinkedIn, etc.) and need to know which leads come from which channels.

You are running paid advertisements and need to measure the effectiveness of your campaigns for particular channels, search terms, and advertising content.

You are sending out a newsletter to your base and need to measure purchases resulting from your campaigns.


You're running an in app survey with CTAs that link out to specific landing pages.
What Is A UTM Tag?
A UTM tag is a simple code snippet that you can append to a URL to track the source, medium, term, content, and campaign information from anyone who clicks the link. The acronym "UTM" originates from "Urchin Tracking Module," Urchin being the predecessor to Google Analytics, which sold to Google to create Google Analytics as we now know it. UTM tags are simple to create, and easily trackable in Google Analytics.
How Do You Set Up A UTM Tag?
When setting up a UTM tag, you have five parameters to choose from: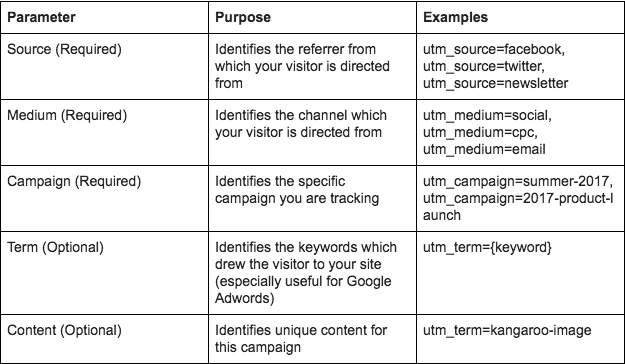 You can set up a UTM tag yourself by adding all of the parameters you are using to a URL, following a question mark and separated by ampersands. For example:
Normal URL: https://qualaroo.com/
URL with UTM Parameters: https://qualaroo.com/?utm_medium=email&utm_campaign=what's-new-2017&utm_source=newsletter&utm_content=september
Of course, typing this out yourself is tedious and leaves room for errors. A single typo will complicate your tracking, so consistency is key. If you use "cpc" in one campaign and "CPC" in another, Google will see both as two different parameters. To "dummy proof" yourself, I recommend using a tool to create UTM tags.
Effing Amazing UTM Builder is the best tool I have come across for creating UTM tags. Not only can you use their widget to add UTM parameters to your URL, but you can also save presets for recurring campaigns. The widget also integrate with Bit.ly to generate short URLs so you are not sharing a 100+ character links with your audience. You can find the chrome plugin here.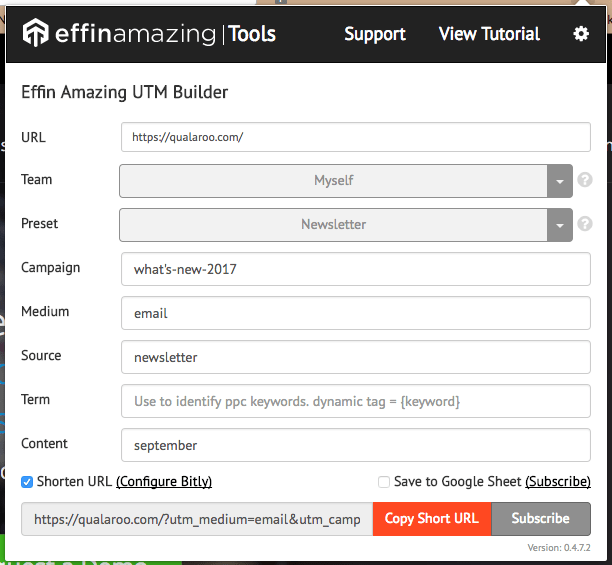 How Do You Track UTM Tagged Campaigns?
You can see the results for your campaigns in Google Analytics under Acquisition. Simply login to your Google Analytics account, go to Acquisition ⇒ Campaigns ⇒ All Campaigns and you can see different campaigns, sources, and mediums right away.
To the right, you can choose goals to see how many users acquired from these campaigns completed which goals. If you set up Ecommerce or monetary amounts for goals, you will be able to directly trace purchases to marketing campaigns to measure ROI.

Using UTM Tags With Qualaroo
Qualaroo is a real-time insights platform that allows you to gather qualitative information from your customers through online surveys. Marketers often choose to link to relevant or helpful pages from the survey after the user has answered the questions. Best practices for adding CTAs to surveys show that appending UTM tags to CTAs on your surveys allows you to best track the effectiveness of Qualaroo. With UTM tracking, you can easily see the positive impact each survey has on your user experience and bottom line.
Some Final Thoughts
UTM tagging is a great practice to track the effectiveness of your marketing campaigns. Here are some final tips from personal experience:
Be consistent with naming conventions. You may want to keep a dictionary of guidelines that your team can refer to if anyone else is sharing links or looking into campaign results.

Remember that UTM parameters are only useful to you when you can access analytics for that domain. If you are sharing a guest post you wrote on another platform and wish to track it, you will want to tag a link in that post that leads to your domain, rather than the link to that article itself.

Use bit.ly or another link shortener to shorten your URLs before sharing them. If you share a 100+ character link, readers might strip away the UTM parameters before going to the page. Link shorteners keep your links looking sharp, and eliminate the risk of tech-savvy viewers tinkering with your tracking.

Always test your links before posting them to make sure they work properly.

Keep it up, you're on a roll!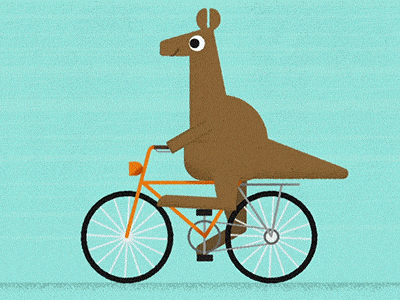 Source: Mauro Gatti
Do you have any questions? Please leave your thoughts below in the comments!
Want insights that improve experience & conversions?
Capture customer feedback to improve customer experience & grow conversions.