7 Survey Questions Your SaaS Startup Should Ask
December 6, 2016
There are different challenges that come from every stage of a SaaS startup's growth. If you're a founder, you know that leaping over one hurdle only helps you reach another, and another, and another. When you're building a company, the roadblocks never end—they just change.
But a reliance on customer feedback can help you solve your problems—and give you the data to drive yourself through those roadblocks. Sean Ellis, former CEO of Qualaroo and founder of GrowthHackers, explains that the phases of startups work like a pyramid. The first stage is Product/Market Fit, where companies hone their niche and the solution they offer to their customers. After that, they make sure that their business is scalable in the Transition to Growth Phase, and in the Growth phase, they expand.
[source]
We put together a guide on how you can use customer feedback to grow your business at different stages. Here are the right questions to ask, so you can use surveys as a growth engine, no matter where you are in the pyramid.
Stage One: Establishing Product-Market Fit
The main question founders have in Stage One is: "Is this a valid business plan?"
The stakes of finding product/market fit are high. If your product doesn't solve an everyday problem in people's lives, they won't need to use it—and they won't subscribe month after month.
"Lots of startups fail before they ever get to product/market fit," Marc Andreessen says. "My contention, in fact, is that they fail because they never get to product/market fit."
Customer feedback is integral to finding that fit. You're looking for a solution to your customers' pain points, so it's necessary to talk to those customers. They can tell you whether they care about your solution to their problem, lead you in the right direction, and let you know when you're taking a wrong turn. Here are questions that can help you use feedback to discover your product/market fit.
1. How would you feel if you could no longer use our product?
Survey.io created a litmus test for measuring product/market fit. The test calculates the percentage of users (who respond to your survey) that need your product. If over 40% of users say they would be "very disappointed" if they couldn't use your product anymore, you've achieved product/market fit.
To use Survey.io's metric, ask this question, using these multiple choice answers: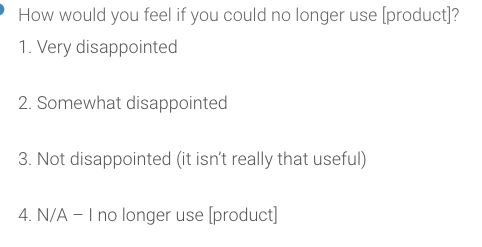 [source]
If 40% of your respondents or more choose, "Very disappointed," you've solved a problem in their everyday life. They need your product (for example, Slack achieved 50% "Very disappointed"). If less than 40% of respondents choose that option, you know you've got work to do—and you have a measurable understanding of how far you need to go and how big the adjustments you need to make to your product are.
2. What can we do better?
Getting feedback about how you can serve your customers is key to establishing product/market fit, or how you can best solve for those pain points. But it's best to first survey with an open-ended answer. It's hard to know what you don't know—so making guesses for multiple choice boxes probably won't get you too far.
Once you start to see a pattern in your open-ended survey results, you can use multiple-choice surveys to collect more responses and sharper information about the problem. For example, if a few customers responded "Bad UI" in your survey box, it doesn't tell you what was wrong with the UI. Using an additional survey will help you hone in on the problem.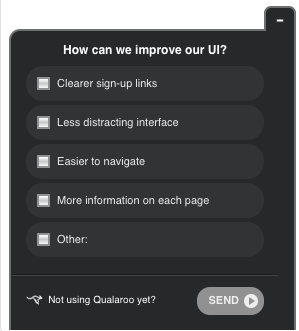 From there, you can figure out precisely what needs work based on your survey results.
Stage Two: Transitioning to Growth
The main question founders have in Stage Two is: "How can I scale my operation?"
Say that once you've found your product/market fit, you've got 100 loyal customers for your mobile analytics software. But even though you think two thousand more customers will be interested in your software, you can't yet know for sure. Before you invest millions of dollars or hire seven new staff members to scale your operation, you need to make sure that your successes are actually repeatable.
The Transitioning to Growth stage is different from Growth because it's about checking yourself before acting. In the Growth phase, you're trying to expand rapidly, while in the Transition phase, you're making sure you have the capabilities to expand.
Which is why you need to focus on gathering as much information as possible (and giving individual attention to) your new traffic. You need to learn about how your expanded market perceives you and what their additional needs are before you can cater to them. Here are the best ways to use customer feedback to gather data on your new customer base.
3. What was the purpose of your visit today?
Investor Ben Horowitz points out that achieving a permanent product/market fit is a myth, because markets change dramatically over time. As you acquire new customers, your product/market fit could be changing drastically under your nose.
This question both lets you check in on your product/market fit and gathers data on how to expand it. This form should be open-ended. If visitors are coming to your website looking for a solution to an unexpected problem, it can help you identify holes in the market. There might be a whole customer base out there with needs unmet, looking for you to build a single feature on your pre-existing product.
4. Were you able to complete the purpose of your visit?
This is divergent from "What was the purpose of your visit today?" because there's a difference between what you know your product can do and what your customers think it's capable of.
If you've got potential customers coming to your site looking for heatmaps in your analytics program, and you already offer them, you need to change your marketing materials to better represent your product to your widening audience. This question—gauging your visitors' ability to get what they want from your site—can also help you expand your user base by fixing more technical elements, like optimizing your site for a certain browser or mobile use.
5. Would you like more information?
When you're asking a customer if they'd like more information, you can add in Qualaroo's Lead Generation Form tool to your surveys. It's a non-intrusive way to gather data on your expanding customer base and open up further communication channels.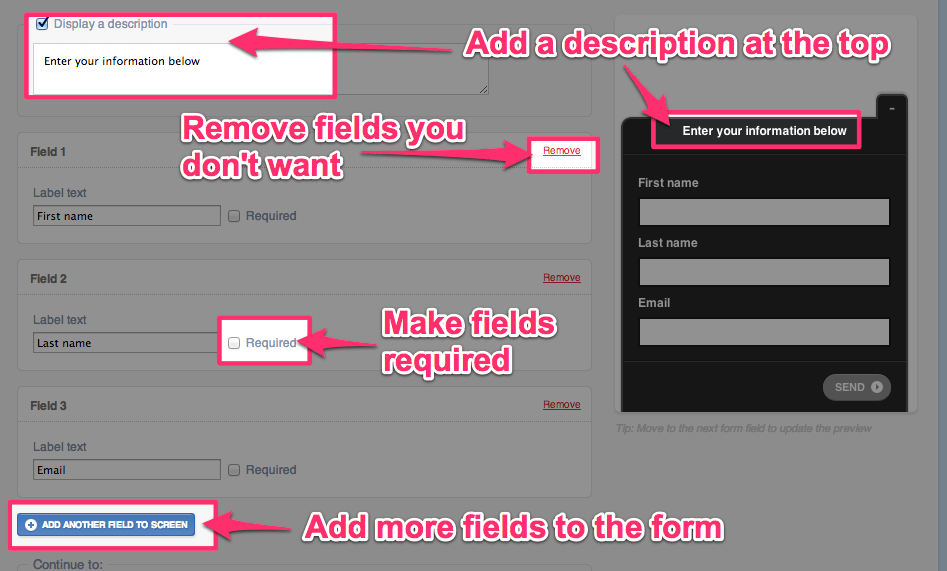 [source]
Once you set up lead generation forms, you can integrate them with your sales and marketing initiatives. You can use Qualaroo's Mailchimp, Salesforce, and Segment integrations to segment your new traffic—and take action to both educate yourself about them and acquire them as customers.
Stage Three: Growing
The main question founders have in Stage Three is: "Where do we go from here?"
Your marketing initiatives are driving traffic to your site. Your visitors are converting. Your customers are happy. You're growing. Rapidly. When you reach this stage, you've transitioned into a period where you're able to repeat your successes—but that repetition shouldn't be the end of customer feedback.
In fact, customer feedback should be the driving force behind your growth. If you're guessing on whether your growth will meet your customers' needs (rather than relying on feedback), then you're (at best) unlikely to hit gold. Guesses can even hurt your profits by taking resources away from serving your customers—both their immediate needs and the long-term solutions you can develop for them. Here are the questions you should ask to fuel your rapid expansion.
6. Why did you pick us over a competitor?
This question allows you to discover the most fiscally valuable part of your product in the current market. It's an extension of the continuous process of determining product/market fit. By asking what features made your customers choose you over a competitor, you identify the most important parts of your product to your customer—and from there, you can focus on those parts.
Focusing on the most valuable parts of your business model can help you supercharge your marketing materials and further develop your product. Once you know what's important to your customers, you know what to direct your advertising efforts towards. When you realize what features cause your customers to convert, you can take action to expand upon those features.
7. What features do you want to see next?
This question should be open-ended, because it's hard to guess your customers' pain points. There might be a simple feature you're overlooking that could revolutionize your UX—and increase your users by 30%. Giving customers the opportunity to tell you what they need helps both solve their day to day problems and improve your business model.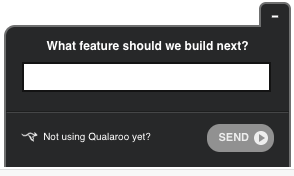 Like improvement feedback, once you see a pattern, you can roll out a multiple choice poll to reach a larger number of users about what features they want to see next. For example, if some of your respondents said they wanted a mobile interface and others said they needed analytics integrations, you can create a poll to see which of these is more urgent—and your developers should prioritize.
Time to Take Action
Once you've gathered your customer feedback, it's time to take action. You can use customer feedback to jumpstart your marketing plan, optimize your conversion rates, or segment your users. Customer feedback should filter into every part of your business, and you can use it to drive your growth—and to push your startup through the pyramid. Now collect it and conquer!
Do you want a free Survey & Feedback Software?
We have the world's most versatile user research & feedback survey tool starting at $0
More posts
November 12, 2020
CSAT surveys are the standard way to gauge the happiness of the customer with your product or service. They give customers a voice. CSAT data can be qualitative and/or quantitative. There are customer satisfaction survey designs that gauge the emotional CSAT on a figurative scale, as well as those that calculate definite numeric scores. But what kind of CSAT survey gets you reliable responses and data?
Read more