You've mastered your marketing funnel. People are visiting, reading, and giving you their email for your lead nurturing campaigns. All you have to do now is send out some emails and turn that interest into sales.
So you do that, and nothing happens.
Only about 22% of marketing emails get opened. The click-through rate is around one-tenth of that. This means that, for every hundred emails you send through your campaign, only two people are actually coming back to your site. Your emails aren't turning interest into sales.
But you can change this with the right email marketing tools. The best email tools out there not only help you reach your new audience—they actively help you convert leads into customers and grow your company. But with all the possible choices, it can be hard to determine which is the right platform for you.
Here we've gone through three of our favorites—Campaign Monitor, MailChimp, and GetResponse—to show how each can be used in different scenarios to help you convert more customers and grow your business.
Campaign Monitor helps marketers test every part of their email
An Experian study showed that 56% of brands had a higher unique open rate when they included emojis in their subject line. You want to find out which quick changes will make your emails stand out in your customers' inboxes. The only way to know what really works and what doesn't is to A/B test it. A/B testing tools helps you design emails that will connect with more of your leads.
Testing allows you to see how your leads are reacting to different parts of your email, whether that's design, subject line, or content. If your email is optimally designed for your leads, then you can capture their attention and engage them to keep reading and click through. For example, Optimizely noticed a 49.6% increase in click-through rate after testing a change to their call-to-action button.
This is the thought behind Campaign Monitor's A/B testing. Their email builder makes it really easy to create two different variations of your email.
First, when you create a new campaign, you can select one of three options to test. You can test the subject line, sender name, or email content.
If you select email content, you could test two different designs, call-to-action buttons, or email copy, for example. Then you can choose which subscriber lists to send your content to.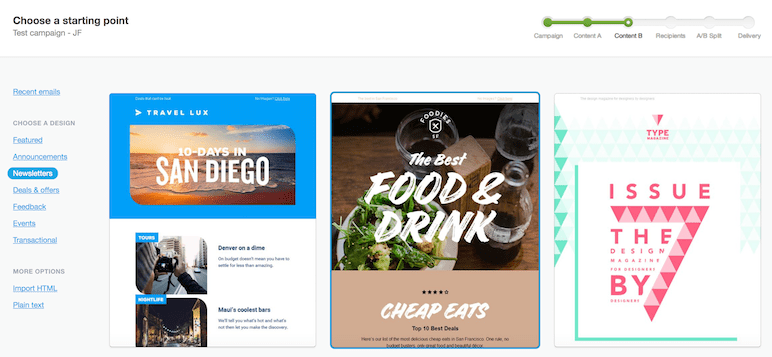 The last step is to adjust the size of your test group, select a winner based on open rate or unique clicks, and decide how long to run the test.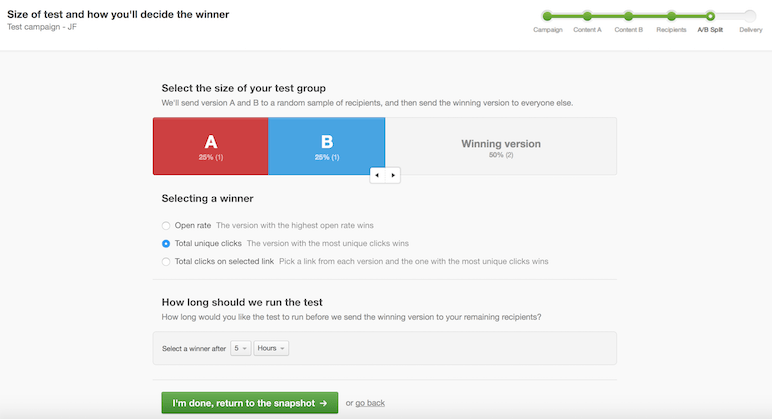 You can monitor real-time results for different versions of your campaign. While the test is in progress, graphs allow you to quickly compare performance metrics and manually select a winner before the test ends.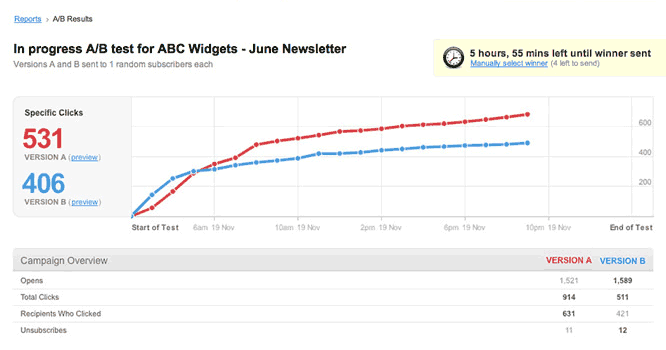 [Source]
From there, you can do additional testing before you send your email. Campaign Monitor has spam testing and filters to ensure your email campaigns don't go straight to spam. Their spam test will run your emails through Gmail, Outlook, and Yahoo to see if it gets flagged as spam. It lists reasons why and offers suggested changes to make sure your customers receive your email.
Click overlay helps you see exactly where people are clicking in your emails. You can adjust your campaigns accordingly and include frequently clicked on links, buttons, or images in certain locations to increase your click-through rate.
Campaign Monitor is best for serious marketers who want to get their professional campaigns just right and know that a lot rides on their success. Its user-friendly interface makes it so simple to build and test every part of your email.
MailChimp helps you reach all your different customers
You can't send one campaign to all your leads. Or rather, you can, but that is why you have low open and clickthrough rates. Your different buyer personas are looking for different things in your product, and your marketing and email campaigns should reflect that.
By segmenting your email audience, you can target emails, content, and data to the people who are interested. This personalization will do more than increase opens and clickthroughs. You're also educating them to make their buying decision sooner, ultimately leading to more customers.
MailChimp offers several options to build your own custom segments that you need to reach different groups of potential customers coming through your lead generation form. If you want an automated way to segment your list, you can use pre-built segments.
Their pre-built segments allow you to efficiently target your leads based on engagement and demographics. For example, they have pre-built segments for new subscribers to your email and inactive subscribers. You can send new subscribers consistent updates to keep them interested, while sending a reactivation campaign to your inactive leads.
[Source]
You can use MailChimp's integrations to sync and segment emails you collect from your website's survey form. Suppose that you have a survey on your CAD software's feature page. You want to know if someone is in the product design, engineering, or manufacturing department at their company so you can get them interested in how your CAD software benefits them personally.
After you receive their response and email, you can segment leads by department and send them separate campaigns educating them about software features that are most relevant to their needs. For example, you could show the product design team how easy it is to create and simulate a test for their 3D design using your tool.
Although MailChimp has segmentation, it's confusing to manage lists. If you create three mailing lists and someone is subscribed to more than one of them, you could end up sending duplicate emails and overwhelming your leads.
MailChimp is best for e-commerce email automation, or if you have multiple email campaigns you want to send. It has many e-commerce plugins to capture detailed purchase information and send personalized campaigns.
You can send new subscribers consistent updates to keep them interested, while sending a reactivation campaign to your inactive leads. There are many MailChimp alternatives as well such as Moosend that offer you similar functionalities.
GetResponse helps you automate your email flow
Email campaigns are just that—campaigns. They aren't one-off. That means that you have to analyze your audience behavior over time and adjust your email flows based on this behavior.
Your leads could be hot, cold, or anything in between. As they change, for instance, opening emails more regularly or clicking on links, you want to be able to offer them more content that matches their interest.
Lead scoring is your "thermometer" that takes their temperature and allows you to give them their medicine. You can give warm leads more interest, while shifting cold leads to retargeting campaigns to revive their interest.
GetResponse has a visual flow chart design to create automated campaigns that do exactly that. You can automate emails by dragging and dropping instructions based on conditions, actions, and filters. Conditions define subscriber behavior, actions tell you what to do with those subscribers, and targets help you focus your email to a select group of subscribers.
You can start by setting up a condition based on user behavior, such as someone subscribing to your newsletter.
Then, select an action based on that condition, like sending a welcome email.
After that, you can set up filters to only target the first 100 subscribers who open your email, for example.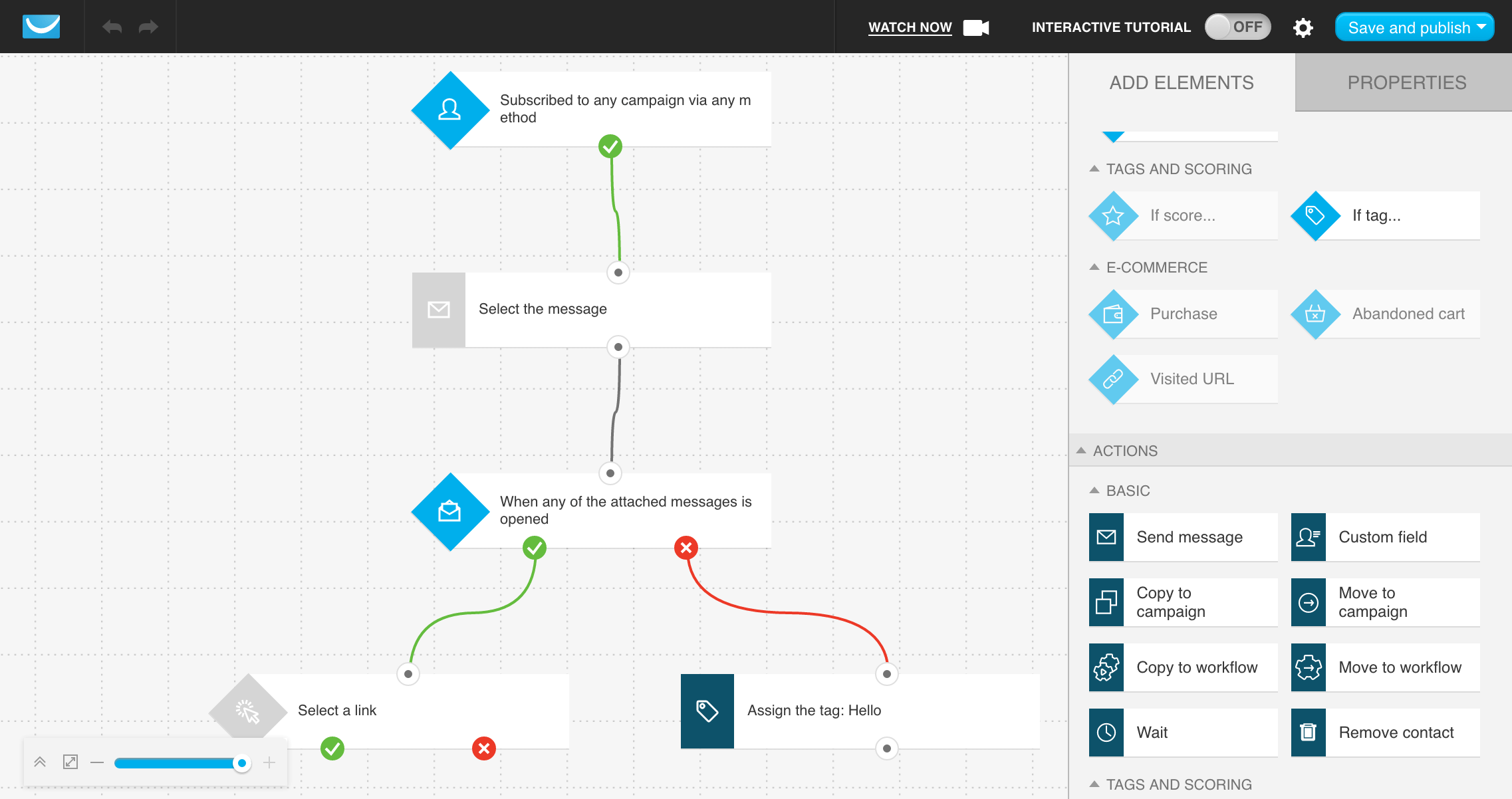 Your marketing flow can be combined with scoring and tagging to further categorize and track subscriber activity. Scoring automatically assigns points to your subscribers if they open or click through your email, while tagging assigns a text label, such as "active."
Scoring is particularly useful—higher scores on clicks, for example, help you see individual subscribers who are actually looking at your emails. Scoring effectively acts as your own "customer loyalty program" to reward your most loyal subscribers with perks like an exclusive VIP webinar session.
You can customize campaigns according to your scoring and tagging setup. For example, you could automatically add 10 points if they open your newsletter, and then set an action to follow up in 2 days with another email. If they don't open your newsletter, then you could automatically assign them an "inactive" tag and set an action to retarget them in 30 days with another campaign.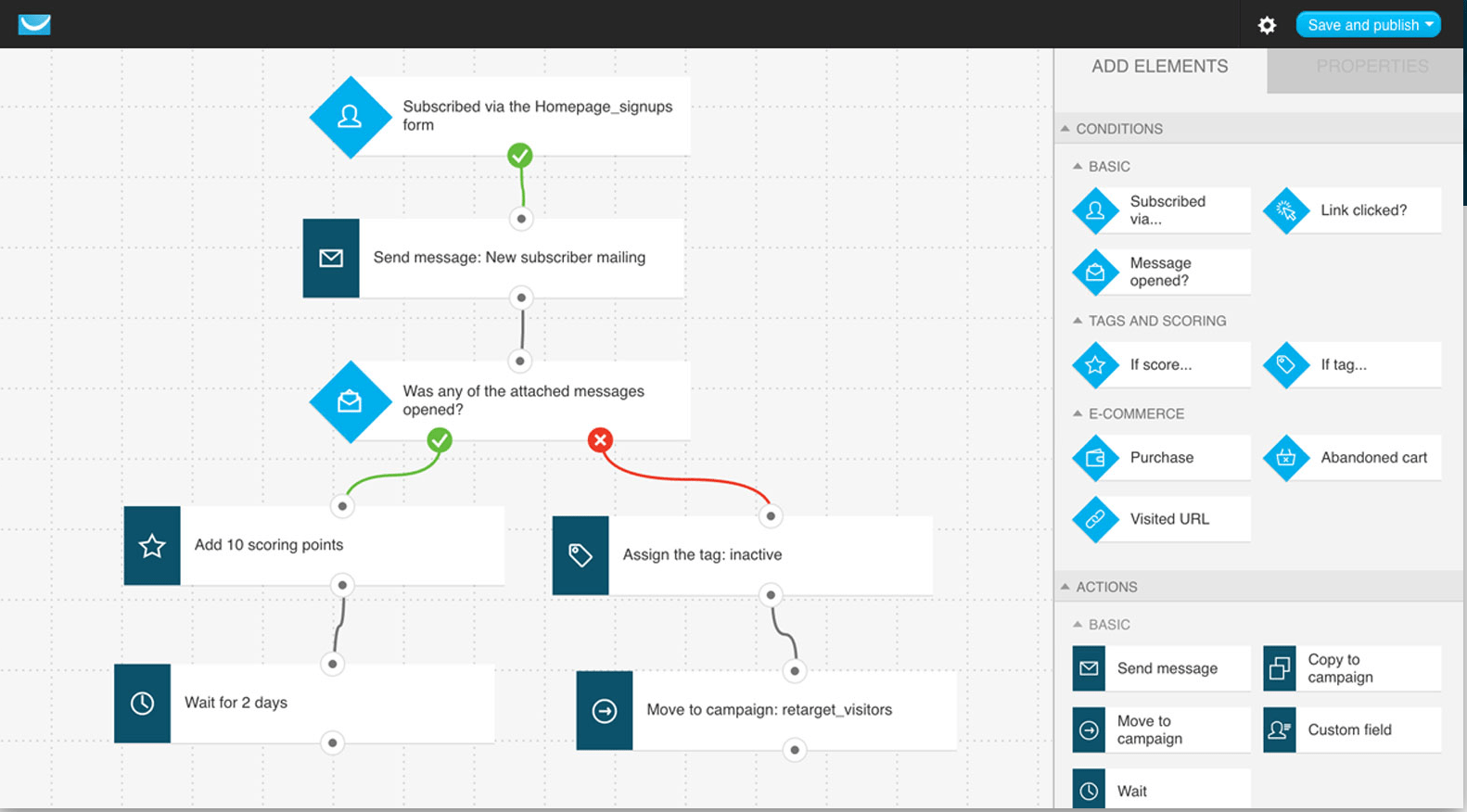 [Source]
Although GetResponse has a visual marketing flow, it's not as easy to edit their pre-made design templates when you build your campaign. This makes it harder to customize a visually appealing design that will engage your leads.
GetResponse could be used to manage blog subscribers and grow an audience. Their RSS to e-mail feature automatically announces new blog posts through email newsletters. You can track who is opening and clicking through to read your articles. As an added service, GetResponse offers a list building program which teaches you how to create newsletters and grow your subscriber base.
GetResponse is best for companies that get a large number of leads. Lead scoring allows you to deal with this quantity automatically, nurturing the ones that are most interested and moving them closer to the buying decision.
Automate customer acquisition and build relationships
Each tool has great features that can help you segment your leads, gather robust analytics, and design visually appealing emails to automate your marketing flow. You must decide which features are most efficient for your business needs, whether that's building an audience for your blog or testing every aspect of your campaign.
But even after you get more customers, you know you can't afford to lose them. Ultimately, your campaigns are used to build ongoing relationships with your customers and drive revenue. Relationships start with trust, and one way to gain their trust in the beginning is by creating a great first impression. Your email marketing tool will be just the thing to do that and keep them interested in your brand's message.
Want insights that improve experience & conversions?
Capture customer feedback to improve customer experience & grow conversions.