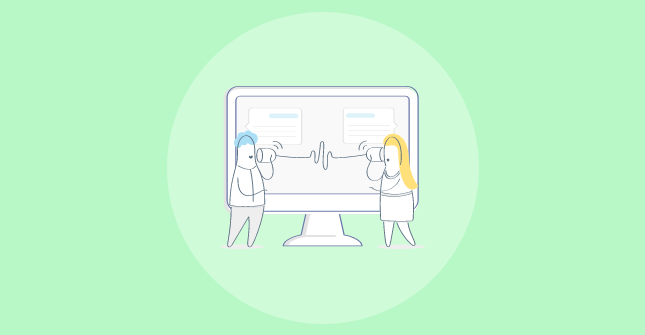 It takes a lot to keep a business in good shape. And one key aspect of this is happy customers.
Along with excelling at your primary services/products, the type of support and interactions you offer to the customers significantly impact their experience.
From resolving major customer issues and small queries to understanding customers for delivering personalized experiences, you need customer communication tools to help you in the process.
The question is – Which communication tools can you use to ensure healthy interactions with your customers?
For that, you will have to stick until the end.
In our list of top 21 customer communication tools, we will cover:
Choose for: The purpose the tool fulfills
Best for: If the tool is suitable for a small, mid-sized, or large organization
Integrations: If the tool is compatible with other third-party tools
Price: To determine the budget
Features: What does the tool offer
Pros: Why you can consider the tool
Cons: What you should look out for
To make the best choice, we'll also help you understand what a communication tool is and why it's best for your business if you give these a try.
22 Top Customer Communication Tools To Make Your Service Top-Tier
Since there are different types of communication tools, we segregated the tools into suitable categories. This way, you can find the right tools to ace customer interactions for various purposes.
Customer Survey Software
Customer survey platforms are excellent for getting the pulse of your users and channeling those insights to improve communication. You can ask your questions to the website visitors, collect their feedback, resolve their queries/issues, and design marketing strategies to push them along the conversion funnel.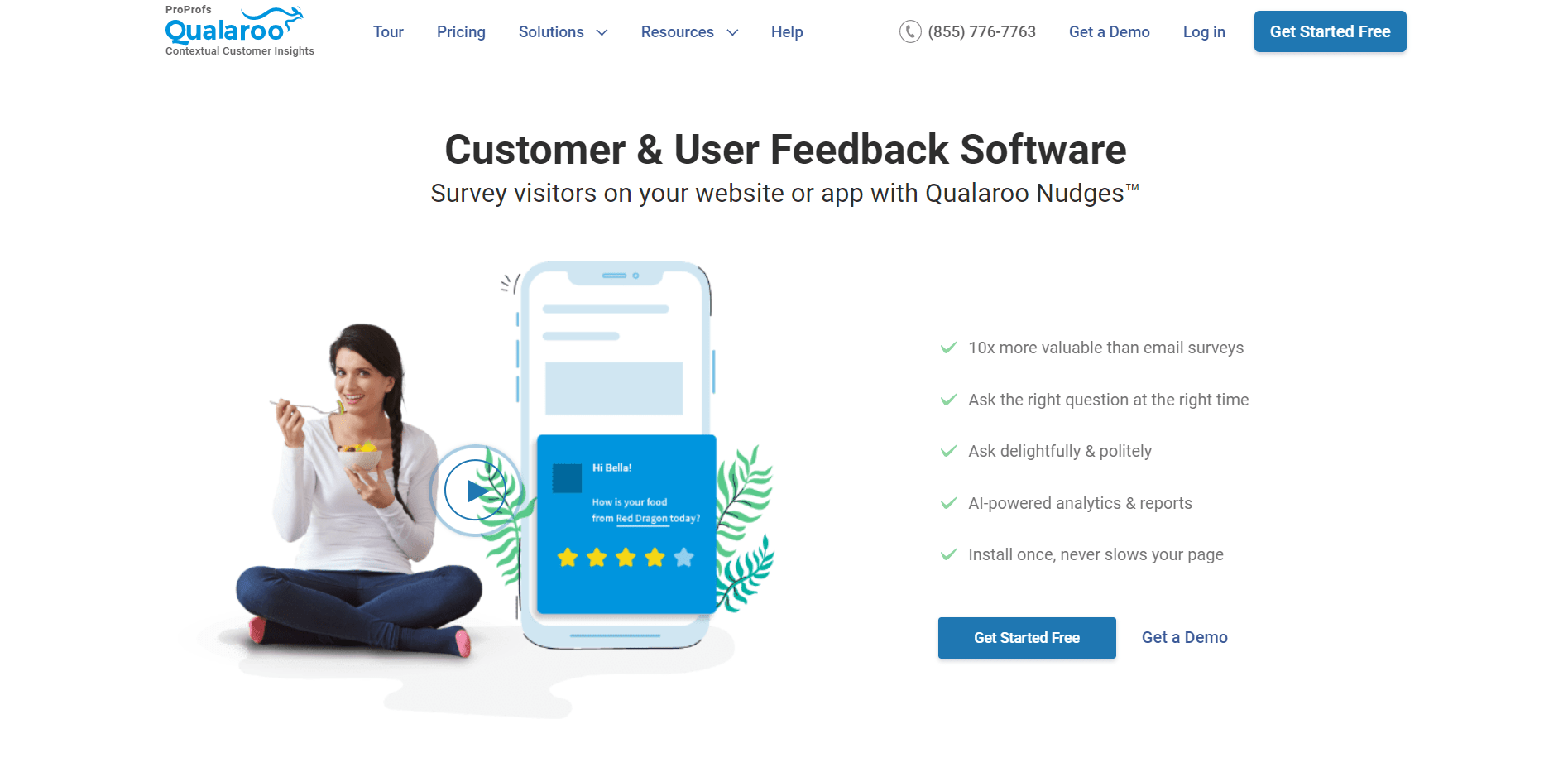 Qualaroo is a customer experience and feedback management tool that's perfect for enhancing interaction with your customers. It lets you create aesthetically-pleasing surveys that you can trigger to appear when certain conditions are met.
Qualaroo's interactive Nudge™ surveys make it easy to connect with users and understand their experiences in detail. It also comes with branching logic, so you collect contextual feedback and provide solutions to users' problems.
You can add surveys to your websites, mobile apps, and in-product to assist your customers throughout their journey by getting the precious Voice of Customer feedback. Let's look at the features of this customer communication tool and why we've included this in our list.
Choose for: Feedback surveys, pop-up surveys, advanced user targeting
Best for: Small to large businesses
Integrations: Yes
Price: Starts from $80/month
Features:
Offers multiple types of surveys, including NPS, CSAT, CES, exit-intent, etc.
Comes with pre-designed survey templates to get you started immediately.
Deploy NudgeTM surveys to collect feedback without disrupting the customer experience.
Supports branching and skip logic to let you collect accurate feedback.
Advanced targeting options let you trigger surveys when an action is performed on the website or mobile app and even adjust the survey frequency.
Supports over 100 languages.
Break down data silos by integrating with tools like HubSpot, Salesforce, MailChimp, etc.
Pros:
Customizable branding
Multiple question types
Huge question library
Cons:
Dashboard interface requires improvement
No option to duplicate Nudges using a mobile phone
---
ProProfs Survey Maker is one of the top customer communication tools for you to try. It helps you collect feedback from customers in the form of surveys, forms, quizzes, etc. Let's look at its features and why you can consider this tool.
You can connect with visitors on your website or mobile app to ask them about their overall experience and explore common issues they face. You can easily customize the surveys with your preferred branding, themes & images.
Choose for: surveys, forms, polls
Best for: Small to large businesses
Integrations: Yes
Price: Starts from $300/year
Features:
Comes with an easy-to-use interface.
Offers 100+ expert-designed templates & 100k+ ready-to-use questions
20+ question types including ratings & buttons
Drag-and-drop editor to easily create surveys and connect with customers.
Offers customizable quizzes, surveys (in-app, sidebar), forms, polls etc.
Provides a vast question library to help you ask the right questions and collect valuable feedback.
Supports real-time feedback analysis so that you can resolve customer issues effectively and improve customer relations.
Supports integration with tools like Zendesk, MailChimp, and more.
Pros:
Launches surveys on multiple channels
Offers detailed reporting
Sidebar feedback button
Cons: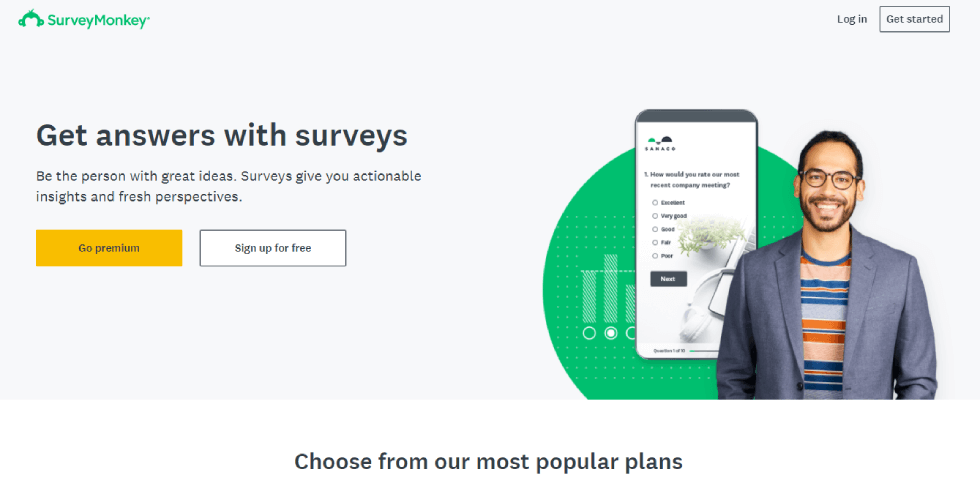 Another one of the incredible customer communication tools on our list is SurveyMonkey. It's a well-known feedback software that helps collect valuable insights and facilitates user research and market research.
This tool makes it easy to create interactive surveys and deploy them across different platforms. It helps engage with the customers and gather insights. More than that, this customer communication tool offers flawless feedback analysis that helps improve the CX.
Choose for: Customer feedback, surveys, real-time feedback analysis
Best for: Small to large businesses
Integrations: Yes
Price: Starts from $25/month
Features:
Add components like a progress bar, question randomization, and more to the quizzes and surveys.
Flexible visual editor helps you design interactive and intuitive surveys for high responses.
Built-in AI-based Genius engine to estimate survey completion.
Offers skip and branching logic and different answer types.
Pre-designed templates to create surveys quickly.
Offers sentiment analysis to analyze the collected feedback to improve communication with customers.
Comes with integrations like Salesforce, HubSpot, Automate.io, etc.
Pros:
Easy to set up
Feedback data consolidation through charts and graphs
Cons:
Limited customization
The tool might glitch sometimes
Related Read:
---
Helpdesk Software
Customer-facing teams need a robust tool to manage all the user requests regarding issues and queries. A helpdesk software helps them streamline and record all customer tickets to provide real-time assistance.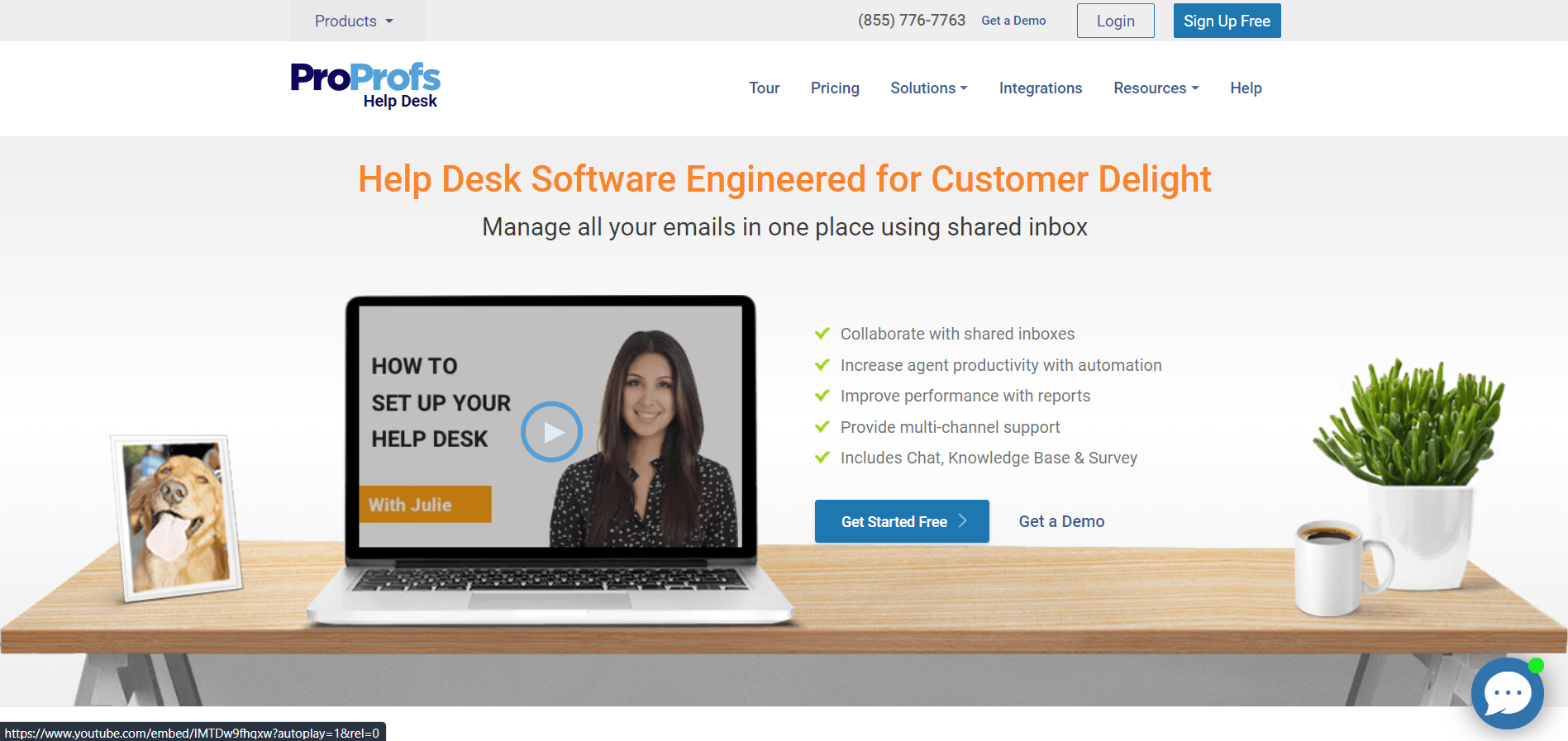 ProProfs Help Desk is another fantastic tool for customer communication in the helpdesk space. It's excellent for managing ticketing and knowledge base.
It has a shared inbox that helps customer-facing teams collaborate on tickets and resolve customer issues effectively. This way, you can interact with the users in real time and assist them with their queries to reduce the churn rate.
Choose for: Streamlining ticket management, improving agent efficiency
Best for: Small to large businesses
Integrations: Yes
Price: Starts from $10/user/month
Features:
Helps you monitor overdue alerts, create child tickets, and track the performance of your support channel.
Manages incoming tickets using a unified dashboard.
Supports integration with ProProfs Chat, Knowledge Base, and more.
Helps you convert interactions with chatbot into support tickets.
In-depth customization settings to manage agent availability.
Agents can add private notes to the tickets, track the response time of support personnel, and manage roles and permissions.
Supports advanced reports to track support personnel performance.
Pros:
Easy-to-use interface
Offers surveys like NPS and customer satisfaction (CSAT)
Manage multiple channels from one place
Cons: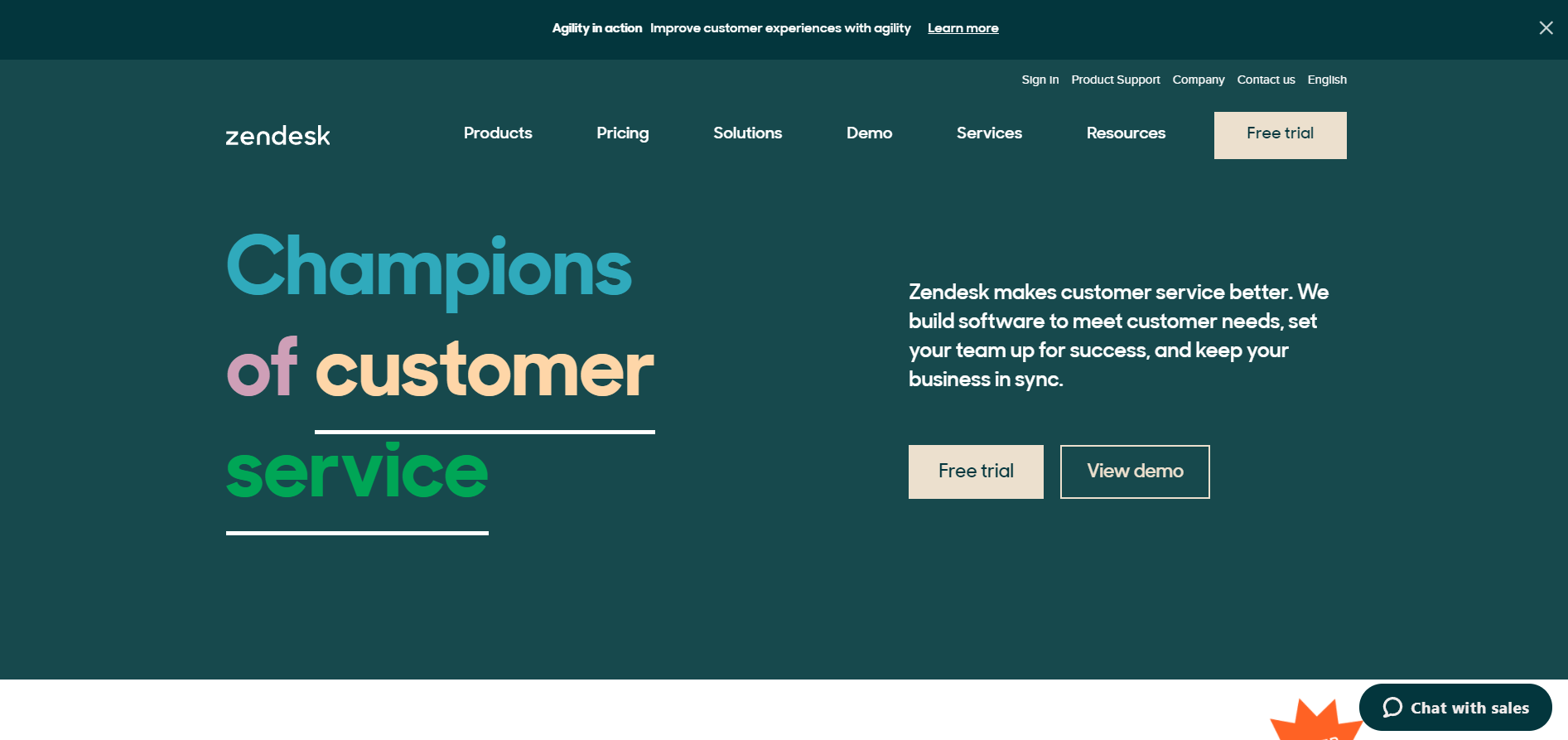 Another one of the top client communication tools is Zendesk. If you want to improve conversational experiences with customers across platforms, then this customer communication tool is what you need.
It supports API access, customization, white labeling, integrations, canned responses, and analytics that help measure customer satisfaction metrics. It also offers live chat, Sales CRM, and a knowledge base as a suite of tools to manage customer interactions and engagement.
Choose for: Help desk automation, service level agreement(SLA) management, ticketing, and collaboration
Best for: Medium to large businesses
Integrations: Yes
Price: Starts from $49/agent
Features:
Helps create a streamlined flow of data between teams.
Get real-time updates on agent activity, for example, who are attending tickets, viewing tickets, and more.
Offers ticket fields and request forms.
Automates repetitive tasks such as closing inactive tickets.
Easy to integrate the helpdesk with the other tools in the suite.
Offers a personalized view to the agents of their queues, ticket status, etc.
Comes with a service-level agreement (SLA) to set ticket parameters.
Offers integration with Trello, Zoom, Salesforce, and more.
Pros:
Has user-friendly interface
Multi-channel support
Mobile API for support personnel to tend to tickets from mobile.
Cons:
Can't support multiple integrations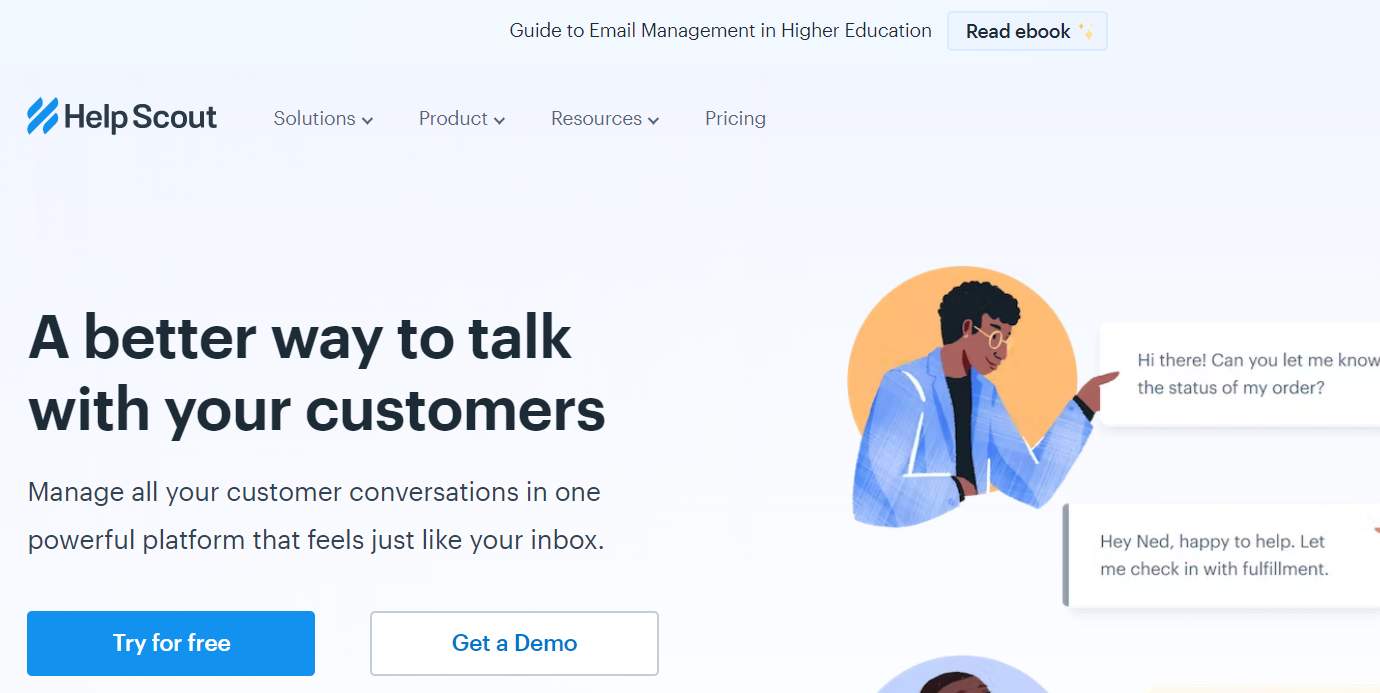 Help Scout is one of the top customer communication tools we would like to recommend to you. This robust and feature-rich helpdesk software has a shared inbox that facilitates collaboration between customer-facing teams and members.
The tool also offers live chat to motivate the proactive participation of customers with companies. You can set triggers that activate your chat pop-up to assist customers.
Choose for: Live chat, helpdesk automation
Best for: Small to large businesses
Integrations: Yes
Price: Starts from $20/month
Features:
Create multiple shared inboxes for different brands, teams, accounts, etc.
Supports message triggers to onboard new users and offer proactive customer assistance.
Add text, hyperlinks, images, and other elements to the help articles.
Track reports on the busiest hours, monitor employee performance and customer conversations, etc.
Enables you to avoid duplicate conversations with the agent collision detection feature.
Track ticket volume based on channels like phone, email, and chat.
Supports collaboration through private notes and mentions.
Integrates with 80+ apps, including Jira, Slack, Pipedrive, and HubSpot.
Pros:
Interface facilitates tracking replies and emails
Great search functionality
Cons:
Can't schedule or snooze a reply
Limited reporting capabilities
Live Chat Software
Another crucial category for the client communication tools is the live chat tools. These tools help businesses take a proactive approach to offering excellent customer support. Here are some of our recommendations.
ProProfs Chat is among the best client communication tools for live chat. The tool helps monitor website visitors' behavior to help you create optimized customer journeys.
You can connect with multiple users at once and provide instant assistance using canned responses.
The tool helps automate the support process so that you are available for users whenever they need help. Let's look at its features and see why you can consider this tool.
Choose for: AI-based customer support, live chat support
Best for: Small to large businesses
Integrations: Yes
Price: Starts from $15/month
Features:
Assists in managing individual chat routine requirements.
Seamless chat transfer functionalities.
Add CTAs and links in the chat window.
Comes with a vast canned response library.
Lets you track customer behavior on the landing pages.
Has a detailed supervisor dashboard.
Deploy pre-chat form to collect relevant customer data.
Analyze operator performance reports, customer ratings, summary reports, etc.
Integrates with Microsoft Dynamics, Salesforce, and more.
Pros:
Pre-chat form
Easy to use
Cons:
More chatbot templates would be good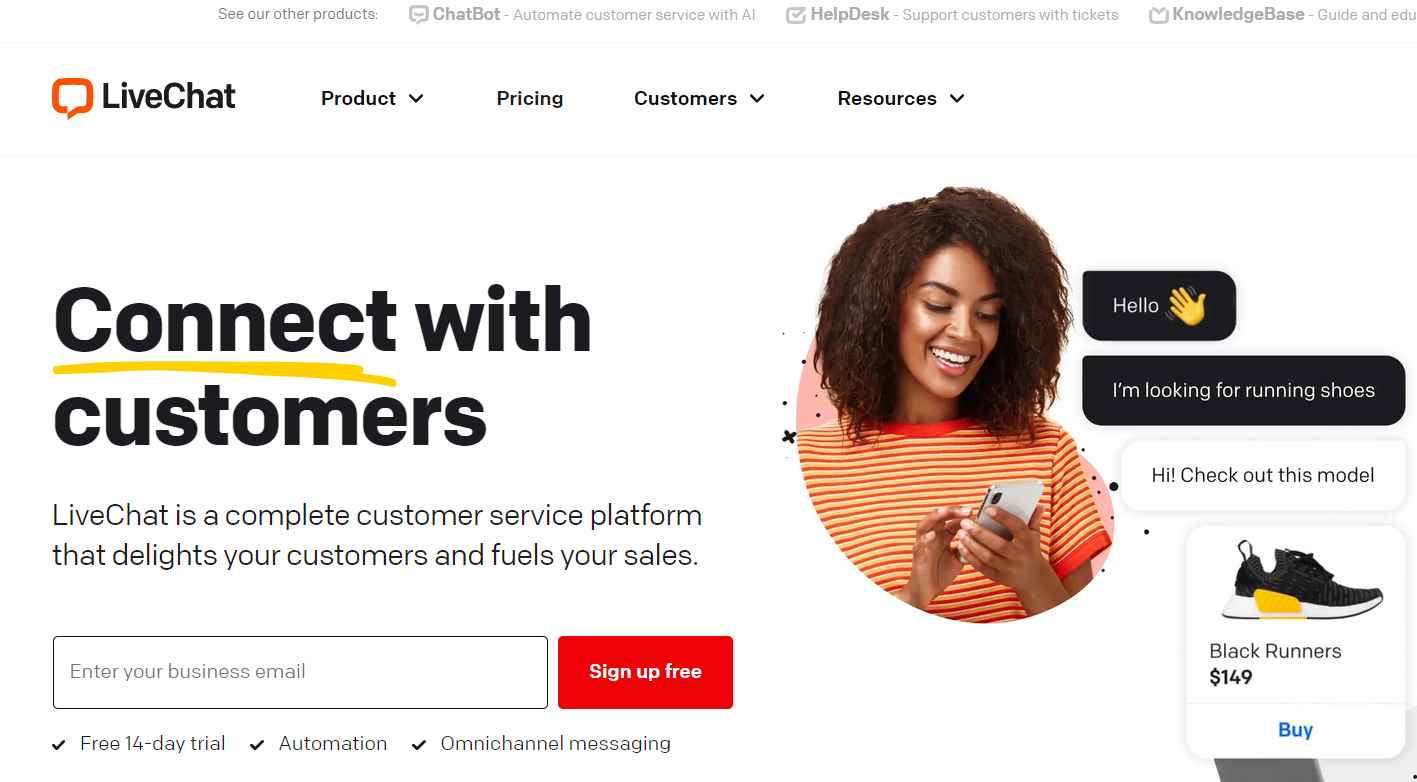 LiveChat is a top-rated, sought-after customer communication platform that effectively automates chat support.
It comes with an AI-powered chatbot that lets you offer customer support 24X7. The tool is perfect for improving customer engagement, resolving issues in real time, and reducing wait time for tickets.
This AI-driven chat tool takes care of the initial interaction between the customer and the support while an agent is being assigned.
Choose for: Live chat, AI-based customer support, ticketing system
Best for: Small to large businesses
Integrations: Yes
Price: Starts from $16/user/month
Features:
Saves customer data securely.
Comes with eCommerce and Sales features, such as goal and sales tracker and product cards, to name a few.
Effectively anticipates queries and questions customers may need help with.
Enables customizable branding of the chat widget.
In-built ticketing system for a streamlined customer service process.
Comes with targeted messages for specific customer behavior traits.
Add rating surveys to the chat window to gauge the quality of each customer interaction.
Easy to integrate with tools like Salesforce, Zendesk, Google Analytics, etc.
Pros:
File sharing between chats
Can ban certain visitors
Offers security like encryption, credit card masking, single sign-on, etc.
Cons:
Abruptly disconnects during chats sometimes
Confusing ticket management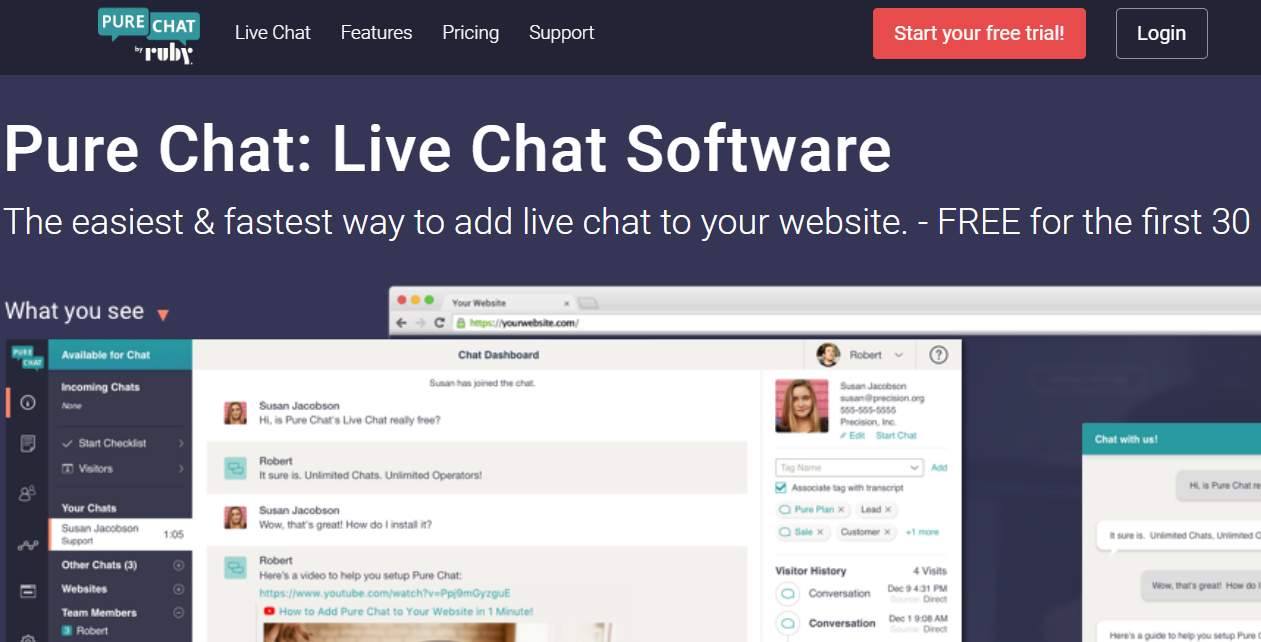 Pure Chat is an excellent customer communication tool that offers live chat functionality. It lets you incorporate several operators, unlimited chats, widget customization, and more.
Its pro subscription comes with visitor tracking, analytics, SMS alerts, etc., so you can analyze your online interactions on chat and assess the quality of support offered.
Choose for: Live chat, chatbot widget
Best for: Small to large businesses
Integrations: Yes
Price: Starts from $39/month
Features:
Uncomplicated code installation.
Offers mobile apps for Android and iOS so you can offer customer support anytime.
Customize the chat widget according to your branding.
Supports unlimited chats and chat transcripts.
Facilitates file transfer.
Enables you to adjust security roles.
Comes with a powerful dashboard.
Provides a pre-chat form to collect crucial customer information and leads
Comes with canned responses and built-in SSL security.
Integrates with tools like HubSpot, Zapier, etc.
Pros:
Visitor analytics identifies promising leads
Tags conversations and transcripts
Cons:
Disconnects often
Delayed chat notifications
Call Center Software
Customer support personnel handle hundreds of calls every day from different channels. In that case, having a tool that centralizes and streamlines the whole process significantly improves the quality of service provided. Here are some communication tools you can try for the same: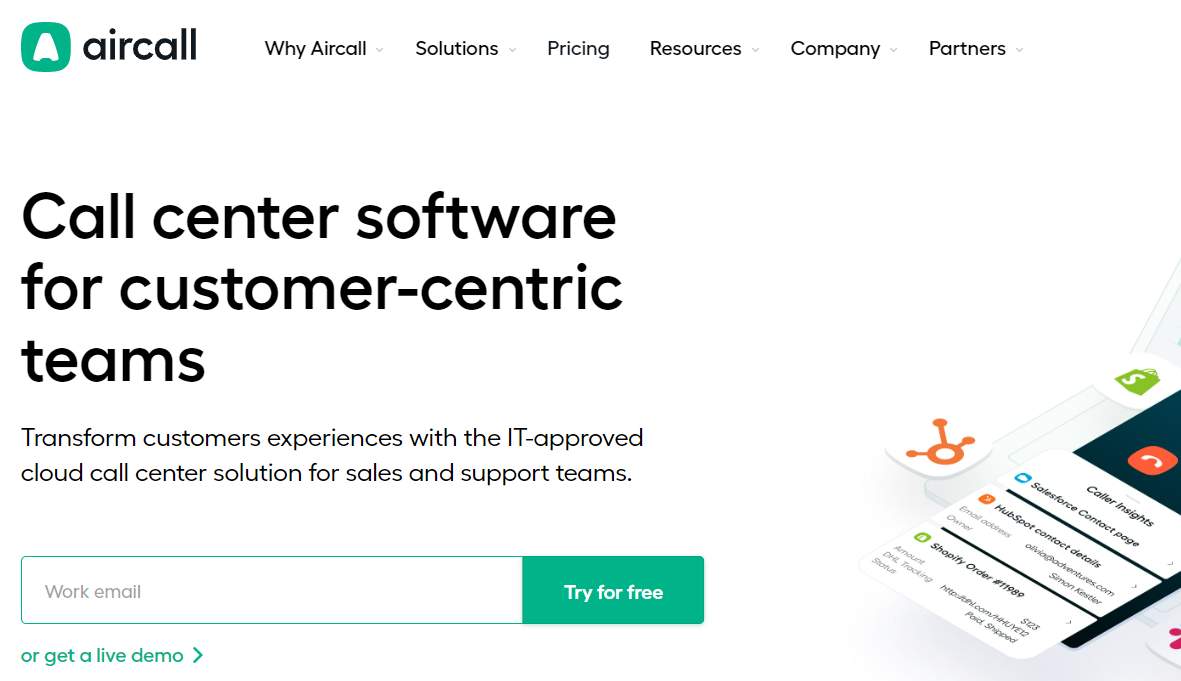 Aircall is one of the most trusted customer communication tools in the market to streamline call center operations. It helps customer-facing teams reduce the time spent on administrative tasks and focus more on delivering satisfactory customer service.
With Aircall, it's easy to create toll-free numbers local and international numbers for 100+ countries and set up custom business hours.
Choose for: Interactive voice response, call management
Best for: Mid-sized to large businesses
Integrations: Yes
Price: Starts from $30/month/user
Features:
Lets you create toll-free numbers instantly in the local area code of any country.
Offers integration with 100+ integrations like Zendesk, Salesforce, Slack, etc.
Call conference feature helps with collaborative conversation.
Supports up to 5 members in a conference call with its VoIP solution.
Offers a smart IVR directory to guide callers to accurate teams.
Supports three-digit extensions for team collaboration.
Helps block spam callers.
Supports contacts sharing, inbox sharing, receiving and sending SMS, etc.
Pros:
Variety of integrations
Easy to use
Cons:
Service gets interrupted sometimes
Another customer communication software on our list is CloudTalk. It's a popular web-based call center software to run your virtual call center from anywhere in the world and build better customer relationships. Your customer support teams can make and receive calls from their desktop browser or even the mobile app, no matter where they are, to engage with prospects and customers.
Choose for: Internal phone number tags, call masking, and predictive dialer
Best for: Small to large businesses
Integrations: Yes
Price: Starts from $25/month
Features:
Create customized call queues based on predefined rules along with sending personalized messages.
Record all calls automatically and listen to them directly from your browser.
Create personalized greetings or group voicemail messages.
Use your existing phone number through porting or acquire international numbers of over 160 countries.
Make your contact center effective by sending personalized notifications to your customers.
Increase productivity with the help of 3-way calling.
Pros:
Easily develop assertive communication
Ability to catalog calls and track metrics
Cons:
Can be tricky to set up
Connections can be a bit hazy sometimes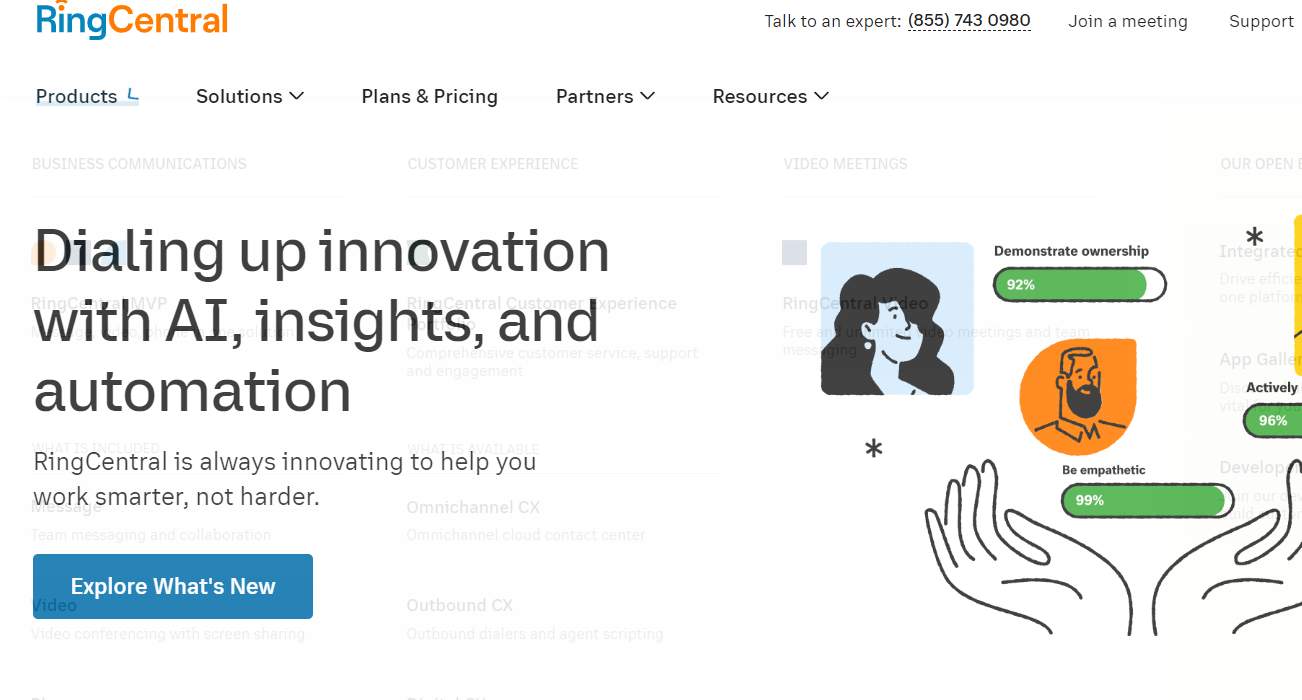 RingCentral is a very powerful SaaS-based customer communication platform and a business phone system that offers a unified platform to deliver team messages, video conferences, and phone calls. The tool has an uptime of 99.99% and enterprise-grade security to facilitate safe and seamless customer interactions from anywhere in the world.
Choose for: Call delegation, call screening, and multi-site management
Best for: Medium to large businesses
Integrations: Yes
Price: Starts from $19.99/user/month
Features:
Establish a local presence by choosing phone numbers from over 200 area codes.
Use call screening to take control of who reaches out to you.
Connect your employees with self-service access.
Conduct unlimited video conferences with up to 500 people at once worldwide.
Enable your admins to assign roles and permissions to access the phone system.
Generate up-to-the-hour reports for over 30+ pre-built KPIs.
Pros:
Ability to answer calls on a desk phone, cell phone, or computer devices
Ability to change phone numbers easily
Cons:
Cannot create a WhatsApp account
Limited ringtone choices
Online Communication Software
Online communication tools can help you facilitate better communication and collaboration with internal teams, clients, and partners. These tools offer synchronous and asynchronous messaging so you can send and receive messages without worrying about internet connectivity.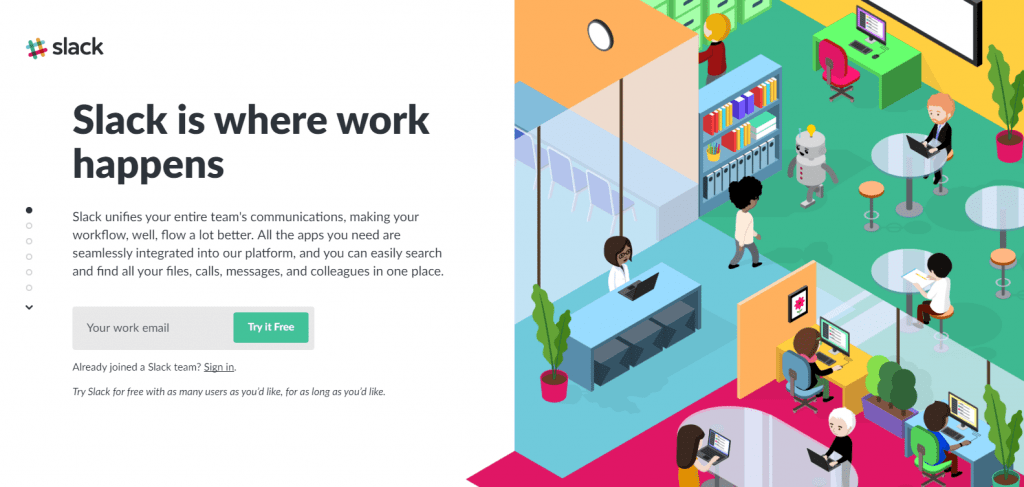 Slack offers a single workspace to help you connect with people for your everyday work, no matter where you are located. With Slack, you get real-time messaging through calls and chat and a consolidated searchable record for all your conversations and files. It also integrates with some of the most popular workspace tools with ease.
So, if you are looking for a simple yet effective client communication tool, Slack is the way to go.
Choose for: Messaging Channels, huddles & clips, file sharing, and diverse integrations
Best for: Small to large businesses
Integrations: Yes
Price: Starts from $0/month
Features:
Keep your work organized with central spaces for conversations, files, tools, and people.
Collaborate with teams from different organizations with the help of Slack Connect.
Automate routine actions and communications with the help of the workflow builder.
Streamline your work by connecting Slack with over 2200 different tools and platforms.
Take full control of your data and communication with encryption keys.
Share files in chat from any time and anywhere by adding context.
Pros:
Wide range of integrations
Tons of customizations and flexibility
Cons: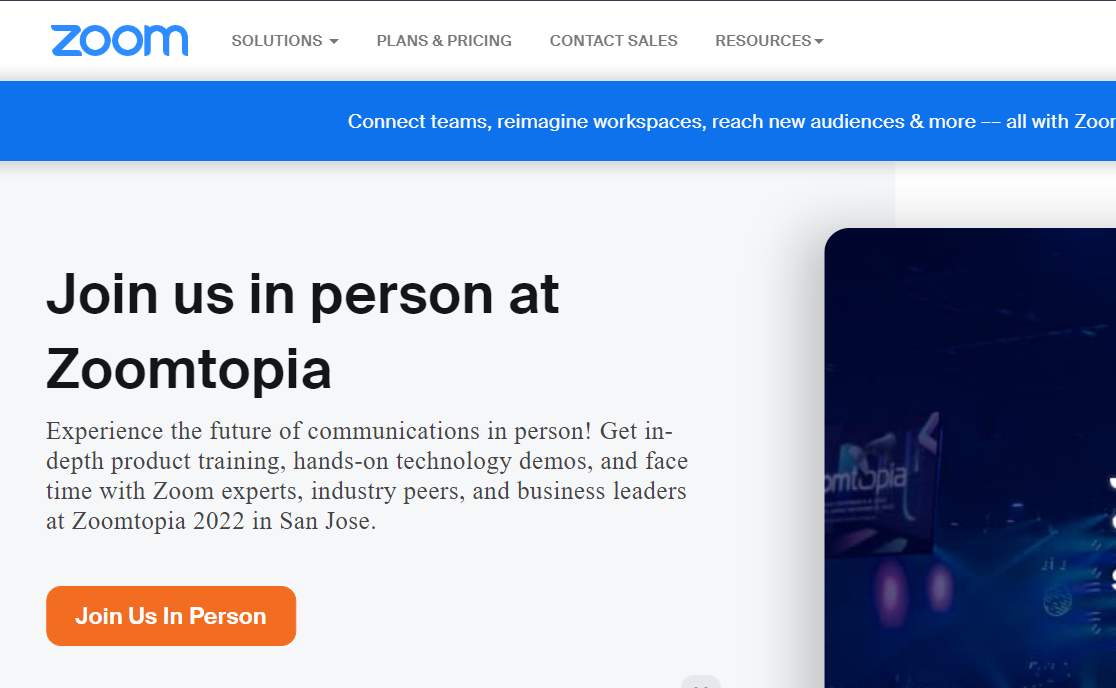 Zoom is arguably the most popular video conferencing platform in the world that helps people stay connected to get more done together.
The fact that Zoom powers all your communication needs through meetings, chat, webinars, phone, online events, and conference room systems makes it a perfect customer communication platform.
Choose for: Channels tab, softphone, and unlimited conferencing
Best for: Small to large businesses
Integrations: Yes
Price: Starts from $0/month
Features:
Easily find contacts, messages, files, and channels with the Elevating Search feature.
Keep the conversations going with people, even between the meetings, with the Chat tab.
Make and receive Zoom calls with the help of the featured softphone.
Get reminders about your upcoming meetings through the meeting tab.
View and share your meeting recording from the Recorded tab.
Find anyone in your Zoom account easily with the Contacts tab.
Pros:
Easy customizations
Shared whiteboards
Cons:
No support for Chromebooks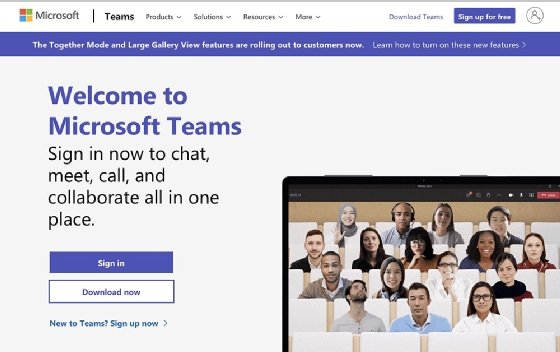 Microsoft Teams is a chat-based workspace built for hybrid work so that you and your team can stay organized, informed, and connected all from one place. Teams are a part of Office 365 that brings together people, conversations, and tools needed to collaborate and achieve business goals.
Choose for: Online document library and conversation with channels
Best for: Small to large businesses
Integrations: Yes
Price: Starts from $0/month
Features:
Create conversational boards for teams with the help of unique channels.
Enable all team members to give their input in the chat and easily add more people.
Store all the shared documents in the built-in online document library.
Enjoy seamless and unlimited video conferencing with people along with screen sharing abilities.
Conduct company meetings of large sizes with up to 10,000 participants.
Lets participants join meetings with their phones through audio conferencing.
Pros:
Easy to create and share meeting links
Supports all devices and operating systems
Cons:
Telephone conferencing requires additional licensing
Requires a high-speed internet connection
Knowledge Base Software
A knowledge base software, also popularly known as a help center software, helps you create, organize and manage self-help content for your audience. These tools let you create and publish frequently asked questions (FAQs), video tutorials, and how-to articles on your website and app.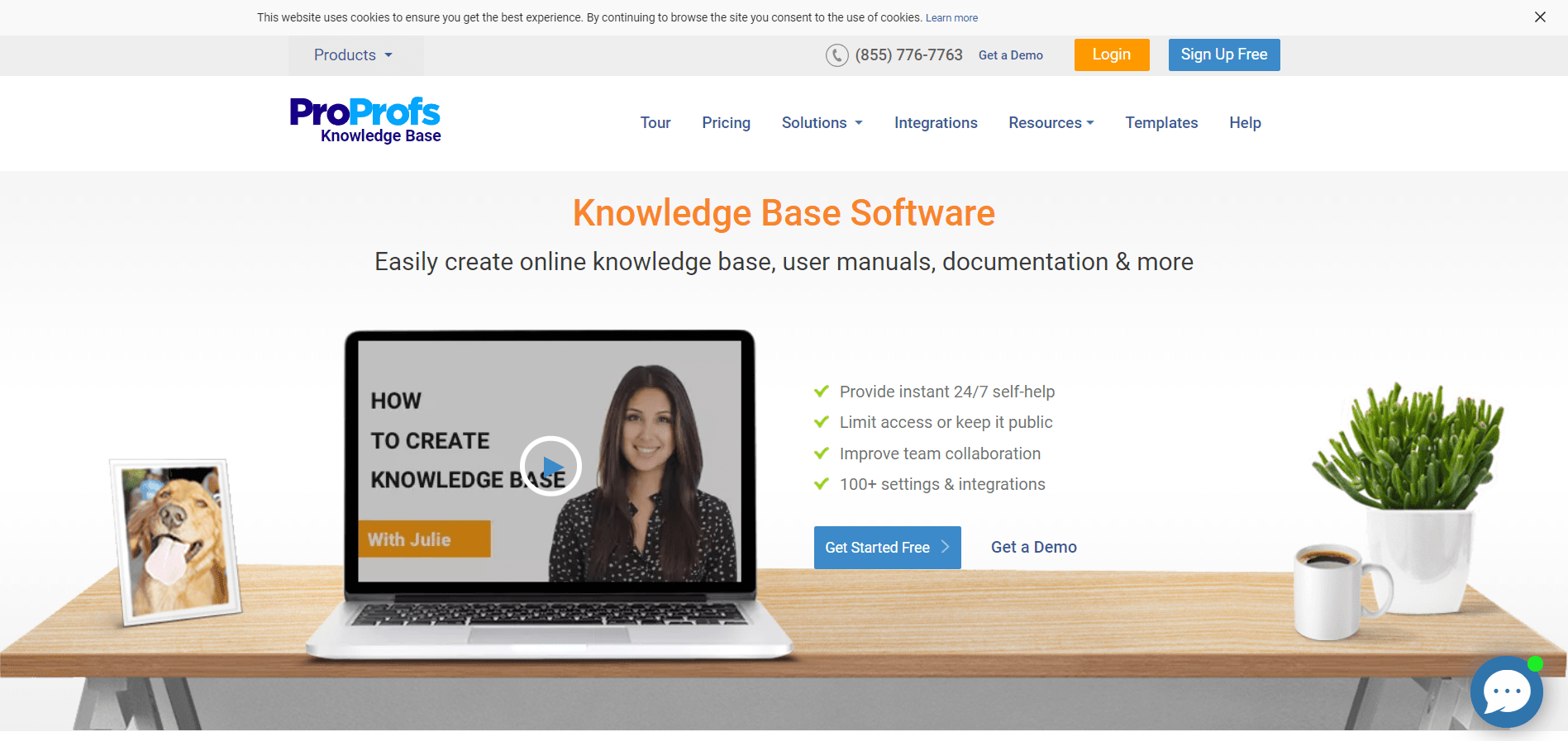 ProProfs Knowledge Base is a simple and easy-to-use customer communication software that can help beginners, experts, enterprises and even startups build knowledge bases without writing a single line of code.
With ProProfs Knowledge Base, you can build internal and external knowledge bases for employees and customers, along with self-help content like FAQs, documentation, user manuals, and guides. This helps in giving out much-needed information to the customers, resulting in fewer customer complaints and tickets.
Choose for: Creating documentation, user manuals, and help center
Best for: Small to large businesses
Integrations: Yes
Price: Starts from $30/month
Features:
Easily build a self-service help center, documentation, knowledge base, and more.
Kickstart your writing process instantly with the help of built-in templates.
Customize your knowledge base with a diverse range of built-in customizations.
Measure article performance and its usage with the help of built-in analytics.
Boost online visibility and reach by configuring SEO settings.
Control access to your documents by assigning roles and permissions.
Integrate with powerful collaboration, ticketing, and chat tools to streamline your workflow.
Pros:
No coding required
Multiple device and browser support
Flexible pricing plans for all
Cons:
Not the best in terms of co-editing capabilities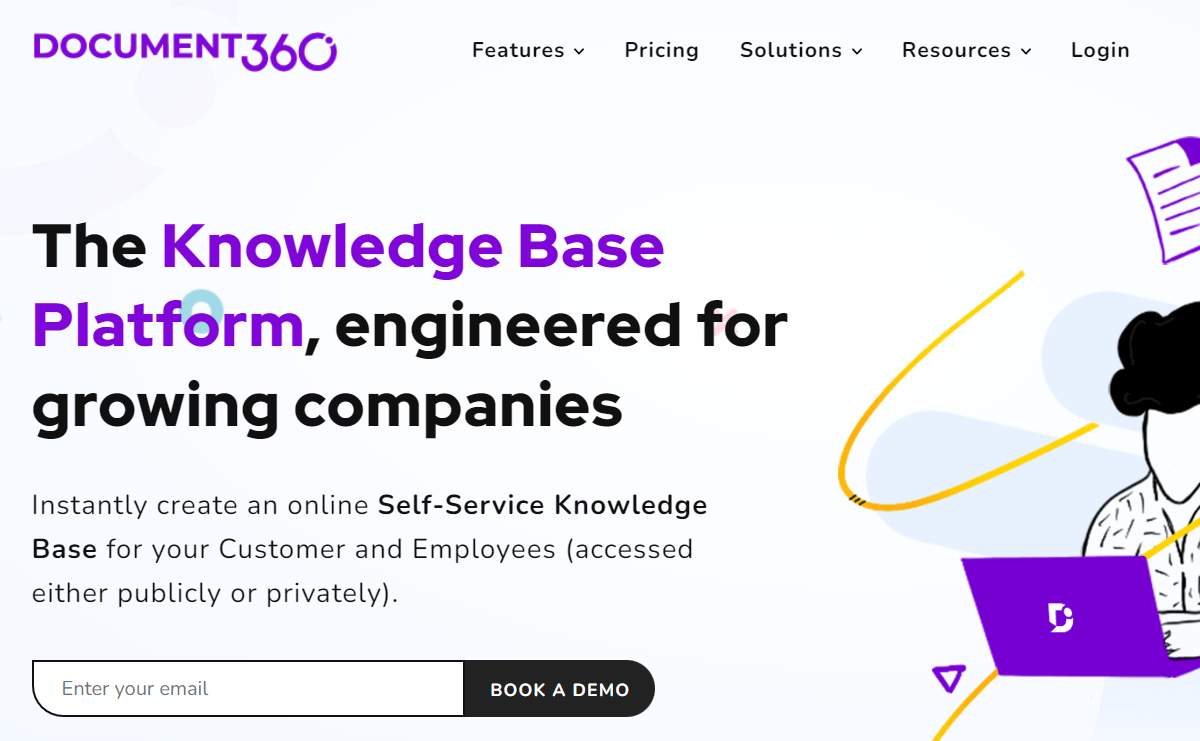 Document360 is a SaaS platform that you can use to build an intuitive self-help knowledge base for your customers or employees. The tool offers a simple Markdown editor that you can deploy to create and edit text documents without a developer.
In addition, the tool automatically backs up your projects daily, so you don't risk losing your data. You can also integrate your knowledge base with other tools in the market to create multi-channel support for end users.
Choose for: Callouts, table of contents, and SSL support
Best for: Small to large businesses
Integrations: Yes
Price: Starts from $0/month
Features:
Automatic backup and restore capabilities to help you save your progress.
Keep your content updated at all times with tracking using version control.
Create great content with amazing formatting using the Markdown editor.
Manage article categories with the help of a tree-view-based category manager.
Assign user roles, give approvals and collaborate with teams as your business grows.
Pros:
Highly intuitive and organized
Built-in image and table styles
Cons:
Inflexible home page editor
Replacing images can be difficult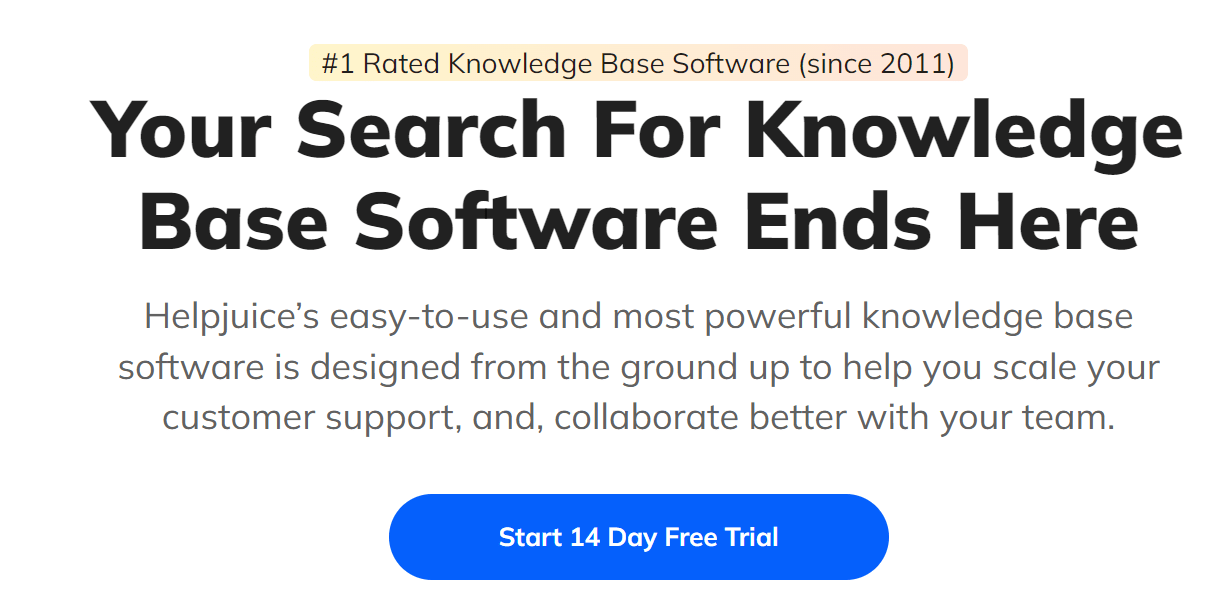 Helpjuice is another extremely easy-to-use knowledge base platform that can help you grow your business by empowering your teams to collaborate while creating content.
It's one of the most straightforward picks for client communication tools as it offers extraordinary features like unlimited help authoring and formatting and access controls, all under one roof.
Choose for: Troubleshooting multiple answers and inter-linking articles
Best for: Medium to large businesses
Integrations: Yes
Price: Starts from $120/month
Features:
Drag and drop files to Helpjuice articles for easy editing.
Get access to easy and unlimited text formatting, uploading, and manipulating.
Work with multiple versions of the article simultaneously and publish them together.
Structure your content into main and alternative categories with the help of built-in categorization.
Set articles to public or private to control who sees what.
View analytics inside the article editor and measure knowledge base performance.
Pros:
Easily restore article history
Collaborate directly within the articles
Cons:
Requires basic HTML/CSS skills for editing
Read more: 15 Best Knowledge Base Software & Tools for 2023
CRM Software
CRM software connects your different departments like marketing, sales, and customer service to organize their notes, activities, and metrics into one cohesive system. A CRM platform can provide direct access to real-time client data to everyone in the organization for better decision-making.
BIGContacts is an exceptional CRM software that provides tons of customer communication capabilities to help deliver personalized experiences. The tool displays all contact details, transactions, previous interactions, upcoming activities, and social media profiles of your customers to help you reach out to them in the most effective way possible.
In addition, you can also attach information with custom fields and even include Google Maps for addresses, making BIGContacts a robust tool for customer communication.
Choose for: Intuitive dashboard, contact management, and email tracking
Best for: Small to large businesses
Integrations: Yes
Price: Starts from $5/month
Features:
Deliver personalized emails at the right time by designing drip email campaigns.
Easily automate redundant tasks and activities.
Manage and assign tasks effectively with the help of a calendar module.
View all contact details like email, transaction history, social media accounts, and more all in one place.
Analyze data with ease either from standard reporting or by creating custom reports.
Automate reminders, tasks, and workflows to improve productivity.
Track events and meetings with the help of shared or personal calendar views.
Pros:
Highly intuitive and easy to use
Contact records are automatically populated
Cons:
Mobile version needs some improvements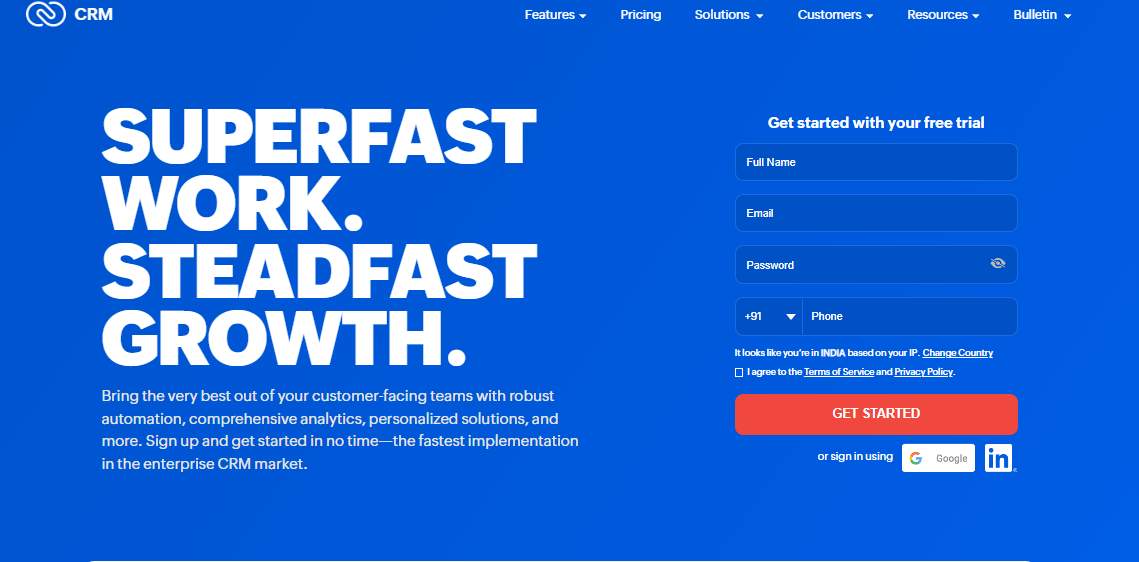 Whether you are an individual or a business with 100 people, Zoho CRM is a tool for everyone. With features like contract management, sales funnel, customer support & service, and AI-powered conversational assistant, Zoho CRM empowers enterprises with a 360-degree customer relationship management solution.
Choose for: Performance management, predictive sales, and marketing automation
Best for: Small to large businesses
Integrations: Yes
Price: Starts from $0/month
Features:
Capture leads and automates lead scoring with the help of lead management.
Track the current stage of your prospects and close them faster with deal management.
Automate your workflows to perform tasks faster and eliminate manual work.
Set up processing rules on your CRM based on real-life sales processes.
Connect your telephony provider from within the CRM and make calls seamlessly.
See what people are saying about your brand online with social media monitoring.
Pros:
Give partner access to create more leads
Access all calendars from one system
Cons:
Confusing naming conventions
Telephony integrations can be improved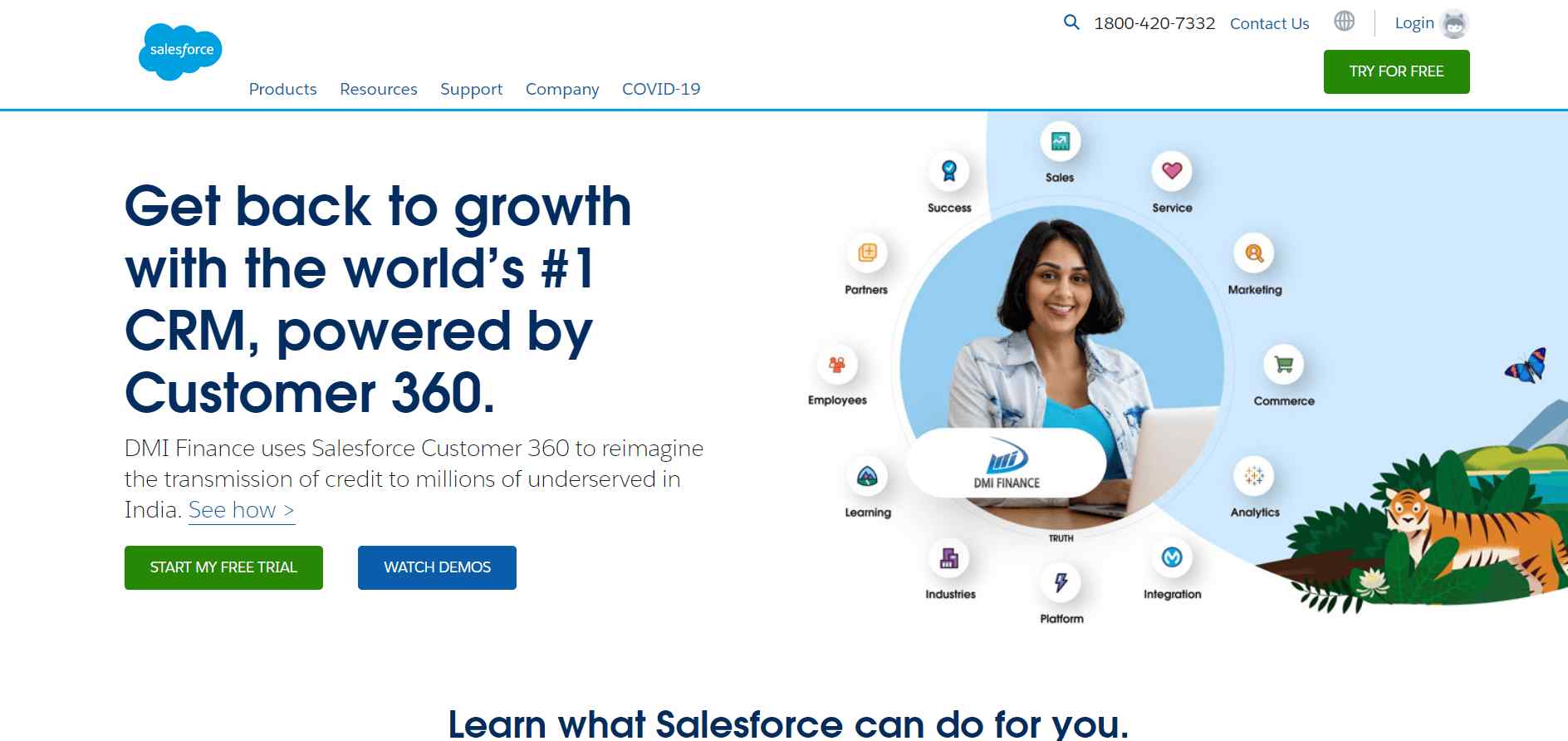 Salesforce is arguably the most popular customer communication tool on this list that provides customers, agents, and representatives easy access to all the information they need.
Salesforce transforms customer care using collaborative systems to help representatives know and communicate with their customers better. You can use Salesforce social and mobile cloud solutions to ensure your prospects and customers are always connected to the right person.
Choose for: Sales collaboration, sales data & intelligence, partner management
Best for: Medium to large businesses
Integrations: Yes
Price: Starts from $25/month
Features:
Access critical customer data using contact management.
Automatically highlight and focus on important information with the help of opportunity management.
Convert marketing leads into sales with the help of real-time lead management.
Track meetings, events, communications, and updates on the mobile phone.
Get a complete view of your customer interactions and close deals right from your inbox.
Pros:
Pipeline and forecast management
File sharing and syncing
Cons:
Opportunity pipeline inspector needs improvement
Could use some more text shortcuts
22.MightyCall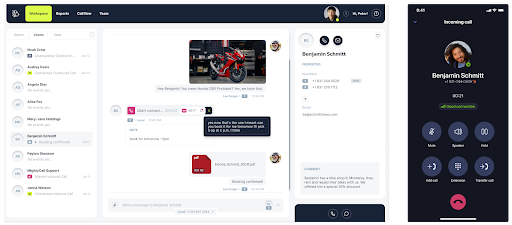 Elevate your call center KPIs and customer service capabilities with MightyCall's Call Center. This powerful platform offers a rich array of features with an excellent UI crafted to optimize call center workflows, eliminate errors, and amplify customer satisfaction. With MightyCall, you will have your entire call center accessible from any device or location, all in one place, fully customized to build business communications your way.
MightyCall has an impressive footprint, with over 10,000 businesses enjoying its services, 20 years of experience in the sector, and a strong market presence in both the US and Canada.
Choose for: Call management, call analytics
Best For: SMBs with high call volumes, Businesses transitioning to a virtual call center model
Integrations: Yes
Price: $ 15/user/month, billed annually
Key Features
Call Whisper, Listen, and Intercept
Supervisor Workspace
Agent Report
Call Transfers, Tracking, and Notes
Queue Callback and Automatic Call Distribution (ACD)
Multi-level IVR and Business Hours
Voicemail Transcripts
Pros
Add secomndary phone number.
Analyze the call transcripts
Cons
The audio recording can be glitchy sometimes.
Comes with a bit of learning curve
FAQs
What are Customer Communication Tools?
Customer communication software tools are used to get a central view of customer interactions across diverse channels.
Such tools are excellent for managing and recording all customer-related data and offering holistic service across different channels and departments.
What Are the Different Types of Customer Communication Tools?
Customer communication tools are not confined to one single type. There are different types of tools based on how you want to communicate with your audience. These are:
Survey and feedback tools- Qualaroo, ProProfs Survey Maker, etc.
Help desk tools- ProProfs Help Desk, Zendesk, etc.
Live chat tools- ProProfs Chat, LiveChat, etc.
Call center software- Aircall, CloudTalk, etc.
Online communication tools- Slack, Zoom, etc.
Knowledge base tools- ProProfs Knowledge Base, Document360, etc.
CRM software- BIGContacts, Zoho CRM, etc.
How Do Customer Communication Tools Help Your Business?
Such tools help you personalize customer service with context, streamline scattered communication, facilitate collaboration and effectively track team performances as well. To know more, explore the benefits of tools for customer communication in detail below:
1. Help Streamline Scattered Communication
It quickly becomes challenging when businesses manually manage multiple communication channels like emails, live chat, or phone calls. It can significantly put a damper on productivity. That's where having a tool or a suite of customer communication tools can help. In addition, customer communication tools can also help businesses share knowledge & content, facilitate idea management, and encourage innovation.
2. Facilitate Collaboration
Customer communication tools not only improve productivity but also help with enhancing inter/intra-team collaboration. Since all the data related to client interactions is stored in one place, members from different departments can collaborate effectively to offer the best customer service.
3. Effectively Track Teams' Performances
When all the client interaction data is streamlined, it becomes a hundred times easier to assess your team's performance and the quality of customer experience you are offering as an organization.
With the help of the right customer communication tools, you can even send post-interaction CSAT surveys to customers to track the effectiveness of your success teams.
4. Personalize Customer Service With Context
In this digital era, you cannot offer your customers anything less than personalized service. People also want brands to offer personalized experiences. And customer communication software lets your front-end teams track each interaction history to offer customers the best, tailored solutions.
With that covered, let's move on to the list of communication tools.
So Which Tool Did You Pick to Supercharge Your Interactions?
Communicating effectively with customers is the core of almost every successful business venture, and specialized tools can make those interactions even more impactful.
Whether you're looking to manage the contact details of your customers, communicate with them, or provide self-help touchpoints- there is a tool for everything.
For instance, you can use Qualaroo to gather customer feedback, solve their issues, engage with them and enhance their communication experience.
Similarly, you can use Aircall to connect with customers through VoIP directly, Zoom to virtually connect with one or multiple people at the same time, and BIGContacts to deliver personalized emails.
All you have to do is find the customer interaction touchpoints and pick a set of tools that can work together to help you improve communication at all stages of the customer journey.
Want insights that improve experience & conversions?
Capture customer feedback to improve customer experience & grow conversions.