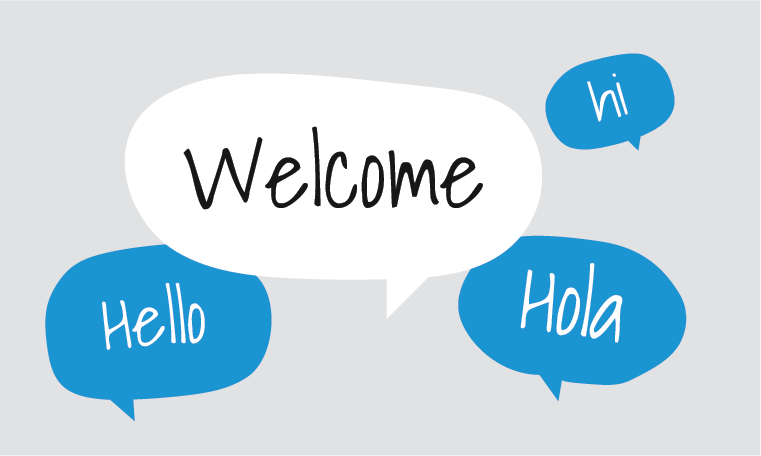 Your customers are leaking out of your funnel. There's a huge drop-off in the number of customers who sign up for your product and the ones who end up using it regularly, and you can't fix this problem with a product tutorial alone. If your user onboarding is just rolling out some one-size-fits-all tooltips, you're doing it wrong.
Pulkit Agrawal, CEO of onboarding tool Chameleon, defines user onboarding as "the system of actively guiding users to see new value in your product." While that might sound like it only takes a few steps to solve, the tricky part is that your product's value is different for each type of users. Marketers are going to value a different service from your mobile analytics tool than developers are.
But the knowledge that you need to personalize your onboarding won't cut it unless you have the data to actually do so. That's where Qualaroo comes in. Qualaroo collects personalization data that you can add to your onboarding process—here's how.
The Importance of Immediate Personalization
You might've heard the scary stats: 77% of users never use an app again three days after opening it. When the app turnover rates are so high, you've got to think like Eminem. You've got one shot, one opportunity. Will you capture it? Or just let it slip?
Your one shot at onboarding needs two things. It needs to be personalized, and it needs to be personalized immediately.
For example, before Pinterest changed their onboarding when men signed up, the onboarding process would lead them to connect with their friends, who were mostly women. Those women pinned topics that weren't necessarily relevant to those mens' lives, so they'd churn. Now, Pinterest changed its onboarding so that their users connect with topics instead of friends—which puts the things they personally want to see on their board, no matter their gender. Recently, men became the company's fastest growing demographic, with more men on Pinterest than reading Sports Illustrated and GQ combined.
But you don't have time to slowly collect and manually enter data into your CRM, then figure out how to apply it to your onboarding. You've got your one shot, so you need to personalize immediately. Collecting your data in real-time, with an app like Qualaroo, is a necessity.
How to Build Personas with Branching Logic
Surveys don't just spit out raw data. You can use branching logic within your surveys to build personas. Instead of just collecting information, you can create deeply specific segments.
Branching logic means that a user's answer to one question determines the question they see next. Because you can personalize your question flow for specific users, you can create in-depth user profiles (and segments of user profiles) based on their answers.
See this diagram. Whether a user answers yes or no to Question A determines whether they're given Question B, or Question C.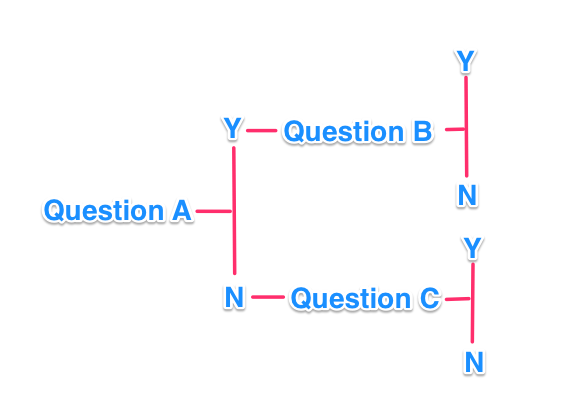 Building segments based on your users' answers can direct your entire marketing stack. Once you discover those personas, you can use Qualaroo's Segment integration as a gateway to the rest of your marketing tools—emails, SMS, in-app communications, and whatever else you've decided to deploy.
For example, if you run a fitness-tracking app, you could ask what physical activity your users plan to track. If they choose yoga, you can ask about what kind of yoga they practice—a question that wouldn't apply to all physical activities. From there, you can segment your answers into personas—bikram yogis, ashtanga yogis, and hatha yogis—and use those personas to suggest what classes they should try.
Here's how to use branching logic on the Qualaroo interface:

[source]
Branching logic allows you to acquire a very specific data set about your customers, creating deep, thorough personas. If you know your customers like the back of your hand, you can better guide them to what they need.
Here's how to use your personalization data to better communicate with your customers—both in your app and out of it.
Use Personalized Onboarding Emails
Make your emails stick out above the noise by tailoring them to exactly what your users need to know. You can use your personas to target these emails. Clearbit, a business development tool, uses Customer.io to automate different welcome emails to segments based on the users' role in their company.
They sent this email to the marketers, with specific instructions and prompts on how to "become a marketing god."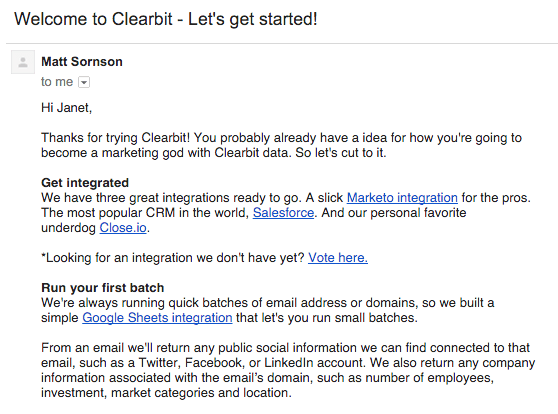 [source]
For the engineers, they gave them the steps to build something.
[source]
When you're able to create different customer personas, you can email them with the exact information they need to start using your product.
Use Targeted Tutorials and Tooltips
Your personalization techniques shouldn't just apply to emails. You should use them in your product tutorials and tooltips as well. Just like in your onboarding emails, a product tutorial geared towards a marketer shouldn't look the same as a product tutorial for an engineer.
While users are free to read emails at their leisure, the stakes are even higher for personalizing your in-app contact. An in-app prompt is friction if it's not necessary. If your product tutorial isn't helping users accomplish their goals, it's keeping them from accomplishing their goals.
Pulkit Agrawal cites this tooltip from Typeform as an example of friction. In Typeform's builder window, a tooltip prompts Agrawal towards "Cool features."


[source]
Because Agrawal is using the form builder and trying to create a survey, Typeform's tooltip about cool features comes across as intrusive instead of helpful. "Instead of being receptive to their new features, I develop an aversion to them," he explains.
Irrelevant tooltips and product tutorials annoy your users, which is why it's important for you to act based on their personal needs. In this case, the tooltip is delivered at the wrong moment. An app like Qualaroo can help you decide what to put in your user onboarding stack, and an app like Chameleon can assist you in when to send those messages.
Collect Data to Discover Why Your Customers Need Your Product
While surveying and product tutorials might not seem like a natural fit, surveys can supercharge your onboarding. When you onboard, you need to lead your customer to the reasons why they value your product. But you have to know your customer before you know why they'll value you.
By collecting data on your customers and building user profiles, you can make sure they're getting real value during the onboarding process—and make sure they're sticking around.
Want insights that improve experience & conversions?
Capture customer feedback to improve customer experience & grow conversions.