Growing a business isn't easy – it takes a broad approach across multiple growth channels, from paid to organic, content to SEO, to really build an effective growth strategy. Relying solely on one marketing channel stifles your business's growth potential.
Sometimes it can feel like throwing tactics at a wall and seeing what sticks.
And yet there's one growth channel that you can rely on regularly. It's a channel that's less focused on paid acquisition and more focused on insights and customer data. That channel is customer feedback. And it's typically cheaper than experimenting with LinkedIn job title targeting, Facebook ads comments, or other acquisition channels.
"How can asking my customers what they think possibly help me with growth?" you might be thinking. It's a fair question. These are people that have already converted. They're already paying you. What more can they do for you?
Yet their experience is critical to your creating a website and product experience that actually draws new traffic and new conversions. After all, who better to learn from about what drives people to sign up for / buy your products than the people who've already bought in?
Below are three critical areas where you can draw customer feedback to fuel your growth efforts. They don't include the additional value you'll add to your customer base and ensuing growth, but that remains present.
1. Website Conversion Rate
Conversion rate optimization can be mind-boggling and make you want to pull your hair out. Figuring out why someone drops off at your pricing page after clearly being interested in your product can get frustrating. But tinkering with elements and tweaking colors can only get you so far. And changing copy without actually knowing what is driving people away can lead to an even worse conversion rate.
So instead of guessing, why not just ask?
You gather a lot of data about people when they visit your site. You track their behavior as they go from page to page. An exit-intent survey popped when they show that they're about to leave your page can catch a portion of that audience's eyes, and there you can ask exactly what's driving them away from your site.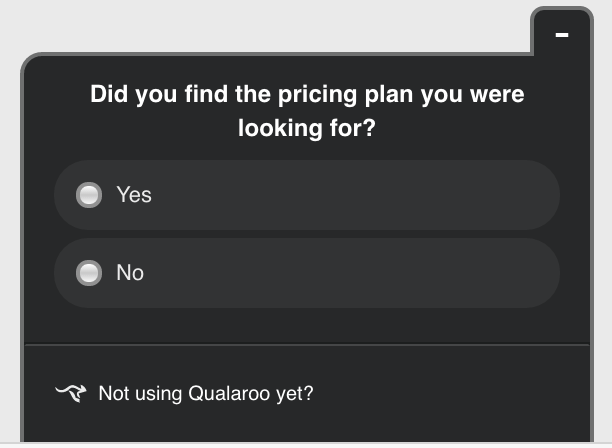 Ask questions like:
Did you find the pricing plan you were looking for?
What made you leave without registering for a free trial?
What would have convinced you to sign up for a quick call with a strategist?
Questions like these get to the root of why someone might have left without converting. Leaving these surveys running for anyone that might visit your site but not convert will give you a steady drip-feed of data about what's driving down your conversion rate.
Your next step beyond that will be to actually respond in kind to the data you gather. The bits of feedback you get about how you write messaging around your product, services, and pricing will tell you exactly what you need to attract more conversions.
Now this doesn't mean going all-in on every single suggestion you get, nor does it mean that you need to change your product's pricing structure. It's still your responsibility to properly triage the different feedback that you get. Part of this will be your own expertise, and part will be gut checks. Are you not pricing your product correctly, or are you attracting the wrong audience with your ad targeting?
Trust your instincts on what you hear from customers and only go for the changes that you think will make the most sense for your business.
Pro tip: It's important to make sure you're not going all-in on copy and messaging changes before understanding whether or not they're actually effective conversion boosters. To do that, you should be running A/B tests comparing your current messaging and your new approach. After all, learnings from customer feedback may not be right about what your messaging should be, or you may not be writing good copy. Use tools like Optimizely to test small changes and see what really drives improvements. Then double down on the approach that works while testing it against other strategies.
2. Advertising & Audience Targeting
Customer feedback is critical to properly narrowing your advertising audiences. Nothing is worse than wasting a ton of money on ad clicks and impressions only to find that you were targeting an audience that really can't afford or doesn't need your product. The best way to get to the bottom of who you should be targeting is through feedback from your current customer base.
Obviously, a major part of this process is looking at your current customer list and doing some data analysis on company size, revenue, industry, etc… But beyond that, it's important to also ask some pointed questions for feedback purposes.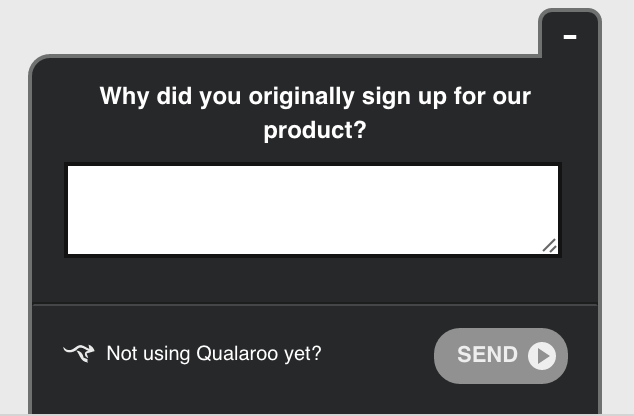 Ask questions like:
Why did you originally sign up for our product?
What products were you using before that we've replaced?
What tools do you currently use for your business?
This information lets you make smart decisions about running small weekly ad tests. You can try approaches like a tools interest targeted ad, targeting an audience based on the tools they like or follow on Facebook or Twitter. You can run aggressive ads on search terms about businesses you've replaced with your product, such as "Alternative to" or just directly targeting the brand names of those businesses.
The possibilities for audience targeting through customer feedback are enormous. Combined with small, flexible tests, you can figure out if an audience you based on that feedback will actually be an effective growth driver for your business.
Pro tip: You can also ask your customers to give a quick review of your product or service. Ask a few sentences about your product, why they use it, and how effective it's been for them. This is a great way to gather reviews for a social proof section, but it's also a terrific ads test to run. Testimonial ad copy can be highly effective at driving clicks and conversions.
3. Product Changes / Optimizations
A major part of growth is retention – holding on to the customers you currently have so you can fuel your future growth efforts, drive social proof, and increase revenue. But if you don't listen and respond to customer feedback about your products and services, you'll find a lot of them churning as they realize you're not responsive to their needs.
Step one for this is to actually ask your customers for feedback.
This is absolutely something you should be doing, especially with customers who are at risk of churning or have dropped off your platform.
It's important to use in-app, post-purchase, and other types of surveys of your customer to follow up and ask them what they think.
Ask questions like:
If you were asked to rate our product today, what rating would you give it?
What did you think of the last item you purchased?
What are some items / features that you think would make our product more useful?
This questioning approach gets to the heart of what might be missing and what your customers actually think of your product. Maybe you don't have as valuable a platform as you're selling, or maybe there are tons of issues and bugs that you just weren't aware of.
Asking pointed questions based on the reasons you both know and assume your customers are churning will give you a good sense for what critical issues you need to fix.
Again, the point here is prioritization. If your customers are churning because your product is broken, then that should be priority #1. Selling a bad product is a whole lot more expensive and difficult than selling a good one.
But if a single customer churns because you don't have a feature or service that is not in your product roadmap, rushing to develop it out immediately would be unwise (unless that missing feature is the cause for a lot of churn).
Triaging feedback so that you can only focus on the most important issues facing your product is the smart way to take this customer feedback and turn it into a strong driver for retention. And high retention means that you've built a useful product, letting you both make the money and have the data you need to grow faster.
Pro tip: Part of this requires a bunch of work ahead of time tagging certain customers as "at risk" so you can serve them better, and creating a messaging automation workflow for keeping your current audience activated and engaged. Use your CRM to segment and tag users that you think may be at risk of churning. This can be anything from the fact that they haven't logged on in 2 weeks, haven't made a repeat purchase, or haven't clicked on any of your activation emails. Having these users tagged lets you create targeted messaging and drip email campaigns designed to bring them back and increase retention. This messaging can also include requests for feedback so you can actually understand why they're not engaged.
* * *
When combined with advertising, conversion rate optimization, and retention growth strategies, customer feedback can be your most reliable growth driver. Your customers and website visitors can give you a great deal of information about what is and isn't working for them.
Use that information to make smart decisions about which audience to target, how to tweak copy and creative on your landing pages, and how to make your product the best it can be. Doing so will not only help you better reach your audience and bolster customer acquisition, but also keep them activated and satisfied with your product.
---
This is a guest post by Stefan Mancevski from Ladder.io.
---
Want insights that improve experience & conversions?
Capture customer feedback to improve customer experience & grow conversions.