How to Build Customer Personas: The Complete Guide
September 2, 2020
Targeting customers accurately is no walk in the park, especially in these days of heightened competition. It takes keen business acumen to attract and convince the right customer to adopt your product or service.
But how can you know which strategy will work?
The solution is to create customer personas. They allow your teams to know about your customers or users on a deeper level, which in turn improves conversion rates. Personas are an important building block for successfully promoting your business.
As the old saying goes, you are not your user. Yet, you have to make decisions on a daily basis that you believe will ultimately benefit them.
The key to achieving this is asking your customers the right questions at the right place and at the right time in order to create an accurate customer persona.
In this blog, you'll learn about how to achieve this and what tools are at your disposal.
Let's begin by understanding the significance of personas.
Why Are Customer Personas Important?
Personas ensure that your marketing efforts yield maximum returns.
Customer personas can help all your teams develop a shared understanding of the target consumer group and grasp their desires and behavioral patterns firmly, and as a result, make decisions strategically instead of just intuitively.
Think of the customer persona as a cheat sheet. A quick one-pager that you have to gut-check your marketing, customer service, and sales decisions. The best part is that this persona development process will give you meaningful data about your target audience that you've been craving.
The solution to this is Qualaroo's unique Nudge feature that gives you unparalleled access to meaningful data about your target customer by collecting actionable feedback.
Creating a Persona: What to Consider
A persona should be built on the basis of the following information:
Demographic Data
Age
Gender
Estimated income bracket
Geography
Family size
Psychographic Information
Goals
Challenges
Personality type
Motivations
Professional Details (Especially If You're in the B2B Market)
Job title and role level
Decision-making power
Tools used and budget for tools
Proximity to product or business objectives.
Bonus Info
A photo that represents your target user/customer
A fictional one-paragraph bio that tells their story
1-2 quotes that reflect their desires
Personal Tastes & Interests
What publications, magazines or journals they read
What blog posts or articles they read on your site
What trends or subcultures they may be part of
Here are a few examples of how well-developed personas would look like: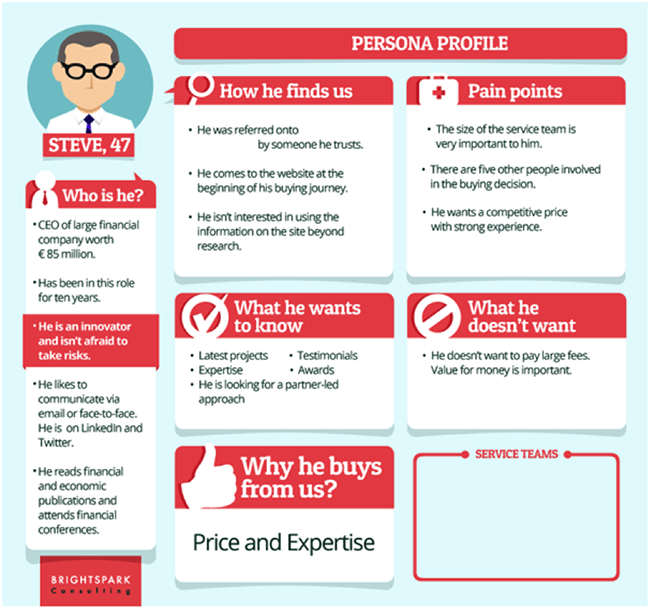 The persona development process is about empathizing with your users, and most importantly, deepening your understanding of who your customers are, what they need, and how your organization can serve them.
If you've walked through a customer journey map exercise before, a lot of the same guidelines and benefits apply while figuring out how to build an accurate persona.
---
Customer Persona Templates
Creating a persona is a means to an end. The end goal is to have an accurate representation of your target customer so that your marketing efforts can be effective. Using a readymade customer persona template is an efficient way to collect the information for this purpose.
Template 1
What is your role?
What does your typical day look like?
What did you come here to do today?
What problem does our product solve for you?
What do you want to achieve by using our product?
What tools are you using?
How has this feature impacted your work?
What is your biggest pain point?
What frustrates you?
What keeps you awake at night?
What is your biggest desire in relation to your problem?
How often do you encounter your problem?
What devices are you normally using when encountering this problem?
How is your success in your role measured?
Template 2
What is your role?
What problem does our product solve for you?
What do you want to achieve by using our product?
What frustrates you (during your work)?
What is your biggest desire in relation to your problem?
What tools are you normally using when encountering that problem?
How is your success in your role measured?
Now let's learn how you can put these templates into action to create a persona that will be a good representation of your prospective clients.
Steps to Build a Customer Persona Using Survey Template
To understand the process, here we'll consider Qualaroo's survey templates that are deployed using a Nudge – a simple tool to collect user insights.
You can Create Customer Personas after you login to Qualaroo by following these steps:
Step 1: Select 'Create New' on the top right of the dashboard, and on the next page, choose the type of Nudge you want to create:

Step 2: Select one of the Build a Persona Templates from the list on the left.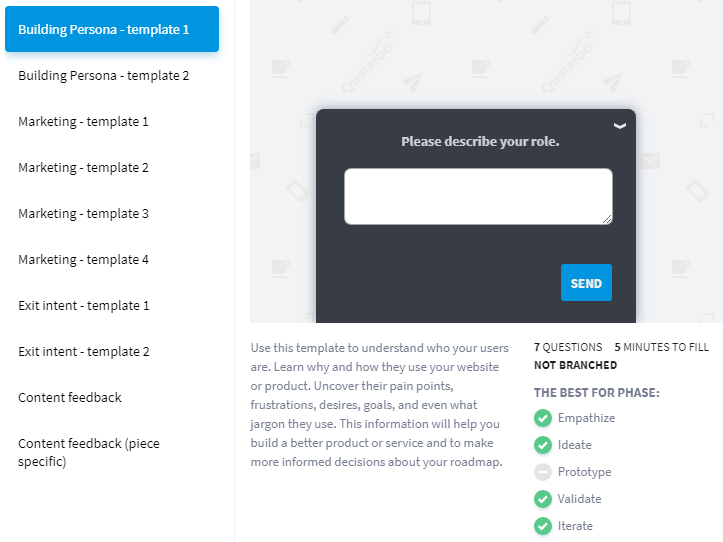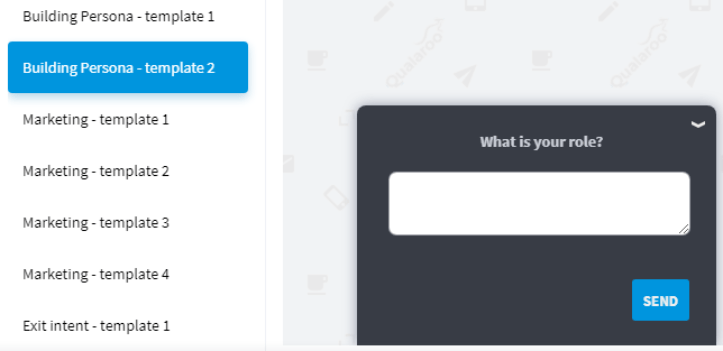 We will continue with Template 1 to demonstrate how to create customer personas.
Step 3: Further settings can be adjusted while creating survey questions to build personas, depending upon how you plan to analyze the feedback, including:
Targeting a Nudge
Sentiment Analysis
Answer type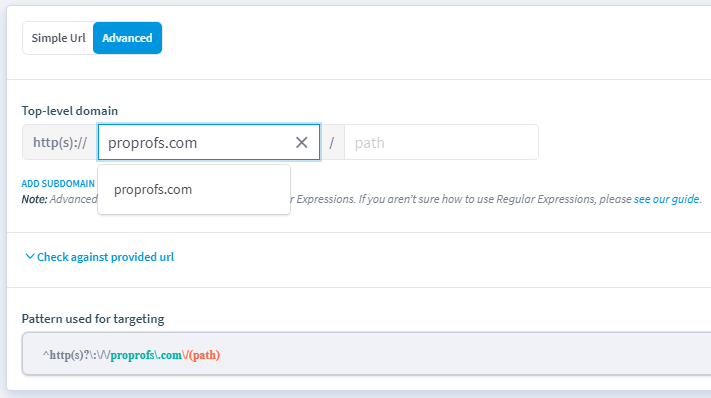 Case in point: Enabling Sentiment Analysis gives you the gist of the feedback from freeform responses without you having to sift through all the customers' answers individually.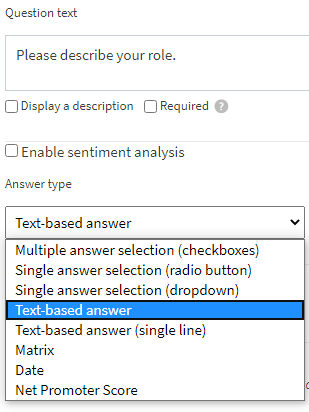 Step 4: The next step is Targeting, wherein you set the parameters of Where, Who, When, How Often, and How Long:

The target demographic could be all (100%) visitors or certain visitors who match your criteria of behavior, technology, and more factors, and the timing to display the Nudge can be preset as well: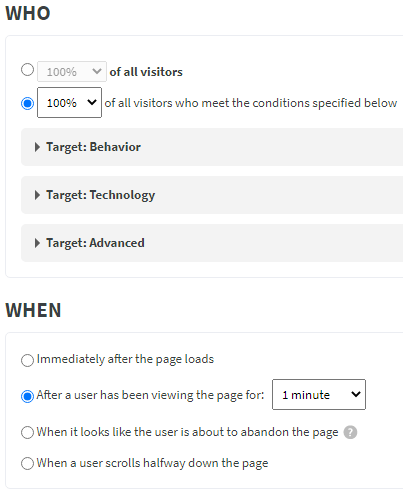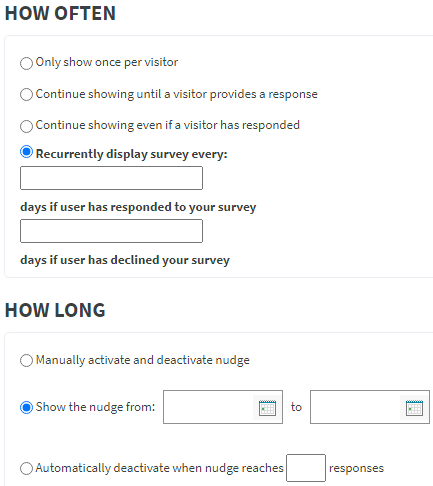 Step 5: Next step is designing your Nudge, which includes deciding the look and feel of how the survey question for building a customer persona will appear to users, including the option to use your own logo.
What's more, if you want to tweak the look and feel of your Nudge further, make full use of the Design API!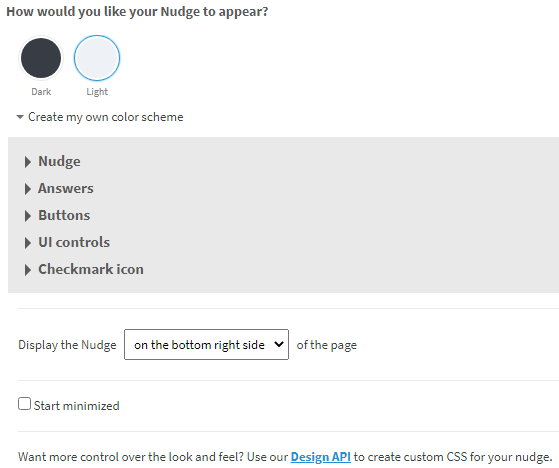 Step 6: Once you have set your background image and logo, you can –
Save and activate the Nudge, or
Save and customize it further, or
Preview it on site before exercising any of these two options

And there you have it! A customer persona that truly personifies your target audience.
**Cheat Sheet**
Ace the Art of Creating Personas That Truly Reflect Your Target User's Tastes.
As mentioned above, personas will contain a variety of details about your core customer or target user. To build an accurately informed and data-driven persona, you will want to include both quantitative and qualitative insights.
Learn how to build actionable personas to improve conversions:
Check out these videos from a Qualaroo webinar discussing important questions about personas and feel free to ask your own in the comments section.
Once you have created the perfect persona, you need to target customers accordingly.
See how Qualaroo helps you create advanced targeting in just 42 seconds!
Learn Customer Motivations, Desires, and Concerns
In this guide, we've covered how building accurate personas offers unique insights and helps us make better strategic decisions. By targeting your questions, saving time with templates, and properly analyzing the results of your efforts, your business can learn within weeks what sometimes takes companies years to learn.
With its unobtrusive Nudges, Qualaroo offers a unique advantage to anyone trying to build highly accurate customer personas quickly. Reach out to us today if you'd like to learn more & level up your persona development process.
Want insights that improve experience & conversions?
Capture customer feedback to improve customer experience & grow conversions.
More posts
May 25, 2022
In-app feedback or users' feedback is a prominent part of any app development process. As a developer, you get to know the flaws you have in your app, what users want, and what can be improved. Now, with the in-app feedback option, you give your app users the freedom of sharing their experience instantly.
Read more