Collecting feedback anonymously from customers or employees has its own perks. You get your hands on people's true opinions on your processes, their experience with your brand, and what areas in which you need to improve.
People may hesitate to speak their minds if they have to provide personal details, but the anonymous feedback option lends more freedom and comfort to the target respondents.
And for such a critical task, having reliable anonymous feedback software comes in handy. Now, we know how overwhelming it can get to choose a single tool from a sea of choices.
That's why we've curated a list of the 10 best anonymous feedback tools you can consider based on your business needs.
We have added a detailed feature list, pros, cons, and pricing for each tool to help you make a sound decision for your business.
So, let's get started.
Top 10 Anonymous Feedback Tools to Consider in 2023
Let's look at these top 10 anonymous feedback tools you can leverage to collect authentic insights for your business.
Qualaroo is the best anonymous feedback tool for businesses to collect open feedback. You can ask for feedback from customers who wish to keep their personal information private on your website or app. The same goes for your employees. You can collect insights from teams on work-life culture and peer reviews without asking for their email address.
Design and deploy the survey nudges on your website or send them via mail in minutes. The tool comes with pre-designed templates to get you started in real-time.
And you can also leverage advanced targeting and AI-based reporting to analyze the collected feedback.
Choose for: Intuitive reporting, pop-up surveys, advanced targeting, anonymous surveys
Best for: Small to large businesses
Integrations: Mailchimp, HubSpot, Zapier, Salesforce, and more
Features:
Quick and easy setup process for collecting feedback.
Lets you design customized surveys for anonymous feedback.
Real-time NPS dashboard and ability to track satisfaction metrics.
Variety of question types is available, including open-ended, closed-ended, dichotomous, Likert, MCQ, etc.
Supports branching logic to improve feedback relevancy and data quality.
Scheduling feature for surveys to appear at a specific time or random intervals.
Pros:
Suitable for quick feedback with Nudge™ pop-up surveys
Different survey types and customizable features make user research easier
A non-intrusive way to check customer pulse
Ability to embed surveys in design templates for testing and feedback collection
Cons:
Reporting dashboard view could be improved
Reporting could be more comprehensive
Price: Starts from $69/month (billed annually)
G2 Review: 4.4/5
Customer Review:
"Qualaroo has everything we were looking for in a survey tool. A no-code builder, AI-based sentiment analysis engine, text analytics engine, and NPS chart. It has a fully-fledged survey responses dashboard to study each response and act on it."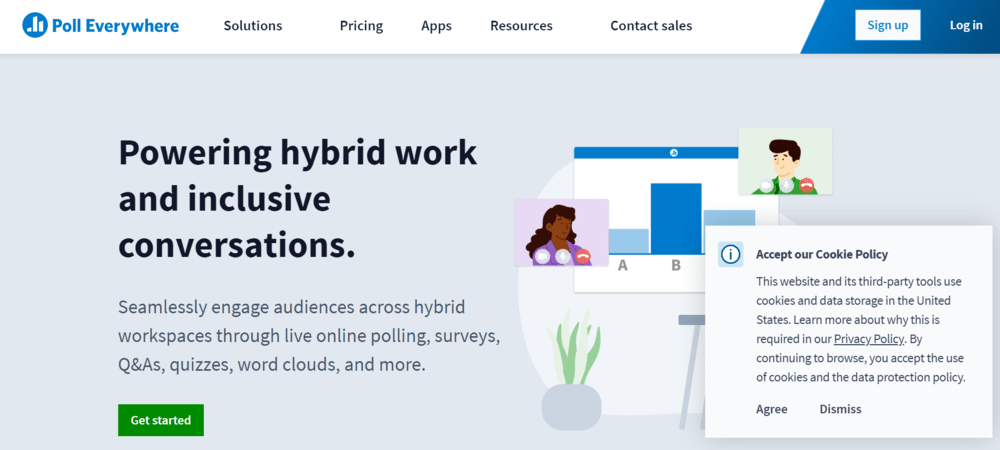 PollEverything is an anonymous feedback tool that allows individuals and organizations to efficiently gather feedback from their audience. With PollEverything, you can create live online polls, surveys, and quizzes that can be shared via a web link, email, or social media.
Participants can easily provide anonymous feedback, making it easy to collect their honest opinions.
Choose for: Anonymous feedback, live online polling, surveys, Q&As, quizzes, word clouds
Best for: Small to large businesses
Integrations: Zoom, Webex, PowerPoint, Microsoft Teams, Slack, etc.
Features:
Supports live polls, surveys, quizzes, and word clouds with multiple question types.
Collects responses from the audience from any device.
Offers recent customization options with real-time results.
Has detailed reporting to help you drive valuable insights.
Supports several integrations with other tools.
Offers advanced security and compliance with privacy regulations
Facilitates gamification of anonymous surveys, polls, word clouds, etc.
Pros:
Easy to use and set up
Improves accessibility for all users
Cons:
Large audiences may require an expensive subscription plan
Limited customization options for free users
Price: Starts from $42/month (billed annually)
G2 Review: 4.5/5
Customer Review:
"We have been integrating it with zoom as most of our training, and other organizational meeting takes place there only. Hence, Poll everywhere helps us in getting the answers from audience and look into that what the majority is thinking."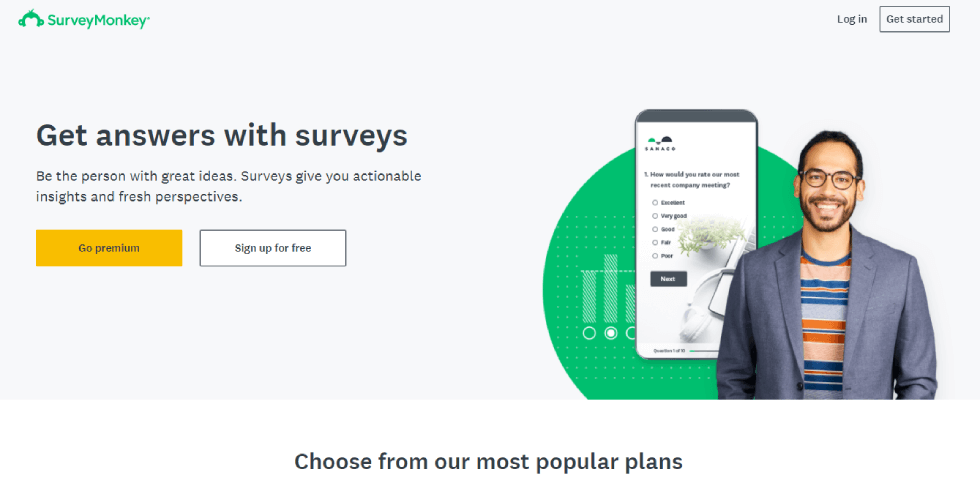 SurveyMonkey is well-known and one of the best anonymous feedback tools that helps collect open feedback. It enables you to capture authentic and unbiased feedback from customers and employees to make practical decisions and generate growth.
The platform offers many features and a user-friendly interface, making it easy to use. SurveyMonkey comprises several collaborative and customizable features, making it a versatile survey solution suitable for various situations. Additionally, it includes several security features to safeguard data privacy.
Choose for: Conducting multi-channel surveys, employee feedback management, market research, user research
Best for: Small to large businesses
Integrations: HubSpot, Automate.io, Salesforce, etc.
Features:
Enables adding survey components like a progress bar, randomization, scoring mechanism, etc., to surveys and quizzes.
User-friendly visual editor is available for designing interactive and intuitive surveys, which can generate high response rates.
Pre-built survey templates are available to help businesses create effective surveys easily.
Customized surveys can be designed with features like skip logic, branching logic, different answer types, etc.
Offers survey language translation to help businesses reach a wider audience.
In-app ratings can be collected using the platform's built-in feature.
AI-powered Genius engine provides an automatic estimation of completion rates and offers feedback to help improve survey effectiveness.
Collects qualitative data using tools such as sentiment analysis and word cloud generator.
Pros:
Comes with automatic charts and graphs
Feedback summaries for easy analysis
Easy setup
Cons:
Limited customization
Advanced functionalities are needed to be purchased separately
Glitches in the website
Price: Starts from Starts at $31/month billed annually
G2 Review: 4.4/5
Customer Review:
"In a lot of ways, SurveyMonkey really set the standard for me in survey creation. I started using it as a psych undergrad student, continued as a research assistant, further used it as an admin assistant at a high school, and would continue to use it now if I had to send anonymous surveys to clients of mine. I've never had an issue with it."
Read Also: 15 Best SurveyMonkey Alternatives in 2023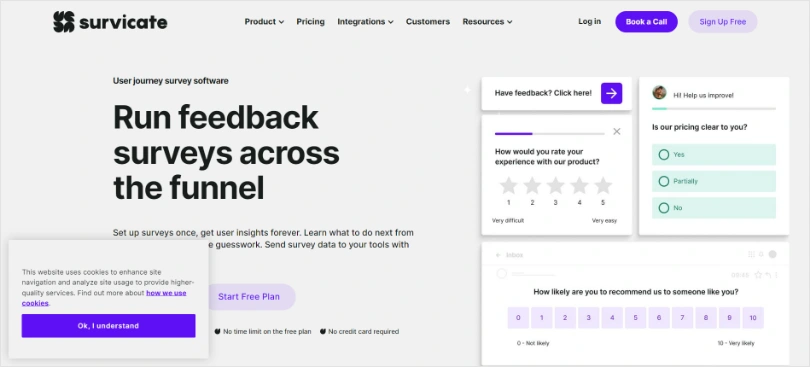 Survicate is an exceptional anonymous feedback survey tool that empowers you to gather valuable feedback. It's highly compatible with major platforms such as Windows, Mac, Android, and iOS, providing a seamless experience across all your devices. Survicate offers live chat and email support, a dedicated help center, customer onboarding, helpful videos, and webinars to ensure a hassle-free user experience.
Choose for: Anonymous feedback, instant surveys, multi-channel distribution
Best for: Mid-sized to large businesses
Integrations: ActiveCampaign, Amplitude, Drip, Slack, Zendesk, and more
Features:
Instant survey launch with 100+ built-in templates
Collect various types of data using NPS, CES, CSAT surveys, and more.
Quick website feedback through a feedback widget.
Publish surveys on multiple channels like websites, mobile, chat surveys, etc.
Manage customer insights from multiple sources.
Pros:
Response monitoring and management features.
Ability to add surveys to Intercom Messenger easily.
Cons:
No optional question feature
May record multiple entries from the same customer
Price: Starts at $89/month
G2 Review: 4.7/5
Customer Review:
"Survicates questionnaires are incredibly customizable, making them suitable for nearly all forms of customer inquiry. We primarily use Survicate for our NPS and genuinely feel they provide the best tool for this. Their integrations with major platforms such as Slack, Intercom and Hubspot is a huge bonus too!"
Read Also: 10 Best Survicate Alternatives In 2023 With Features & Pricing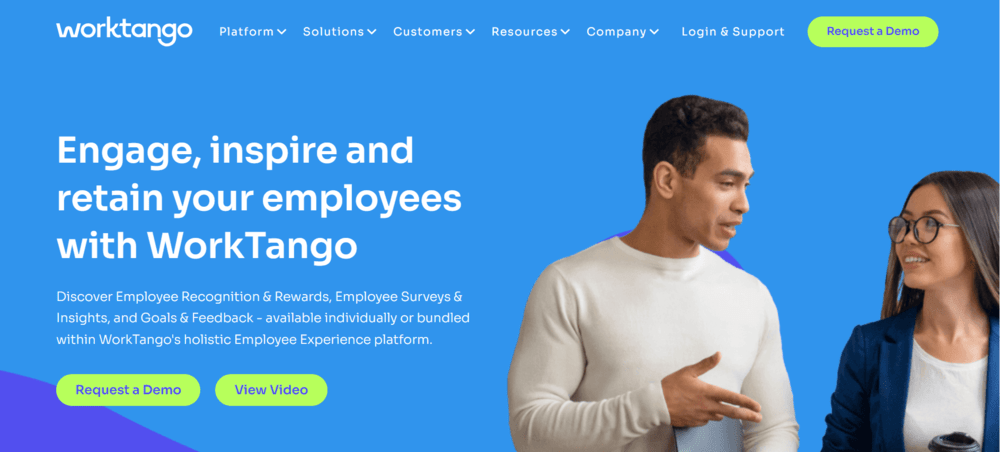 Worktango, an anonymous feedback tool, ensures that employee feedback is always meaningful and actionable using standard templates like 'Start, Stop, Continue' and 'Strengths and Opportunities.' It promotes a growth mindset among employees by simplifying the feedback and peer review process.
Additionally, the tool facilitates coaching and mentoring support, open communication, collaboration, and innovation. Since the tool maintains anonymity, managers get authentic insights to make 1-on-1 conversations, direct reports, and check-ins between managers more valuable.
Choose for: Employee feedback
Best for: Mid-sized to large businesses
Integrations: ADP Workforce Now, BambooHR, Slack, Speakap, Microsoft Teams, etc.
Features:
Helps gather feedback from employees on their engagement levels and work experience.
Offers pulse surveys to collect frequent employee feedback and make real-time adjustments to engagement strategies.
Offers incredible reporting to analyze survey results and track progress over time.
Create custom surveys tailored to specific needs and objectives.
Supports in-app surveys to help you collect feedback on the go.
Gather feedback from employees in different languages around the globe.
Pros:
Manage employee rewards with built-in points system
Send surveys with a link
Cons:
No executive summary document
Price: Available on request
G2 Review: 4.5/5
Customer Review:
"Recently our organization decided to launch an engagement survey and spoke to multiple vendors. We found that WorkTango not only had the best platform for our needs, but were always available to ask our (many) questions."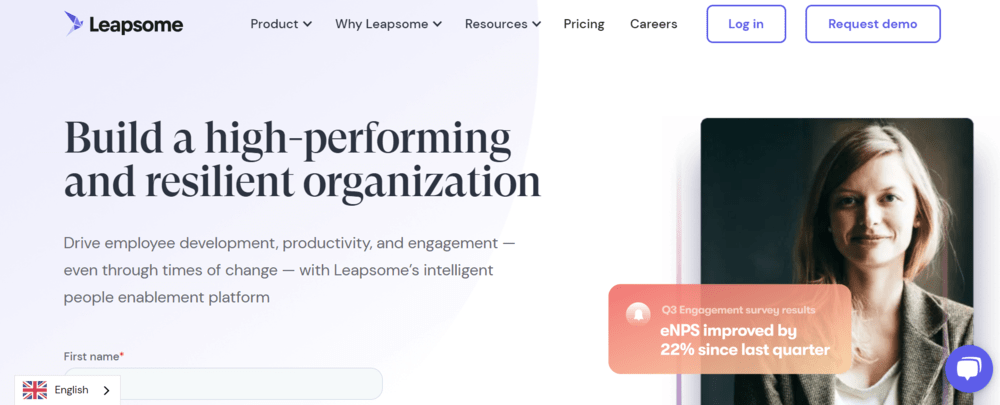 Leapsome is a top-tier platform for employee feedback that aims to promote a culture of swift growth and learning. It enables individuals in the organization to receive continuous anonymous feedback and share commendations.
Additionally, the platform offers a compilation of best practices and resources for employees to enhance their skills and knowledge. Ultimately, Leapsome is a vital instrument for any organization seeking to foster a development and learning culture.
Choose for: Employee engagement
Best for: Mid-sized to large businesses
Integrations: Workday, Personio, BambooHR, Rippling, PayFit, etc.
Features:
Offers built-in course authoring.
Enables course tracking, customized questions, and a dashboard.
Comes with customizable templates so you can create surveys with personal branding.
Provides insights and analytics on employee feedback, helping organizations identify areas for improvement and track progress over time.
Supports gamification to make surveys engaging.
Pros:
Allows the user to keep track of even the smallest items
Helps manage action items in Google Calendar
Cons:
Praise editor needs improvement
User interface is not optimized
Price: Available on request
G2 Review: 4.8/5
Customer Review:
"Leapsome is a great platform for any busy user with multiple meetings. It allows the user to keep track of even the smallest items that need to be mentioned, and to-do items that may need a reminder…When it comes time to have a review, all of my praises and accomplishments throughout the year are right in front of me instead of trying to remember small accomplishments!"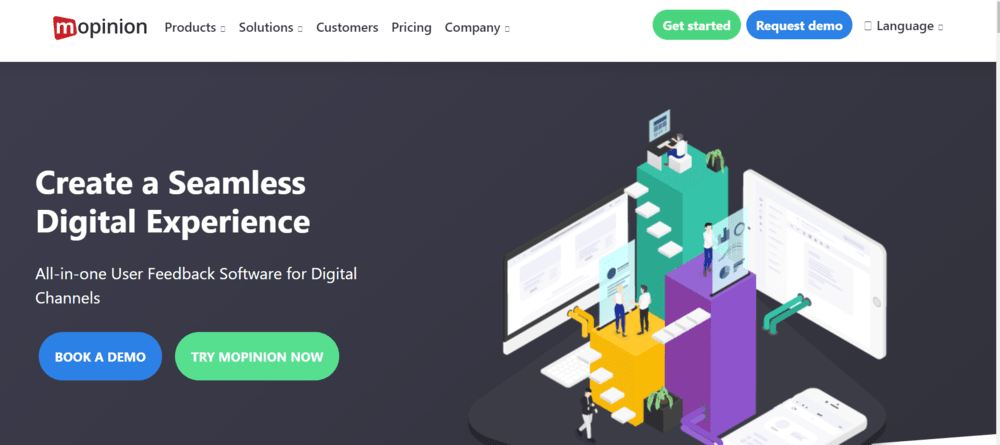 One of the top anonymous feedback tools, Mopinion, helps businesses collect feedback from customers and employees in various ways, including surveys and forms. Its anonymous feedback feature allows for genuine and honest customer responses without fear of retribution. The tool also provides businesses with detailed analytics and reporting.
Choose for: Conducting multi-channel survey, text analysis
Best for: Small to medium-sized business
Integrations: Slack, Google Analytics, Adobe DTM & Analytics, Jira
Features:
Customer segmentation for targeted demographics
Intuitive dashboard for data analysis
Negative feedback management
Predictive Analytics for survey effectiveness
Reporting and analytics
Sentiment analysis to gauge customer sentiment toward the company
Pros:
Adjustable dashboard
Customizable surveys and forms
Option for respondents to add screenshots to feedback
Cons:
Dashboard crashes with each connection
Random results may occur
Price: Starts from $229/month
G2 Review: 4.1/5
Customer Review:
"Amongst many feedback collection systems, only a few products, including Mopinion has offered the screenshot feature. It was my favorite feature within this software, too. In comparison with its competitors, such as Usabilla, Mopinion offers much reasonable pricing – that's another good point of this. Also, the feedback form builder has intuitive input – we can put scales, buttons, text fields, and things we need to set up a simple feedback form for users."
Read Also: 15 Best Mopinion Alternatives for Businesses to Collect Customer Insights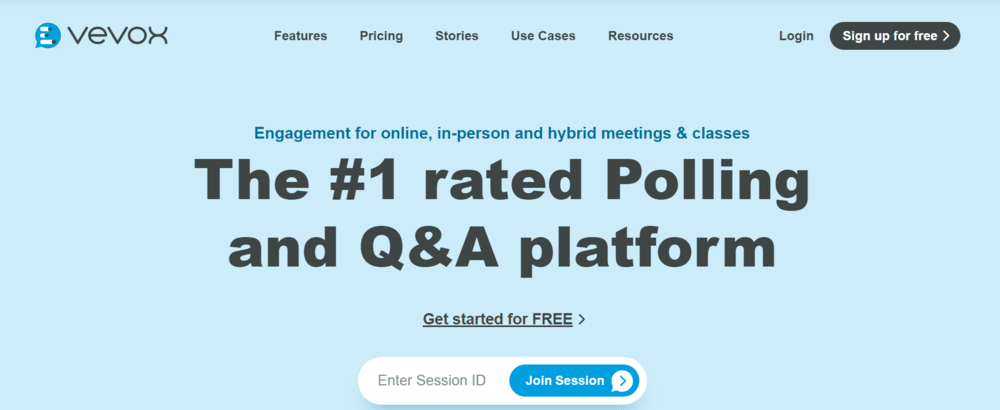 Vevox is an excellent option for gathering customers' and visitors' opinions without hassle. This free online anonymous feedback software specifically focuses on hybrid meetings, classes, events, and webinars. It is designed to gather feedback easily from these specific audiences, irrespective of their location.
Allowing participants to give their opinions anonymously, Vevox can help increase engagement and participation in the feedback process.
Choose for: Polls, surveys, anonymous feedback
Best for: Small to large businesses
Integrations: Zoom, Webex, GoToMeeting, Microsoft Teams, etc.
Features:
Specifically designed for hybrid meetings, classes, events, and webinars.
Offers live polling and Q&A so you can collect truly anonymous feedback to give an equal voice to everyone.
The word cloud that collates customers' opinions, sentiments, and feedback for a holistic analysis.
Create surveys with optional anonymity.
Offers real-time responses and live polling.
Provides detailed insights into audience feedback with its reporting and analytics.
Can be used on a variety of devices, including smartphones, tablets, and laptop
Pros:
Easy-to-use admin user interface
Extra support for Microsoft Suite
Cons:
Price: Starts from $10.95/month. Free version available. Has different pricing for sectors
G2 Review: 4.7/5
Customer Review:
"The admin user interface is easy to use. Creating short poll questions with answers takes only a few minutes to make any virtual training session interactive and engaging. Once the list of questions is created, we only need to insert the ID numbers into the Vevox app (that was added to the team meeting beforehand)."
With an anonymous feedback tool like Assembly, you can effortlessly rearrange and personalize questions to achieve desired outcomes. This free online anonymous feedback tool helps you easily share forms with individuals or a larger audience, such as employees or dedicated departments, by adjusting the link access.
Choose for: Employee recognition, anonymous surveys
Best for: Small to large businesses
Integrations: Azure SSO, Bamboo HR, Axomo, ADP, etc.
Features:
Enables businesses to quickly scan charts with real-time response data or download the data to a CSV file.
Create customizable forms and surveys as per your branding.
Easy to rearrange and reorder questions.
Seamless integration with multiple tools.
Optional anonymous response settings.
Offers secure data storage and protection.
Pros:
You can tag different badges for each recognition
Easy setup
Assists in implementing reward programs
Cons:
Price: Starts from $4.50. Free version available
G2 Review: 4.7/5
Customer Review:
"Recognition platform is a great way for the team to make positive comments about their teammates. It's been particularly useful with a distributed team…I run a weekly pulse which is really useful and we have anonymous channels for Ethics / Staff Council."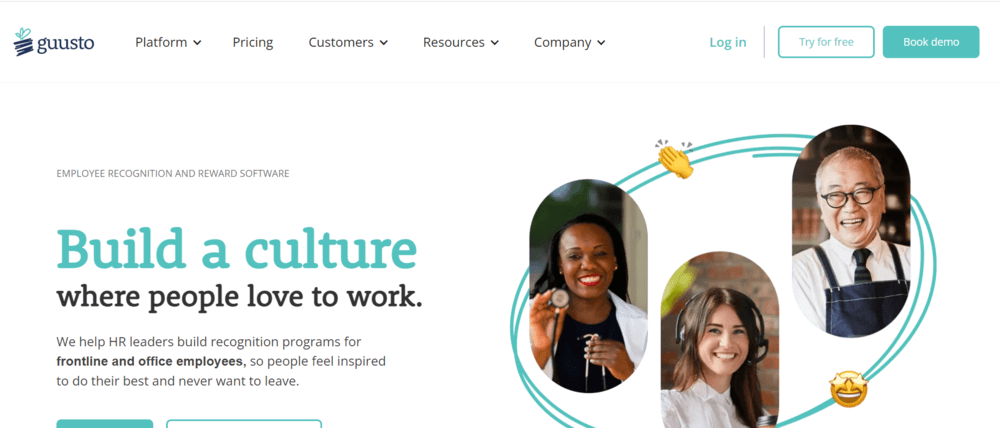 Guusto is an anonymous feedback tool that allows for honest and constructive feedback to be shared safely and securely. With Guusto, team members can provide feedback to colleagues, managers, or leaders without fearing backlash or negative consequences.
Whether for performance evaluations, team building, or general feedback, Guusto offers a simple and effective solution for collecting valuable insights from team members.
Choose for: Anonymous feedback, employee recognition
Best for: Small to large businesses
Integrations: Microsoft Teams, Slack, Google Sheets
Features:
Comes with survey templates to help you get started quickly.
Easy to customize surveys as per your company branding.
Analyzes feedback data in real-time with easy-to-understand visual reports.
Supports data privacy and protection with top-level security protocols.
Offers multi-language support for surveys.
Has automated reminders so employees can respond on time.
Also has a mobile app so you can collect feedback at any time.
Pros:
Instant rewards with the online option
User-friendly UI
Cons:
Price: Starts from $80/month. Free version available
G2 Review: 4.9/5
Customer Review:
"It is a quick and easy way to reinforce positive behavior and reward your team members for going above and beyond. The team loves it. I highly recommend using Guusto to anyone that has direct or indirect reports."
Now that you know the top anonymous feedback tools available in the market, let's understand the importance of collecting anonymous feedback and how it's beneficial for businesses.
Why Does Anonymous Feedback Matter to Businesses?
Many organizations struggle to get honest feedback from their employees and customers, which can significantly hold them back from making the necessary improvements. Anonymous feedback can help organizations overcome this and other challenges.
Here are some reasons why anonymous feedback matters:
1. Encourages Honesty
When people give feedback without revealing their identity, they are more likely to be honest and provide valuable information that they might not disclose otherwise.
For instance, if an employee is unhappy about working conditions or has a complaint about a particular process or person, they may not feel comfortable disclosing this information directly.
With anonymous feedback, they feel safe while sharing such feedback without the fear of any repercussions.
2. Helps in Identifying Trends and Patterns
Anonymous feedback helps reveal recurring themes or issues a company might not have been aware of. It successfully identifies problem areas that require improvement and helps the organization better to understand the needs of its customers or employees.
3. Boosts Employee Engagement
Anonymous feedback gives employees a platform to voice their opinion, making them feel valued and heard. It gives employees the confidence to participate in decision-making and improves their working environment, boosting employee engagement and satisfaction.
Criteria to Select Anonymous Team Feedback Tool
Here are a few points to remember while choosing anonymous feedback software for your organization to make decision-making effective and easy.
Ease of Use
The anonymous feedback survey platform should be user-friendly and easy to navigate, making it simple for employees and users to access and complete the questionnaire.
Customization
It must allow a plethora of customization options to personalize the survey to suit the organization's or team's specific needs.
Multiple Question and Survey Types
An online survey tool should allow various question types (open-ended, multiple-choice, rating scales, etc.) and surveys (NPS, CSAT, CES, etc.) to capture different types of feedback to help you collect diverse insights.
Reporting and Analysis Features
An anonymous feedback tool must-have features such as advanced reporting and robust analysis. This way, you can analyze feedback and gather insights to drive decision-making.
Integration
Anonymous feedback tools should integrate with other productivity tools commonly used by businesses (Slack, Google Suite, etc.), making it easier for respondents to access and complete the survey.
Security
The anonymous feedback tools should prioritize employee responses' confidentiality and data security. Published surveys must also comply with data protection and privacy policies.
Time to Collect Unbiased, Authentic Feedback in Minutes
With this, we conclude our list of the best anonymous feedback tools you can choose from. Irrespective of how well you think your employee recognition or other processes are, collecting anonymous feedback opens doors to many authentic insights you might not get otherwise.
Be it for employee performance tracking, soliciting unbiased customer feedback on specific projects, or tracking employee experience, having an incredible anonymous feedback tool makes the job easy.
Keeping the above points and features with your business requirements in mind while choosing an anonymous feedback tool will give you rich insights in no time.
Frequently Asked Questions
You can use feature-rich and the best anonymous feedback software like Qualaroo, SurveyMonkey, Vevox, etc., to collect such feedback and get real insights.
One of the top benefits of anonymous feedback is that you get authentic feedback which people might not be comfortable giving if their identity is revealed.
Want insights that improve experience & conversions?
Capture customer feedback to improve customer experience & grow conversions.