Net Promoter Score
Net Promoter Score® is the measure of how likely your customers are to refer you to others.
What is Net Promoter Score®?
The Net Promoter Score® is a measure of the likelihood of your customers to recommend your product or service to their friends, colleagues and others in their network. It was originally created by (and is a registered trademark of) Fred Reichheld, Bain & Company, and Satmetrix.

Many companies use the Net Promoter Score® (or NPS®) as part of their VOICE OF CUSTOMER research to determine their overall brand perception, customer satisfaction, and viral or referral marketing strength. Increases in NPS® suggest an improved brand perception. Declines in NPS® show decay in overall customer satisfaction.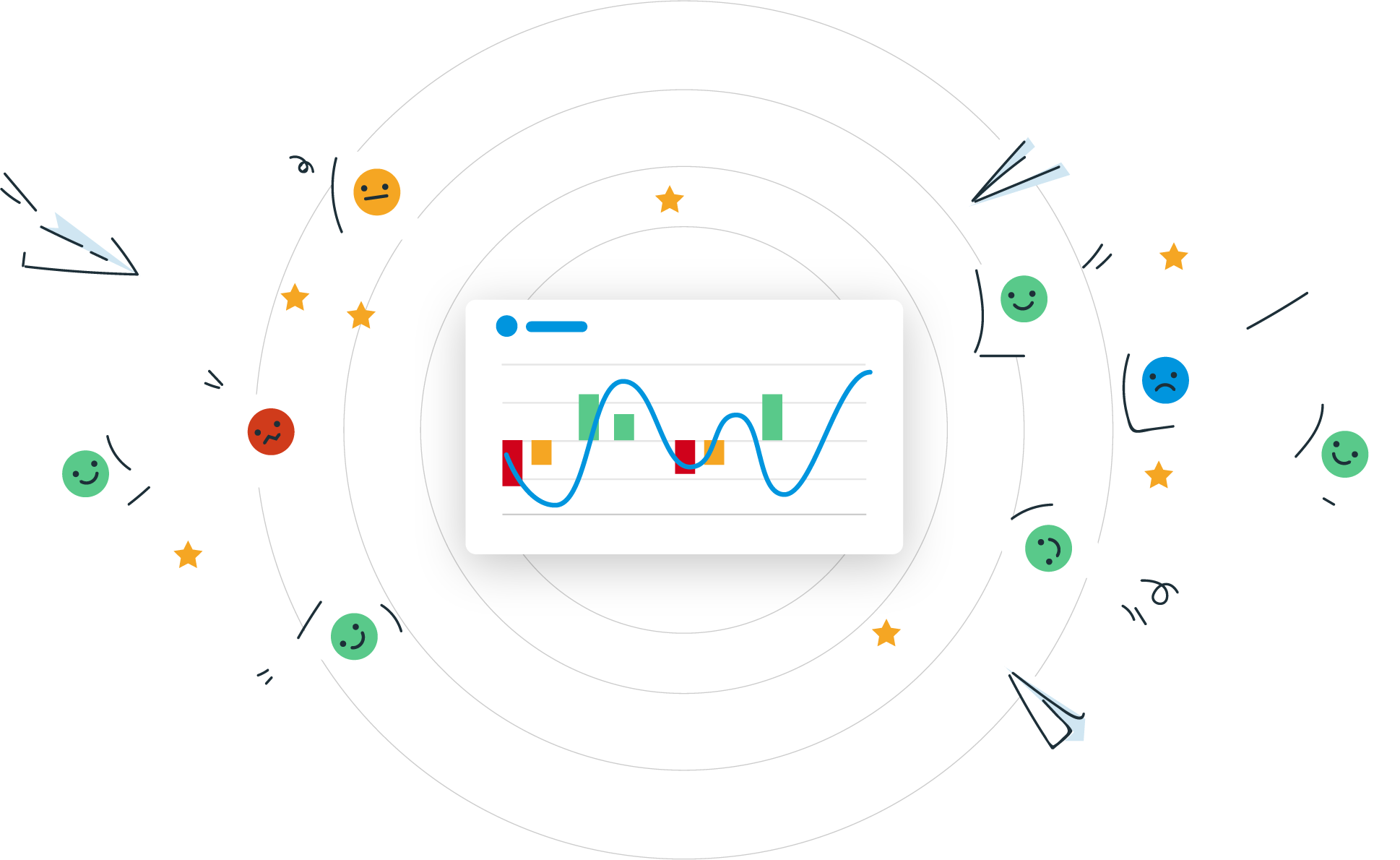 What is the Net Promoter Score® Question?
The Net Promoter Score® is based on customer responses to the following question:
"How likely is it that you would recommend [your company or product] to a friend or colleague?"
Respondents choose their likelihood on a scale of 0 to 10 with 0 being not at all likely to refer and 10 being highly likely to refer.

? Users who answer a 0 to 6 on the Net Promoter Score® scale are called "Detractors" and are unlikely to refer your business or will actively go out of their way to not recommend or dissuade a friend or associate from using the product.

? Users who answer a 7 or 8 on the Net Promoter Score® scale are called "Passives". They are not likely to refer you to a friend when the opportunity arises. For example, someone who answers a seven on the NPS® survey for AT&T will not recommend or have a neutral opinion of AT&T when a friend asks if they are happy with their cell phone carrier.

? Users who answer 9 and 10 are called "Promoters". They are brand loyalists and ambassadors who will go out of their way to refer a friend or associate to a product or service. When you think of some of the most popular brands today, such as Apple, Nike and Amazon, you can envision many people answering 9 or 10 to their NPS® surveys.
How is Net Promoter Score® Calculated?
The Net Promoter Score® is calculated by taking the percentage of promoters (the 9s and 10s) and subtracting it from the percentage of detractors. The final score is based out of 100.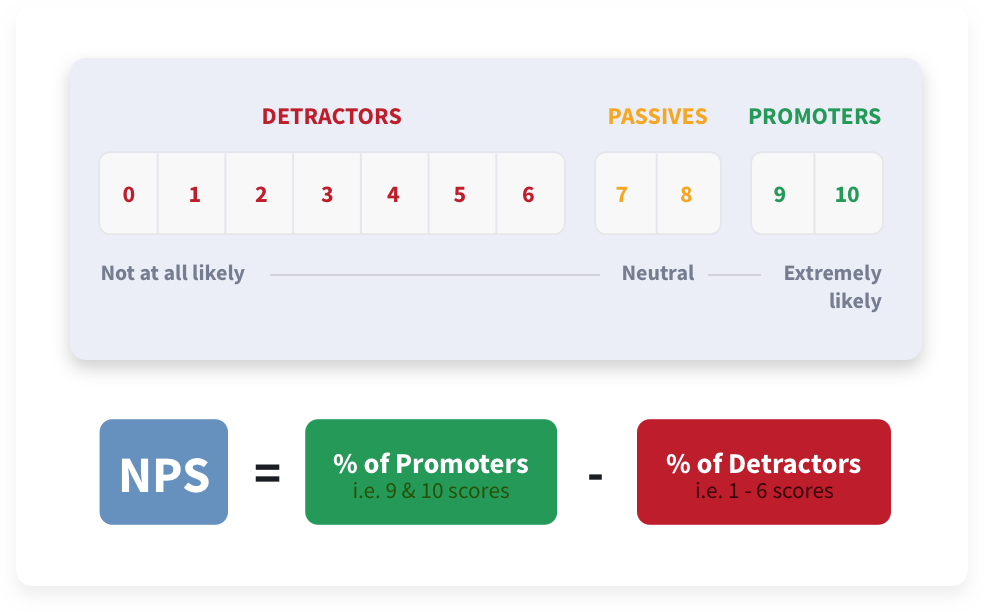 Should I Use Net Promoter Score® for My Business?
There is plenty of debate online about how to measure your customers' satisfaction and loyalty to your brand. Some people argue that Net Promoter Score® is inaccurate or not detailed enough to capture true customer sentiment. Despite these arguments, many companies make Net Promoter Score® a part of their customer satisfaction assessment.
Whether you ask additional questions to get more detailed insights into brand loyalty is up to you, but at a minimum, calculating your Net Promoter Score® is a good way to assess your business and find areas to improve it.
One other benefit of asking the Net Promoter Score® is that you are able to compare yourself against industry NPS® benchmarks and scores of the most popular companies in the world. This way you can get an understanding of how your customers feel about your business in relation to other companies in your industry and overall.

START UNCOVERING VOICE OF CUSTOMER INSIGHTS NOW

Who Should I Ask to Take the Net Promoter Score® Survey?
The Net Promoter Score® is often asked via an email, mail or phone survey to existing customers. The Net Promoter Score® can also be asked of website visitors while on the site with Qualaroo.
NPS® via email is an easy and effective way to get feedback from customers, but it requires that you have the customer's email address and permission to email them. This often represents a very small subset of the total number of people that come to your website. This small number means that you are unable to gauge your brand perception with the larger audience of people visiting and using your website or product.
Qualaroo helps companies get a broader view of their Net Promoter Score® by asking website visitors via a WEBSITE SURVEY. With Qualaroo, NPS® can be asked of any website visitor on any page or from any traffic source or other attribute.
For example, using Qualaroo's geo-targeting capability, a company could assess its Net Promoter Score® across different countries. Or via Qualaroo Mobile Surveys could assess the difference in Net Promoter Score® for mobile visitors versus their desktop customers. Targeting Qualaroo within the logged in state of the product can elicit NPS® from customers who are unresponsive to emails or have opted-out of email communications from your company.
How Often Should I Survey for Net Promoter Score®?
Net Promoter Score® is an indicator that can change over time and by point in a buyer lifecycle. Therefore it is worth surveying for NPS® on a time basis as well as on a lifecycle basis. For a time basis, asking your customer base every quarter is a good way to gauge how your product and brand is performing over time.
To ascertain NPS® in the customer lifecycle, you'll want to identify the most critical points in the buyer journey and ask the NPS® question at those points. For example, asking NPS® immediately after trial, after purchase, 30-days post purchase, six months post purchase, etc. will help you identify the ups and downs of the customer lifecycle and identify areas to improve their satisfaction.