Feedback Templates and Survey Questions for Product Development Opportunities
July 17, 2020
Product managers. Product designers. UX researchers. UX/UI designers. No matter what your role is, your product roadmap is just that: a roadmap. A trajectory for where your product is headed, with milestones and target deadlines all along the journey.
Even if your core product has already been shipped out to market, there is always new ground to cover. New product opportunities to be explored.
So how do you decide what comes next? Or what should be revisited?
Now comes the million-dollar question: how can you incorporate what your customers say they want into your decision-making process?
The answer? Ask them directly.
Holding conversations with stakeholders and customers is a great place to start. Use simple product development feedback templates to serve short questions that they can answer quickly.
In this blog, you'll find several feedback templates and learn when to use them, e.g. for product opportunity analysis. This will help you ask the right questions that will drive your product development roadmap.
Let's dive in.
Exploring Product Opportunities: Microsurveys to the Rescue!
Exploring product opportunities is one of the main reasons why we created templates at Qualaroo
The Qualaroo Nudge™ is a unique take on the microsurvey concept. It offers an easily scalable way to ask users about their needs and expectations when it comes to your product.
Asking open-ended questions directly also offers users an opportunity to share what's working well for them, and very significantly, what isn't.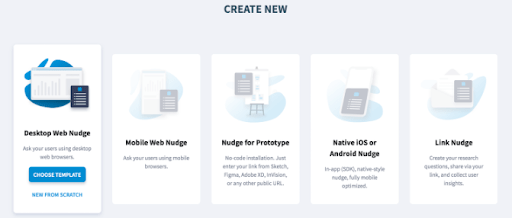 We've made different versions of most of our templates so that you can choose the length and questions that work best for your needs.
All templates have highly-vetted questions and work well in the ideation, validation, and iteration phases of design thinking.
Check out this video detailing more reasons why using a template helps:
Before we start exploring survey templates in detail, don't worry if none of these are an exact fit for where your product is right now. With Qualaroo, you can customize your own template in a snap!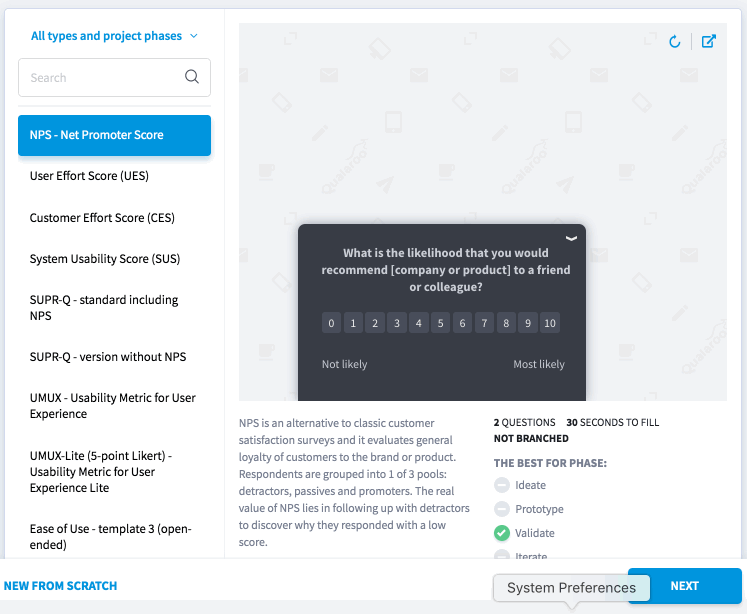 Template 1: Missing Features
Works best when: You're looking for an overview of how users feel toward your product.
Get the good, the bad, and the ugly truth of user sentiment.
What were the three things you liked best about this [product]?
Is there anything that is missing in our [product]?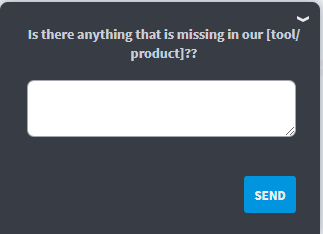 Is there anything here you never use?
(If Yes) What is it? Can you tell us more about why you are not using it?
If you could change one thing about the product, what would it be?
Would you recommend this solution to others?
(This is along the lines of Net Promoter Score survey that is illustrated below)
These questions are great for re-assessing your product after it has been in the market for a while.
Template 2: Adding Features
Works best when: Your company offers one core product and your roadmap is primarily feature-driven.
Figure out if those features are meeting expectations or causing frustrations. Do they need improvements or is something missing altogether?
Does this [product] have all the features and functionalities you expected?
(If No) What is missing?
What frustrates you here?
How would you improve this [product]?
What is the most important feature you think we should add?
These questions show you the way forward, especially when your competition is offering more feature-laden products in your industry segment.
Wondering About Use Cases & Best Practices for Templates?
Watch This Webinar With Detailed Walkthroughs!
Template 3
Works Best When: Your Product Strategy Is Going Through a Clean-Up Phase.
You need to re-focus on what matters most to your users, so you can toss out the clutter. Product maintenance isn't just about fixing bugs. It's also about maintaining a user experience that stays up-to-date with what users need so that they don't start looking elsewhere.
What output did you expect from using our [product]?
Is there anything here you never use here?
(If Yes) What is it? Can you tell us more about why you are not using it?
What frustrates you here?
How would you improve this [product]?
What is the most important feature you think we should add?
These questions help you streamline your product so that any unnecessary features that may be slowing down or negatively affecting user experience can be eliminated.
Template 4
Works Best When: You Need to Do a Quick Pulse Check.
These results will tell you what you should start, stop, and keep doing!
What frustrates you here?
How would you improve this [product]?
What is the most important feature you think we should add?
Template 5
A UES or User Effort Score Template is a template developed by us based on the popular Customer Effort Score metric. It measures responses on a 5 or 7-point Likert scale.
Works best when: You need to check usability, user sentiment, and how engaged and satisfied a user is with your product.
These results will help you create internal benchmarks that you can maintain or continuously improve upon.
To what extent do you agree or disagree with the following statement?
The [product] made it easy for me to get help with my issue.

You can also go for ease of use template to learn more:
Best Choice for Quick Decision Making
When most of your product is ready and you need to take a call on which features to retain and which ones to remove, templates for surveys are quite useful for such quick decision-making:
Find out what your customers want from the product, or what users want from customer support, or what best converts prospects into buying customers
Ask your users direct questions to help understand what they feel like they're missing, or what isn't working out for them
Tweak and make improvements on existing features
Remove features that aren't valuable
Decide when to overhaul your product entirely and when to tweak it slightly to satisfy the majority of current users and attract new ones
Now let's take a look at how digital assets company Twilio used Qualaroo to study its customers.
Qualaroo in Action: Case Study
Twilio helps its clients in developing SMS, voice & messaging, and video applications through simple and powerful APIs that are built in-house by said developers. Twilio's customers are mainly highly pivotable businesses, so the Twilio customer response team always needs to be on its toes.
Problem:
The mainstay of Twilio's product development strategy is anticipating their clients' needs. A major part of the employees' focus is on identifying and addressing their needs, both expressed and implied.
Solution:
Qualaroo was deployed to:
Schedule and collect user testing or product feedback from targeted customers via interviews
Ask questions to customers who need help with ideation and compare their expectations with actual results
Provide intelligently branched guidance to explore areas in which new customers needed the most help.
Gather quantitative data to guide development teams in bridging the gap between client expectations and deliverables
Result:
Within a short time, development teams went from working on opinion-backed ideas to forming products that were backed by data gleaned from customer feedback. This forward step in the development process made Twilio more productive and heightened the satisfaction level of customers, who saw shorter turnaround times between initial product discovery and final product delivery.
Question Library – Create Unique Surveys in Minutes
If you don't like the one-size-fits-all approach, simply create your own unique questionnaire that seeks the answers to your most burning questions about product opportunities.
Qualaroo also has an expansive question library, which you can use as the starting point for building your own survey if you are looking at market opportunities beyond product design.
See this comprehensive – and by that we mean HUGE! – list of example questions!
To put your findings from the survey into action, you can decide when to do it, what advantages it gives you, and how your bottom line will benefit from putting your customers' opinions into action. Your situation dictates the template you use.
Use the readymade templates when you want to check out customer opinion or get their input on future product features.
Make your own survey from scratch when there is a very specific question to which you need the answer.
In both cases, asking customers directly is the way to go for precise product development.
Do you want a free Survey & Feedback Software?
We have the world's most versatile user research & feedback survey tool starting at $0
More posts
November 12, 2020
CSAT surveys are the standard way to gauge the happiness of the customer with your product or service. They give customers a voice. CSAT data can be qualitative and/or quantitative. There are customer satisfaction survey designs that gauge the emotional CSAT on a figurative scale, as well as those that calculate definite numeric scores. But what kind of CSAT survey gets you reliable responses and data?
Read more