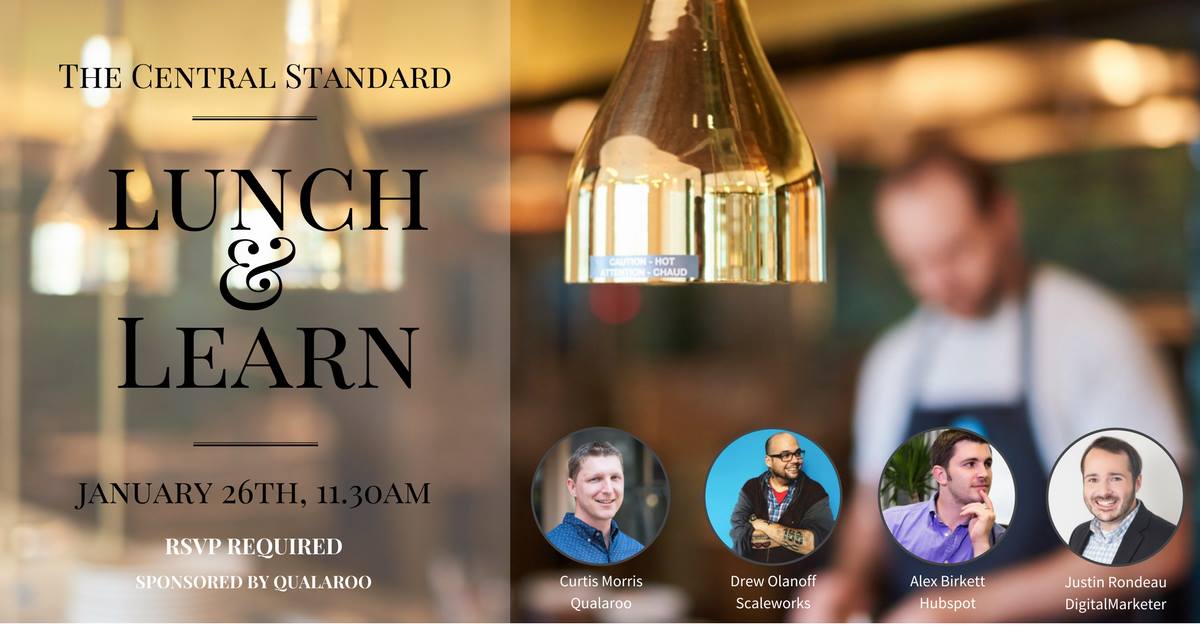 We hosted our first Lunch & Learn Series of 2018 at The Central Standard in Austin, TX. Speakers and panelists from DigitalMarketer, HubSpot, Qualaroo and Scaleworks joined us to lead us through a conversation on why feedback is the ultimate driver to help you make better business decisions.
Check out the highlights
Data Has No Inherent Value – Keynote by Justin Rondeau
Justin Rondeau from DigitalMarketer talks about the importance of collecting and then analyzing data only after you have a concrete objective defined.
"You need to have some questions that you need answers to, you need to have some intent before investing time and resources into collecting data" – Rondeau
He then talks about the two types of metrics and when to use them — lagging metrics and leading metrics and two types of data — active and passive data. Watch his keynote here:
Panel Discussion
Following the keynote, we had a panel discussion moderated by Drew Olanoff, VP of Communications at Scaleworks and the panel consisted of
Curtis Morris, CEO at Qualaroo

Justin Rondeau, Director of Marketing at DigitalMarketer

Alex Birkett, Growth Marketing Manager at HubSpot
The discussion revolved around what "Big Data" really means, when do you know you have "enough" data, how to measure KPIs and deal with vanity metrics, and some privacy issues regarding data collection.
Check out the series of Q&A below
Q1. What does "Big Data" mean?
Q2. How long does it take to get leading and/or lagging metrics?
Q3. How do you define active vs. passive data? Is there any crossover?
Q4. Should surveys be the last resort when it comes to feedback? If not, what are the best practices?
Q5. How do you make decisions about new features, improvements to a feature based on data?
Q6. How do you deal with privacy issues when it comes to heatmaps?
Q7. How important are vanity metrics for board meetings? Can they be the same as KPIs?
Want insights that improve experience & conversions?
Capture customer feedback to improve customer experience & grow conversions.