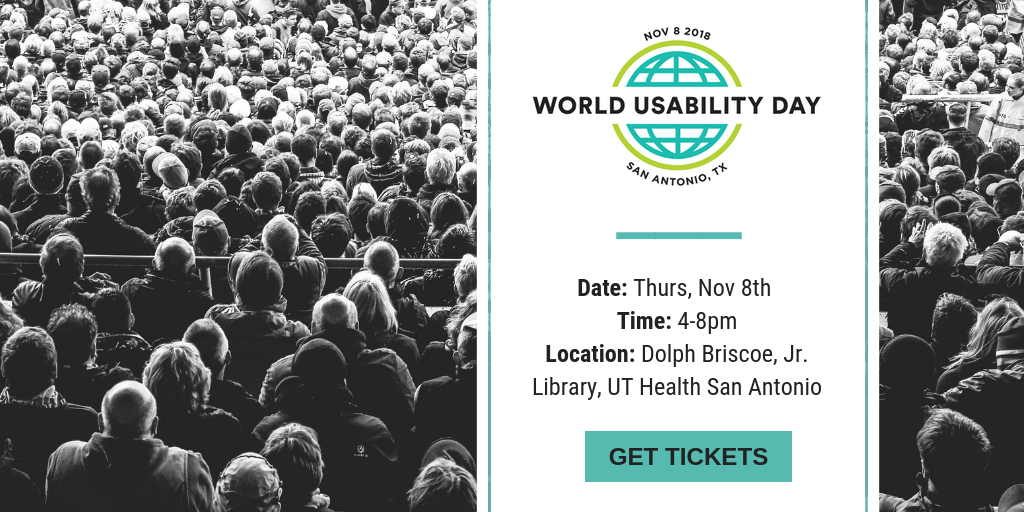 This year, the Qualaroo team was thrilled to sponsor San Antonio World Usability Day in partnership with our friends at Mission UX. As part of the programming, we heard presentations from UX leaders at companies like USAA, The City of San Antonio, and AT&T. There was no shortage of insights, but here are some that made the biggest impact on us.
Usability begins with listening. Because at the end of the day, are we designing for other designers, or for other people?
The first presentation of the night was given by Frank Duran, Design Director at USAA, and it focused on listening as a key component of UX research and design. Frank's primary point was one that we think is key to the user experience field. If we are going to build and design products that are meant to serve other people, then we have to actually listen to the people we are creating for. This is why gathering feedback, having an inclusive design process, and making decisions that are actually informed by our end-users, is foundational for UX design. As Frank put it, "we are notoriously bad self-evaluators" so consciously gathering user insights is not only informative, but necessary if we expect to create anything of value for others.
Any testing is better than no testing at all.
The second presentation of the night was given by Elizabeth Gibson, PhD, Senior User Experience Researcher at AT&T Consumer Digital – Innovation & Research and Craig Tomlin, author of "UX Optimization", and owner of UsefulUsability.com and WCT and Associates, LLC. This presentation focused on guerrilla UX testing, which is an ad-hoc, inexpensive, user research method that's conducted "in the wild," or somewhere typical personas are likely to be, rather than in a lab or research facility.
Elizabeth and Craig showed video recordings of a guerrilla UX test they conducted at a Starbucks using iPads and two patrons who fit their target persona profile. The big idea behind this talk was that user research doesn't have to take place in a formal setting to be valuable.
If you have a strong idea of who your key personas are and where to find them, user testing can be conducted relatively quickly and inexpensively, without detriment to the quality of insights. It can be tempting for companies to avoid user testing altogether because of cost and time as a perceived barrier, but any testing (even the kind done at a bus stop or at a Starbucks) is useful.
Quantitative data can help us identify what might be going wrong. Qualitative data will help us understand why, and even how to fix it.
The third presentation was delivered by Michael Nadelman, our very own Customer Success Manager. Michael conducted an interactive presentation where he simulated roadblocks on the web with physical roadblocks for guests to reach their seats to watch the presentation. Complete with caution tape and visual blocks, the setup of the room made for a comical lead in to the presentation.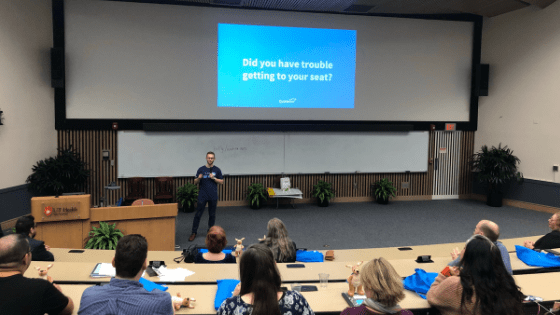 Michael then related these roadblocks to those that users experience on the web, and how we have to seek qualitative feedback if we want to truly understand what our users are experiencing. When asking the crowd about their experience entering the presentation, Michael was even surprised to hear about some additional roadblocks he didn't actually engineer! It goes to show that qualitative data is paramount to user experience.
Focusing on accessibility is not only the right thing to do, it's the smart thing to do.
The final presentation of the night focused on the return on investment (ROI) on accessibility. Accessibility, or the practice of making adjustments to products and services so that they can be used by people with varying levels of abilities and senses, is often thought of as a moral imperative.
Craig posed the all-important question behind accessibility, "who are we excluding from our products, services, and information?" While it is certainly right to make websites, products, and services accessible to as many groups of people as possible, Craig made the point that it also has positive business impact.
In reality, companies that don't make their sites accessible are leaving money on the table as they are often excluding a significant portion of potential customers. Other ways that accessibility can improve your bottom line include: saving you money by not requiring you to retrofit your solution, but building with accessibility in mind the first time, reducing the risk of legal action (think ADA or 508 compliance), helping you retain highly skilled employees as they age, and more. Building an experience that is more accessible for people with disabilities means building something that is more equitable and inclusive for everybody.
—-
Needless to say, we learned a lot from this year's World Usability Day! From inclusivity in design to the business implications of accessibility, we enjoyed all of the presentation. Interested in more UX news from Qualaroo? Join our UX mailing list!
Want insights that improve experience & conversions?
Capture customer feedback to improve customer experience & grow conversions.