In most cases, the ideal user journey and the actual user journey will differ, and getting users to follow through with the desired action will become almost impossible.
Lowering your expectations of the ideal user might be a solution to this, but understanding user journeys and users' behavior, as well as reaching out to them with the relevant content and questions would be a much more efficient solution on your en
A well-structured practice of in-app messaging can be extremely helpful in this case.
What is in-app messaging?
In-app messaging involves notifying users within a platform or an app using UI/UX elements like tooltips, pop-ups, etc.
It's commonly used in UX design to distribute additional information to your audience or ask them to perform the desired action.
In-app messages started to emerge as Graphical User Interfaces became more and more common among non-technical users to educate them on the functions of the products.
One of the earliest examples could be Microsoft Word 95's tooltips displayed on the toolbar, explaining how the features worked.
In-app messages provide excellent value for any product if utilized correctly.
Types of In-App Messaging
Here are a few popular types of in-app messaging that businesses use:
Chatbots
Do you think your customer support is fast enough? In a research study, HubSpot found that 60% of the customers consider a response as immediate when it's within 10 minutes or less.
So the best way to minimize the response time is by equipping your chat support with a live in-app chat tool.
A live in-app chat support tool like ProProfs Chat with chatbot functionality can take care of the response time and interact with your customers to resolve small queries, while your support personnel can take care of customers with grave issues.
Customers don't have to leave your website or app to call on your support number to get their issues resolved.
Or they can be directed to the right solution by asking relevant questions like this:
---
In-App Surveys
Another type of in-app message is an in-app survey. You can launch such surveys in your mobile app to collect rich and contextual feedback from customers straight from your app.
---
Conducting surveys in your product allows you to continuously gather relevant data and track crucial customer satisfaction metrics.
The different types of surveys you can conduct include:
Net Promoter Score (NPS) Surveys
---
Customer Satisfaction (CSAT) Surveys
---
Customer Effort Score Surveys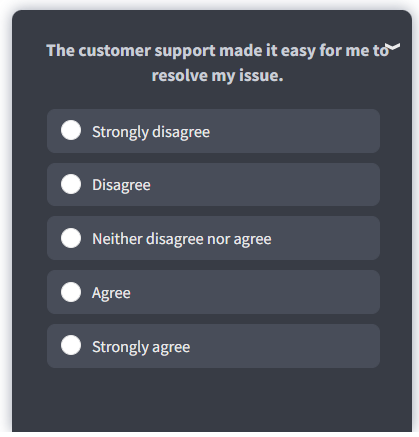 ---
Product Opportunity Surveys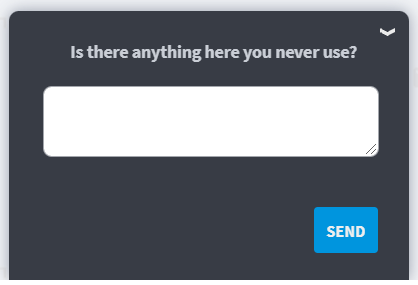 ---
These are just a few examples of in-app surveys you can conduct using the right survey feedback tool.
Tooltips
Tooltips are small snippets of content that appear in an app to help customers navigate through the website and highlight your product's new or updated features.
For example, have you ever come across something like "Try saying – Alexa, show me shoes" while using your Amazon app near the microphone symbol on the search bar?
That's what a tooltip is. Companies use this strategy to highlight information that they cannot or don't want to make a permanent part of the UI.
You can set numerous triggers for your tooltips to appear on your users' screens so that they don't just appear randomly and ruin your customer experience.
You can set triggers like:
When users hover on an on-page product or element.
When customers click on a hotspot or an icon.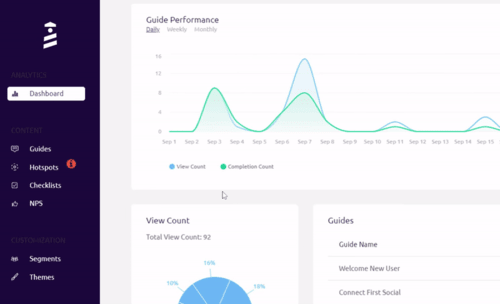 ---
Pro Tip: Use tooltips judiciously, and don't go overboard with them. If you want to optimize this user interface or UI element, strategize its placement in the user journey.
Product Tours
Product tours are created for user onboarding. These in-app guides and walkthroughs help businesses familiarize new customers with the product's features and show how the UI works.
It's a great way to highlight your product's USPs to the new customers while also making their experience smooth. Here's a quick example of how Slack does it: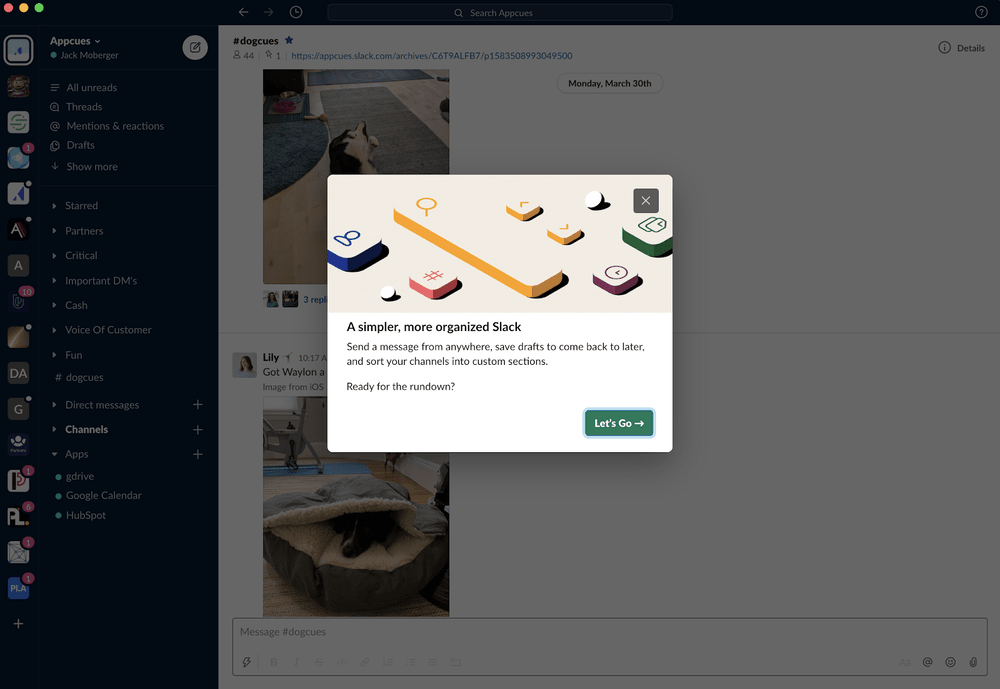 Pro Tip: Remember that using this feature too much, i.e., launching multiple product tours at once will overwhelm the users. So, it's best to conduct several product tours at different times to make them more effective.
Now that you know the popular types of in-app messages, it's time to know why you need these.
Why should you use in-app messages?
Every design expert asks you to keep your UI as clean as possible, minimizing distractions and utilizing as much space as possible.
You shouldn't explain the different features on the toolbar, announce new features and news in an extra dashboard, or ask for feedback in a feedback box that never disappears.
Instead, you can use triggered in-app messages and a well-structured user journey to inform users or call them to desired actions like upgrading their plan or leaving a couple of sentences of feedback.
You can trigger in-app messages at different parts of the user journey. It can be during user onboarding to inform users about the different use cases of the product or late in their user journey to inform them about different deals or new features.
By making sure they encounter the right in-app message at the right time in their journey, you can improve your users' engagement without disrupting your UX flow.
Besides these, here are some more benefits of in-app messaging. You can also read benefits of having a mobile app for your business at this blog.
Conduct Highly Personalized Promotions
The best way to upsell your products is by making customers feel you're not promoting but instead offering personalized solutions.
With in-app messages, it's easy to design promotions according to your brand or a specific marketing campaign and target the right audience using triggers.
You can set different triggers and segment your users to effectively personalize in-app messages and make promotions look like personalized services.
Example:
Say you have some customers availing a free trial, and you want to turn them into paying customers. You can identify the most converting, paid features of your product that the customers will find helpful.
Give those customers a tour of the features using onboarding in-app messages and tell them how the features can resolve their issues.
Once they look at how those paid features can help with their goals, they will be inclined to try them. This way, you are not just promoting your paid features but offering a solution to their problem.
Collect Insightful Customer Feedback
With in-app surveys, you can gather valuable feedback in-app or on a platform without disrupting the customer experience.
Simple one-question pop-up surveys are non-intrusive and gather rich customer data. You can collect contextual insights with follow-up questions in the form of pop-ups.
Example:
Want to ask your customers about their experience with your tool and if they will recommend it to others?
In that case, you can use pop-up NPS surveys to collect such feedback.
You can ask them a simple question and follow it up with another contextual question (optional) if you need in-context insights.
Increase Direct Interaction and Engagement with Customers
Push notifications are having their time in the sun as they are a great customer engagement strategy for businesses to use for their web and mobile apps.
But they have their limitations.
A report by Airship states that push notifications only reach about 45% of the audience on average.
Do you see where we are going?
In comparison with push notifications, in-app messages are more effective. They reach most, if not all, of your targeted customers since these messages appear while customers use the product or app.
Example:
Your customers can easily ignore the push notifications you show on their mobile's notification bar by simply dismissing or turning off notifications. But, they will see the in-app messages while using the app.
Of course, they can opt-out, but it's still hard to miss out on these messages as they might do on push notifications.
You can schedule to show in-app messages on repeat so customers can take action when they feel like it.
---
Convert Users with Freemium
If you don't already, you should use the freemium strategy to boost your conversions coupled with in-app messages.
Now you may question, "how are these two related?"
Why don't we answer with a real-life example?
Example:
Messaging platform Slack uses the freemium strategy to onboard users even before they become a customer and lets them experience its services.
It uses in-app messages to encourage customers to take the subscription and avail other incredible features.
The result?
Slack increased its subscriptions by 25% in 2019 and 2020! Talk about effective, huh?
Validate Ideas and Prototypes
Another compelling use case of in-app messages is that you seamlessly collect customer feedback, validate your ideas, and test prototypes; cool, right?
Doing this is easy.
For this, tooltips come in handy coupled with in-product surveys, which you can deploy in your prototype to see what customers think about it before going full-on with the product development.
Example:
You can use the tooltips to notify users of your soon-to-launch feature or product and ask them if they are interested in sharing their feedback on it.
You can launch in-app pop-up surveys on your prototype to research about new product features and improvement opportunities.
We earlier discussed how in-app messaging is better than push notifications. Before going further to explain how you can create such messages, you can understand first of all the differences between the two to know how to implement them.
In-App Messaging vs. Push Notifications
| | | |
| --- | --- | --- |
| Differences | In-App Messages | Push Notifications |
| Purpose | In-app messages are used to guide users in the app, collect their feedback, and onboard new users. | Push notifications are great for re-engaging your users and bringing them back to the app. |
| Audience | Users who are active on the app and facilitate their experience. | Potentially disengaged users. |
| Working principle | You can only send in-app messages when customers are actively using the app and have performed an action that triggers the messages. | You can send a push notification when users' have your mobile app on their device or have opened your web app in the browser. |
| Channel of deployment | Web and mobile app. | Web and mobile app. |
| Limitations | No character limitations (Except for tooltips). | Yes |
| Disabling a notification | Users cannot disable in-app messages as long as they use the app. | Easy for users to disable push notifications by changing a few settings on their devices. |
---
Problems With In-App Messaging
Since we so elaborately highlighted the "Good points" of in-app messaging, you should also know its downsides. Although not a lot, there certainly are a few:
In-app messages are sent to active users only.
If misused, the in-app messages can become an obstacle to a smooth customer experience.
In-app messages cannot bring back or reach the users who have stopped using your product or app.
Keep these facts in mind while creating such messages.
How to Create an In-App Message
Creating a message displayed inside your app can be tricky, especially if you're considering segmenting users and adjusting triggers to offer relevant content.
As with most things in life, there are hard and easy ways to do this.
The Hard Way
You don't need to be a technical person to understand how hard creating in-app messages and maintaining them in-house can be.
You would require more than just developing a few simple UX elements if you want your campaigns to achieve their maximum potential. You'll also need:
A user segmentation system to differentiate between user profiles.
A user behavior system to determine where a customer is in the customer journey.
An analytics dashboard connected to your in-app messages to measure performance for iteration.
Not only will it take a lot of time to create a significant MVP, but it will consume tons of developer time and also the cost of MVP development that could be invested in improving the product. Plus, it will be even harder to maintain once released.
You don't want this!
The Easy Way
Thankfully, there's an easy way to create in-app messages.
Many business and product owners experience the same struggles as you, so there are many solutions to help you out.
These solutions are usually in the form of third-party tools that don't require technical experience to create in-app messages and other UX elements.
Here are a few tools you can try:
Qualaroo: In-App Surveys, Advanced Targeting, and Reporting
Informing users or calling them to action is one thing, and asking them to answer specific questions is another.
Yes, you can send a survey through Google Forms, but it doesn't make sense to use off-product websites to conduct mini-surveys when you can capture feedback in-app.
For this, an in-app feedback tool like Qualaroo comes in handy. It's a code-free feedback and in-app messaging platform you can use to create different surveys and even analyze the data.
---
With various ready-to-use templates for different use cases and goals, you can use the tool to collect feedback from users without any hassle.
---
You can target segmented audiences for your surveys and collect to-the-point and precise data using its advanced targeting feature.
You can target your in-app surveys by:
You can also leverage advanced reporting features such as Sentiment Analysis to understand customer emotion represented in the collected feedback data. It analyzes every survey response for emotions like joy, anger, frustration, etc., and assigns an emotion score.
Read More: Best In app Survey Tools
UserGuiding: Tooltips, Hotspots, Announcements, User Guides
UserGuiding is a no-code third-party solution intended initially for onboarding users to a platform.
Since most in-app messaging aiming to inform and activate users happens during onboarding, it also solves that problem.
With UserGuiding, you can easily create interactive user guides and in-app messages such as tooltips, announcements, and hotspots; while segmenting your users, triggering custom events, and analyzing the performance of your creations.
---
In-App Messaging: 10 Best Practices
Now that you know what in-app messaging is and how to create it, let's move on to the top 10 best practices of in-app messaging you shouldn't ignore.
1. Users Don't Care About Boring Designs
---
When you've worked so hard on your product or mobile app's UI, can you let your bland and boring in-app messages ruin it all?
Certainly not!
It's best not to publish in-app messages in black and white boxes which don't blend well with your UI.
Let your creative juices flow and design these pop-up messages to grab your users' attention and encourage them to take action.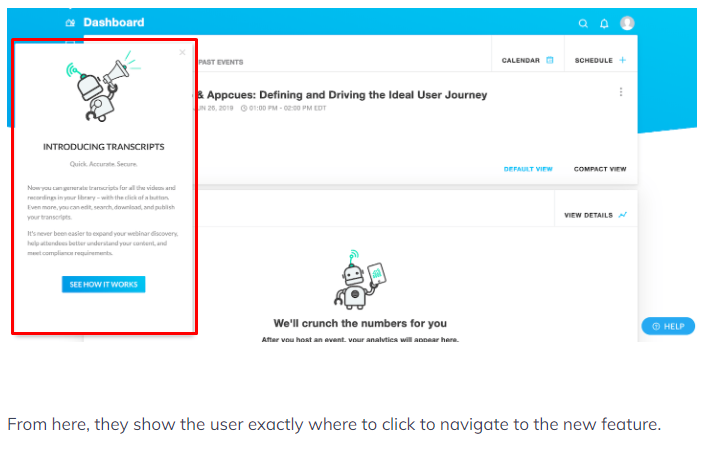 ---
See how GoTo Webinar designs their in-app messages that are aesthetic and complement their UI. The more attractive your in-app messages are, the more users will notice and engage with them.
2. Always Offer an Opt-Out
Always offer customers an option to opt-out of your product tours or in-app messages and not just force these messages on them.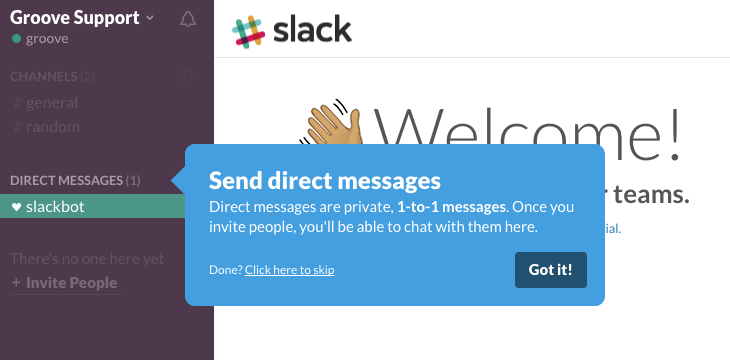 ---
You can highlight a few things or send a few in-app messages before asking customers, "Want to continue with the tour?" or share a "Got it!" button that can stop these messages.
3. Don't Forget to Segment Users
Not segmenting your customers to target the audience appropriately is one of the grave errors people also make while creating surveys.
If you don't segment the targeting audience, you'll end up sending irrelevant in-app notifications and messages to your users. Consequently, you may ruin the perfect user experience you so carefully designed.
So, always segment your users based on their demographic, their browser, and other such parameters.
For instance, if you're targeting new users, send them tooltips on how to use particular product features.
For existing users, if surveying them shows that they are struggling with the use of a feature, add a handy tooltip specially for them.
4. Tracking Metrics Is Beneficial
Is your job done with sending in-app messages and hoping everything will turn out your way?
Nope.
You need to keep a close eye on some crucial customer metrics to see how your customers are responding to these in-app notifications and messages you're sending.
These metrics are:
Push opt-in rate (Where users opt for receiving in-app messages)
Click-through-rate on CTAs (to see if customers act upon the messages)
Opt-out rate (number of users opting out of in-app messages)
It would also help to track how many customers you're targeting with what kinds of in-app messages and how they are performing in engagement.
5. Plan Follow-Up Actions
There is no use for in-product messaging if you don't ask customers to take action. You can create automated triggers for a specific audience to follow up with them on your survey, product tour, etc.
You can also set up a chatbot that will engage the users by responding to them in real-time.
6. Offer Consistent Experience Cross-Platform
Put yourself in users' shoes and imagine this – You're on a product website, and then switch to the app version. If the UI of the in-app messages is entirely different from what you experience on the website, you'll feel the experience wasn't seamless.
Is this what you want your customers to feel towards your brand?
We hope NOT.
So, always ensure that your CX is consistent on all platforms, such as mobile apps, web apps, or websites. The cross-platform consistency in the UI/UX elements boosts engagement and enhances the customer experience.
It also helps customers connect to your brand and increases their recognition power since you offer a seamless experience on different platforms.
7. Design Attractive CTAs That Stand Out
No matter what you're offering through app messaging or how useful it's for the customers, if your CTAs are not attractive, they will not work.
So, what's the solution to this? You may ask.
It's simple: create in-app messages that can grab customers' attention and motivate them to click on them.
For this, you can use bright and pleasant colors that stand out. Also, since posts with images have 650% higher engagement than without, you can do the same for your CTAs by adding relevant media to make them richer.
---
Testing what you'll show your customers is imperative, and mobile app messaging is no different. Always A/B test your messages before communicating them to your customers.
You can test your hypothesis and gauge what will work with customers and bring you more clicks on the CTAs.
For example, you can experiment with different designs, colors, triggers, etc., and launch the CTAs you know will work.
---
9. Talk TO Customers, Not AT Them
One of the best practices of in-app messaging is to engage with your customers and not just send them CTAs to achieve your business goals.
You also need to serve value to your customers. For example, you can empower customers to connect with you first using live chat, or you can initiate engagement using online surveys.
If you keep the engagement alive, customers are more likely to respond to your in-app CTAs.
10. Reward Active Users
Another way to offer value to your customers through app messaging is to reward them. You can offer discount codes, coupons, in-game currency, etc., for their continuous participation in your app or product.
---
It's even better if you personalize these messages and pop-ups since they strengthen the bond your customers have with your brand.
Popular In-App Messaging Examples
Our discussion till now is incomplete without checking out how companies are actually implementing all of this. So here are a few in-app messaging examples of brands that are doing it right.
GraphicSpring is a graphic design and logo maker platform. It used messaging in the form of in-app surveys to understand the needs of its users and increase conversions.
Before performing A/B tests, the company conducted in-app user experience surveys using survey software Qualaroo to collect the required data and make changes based on customer feedback.
They found their color editing feature had too many steps with the feedback. After redesigning the steps, GraphicSpring improved its revenue by 10%.
Read more about how GraphicSpring improved its conversions and increased the number of returning visitors by 11%.
---
Figma modified the feedback process that makes it easier for users to read the comments. It launched in-app messages explaining and highlighting the new changes in steps to familiarize customers with the new changes.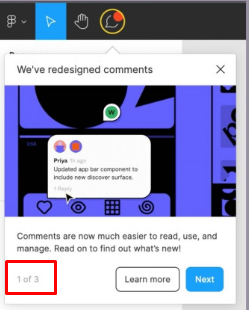 ---
Through this tour, Figma explains the benefits customers will enjoy through the changes and guides them through the CTAs.
MailChimp is a marketing automation tool that uses in-app messages post-signup to welcome its users. It uses personalized messages, making the interaction memorable, so users are more inclined to take action. These messages are based on the time zones of the users.
---
Well, it does more than just welcome. At the same time, MailChimp asks its new users to fill out a survey so it can further customize and personalize the tips recommendation.
Four In-App Messaging KPIs to Track
Because different types of in-app messages are used for different purposes, you need to know the right metrics for each use case. These are:
Click-Through-Rate (CTR)
Popularly known as CTR, it's a metric companies use to track the success of their CTAs. If you use in-product messaging to ask customers to take a tour or complete a task, you can track how well your CTA button is doing by tracking the clicks on the button.
Response Rate
If you conduct feedback surveys on your product or app, you can track how many users take the survey through the response rate.
Feature Adoption Rate
If you use in-app messages to announce new features or updates, you can use the feature adoption rate metric to track how many users are interested in the new feature and how many won't use it.
So if you have a higher rate, your in-app messaging strategy is working.
Conversion Rate
Conversion rate is a great metric to track if you want to know how well your freemium strategy is doing, coupled with in-app messages targeted towards subscription purchases.
Get Started with In-App Messaging
In-app messages can be a great addition to any UX, as long as they're user-friendly, pop up at the relevant time, have the relevant content, and don't take too much time to go through.
With the "easy way" we discussed above, you can set up your in-app messaging strategy in minutes and start seeing great engagement.
So, to sum up:
Keep the in-app messages relevant.
Make them aesthetically pleasing to engage customers.
Strategize the right time and place for them to appear in the user journey.
Always test your in-app messages before making them live.
Don't forget to track your metrics to further improve your in-app messaging strategy.
Choose the right in-app messaging tool that offers the functionality you need.
Want insights that improve experience & conversions?
Capture customer feedback to improve customer experience & grow conversions.